1. Don't Overlook Chris Paul For That Other MVP
HOUSTON -- Perhaps it was only fitting that LeBron James just couldn't wrap up All-Star Weekend without getting himself involved in yet another comparison debate.
Only this time, it's a no-brainer for James.
"He's the No. 1 point guard we have in this league," James said. "And it doesn't surprise me what he did on the floor tonight. He was unbelievable."
Even that lofty praise seemed like an understatement when describing Chris Paul's performance as the mastermind of the West's 143-138 victory against the East in Sunday's All-Star Game at the Toyota Center.
En route to capturing the game's most valuable player honor, Paul did things rarely seen in these outings. He controlled the tempo, directed traffic and, at times, actually brought structure and defense to a game that's more conducive to highlight dunks executing a scouting report.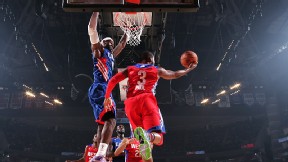 Nathaniel S. Butler/NBAE/Getty ImagesCould CP3 make it a three-player race for MVP?
And along the way, Paul dribbled, dodged and drove his way to 20 points, a game-high 15 assists and 4 steals to outshine a 30-point effort from teammate Kevin Durant and a combined 66 points from East's three leading scorers in James, Dwyane Wade and Carmelo Anthony.
More than anything, Paul's All-Star MVP performance should serve as a reminder that the best point guard in the league should also be more prominently mentioned in discussions for the regular-season version of the award.
This isn't a two-man race.
Never should have been considered as such.
James, who is putting together the most efficient season of his career, is clearly the frontrunner to win his fourth league MVP award at this rate. Kevin Durant isn't too far behind during a season in which he's on pace to become the first player in NBA history to lead the league in scoring while shooting at least 50 percent from the field, 40 percent from 3-point range and 90 percent from the free-throw line.
Those resumes and campaigns are generally known, acknowledged and accepted across the league. But it's time to take Paul far more seriously as a legitimate dark horse threat. And not simply on the merits of a meaningless exhibition that played out Sunday. Paul has been doing these same sort of things throughout the season. The All-Star Game simply delivered a dose of what Paul delivers on a day-to-day basis with the Los Angeles Clippers.
The difference is he had the NBA's undivided attention. Paul said he prepared for Sunday's game and broke down footage on certain players like he would any other night. He talked about how he has become a geek for the game. Midway through Sunday's game, Paul said he approached West coach Gregg Popovich and called out every set the East team would be running during the game.
"It's just awareness," Paul said of his maturation process as an elite point guard. "I watch basketball all day, every day. My son, my wife -- we sit there [and] I'm on this thing called Synergy day in and day out watching basketball. I was talking to [Popovich] and I could pretty much tell him the entire offense. I think as I get older, you have to start playing with your mind more than with all the athleticism."
Paul then joked his days of dunking on defenders are long over. Now, at age 27, he's playing more of a mind game. And even elite peers are left memorized and marveling.
"He deserved it," Durant said of Paul essentially snatching the MVP away by scoring nine of his 20 in the fourth quarter to help the West pull away. "He had great passes, was making steals and made big buckets. He played a hell of a game. It was a pleasure playing with him."
Coming from Durant, who plays in Oklahoma City alongside All-Star point guard Russell Westbrook, it's significant praise to call playing with Paul a pleasure.
He's also a major treasure.
The Clippers were contending for the conference's best record a few weeks with Paul leading the way. Then a knee injury sidelined him amid a stretch when the team lost eight of 11 games. Paul returned a week before the All-Star break and the Clippers have since won four in a row.
Paul's numbers won't jump out at anyone this season. He's averaging 16.6 points, 9.6 assists and 3.4 rebounds. But his impact on the court is immeasurable. Without him, the Clippers would struggle to make the playoffs in the West. With him healthy, they're a conference finals contender.
And that fact isn't lost among Paul's competitors.
Wade plays in Miami with James and is well aware of how great Durant is after the Heat defeated the Thunder last season in the NBA Finals. Wade is aware of the pecking order when it comes to the MVP race this season. And he warned that Paul shouldn't continue to be overlooked.
"No doubt," Wade said. "With guys like LeBron and KD, who fill up the stat sheets, [Paul] does get overlooked. But not to us players. We know he's very -- he's the most valuable player on the Clippers. They're one of the best teams in the NBA, so it puts him right up there."
Still controlling the tempo well after Sunday's game, Paul entered his news conference telling reporters to ask their questions quickly because he wanted to get to Las Vegas before the Clippers get back to work this week.
It's likely Paul's odds will improve in at least the MVP race if carries his All-Star momentum into the season's stretch run.


NBA Writer Michael Wallace
• On Twitter @WallaceNBA_ESPN | On ESPN.com
• Follow ESPN's NBA coverage on Twitter | On Facebook | On Google+
Dimes past: Jan. 29 | 30 | 31 | Feb. 1-2 | 3 | 4 | 5 | 6 | 7 | 8-9 | 10 | 11 | 12 | 13 | 14
ESPN Staff Writer
ESPN.com NBA reporter
Blogs regularly on the Miami Heat
14 years covering the ACC, SEC, NFL and NBA
2. Around the Association
Most valuable player: Dazzling the All-Star crowd from the opening tip with his typical unmatched flare for playmaking, Chris Paul scored 20 points on 7-of-10 shooting and doled out 15 assists en route to winning game MVP honors. Paul put up numbers achieved just twice in event history, in 1984 and 1985 by Magic Johnson and Isaiah Thomas, respectively.
Least valuable player: Someone on the East had to start in place of the injured Rajon Rondo, but after Sunday night's performance Erik Spoelstra surely wishes he chose anyone other than Chris Bosh. Amazingly, the handful of air-balled jumpers weren't his worst moments, either; those came when Paul and Tony Parker made him look foolish by easily dribbling the ball between his legs. An ugly, ugly performance from a player quietly enjoying a stellar season.
Defining moment: Paul was his usually dominant self offensively down the stretch, but Kobe Bryant made two rare noteworthy All-Star defensive plays as the East was playing catch up late in the fourth quarter. He blocked a LeBron James jumper with 2:39 remaining, then did it again in the paint as the clock ticked down to less than a minute. As Reggie Miller opined on the broadcast, maybe those recent comments by Michael Jordan loomed large after all.
3. Sunday's Best
Paul
Chris Paul, West All-Stars:
Easy choice here. Paul scored 20 points and dished out 15 assists to lead the West in Houston. He and Clippers teammate Blake Griffin connected on their fair share of Lob City-style alley-oops to rack up the stats for CP3.
4. Sunday's Worst
Bosh
Chris Bosh, East All-Stars
Whenever you get "nutmegged" between the legs -- not once, but twice -- your name belongs here. Bosh can thank Chris Paul and Tony Parker for that. Bosh didn't have the stats to make up for the embarrassment, going for only six points on 3-of-9 shooting.
6. Tweet Of The Night
At least lil @CP3 and baby Mamba can play together NBA can't veto this one Ha! pic.twitter.com/pJAjr2wJ

—Kobe Bryant (@kobebryant) February 17, 2013
7. Quote Of The Night
"You've got KD filling one of the lanes, you've got Blake, Kobe on the wing. There's nothing like it."
-- All-Star MVP Chris Paul, on his 15 assists to lead the West to a 143-138 win in Houston.
8. Family Affair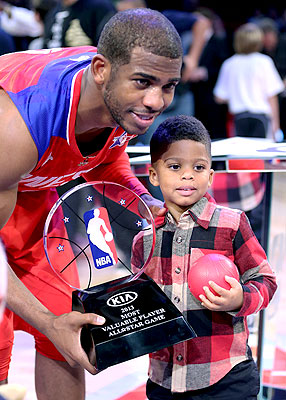 Ronald Martinez/Getty ImagesChris Paul celebrates with son Christopher Emmanuel Paul ll after winning MVP in the 2013 NBA All-Star game.
9. Stat Check
Durant
Kevin Durant scored 30 points in the Western Conference's 143-138 win in the NBA All-Star Game. Durant scored 34 points in the 2011 All-Star Game and 36 last year, when he was named the game's most valuable player.
Only one other player scored at least 30 points in an All-Star Game as the reigning ASG MVP: Julius Erving, who scored 34 points in 1984.