1. The San Antonio Spurs, Leaders In Anonymity
SACRAMENTO, Calif. -- The scoring started when Tony Parker dumped a bounce pass between two defenders to Tiago Splitter along the baseline for an easy flush. Then came Tim Duncan's face-up jumper, followed by Duncan, as if he were clairvoyant, hitting a cutting Danny Green with a pass beneath the basket.
Pretty soon, the Spurs got busy in transition. Parker deked DeMarcus Cousins with an up-and-under move on the break, then Green pushed the ball ahead to a streaking Kawhi Leonard for a layup. Five field goals in under five minutes -- one each from the Spurs' five starters -- every one of the buckets assisted, four out of five of them converted at the rim.
And so it goes with the San Antonio Spurs -- lords of the baseline, merchants of calm, creatures of constant motion in the half court. They moved to a league-best 43-12 with a 108-102 victory over the Sacramento Kings, a game in which the Spurs never trailed.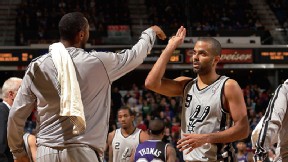 Ezra Shaw/Getty ImagesTony Parker's ready for the stretch run.
The Kings managed to hang around into the fourth quarter by working their way to the line, keeping their turnovers in check and doing a nice job on the glass, but a team of young defensive ciphers couldn't get the stops it needed against a savvy veteran outfit like San Antonio.
Parker, this season's curious dark horse in the MVP conversation, scored 30 points and handed out 11 assists.
"[Parker] picked up where he left off before the All-Star break," Spurs coach Gregg Popovich said. "He's having an unbelievable year and he just keeps doing it. He's very committed, very focused and he did for us tonight what he's done all year."
With the Spurs ahead only three points inside of 30 seconds, Parker iced the game when he knifed through four Kings defenders, then kissed a scoop shot off the glass.
"When Pop's calling my number, I just try to be aggressive and create for myself or for my teammates," Parker said.
For San Antonio, more notable than the win was the sight of Parker, Duncan and Manu Ginobili sharing the floor down the stretch. The Spurs' three principals hadn't played significant minutes in a second half together since Jan. 11 in a loss at Memphis.
"It's been a long time," Parker said. "It was kind of weird. I was like, 'Who are those guys?' It was good to see. Hopefully, we can do it more and more because those last 27 games are going to go super-fast, so we need to be ready."
Counterintuitive as it seems, the Spurs ripped off 15 wins in 16 games coming out of that loss at Memphis. Such is the luxury of being able to fall back on a system in which a player can flourish whether his name is Tony Parker, Gary Neal or Matt Bonner. It's silly to suggest that the team is a collection of interchangeable parts, but the Spurs' adaptability and confidence in their program is impressive -- and it's also old news.
That's what makes it so hard to glean anything new about San Antonio, even as the Spurs steamroll through the league. Their system has been in place for what seems like decades and those who play for Gregg Popovich pledge their devotion to its principles. Most NBA teams, whether they're elite contenders like the Miami Heat and Oklahoma City Thunder or high-grade upstarts like the Los Angeles Clippers or New York Knicks, are in a constant state of information gathering. But for the Spurs, live basketball seems like less of a learning process and more of an exercise in execution.
Parker generally agreed with this premise, and added that full health was the crucial factor in the team's fortunes going forward: "For us, it's all about being healthy," Parker said. "The system is the system. As long as we're healthy, I like our chances at the end of the year."
Coaches approach these expansive questions a little differently. Popovich described a learning process that never stops, no matter how entrenched the system or the personnel might be in San Antonio. He then enumerated all the young players that populate the Spurs' roster -- Leonard, Green, Neal and Splitter.
"They're all in the position where they can improve," Popovich said. "By playoff time we can be a better team if we pay attention to the details and pay attention to execution."
Then there's the task of scouting the competition, picking up nuances that could inform a big matchup in May or June.
"We're also learning about other teams," Popovich said. "The Clippers are one hell of a team, and they're kind of new because of the bench they brought in. Oklahoma City's doing things a little differently. They're getting used to a new player. Information gathering never really stops for a team, no matter how experienced you might be."
Reliable, known quantities like Parker, Duncan and Ginobili are rare luxuries, and that collective experience makes the learning process much easier for the Spurs than most. That's a reality that should scare the rest of the league, even as the Spurs toil in anonymity -- 31 games over .500 -- just the way they like it.


NBA Writer Kevin Arnovitz
• On Twitter @kevinarnovitz | On ESPN.com
• Follow ESPN's NBA coverage on Twitter | On Facebook | On Google+
Dimes past: Jan. 29 | 30 | 31 | Feb. 1-2 | 3 | 4 | 5 | 6 | 7 | 8-9 | 10 | 11 | 12 | 13 | 14 | 17
ESPN Staff Writer
NBA writer for ESPN.com since 2008
Former contributor and editor at NPR
2. Around the Association
3. Tuesday's Best
Parkerl
Tony Parker, Spurs:
The league's most underrated point guard was doing his thing in Sacramento. San Antonio's All-Star scored 30 points and handed out 11 assists as the Spurs held off the Kings' fourth-quarter rally.
4. Tuesday's Worst
Pierce
Paul Pierce, Celtics
The Truth just couldn't get anything right in Denver. Pierce missed 12 of his 14 shots in Boston's 97-90 loss in Denver. The Celtics have lost two of their last three following a seven-game win streak.
6. Tweet Of The Night
You know it's getting good with Dwight and Kobe when Page Six gets involved.

—Bill Simmons (@BillSimmons) February 19, 2013
7. Quote Of The Night
"My old AAU coach used to tell me: 'If you put two rims up in the kitchen, we'll play you.' So it don't matter."
-- Raptors' Rudy Gay, on the scoreboard, horn, game clock and 24-second clock malfunctions at Washington's Verizon Center.
8. Double-Shot Of Joe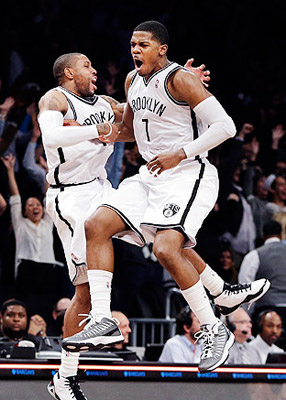 Nathaniel S. Butler/NBAE/Getty ImagesJoe Johnson saved the Nets not once, but twice in their overtime win over the Bucks on Tuesday.
9. Stat Check
The Spurs' 108-102 victory over the Kings gave them 10 straight wins at Sacramento. San Antonio has posted a double-digit road winning streak against only two other teams in their NBA history. San Antonio won 13 straight against the Grizzlies in Vancouver and Memphis from 1996 to 2003 as well as 12 in a row at Dallas from 1991 to 1996.
Around The Association
---
MVP: Quincy Pondexter. His numbers were modest (10 points, three rebounds, three steals), but he brought energy and was a big reason Memphis went on a 23-3 run to end the second quarter.
X factor: The Pistons' defense, which was just plain bad. The team defended Marc Gasol and Tayshaun Prince well, but Memphis' bench shot 59 percent and scored 49 points.
That was … ugly: It wasn't realistic to expect the Pistons to keep their first-quarter scoring going, but the Grizzlies just clamped down on defense, holding Detroit to 30 points in the second and third quarters combined.
---
MVP: DeMar DeRozan. An efficient 24 points on 18 shots, 6-of-7 from the stripe, and three each of rebounds, assists and steals. Great all-around game offensively and defensively from DD.
X factor: Toronto's defense was impressive. They really threw the Wizards out of their element. Washington seemed befuddled by Toronto's zone, and they had trouble getting into rhythm the whole game.
Defining moment: With 4:00 to go in the fourth quarter, Kyle Lowry pitched the ball to a fast-breaking Rudy Gay, who threw down the dagger dunk. Washington called a timeout, but they couldn't come back after that.
---
MVP: Gerald Henderson. He scored 14 of his 24 points in the first quarter and paved the way for the Bobcats to pick up a rare road win coming out of the All-Star break.
X factor: You could make a case that Kemba Walker was the MVP of this game based on his performance in the fourth quarter. He scored 11 of his 24 points in the final period and quelled the Magic's comeback attempt.
Defining moment: After trailing 63-43 at halftime, Orlando clawed their way back into the game and cut their deficit to as little as two points late in the fourth quarter. But the Bobcats responded by finishing the game on a 15-4 run.