1. Last ATL Flight? Josh Smith Carries That Wait
ATLANTA -- Josh Smith laced up his boots, wiped the sweat off his forehead with an NBA-logoed hand towel and threw it in the team hamper as he made his way toward the exit of the Atlanta Hawks' locker room.
But before Smith passed through the door, a long-time local journalist stopped him, reaching out his hand to bid the 6-foot-9 forward goodbye with a handshake. Smith smiled, gave his thanks and strolled through the door.
Was that it? The last time Josh Smith left Philips Arena as a member of the Atlanta Hawks?
"We'll see," Smith said in cryptic tone to a group of reporters just minutes before. "Thursday, 3 o'clock."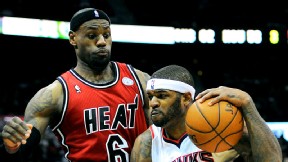 Dale Zanine/USA TODAY SportsJosh Smith might have faced LeBron for the last time in a Hawks uniform.
Thursday's trade deadline can't come soon enough for Smith and the Hawks after dropping a 103-90 game to the defending champion Miami Heat. The rumor mill has smothered this team for weeks, if not years, endlessly speculating when Smith had played his last game for the franchise -- the same one that selected him nearly a decade ago with the 17th pick in the 2004 draft.
There was no ceremonious send-off from the Atlanta crowd. In fact, a loud "Let's go Heat" chant broke out at one point. No standing ovation as he exited the game late in the fourth quarter. It seemed like just another game for Smith in this building, just one of 327 career outings in Philips Arena.
When Smith spoke after the game, he gave no hints about what his future holds. But it wasn't lost on the surrounding group of reporters that Smith spoke as if he played his final game in a Hawks uniform.
"This organization gave me so much over the years," Smith said. "They gave me a chance to [live] my dream ... We've had a lot of successful seasons, some emotional playoff runs. It's a lot of positives. I understand it's a business so whatever happens, happens. No love lost."
You could say Smith delivered a signature Josh Smith outing. He registered a near-triple-double, tallying 10 points, nine rebounds and nine assists. In line with Smith tradition, he put together a series of high-flying dunks that made the Atlanta home crowd forget for just a moment that he also took eight jumpers and missed seven of them.
Smith's contract expires at the end of the season and his name has dominated the talks ahead of Thursday's afternoon deadline. There's a reason everyone wants to know where he will be playing on Friday, when the Hawks face the Kings. Smith is averaging 17.2 points, 8.6 rebounds and 4.2 assists per game this season along with 2.1 blocks. He's the only player in the league to match that line since Kevin Garnett did in 2003-04.
But his near triple-double performance on Wednesday wasn't enough for the Hawks. Neither was Al Horford's 27 points and nine rebounds on 12-of-15 shooting. They couldn't pull off the home win even though Chris Bosh hit his first shot from the floor with four minutes left in the fourth quarter.
Why? Because LeBron James and Ray Allen happened. Down 10 points heading into the final frame, the Heat crushed the Hawks in the fourth quarter, scoring 40 points to the Hawks' 17. James finished with 24 points, 11 assists and six rebounds on the night with eight of his assists coming in the fourth quarter. Drive and kick. Drive and kick. Allen finished the fourth quarter with 13 points, just four shy of the entire Hawks team.
It was hard not to contrast the Hawks, who are embroiled in trade talks, and the rolling Heat, who arguably haven't looked more complete after their eighth win in a row. There's a reason you haven't heard trade rumors trailing the Heat. In reality, they already made their big acquisitions in Shane Battier (17 points on Thursday) two offseasons ago and Allen this past offseason.
"There's only a few players who can play at the athletic level that LeBron can, and [Smith] is one of them," Heat coach Erik Spoelstra said. "He's underrated as a passer, as a facilitator. He's a heck of a talent. We've had our battles over the years."
If this ends up being Smith's final game as a Hawk, he leaves Atlanta with a career 302-325 record in seven seasons, but a playoff appearance in each of his last five seasons. However, he has never led the Hawks to the Eastern Conference finals during his up-and-down tenure with the team. Will he get one last shot this season, or will the Hawks trade him just like they did with Joe Johnson in the offseason?
"We'll have to wait," Smith said, "and see what happens."
Dimes past: Feb. 1-2 | 3 | 4 | 5 | 6 | 7 | 8-9 | 10 | 11 | 12 | 13 | 14 | 17| 20
ESPN Staff Writer
ESPN.com NBA analyst since 2010
ESPN.com Insider researcher in 2009
Developer of NBA DRAFT Initiative database
2. Around the Association
3. Wednesday's Best
Harden
James Harden, Rockets:
Never sleep on the beard. His team was down 14 with seven minutes to go, but Harden proceeded to post a career-high 46 points in a 122-119 win over his former team from OKC. Harden sank a career-best seven 3-pointers.
4. Wednesday's Worst
The New York Knickerbockers: The Knicks went down in a blaze of ignominy in their 125-91 blowout loss in Indy. Torched by Paul George early and often, New York was called for three individual technical fouls and a flagrant foul, and J.R. Smith was ejected.
6. Tweet Of The Night
https://twitter.com/iamisiahthomas/statuses/304431677634134016

— Isiah Thomas (@/iamisiahthomas) February 20, 2013
7. Quote Of The Night
"If he is not up for MVP consideration, I don't know what else he needs to do."
-- Houston's Jeremy Lin, on James Harden's rise with the Rockets.
8. Burned By Beard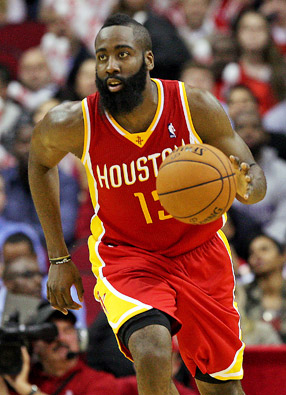 Troy Taormina/USA TODAY SportsRockets guard James Harden earned his first win over his former team, the Oklahoma City Thunder. According to Elias, his 46 points were the most by a player facing his former team in less than a season since Tony Delk scored 53 in 2001.
9. Stat Check
Howard
Dwight Howard scored 24 points, shooting 10-for-13 from the field, and grabbed 12 rebounds in the Lakers' 113-99 home win over the Celtics. It was Howard's 82nd career game with at least 20 points and 10 rebounds while shooting at least 70 percent from the floor. That's more than twice as many as any other player since 2004-05, Howard's first season in the NBA. Carlos Boozer is a distant second with 30. And as disappointing as Howard's Lakers tenure has been so far, his five such games are still the most by any player this season.
Around The Association
---
MVP: Greg Monroe. Monroe had 19 points, seven rebounds, seven assists and three blocks. It's just the seventh time someone has posted those totals this season, though three of the games have been in Charlotte by Bobcats opponents.
Defining moment: Brandon Knight grimacing in pain ... the second time. Knight hurt his right knee late in the third quarter, the type of injury that seemingly would have knocked him from this game at the very, very minimum. But he -- valiantly or foolishly depending on perspective -- returned in the fourth quarter only to absorb more contact and leave 45 seconds later for good.
That was ... far-reaching: The Pistons nearly shot better on 3-pointers (47 percent) than 2-pointers (50 percent), and the Bobcats actually did (44 percent to 39 percent). Nobody embodies the strange feat more than Jose Calderon, who went 4-for-4 on 3s and 0-for-4 on 2s.
---
MVP: Kyrie Irving exploded in the fourth quarter as the Cavs' lead was beginning to look precarious. He put up 20 points in the final period and finished the game with 35 points, seven assists and five rebounds.
X factor: Dion Waiters' jumper has been inconsistent during his rookie season, but he nailed a string of step-backs and carried the Cavs' offense through a shaky third quarter.
LVP: Ryan Anderson is one of the best shooters in the NBA, and the Hornets depend on him to score in bunches off the bench. He couldn't find the range tonight, shooting 1-for-4 from beyond the arc and 3-for-11 overall.
---
MVP: Zach Randolph. It's not often that a guy goes 4 of 17 from the field and has a net positive impact. He saved seven possessions with his work on the offensive glass and gathered 14 attempts from the stripe.
Defining moment: Mike Conley's 27-footer with 1:57 to play, which stretched the Grizzlies' lead to 83-77 was painfully characteristic of the night it was for Toronto. No matter how hard they banged on the door, Memphis found a way to bolt it shut.
That was ... offensive to the art of offense: Percentage-wise, both teams shot 36 and change from the floor, while neither team broke the 30 field goal plateau. The Grizzlies hang their hat on winning ugly, so it's no surprise they came out on top of this one.
-- Steve Danziger, 3 Shades of Blue