1. Heat Cap Historic Month With 2OT Thriller
MIAMI -- Few opposing coaches are in better position to gauge just how much better the Miami Heat have played from January to February than Keith Smart.
The Sacramento Kings coach faced the Heat midway through January as Miami stumbled through its worst play of the season, an 8-7 stretch from Dec. 28 through Jan. 27.
What Smart saw Tuesday night when the Kings played the league's hottest team at AmericanAirlines Arena was a version of the Heat now striving, not simmering.
"Sometimes, they can get a little bored and say they need something to jump-start us," Smart said. "They're not looking at their opponent. They're playing against themselves now. They're saying, 'How good can we be?'"
LeBron James and Dwyane Wade discovered they needed to be historically good to slip past the Kings in a 141-129 double-overtime victory that allowed the Heat to close out a remarkable February with their 12th consecutive win.
The 141 points tied the franchise scoring record for a game. In what was the second-highest scoring performance by a Heat duo, James had a season-high 40 points and a career-high 16 assists, while Wade had a season-high 39 points, eight rebounds, seven assists, three steals and two blocks.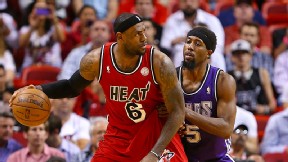 Mike Ehrmann/Getty ImagesLeBron James' February? Not too shabby. With 40 points on Tuesday, he capped off what could be the best regular-season month of his career.
"Those are video game numbers," Heat coach Erik Spoelstra said. "Both of those guys were sensational."
The Heat opened the month with a fight on their hands on the way to a 102-89 loss Feb. 1 at Indiana. They ended the month in another scuffle, but this time eventually overwhelmed the lottery-bound Kings, who primarily played six players, shot 52 percent from 3-point range and got 36 points from Marcus Thornton and a 24-point, 15-rebound double-double from DeMarcus Cousins.
Heat players and coach Erik Spoelstra weren't particularly thrilled with the way they played in either their first or last games of the month. But between them, Miami was able to string together arguably the best regular-season stretch since James, Wade and Chris Bosh came together in 2010.
Miami's 12-1 mark represents the best month of February in team history and the 12 straight victories match the longest streak the team has put together in their 'Big 3' era.
"This is what we've been talking about," James said. "I told you guys a while ago that we needed one of these months. We needed one of these stretches of great basketball and win any type of game -- whatever it took. And it happened in February. This has been a great month for us. We're playing some great basketball. And whatever the game presents, we've been able to just figure it out."
The Heat have won in a variety of ways. The one constant has been the night-to-night dominance of James.
After the loss to the Pacers, James started a streak in which he became the first player in league history to score at least 30 points and shoot at least 60 percent from the field in six consecutive games. His play powered an efficient month for the Heat's offense, which topped 100 points in 10 of 13 games and shot a collective 52 percent for the month.
Along the way, the Heat completely dismantled the Clippers, Lakers and Thunder before the All-Star break. Then, they picked right up after the break to beat the Hawks, Bulls and 76ers on the road before returning home to hold on for close wins against the Cavaliers and Kings.
Another factor in the recent surge has been Wade's resurgence. Having improved each week of the month, Wade closed out February averaging 26.6 points and shooting 60 percent from the field in his past five games.
Wade sounded a bit superstitious when he was asked to sum up the Heat's success in February. He credited the team's play to the "throwback jerseys" the Heat wore this month as part of the franchise's 25th-anniversary theme.
"Throwback jerseys did us good -- we only lost one game in them," Wade said. "Throughout the month, we found a way to get better. We won many different ways. We have to continue to get better this time of the year, because other teams are doing it, too. We want to continue into March."
Setting aside his distaste for some defensive lapses against the Kings, Spoelstra said there were several factors that contributed to the Heat's recent run. In short, the coach essentially said they simply stopped messing around.
"More than anything, [it's] the sense of urgency," Spoelstra said. "There's been a greater commitment to our energy and activity, intensity ... and our focus has been better. It's not a magic formula or pill for it. We're just playing more consistent to our identity on both ends of the court."
The Heat have also regained that intimidation factor. On Sunday, Cavaliers coach Byron Scott said he told his team at halftime "it looked like they were playing scared" when Cleveland quickly fell behind by 22 points to Miami. Before Tuesday's game, Smart predicted the Kings would play well against the Heat as long as his players didn't get too awestruck with some plays James and Wade execute.
"[Miami] is built to do one thing -- that's not to play an NBA regular season," Smart said. "It's to win a championship, and they're playing at that stage now."
Miami won't have to wait long to see if it can carry its momentum into March. Within the first 10 days of the month, the Heat face three teams that beat them this season, starting with Friday's home matchup against Memphis followed by Sunday's showdown at the New York Knicks. The surging Pacers are on deck the following week.
James and Wade didn't have to be reminded Tuesday that they're a combined 0-5 against those three teams this season and now 40-9 against the rest of the league.
"Our standards are a lot different than some other teams," Bosh said. "A lot of other teams might be happy with a 12-game winning streak no matter what happens. But we have to be so critical of ourselves. Now, we're more precise. We know what we're doing. When we play the way we're capable of, we're the best team going."
Dimes past: Feb. 1-2 | 3 | 4 | 5 | 6 | 7 | 8-9 | 10 | 11 | 12 | 13 | 14 | 17 | 20 | 21 | 24 | 25
ESPN Staff Writer
ESPN.com NBA reporter
Blogs regularly on the Miami Heat
14 years covering the ACC, SEC, NFL and NBA
2. Around the Association
3. Tuesday's Best
James
LeBron James, Heat:
Believe it or not, this was LeBron's first 40-point game of the season, and he added a career-high 16 assists just for good measure. The Heat needed every bit in a double-overtime win over a pesky Kings team. Another Player of the Month honor shouldn't be far away for James.
4. Tuesday's Worst
Mavs' finishing touch: Dallas missed seven of its final eight shots in the fourth quarter to give the game away to the Bucks -- and ensure Dirk Nowitzki's 20-20 performance was in defeat.
6. Tweet Of The Night
2 Game of the Year candidates in past 4 days: Spurs-GSW + Kings-Heat tonight. Thornton + Boogie dueling LBJ + Wade in a 2013 Finals Preview!

— Bill Simmons (@BillSimmons) February 26, 2013
7. Quote Of The Night
"Even playing in double overtime, those are still video game numbers."
-- Heat coach Erik Spoelstra, on the LeBron James and Dwyane Wade combining for 79 points, 23 assists and 16 rebounds in Miami's win over Sacramento.
8. He Started It!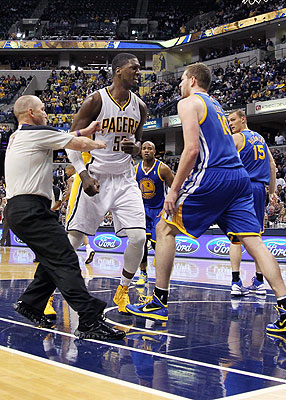 Brian Spurlock/USA TODAY SportsThings got heated in Indy, but the Pacers got the final word with the 108-97 win.
9. Stat Check
Marcin Gortat, Markieff Morris and Wesley Johnson shared team-high honors with 14 points apiece in the Suns' 84-83 overtime win against the Timberwolves. Phoenix is the first NBA team in the shot-clock era (1954 to present) to win an overtime game without a single player scoring at least 15 points.
Around the Association
---
Most valuable player: Wes Johnson had arguably his best game as a Phoenix Sun, and he did so against his former team. The third-year swingman had 14 points, 9 rebounds, 3 steals, and dished out 2 important assists in overtime.
X factor: Jermaine O'Neal continues to drink from the fountain of youth in Phoenix. The 17-year veteran recorded his third double-double (10 points and 13 rebounds) over the past six games and provided the Suns with an interior presence on a night Marcin Gortat battled foul trouble.
That was … small: With Andrei Kirilenko unable to go in the second half (calf strain), Rick Adelman went to an extremely small lineup that included Ricky Rubio, Alexey Shved and J.J. Barea. The trio shot 12-of-40 on the night but changed the game with their speed. Adelman also went to a 2-3 zone and Minnesota found a way to force overtime after trailing by as many as 18.
---
MVP: Aaron Afflalo, a steady veteran hand on a Magic team that's more than a little wet behind the ears -- not to mention, bad -- led the visitors with 16 points and chipped in 7 assists and 6 rebounds to help Orlando snap a five-game skid.
LVP: The Philadelphia 76ers. In a season full of bad losses, the Sixers put together their most putrid 48 minutes of the season on Tuesday. At home, they let the now 16-41 Magic -- losers of 28 of their previous 31 games -- shoot 54 percent and pull off a pair of 14-2 runs. It was a tour de force of ineptitude.
X factor: Adding insult to injury for Philadelphia, two of the young players they moved in the wildly unsuccessful Bynum deal came back to bite them. Rebounding expert Nikola Vucevic scored 12 to go along with 19 boards, while a coolly efficient Moe Harkless got 10 points of his own with just four shots.