1. LeBron Makes Sure Pain Belongs To Knicks
NEW YORK -- Lying on the court, with teammates and cameras hovering, there was an unusual look on LeBron James' face as he wrapped his hands around his left knee after twisting it under his body in an awkward fall Sunday afternoon.
The James grimace face is patented by now and, frankly, is sometimes exaggerated for effect. James has done some light acting in his career but his laying the foundation for future fouls has always been better than his "Saturday Night Live" work.
There was no scowl this time. His eyes were wide open and his face was still as he waited to see how his leg reacted to movement and pressure. He has turned his ankle dozens of times and walked it off; one of the benefits of having ankles as thick as the average man's shoulder. But the knee is a danger zone for any athlete, and James grasped it unknowingly.
"I was concerned," he said afterward, the knee wrapped in ice. "I'm still concerned."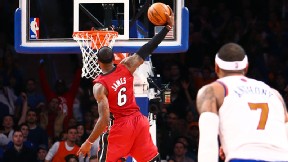 Debby Wong/USA TODAY Sports There went LeBron James, off to the races to deliver a 14th straight win for the Miami Heat.
Earlier on the court, he gingerly got up and shook his leg, as you might a finger after jamming it. He rubbed and tested it.
And then he smothered the New York Knicks for the rest of the game in the Miami Heat's 99-93 victory. It was the Heat's 14th straight win and put them 7½ games up on the Knicks in the Eastern Conference standings. A month ago, they were tied.
"He's like Superman," Chris Bosh said. "We don't expect him ever to get hurt."
"You've ever seen him get hurt?" Carmelo Anthony asked. "He never gets hurt. We weren't buying that."
It's easy to present a statistical case for why James is playing the best ball of his career. Measurables and historical databases have been getting a daily workout. There has been a stream of numbers generated to illustrate just how well James has been shooting, rebounding and defending this season.
On Sunday, though, James showed the true basis for his status as the game's top player. On a day when his stats said he was really just slightly above his standard -- 29 points with 52 percent shooting, 11 rebounds and 7 assists -- he was physically stupefying.
James made a handful of plays that would qualify as a season highlight for most of the players he shared the floor with. Calling himself "king" and using a lion as one of his logos may annoy some and come off as narcissistic. But in a sport filled with alpha males from across the world, James doesn't seem to have a peer.
In the first half, he executed what will probably be one of the best give-and-go plays you will ever see. After firing a long pass to Dwyane Wade, James took off on a dead sprint, covering about 80 feet in about three seconds as he zoomed past three unsuspecting Knicks players. Wade caught the pass, dribbled and tossed it to James for a dunk as the Knick players went frozen, wondering where James had come from.
Hadn't he just been on the other side of the court?
"I didn't stop running," James said. "I saw three Knick guys in front of me but I felt like I could beat them down the court. Melo didn't see me take off, and once he turned and saw me it was too late."
In the second half, with the Heat in the midst of wiping out a 16-point Knicks lead, James took over as Anthony's main defender. There were double-teams and there were some switches, but for the most part James was responsible for Anthony and keeping him out of his preferred comfort zones.
After he went 6-of-8 from the field and got to the line 12 times in the first half on his way to 24 points in the first half, Anthony went 3-of-11 and had just two free throws in the second half.
In short, Anthony just couldn't move him, couldn't draw fouls on him and had lots of trouble shooting over him.
In the fourth quarter, when James eschewed his normal five minutes of rest and played the entire second half, he made several plays that featured pure physical dominance. During one sequence, he rotated over to challenge Tyson Chandler after he'd sprung wide open after slipping through a pick-and-roll.
James met Chandler mid-air and blocked his shot, kicking off a fast break. Then he raced to the other end and plucked an offensive rebound and put it back in for a four-point swing that proved to be a vital sequence in the Heat's turnaround.
Then in the final minute, James sealed the game when J.R. Smith made the mistake of throwing a lazy pass toward Anthony with the Knicks down four points. James screeched in to intercept it and covered half the court in 2.2 seconds -- according to the official timesheet, at least -- for a dunk that sent the fans to the exits.
"It's endless; his motor is limitless," Heat coach Erik Spoelstra said. "He was the strongest after 40 minutes of basketball."
James has had numerous games this season in which you could have called his performance more "dominant" than he was Sunday. He has had highlight alley-oops that were more stylish. He has shut down his opponent with more efficiency.
But he has not had one when he more physically controlled the game, a game that was meaningful to the Heat's mindset as it made up for two earlier 20-point losses to the Knicks. If he had just one game to submit for his MVP candidacy, it wouldn't be any of his triple-doubles; his 40-point, 16-assist game; or his 39-point, 12-rebound effort in Oklahoma City two weeks ago.
It would be what he did to the Knicks on Sunday, shaking off a near-miss of injury to muscle his way to another win, and now the longest winning streak of his career.
"As a team and me as an individual, I don't think we've ever played better," James said. "For me, I categorize my play with team success. I've been able to play well and we've been able to win. This is the best so far."
Dimes past: Feb. 21 | 24 | 25 | 26 | 27 | 28 | March 1-2 | Sloan/MIT, Day 1 | Day 2
ESPN Senior Writer
ESPN.com NBA writer since 2010
Covered Cleveland Cavs for seven years
Author of two books
2. Around the Association
3. Sunday's Best
Bryant
Kobe Bryant, Lakers:
The Lakers are at .500, at last. Bryant is the big reason for that, scoring 11 of his 34 points in the fourth quarter. He hit the go-ahead layup with 9 seconds left in a 99-98 victory over the Hawks.
4. Sunday's Worst
Stuckey
Rodney Stuckey, Pistons:
In a 39-point loss to the Tony Parker-less Spurs, Stuckey did not deliver much oomph off the bench. He played 19 minutes and missed all five of his shots. In the starting lineup a week ago, he dropped 22 on the Hawks.
7. Quote Of The Night
"Sometimes you take things a little too far, but I wasn't provoking [Serge Ibaka] or anything like that."
-- Clippers forward Blake Griffin, after being struck below the top of the shorts in a loss to the Thunder.
8. Power Of Russ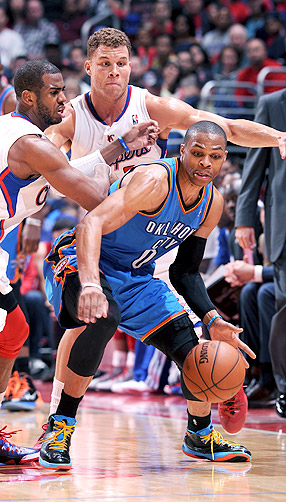 Noah Graham/NBAE/Getty ImagesThunder guard Russell Westbrook (28 points, 10 assists) helped his team earn a sweep of the season series with their West rivals, the Clippers.
9. Stat Check
Parsons
Chandler Parsons scored 32 points, while shooting 12-for-13 (.923) from the field, in the Houston Rockets' victory over the Dallas Mavericks on Sunday night. Only one other NBA player in the past three seasons scored at least 30 points in a game while making at least 90 percent of his field goal attempts. LeBron James did that last month, when he converted 13 of his 14 field goal tries (.929) in a 31-point performance.
Around the Association
---
Most valuable player: John Salmons came, saw and conquered the third quarter. After a sluggish first half, the veteran small forward came alive in the third, scoring 19 points on 4 of 7 attempts from 3-point land. Salmons isn't the long-term answer for the Kings' hole at small forward, but his shooting has really been the difference lately.
Defining moment: Salmons' 3-point barrage reached a crescendo late in the third quarter. With 3:29 remaining, Salmons fired and connected on a 25-foot fadeaway 3-pointer while simultaneously drawing a foul from the Bobcats' Jeff Taylor. The veteran forward would complete the four-point play en route to one of his best performances of the season.
X factor: Three-point shooting. The Kings opened the game 0-of-6 from long range in the first quarter. They came to life in the ensuing three quarters when they went 13-of-27 from 3-point land. Their shooting from distance helped them build the largest lead against an opponent this season at 43.
---
MVP: Marc Gasol was superb -- 12 points, 11 assists and 5 rebounds. The 11 dimes were a career high for Gasol, who picked apart the Magic's defense with his pinpoint passing and efficient shooting.
Defining moment: The Grizzlies raced out to a double-digit lead in the first quarter and never looked back in this one. Memphis imposed its will in all facets of the game and Orlando was helpless to stop it.
That was … dominant: It remains to be seen where the Grizzlies fall in the West standings with the playoffs looming, but don't expect any team to be looking forward to playing them. Especially with that defense.
---
MVP: John Wall answered a seven-point fourth quarter from Jrue Holiday with six points of his own, all with under 95 seconds left to play. Wall put the Wizards up one point on a pair of free throws with just over a minute left and then sealed the deal with a jumper to put Washington up three with 4.4 seconds left.
X factor: Nene, returning after missing the past two games with a sore shoulder, was Washington's true X factor. His huge offensive rebound with 27 seconds left gave Wall the chance to be the hero.
That game was … plodding with a semi-frantic finish. These two stalwart defensive teams pounded each other's willing offenses into submission. But an A.J. Price alley-oop to Jan Vesely to end the third quarter later ignited an entertaining battle between Holiday, Wall and Bradley Beal (before the rookie sprained his ankle with two minutes left).