1. Why 15 Beats 1 Million For Miami These Days
Magic Johnson just doesn't seem to understand.
Who says LeBron James has no intentions of entering the dunk contest anytime soon? Heck, the league's three-time MVP is emphatically slamming the NBA right now.
James' latest score: 15.
That would be 15 consecutive victories for James and the Miami Heat, who set a record for the longest winning streak in franchise history after beating the Minnesota Timberwolves 97-81 Monday in their third game over four nights.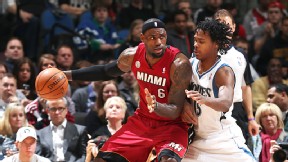 David Sherman/NBAE/Getty ImagesLeBron James and the Heat drove to a franchise-record 15th straight win, taming the Wolves.
"Anytime you get an opportunity to set a record, it's great for the organization, it's great for the guys involved in it," James told reporters in Minnesota after he had 20 points, 10 rebounds and overcame seven turnovers. "But we want to keep going. We want to keep winning each game by itself. We don't really talk about the streak. We don't really get involved in it. We just go to the next game and we play it out the way we've been playing the last game."
Nothing seems to be able to slow the Heat these days.
Not that nasty fall James suffered during Sunday's win in New York that left him with a jammed knee that required round-the-clock treatment before Monday's game.
Not the challenge of playing games on consecutive nights in cities separated by 1,200 miles, with Miami improving to 9-1 this season on the second night of back-to-back sets.
And certainly not the well-intentioned lobbying from Magic and his NBA analyst buddies, who have been more fixated on LeBron's pregame dunking than his in-game dominance so much that they're offering him $1 million to enter the dunk contest at All-Star Weekend next February.
What should be obvious is that Miami has far more serious business to attend to right now. Since that Feb. 1 loss in Indiana, the Heat have been serving notice to potential contenders that not only does the road to a title run through the defending champions, they'll also take the show on the road and convince opponents on their turf just the same.
And the most remarkable thing about the Heat's recent run is they may have yet to put four solid quarters together.
Instead, the formula of late has simply been to annihilate teams in the fourth quarter. For the second time in as many nights, the Heat used a furious push in the final period to overcome sporadic play early to put away teams late.
Earlier in the streak, Miami repeatedly got off to fast starts, which was the case against the Houston Rockets, Los Angeles Clippers and Oklahoma City Thunder. Now, it's all about closing out the opposition down the stretch, which was apparent in each of the past three victories against Memphis, New York and Minnesota on Monday night.
The Heat fell behind by 16 points against the Knicks on Sunday after a relatively sluggish first three quarters. Then, James got locked in, Chris Bosh overcame his first-half disappearing act and the Heat put together one solid, dominant fourth quarter to storm past the Knicks.
On Monday, the Heat were sloppy for extended stretches against the short-handed Timberwolves and committed more than 20 turnovers for the first time since a Jan. 27 loss in Boston. For at least the fourth time during the streak, the Heat's uneven play left coach Erik Spoelstra talking afterward as if he had just witnessed a loss instead of a victory. It's their never-satisfied approach that keeps the Heat striving.
"We have to keep reminding ourselves that we have to play to our identity," Spoelstra said. "There can't be shortcuts for us. We can't cheat our game. So in order for us to be disruptive and force turnovers and keep [opponents] uncomfortable, we have to get out of our comfort zone, and we finally did for a consistent period of time [Monday]."
To fully appreciate the run the Heat are on right now requires a subscription to the NBA's League Pass package and a willingness to channel surf other games being played.
You'd be hard-pressed to find a team with a duo as efficient as Dwyane Wade and Bosh. And that's not even including LeBron. All three are shooting the highest percentage of their respective careers.
I'd bet it's impossible to find a team with two shooting specialists on the same supporting cast who have been as on target in recent weeks as Shane Battier and Ray Allen.
And don't bother wasting time searching for anyone who has been anywhere near LeBron's level on both ends of the court as a more durable, clearly defined MVP candidate.
Ten wins in Miami's streak have been by double figures. Ten have seen the Heat's top-ranked offense churn out at least 100 points. But Miami has been just as impressive defensively at times. Including Monday night, the Heat have held four opponents in the 80s, one in the 70s and a Bulls team to 67 points on their own court. Seven of the wins have been on the road, with eight coming at home.
The run has been impressive, but the streak hasn't even been a major part of the discussion in the Heat's locker room. After Sunday's win in New York, LeBron gathered his teammates in a huddle and told them that avenging a pair of 20-point losses to the Knicks was a good win, but it would mean nothing if they didn't finish the trip with another victory in Minnesota regardless of how they felt.
This Heat team has been through enough to know they haven't accomplished anything yet, even as they stand two victories shy of matching the Clippers' 17-game winning streak as the longest of the season. Miami opens a four-game homestand Wednesday against Orlando and Philadelphia before it gets another much-anticipated shot at the Pacers on Sunday at AmericanAirlines Arena.
Wade, who led the Heat with 32 points Monday, played alongside Shaquille O'Neal when Miami won 14 in a row during the 2004-05 season in what should have been an MVP season for Shaq. Wade surpassed that run of consecutive victories while sharing the load Monday with LeBron, who's on course to nab his fourth MVP trophy.
But Wade is tired of the comparisons. He doesn't believe this Heat team should be judged by last season's championship run, or by that previous Miami team that had the franchise's longest streak and won a title in 2006.
"Last year was last year," Wade said. "We can pull from a lot of things we dealt with, good and the bad. But we really don't talk about or think about last year too much anymore because we're in this battle right now. We're trying to be the best team this season. From the confidence standpoint, we figured out ways to win even when it didn't look great."
Monday was the latest example. The Heat didn't quite look like Magic's million bucks. Far from it, actually.
But the only number worth tallying currently stands at 15 … and counting.
Dimes past: Feb. 21 | 24 | 25 | 26 | 27 | 28 | March 1-2 | Sloan/MIT, Day 1 | Day 2 | 3
ESPN Staff Writer
ESPN.com NBA reporter
Blogs regularly on the Miami Heat
14 years covering the ACC, SEC, NFL and NBA
2. Around the Association
3. Monday's Best
Wade
Dwyane Wade, Heat:
Wade had 32 points on 15-for-23 shooting, boosting the Heat to a franchise-record 15th straight victory with a 97-81 win over Minnesota. He also had 10 rebounds and seven assists.
4. Monday's Worst
The Bobcats way out West: The NBA's worst team is on the road, and it's not pretty. The 122-105 loss in Portland puts the Cats' losing streak at seven. The night before, the Kings should have been whistling "Sweet Georgia Brown" while putting up a 41-point third quarter on the Cats.
6. Tweet Of The Night
This guy... All that popcorn smh http://instagr.am/p/WdkiALnERv/

—Maurice Harkless (@moe_harkless/ March 4, 2013
7. Quote Of The Night
"I probably would have smacked [Ibaka] in the mouth. I would have dealt with the pain after."
-- Kobe Bryant, on how he would have dealt with the low blow Serge Ibaka inflicted on Blake Griffin on Sunday.
8. Riling Up Ray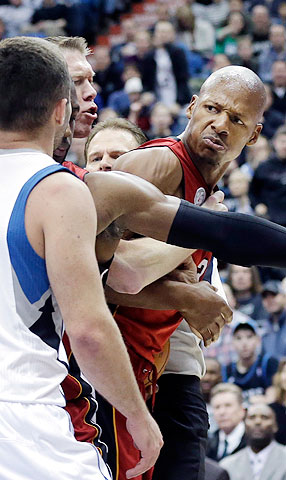 AP Photo/Jim MoneMiami's Ray Allen has a few choice words for Minnesota's J.J. Barea, whose hard bump of Allen earned the Wolves' guard an automatic ejection after a flagrant-2 foul was called.
9. Stat Check

Walton
Luke Walton had a career-high 12 assists in the Cleveland Cavaliers' loss to the New York Knicks. Bill Walton's most assists in any NBA game was 14, on Feb. 1, 1975 while playing for Portland. The only other father/son duos in NBA history to each have a dozen-assist game are Rick and Brent Barry; Henry and Mike Bibby; and Jimmy Walker and Jalen Rose.
Around the Association
---
Most valuable player: Arron Afflalo scored 11 of his game-high 26 points in the fourth quarter, including making the go-ahead bucket with 38.2 seconds left. Time and again, Orlando isolated Afflalo against Eric Gordon at the right elbow and he delivered.
Defining moment: Trailing 105-102 with 10.6 seconds remaining, the Magic defended the Hornets' final play about as well as you could, with Jameer Nelson forcing Greivis Vasquez to take a contested 3-pointer at the top of the key that missed wide left. Ballgame.
X factor: Nelson was big for the Orlando. When the Magic were down by as many as 17 in the third quarter, Nelson helped keep them in the game and erase the deficit by scoring 11 points during a 22-5 scoring run.
---
MVP: David Lee. The lefty had 29 points, 11 rebounds and 5 assists on a night his team needed all the production it could get. He was quiet in the fourth quarter, but kept the Warriors afloat before then.
X factor: Toronto's relentless attack on the offensive glass was all Amir Johnson, who collected 12 of his team's misses and shot a perfect 10-of-10 from the field. A career performance in a losing effort.
That was … a roller coaster: Every substantial run you thought might put the score out of reach was answered and improved on by the opposition. Golden State just happened to have the game's last.