1. The Lakers Might Not Want This Russ Matchup
OKLAHOMA CITY -- We've seen the Los Angeles Lakers play the Oklahoma City Thunder quite a bit over the past few years. A six-game series in 2009, a bunch of regular-season games in between and a five-game series last postseason.
And if we've learned anything from it all, it's that the Lakers have absolutely no clue what to do about Russell Westbrook.
Their best bet is Kobe Bryant, who, mind you, is 34 years old and not quite his once spry defensive self. Because after that, Steve Nash, Steve Blake, Steve Carell -- it doesn't matter. Nobody is stopping Westbrook.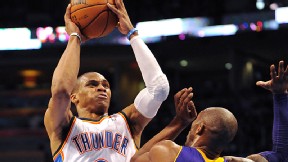 Mark D. Smith/USA TODAY SportsRussell Westbrook's sizzling speed is one reason the Lakers might not want to draw OKC again.
"Yeah it's fun," Westbrook said of his matchup with Bryant. "He's a competitor. I like to compete, as well. But I like to win also."
Which is what Westbrook's Thunder did Tuesday night. In 36 relentless minutes, Westbrook put up 37 points, snared 10 rebounds and dished out five assists in the Thunder's 122-105 roll of the Lakers.
Westbrook always plays with a certain pace, a noticeable fury. It's like anger mixed with hyperactivity. But with his hometown Lakers here and a matchup with Bryant standing in his way of a win, Westbrook was at a different level of frenzy. It was like all of the Harlem Shake videos put into one. Each Westbrook bucket came packaged with either a strut, a sneer or a flex. Or even, on occasion, all three. He flung his arms wildly, pounded his chest, pumped his fists and bellowed out with every and-1, every dunk, every bucket.
"I enjoy the challenge," Kobe said of Westbrook. "It's always fun to go up against him. Some nights I get the best of him. I argue with him that most nights I get the best of him. But tonight, he did his thing, he did his thing. He kept it under control tonight. He's just a fantastic player."
Obviously, the Thunder and Lakers are at different stages, constructed with entirely different approaches. The Thunder were built in a petri dish, grown and developed into the monster they are now. The Lakers have always been the monster, one that has tried to sharpen its teeth with big offseason moves.
Regardless of what they've done, the one distinction between the two teams has remained Westbrook. His knifing, slashing attack is something the Lakers have no answer for. He gets to the rim at will, and with Dwight Howard still apparently not right physically, there's nothing standing in his way of two easy points when he leaves his man standing in stone behind him.
Add in Kevin Durant, even on an off night -- an "off night" being 9-for-22 shooting for 26 points -- and the Lakers are pretty much cooked before tip-off. As the Lakers battle for a spot in the postseason, there's this looming possibility that the Thunder rise into the West's top seed, presenting the Lakers a rematch with the team that sent them packing last postseason. Something I can't help but think would preferably be avoided by the Lakers.
"We don't have the athleticism that they do, so if we allow them to play to their strengths and use their athleticism, we're going to be in trouble," Bryant said. "Everybody can get up and down and use their speed to get to the rim. We have to be able to alter that. If we can stay in front of the ball, be solid defensively, we'll give ourselves a much better chance."
Here's the problem with that: Staying in front of the ball, especially when it's in Westbrook's hands, is about as realistic for the Lakers as Magic Johnson's bronze statue coming to life and signing a 10-day contract. In fact, that's exactly what the Lakers look like when Westbrook attacks them off the dribble -- bronzed defenders.
The Thunder's offense is built around speed, athleticism, quickness, skill and efficiency. And on this night against the Lakers, OKC turned the ball over an NBA record-tying two times, which led to 96 shot attempts. Considering the fact that the Lakers can't guard them to start with, that's not a winning formula.
But Kobe is as resilient as they come and despite a mysterious elbow injury that had him dragging his right arm around like a limp noodle, he still kept his Lakers in it and gave them a chance. But a near-six minute scoring drought to finish the game allowed the Thunder to close on a 12-0 run and send the Lakers back under .500. A humbling experience and another dose of reality that they just aren't in the same conversation right now with the class of the West.
"I told these guys, 'They are good,'" Lakers coach Mike D'Antoni said. "'They are probably the best team in the West. We need to measure up against it.'"
Something difficult to envision them doing, especially in a postseason series. The Lakers still have to get there first, but if they find themselves matched against Westbrook's Thunder in the opening round, their playoff experience might come and go just like one of No. 0's assaults on the rim: fast.
Royce Young's work can be found on the Daily Thunder. Follow him at @dailythunder
Dimes past: Feb. 21 | 24 | 25 | 26 | 27 | 28 | March 1-2 | Sloan/MIT, Day 1 | Day 2 | 3 | 4
ESPN Staff Writer
Covers the Oklahoma City Thunder for ESPN.com
2. Around the Association
| | | | | |
| --- | --- | --- | --- | --- |
| Los Angeles Lakers | 105 | FINAL | 122 | Oklahoma City Thunder |
---
MVP: Russell Westbrook. Once he got a head of steam, forget about it. Westbrook attacked in transition all night, turning the Lakers' perimeter defenders into matadors en route to a game-high 37 points.
X factor: Turnovers. Oklahoma City has the second-highest turnover rate in the league, but they somehow managed to cough it up only twice tonight. Scary what they can do with all those extra possessions, isn't it?
LVP: Dwight Howard. Feed the dog and he'll protect the yard, right? Didn't happen. Howard was invisible on both ends with six points on 1-for-7 shooting.
| | | | | |
| --- | --- | --- | --- | --- |
| Denver Nuggets | 120 | FINAL | 113 | Sacramento Kings |
---
MVP: Andre Miller's tricks of the trade were on full display. The old man came to play when it mattered most -- the fourth quarter. Miller scored 10 of his 16 points in the final frame and shot an effective 8-of-11 from the field. He also chipped in seven assists in the seven-point victory.
X factor: This game could have gotten out of hand if not for the efforts of Marcus Thornton. The Kings sixth man scored a game-high 32 points, while shooting 5-of-11 from 3-point land. This is just the 10th time Thornton has scored 20 or more points this season and four of those outings have come in the past five games.
That was ... startling. In their past five meetings, the Nuggets have beaten the Kings by an average of 22.4 points per game. The Kings have been playing much better ball lately. But it was still a surprise to see them compete against a team that's now won eight straight against them the past few years.
| | | | | |
| --- | --- | --- | --- | --- |
| Boston Celtics | 109 | FINAL | 101 | Philadelphia 76ers |
---
MVP: Offensively challenged Avery Bradley -- he of the 10.15 PER and 46.5 true shooting percentage -- was a one-man wrecking crew. The defensive specialist hit nine of his first 10 shots en route to a season-high 22 points and chipped in seven rebounds and five assists for good measure. And, as Jrue Holiday can attest, the D was there, too.
X factor: Paul Pierce was typical Pierce, which is to say steady, smart and effective. After a slow start, the vet scored 18, with a perfect 4-of-4 mark from 3-point range, and filled the remainder of the box score with 11 rebounds and seven assists. Even at 35, 34 still looks good.
That was ... more grist for the mill: The "is Boston better without Rajon Rondo?" chatter will continue, for another day at least. Minus their putative superstar, the renascent Celtics shot 50.6 percent and, testament to the team, collected assists on 34 of their 42 field goals. Boston improved to 12-4 since Rondo went down on Jan. 25.
3. Tuesday's Best
Westbrook
Russell Westbrook, Thunder:
The All-Star point man struck like lightning, posting 37 points and 10 rebounds as Oklahoma City Thunder downed the Los Angeles Lakers, 122-105. Westbrook had one of OKC's two turnovers, which tied an NBA record for fewest by a team in a game.
4. Tuesday's Worst
Howard
No country for big men: If before the season began, one announced that on March 5, 2013, Dwight Howard, DeMarcus Cousins, Andrew Bynum and Kendrick Perkins would combine to shoot 2-for-24, then one might have had one's NBA League Pass privileges revoked.
6. Tweet Of The Night
Multiple Laker performances have made you think about writing 'em off. Losing in OKC on night OKC ties NBA low for fewest TOs not one of 'em

—Marc Stein (@ESPNSteinLine March 4, 2013
7. Quote Of The Night
"I should have [taken him out]. Stubborn coach -- I just didn't."
-- Knicks coach Mike Woodson, who did not grant Carmelo Anthony's request to come out of the game Monday. Melo subsequently injured his knee.
8. Pointing The Way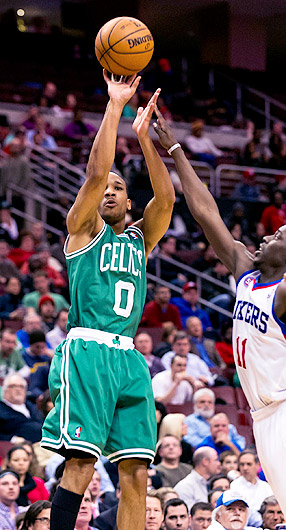 Howard Smith/USA TODAY SportsAvery Bradley had 22 points, seven rebounds and five assists in a win over Philly that moved Boston within a game of Atlanta for sixth in the East.
9. Stat Check
Durant
The Lakers managed to contain Kevin Durant on Tuesday night, holding the NBA's leading scorer to 26 points. But Russell Westbrook poured in 37 points in the Thunder's 122-105 victory. That's how it's gone lately when those teams meet. Over the past three seasons, Durant leads the league with six 30-point games against the Lakers, and Westbrook ranks second with four.
Oklahoma City led the Lakers, 71-55, at halftime on Tuesday. That matched the highest first-half point total any NBA team has scored when facing Dwight Howard. The only other team to top the 70-point mark against Howard by halftime was the Knicks in a 119-111 victory over the Magic in December 2004, Howard's second month in the league.