1. LeBron Keeps Miami Alive With Sweet 16 Win
MIAMI -- There have been times throughout the Miami Heat's longest winning streak in franchise history when different variables were required to pull out a victory.
In some instances, the Heat relied on luck.
Other occasions demanded a steady dose of LeBron James.
Miami needed every bit of both to squeeze past the tougher-than-expected Orlando Magic for a 97-96 victory that gave the Heat their 16th straight win. Unlike the previous 15, Wednesday's came by the slimmest of margins and wasn't secured until James made the second of his two major adjustments down the stretch, scoring the game-winning layup with less than three seconds remaining.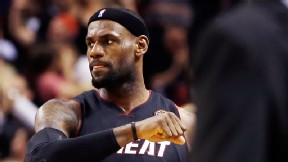 AP Photo/J Pat CarterLeBron James had a big play on both ends late that extended Miami's winning streak to 16.
But before the Heat got that lift from LeBron, they benefited from a few lucky breaks, a few more favorable calls and a couple of moments when role players clawed their way into the right position at just the right time.
That was a major reason James and his teammates didn't exit AmericanAirlines Arena with grand illusions.
"You cannot win that many games in a row without winning some games that you shouldn't win," said Heat guard Dwyane Wade, who had 24 points and continued his recent hot shooting by going 10-of-16 from the field. "You are going to win some games where you didn't play as well and you are going to get lucky. You have to get some breaks and opportunities. You don't go on these streaks without having a little luck."
A little luck … and a lot of LeBron.
Luck had little to do with the Heat squandering all of a 20-point second-half lead and trailing by as many as five in the fourth quarter. That was the result of Miami being unable to contain Magic center Nikola Vucevic for the second time in as many games. After pounding the Heat's front line for 20 points and 29 rebounds in a Dec. 31 overtime loss for the Magic in Orlando, Vucevic hammered Miami for 25 points and 21 rebounds Wednesday before fouling out in the final minute.
Vucevic proved at least two things in the process. The 23-year-old 7-footer showed that Miami still has some issues to address against teams with size and an aggressive presence in the paint. Vucevic also made a remarkable case for being the best asset to come of that blockbuster trade that was built around an underachieving Dwight Howard and the unavailable Andrew Bynum.
Luck might have come into play for the Heat with some of the questionable calls -- and several loose balls in the fourth quarter -- that went their way in critical moments. Statistically, the Heat shot slightly worse from the field than Orlando, were outrebounded by 12, were outscored in the paint and were outscored in second-chance points.
But Miami dominated the whistles and the free throw disparity. The Heat attempted 31 free throws compared with 12 for the Magic. Orlando committed 30 fouls, with three of its most productive players -- Vucevic, Maurice Harkless and Tobias Harris -- each disqualified on his sixth foul in the final pivotal minutes of the game. Meanwhile, the Heat were called for 17 fouls, with James, Wade and Chris Bosh combining for just three among them.
Magic first-year coach Jacque Vaughn was savvy enough to avoid potential league-fine territory in expressing his displeasure with the officiating disparity. Instead, he broke down the biggest difference in the game by explaining simple arithmetic.
"It was a good fight for us [but] I wish we had a better shot," Vaughn said. "They got to the free throw line and shot 31 free throws. You can add it up. Thirty fouls to 17, and three of our guys foul out, but one day we'll get there."
The Heat, on the other hand, are a team that has arrived as the hottest team in the league. James played a key role in delivering his team to the doorstep of matching the longest winning streak any team has had in the league this season.
With a victory Friday against Philadelphia, the Heat would run the winning streak to 17 games, which would match the Los Angeles Clippers' run from Nov. 28 through Dec. 30.
Miami nearly squandered the opportunity Wednesday until James made two in-game adjustments in the fourth quarter.
First, James switched defensive assignments and threw himself right into the middle of the Magic's effective pick-and-roll sets between Vucevic and Jameer Nelson, who had rallied the Magic back into the game with 16 points and 14 assists while picking apart the Heat's defense. The defensive assignment left James having to defend the smaller, quicker Nelson on one possession and then rotating to take on the bigger, stronger Vucevic on the next trip.
The Magic would make just one shot from the field over the final four minutes of the game.
"It's a challenge when you have to guard multiple guys and you have to switch your focus," James said. "Jameer and Vucevic had a lot of chemistry going with that 1-5 pick-and-roll. I just tried to take the challenge on. I was either playing the ball or we were switching. It helps when you can have multiple guys guard multiple players."
The next adjustment was one for the highlight reel. It was the game-winning drive from James, who drove left around two defenders and hooked a left-handed shot off the glass. Two possessions before that one, James had settled for a pair of 3-pointers that both missed with the Heat trailing.
After adjusting his defensive assignment on one end, James had to alter his offensive mindset to secure the win.
"This one, he said, 'OK, I'm not going to let you off the hook,'" Heat coach Erik Spoelstra said of James' decision to drive to the basket. "He said, 'I'm going to make something happen, get to the rim,' and it's either going to be a bucket, foul or he's going to kick it to someone wide open. So he took it into his own hands. It was the right decision."
They both were the right decisions.
In addition to a little luck and a lot of LeBron, the Heat's winning streak lives on because of a boost from other players who had key roles in its preservation. Shane Battier drew a charge on Harris that wiped away a Magic layup that would have put them ahead 98-93 with a minute left.
Bosh was overshadowed by Vucevic but did enough to get his own double-double, with 17 points and 10 rebounds. His biggest play, though, was battling for a loose ball that led to Vucevic fouling out with 38 seconds left. A few seconds later, James would score at the rim with Orlando's biggest and best paint defender disqualified on the bench.
Bosh would joke later in the locker room that that box-out was sort of an extended assist for James' game-winning basket.
"To me, it was the biggest play of the game," Bosh quipped. "But they probably don't show those loose-ball battles and stuff in the highlights on 'SportsCenter.'"
Bosh was soon proved wrong.
There were plenty of Heat highlights to go around. Yes, even for a game that was the lowlight of their win streak.
Dimes past: Feb. 26 | 27 | 28 | March 1-2 | Sloan/MIT, Day 1 | Day 2 | 3 | 4 | 5
ESPN Staff Writer
ESPN.com NBA reporter
Blogs regularly on the Miami Heat
14 years covering the ACC, SEC, NFL and NBA
2. Around the Association
3. Wednesday's Best
Bryant
Kobe Bryant, Lakers:
Bryant scored 13 of his 42 points in the last 6:22 of the game, helping the Lakers rally from a 25-point deficit to beat the New Orleans Hornets 108-102. Bryant made 14 of 21 field goals, 12 assists and 7 rebounds.
4. Wednesday's Worst
The setting Suns: When was the last time a team did not have a single starter in double digits for scoring? Um, tonight? The Suns absorbed a 98-71 home loss at the hands of the Toronto Raptors. And how did Hamed Haddadi manage to commit four fouls in nine minutes?
6. Tweet Of The Night
@JCrossover a fool for that lob he just threw to @blakegriffin32 . Me and @DwyaneWade may have to steal that one! #sick

—LeBron James (@KingJames March 6, 2013
7. Quote Of The Night
"I'm not surprised by it. I would be more surprised when Dwight starts taking responsibility. That would be the most negative thing I can say, but that's the truth. You can't take all the credit and not accept any of the blame."
-- J.J. Redick, on Dwight Howard's comment that his former Orlando teammates were players nobody wanted.
8. Comeback Kobe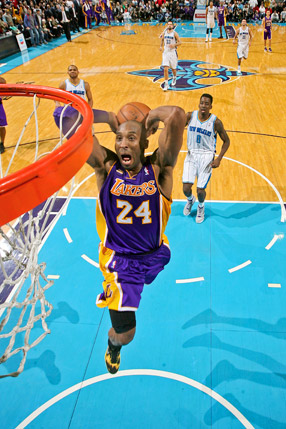 Layne Murdoch/NBAE/Getty ImagesKobe Bryant's Lakers staged a furious rally to beat the Hornets. The Lakers now stand 1½ games behind Utah for the final West playoff berth.
9. Stat Check
Irving
Kyrie Irving scored 11 points in the fourth quarter of Cleveland's comeback victory over Utah on Wednesday. It was the 14th time this season that Irving has scored in double digits in the fourth quarter of a game, the fourth-highest total in the NBA, behind Kevin Durant (20), Kobe Bryant (19) and Jamal Crawford (17).