1. Critical Puzzle Remains Unsolved For Knicks
NEW YORK -- It was a year ago this week that Mike Woodson took over as head coach of the New York Knicks when Mike D'Antoni showed himself the door before management did so for him.
Woodson has achieved a degree of success in that time -- that's why he kept the job. The Knicks are in position to win their first division title since 1994 and will likely go in the postseason favored to win their first playoff series since 2000. That's progress.
But 51-plus weeks into the job, he has not solved the biggest issue that's faced the franchise since its 2010 relaunch. Woodson hasn't figured out how to make Amar'e Stoudemire and Carmelo Anthony, their maxed-out stars, work effectively together. Or blend in all that well with Tyson Chandler, the last piece of their "big three," either.
That wasn't a direct issue Thursday night in their narrow 95-94 loss to the superior Oklahoma City Thunder. Even after a wild J.R. Smith final shot -- very few of Smith shots aren't wild, even on a night when he's hot and scores 36 points as he did Thursday -- clanged off the rim to settle the outcome, Woodson wasn't dissatisfied.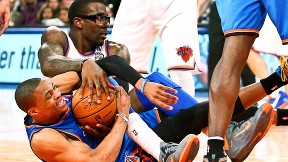 Debby Wong/USA TODAY Sports Amar'e Stoudemire managed 16 points on 5-of-16 shooting on Thursday night.
"I was very pleased with our play," said Woodson, who played without Anthony because of knee soreness, and the rest of the NBA's oldest team was playing the fourth game in five nights.
This has been a reasonably pleasing Knicks season. But they're probably going to have to keep settling for good efforts and near misses in the big picture, and much of it is because of the Stoudemire/Anthony riddle that yet to be solved.
Over the past three games, since Anthony pulled up lame Monday in Cleveland, Stoudemire has been like a new man. He struggled shooting against the Thunder's strong interior, but in the past three games he averaged 20 points on 54 percent shooting.
In short, it was his best three-game run of the season with Anthony in the locker rooms getting treatment. The Knicks came within one more low-percentage Smith shot of going 3-0 without Anthony because of Stoudemire's surge of freedom and production.
It came after Woodson openly admitted earlier this week he'd erred in not playing Stoudemire down the stretch of a narrow loss to the Miami Heat. It was mature of Woodson to admit his mistake, though that wasn't surprising. He's faced the same decision dozens of times and rarely opted for playing Anthony and Stoudemire together in such moments.
Anthony plays down the stretch of every game. He and Stoudemire, who is coming off the bench this season for the first time in his career, usually don't play many minutes together. In the fourth quarter against the Thunder, Woodson even had trouble keeping Stoudemire on the court at the same time as Chandler.
As the Knicks sometimes needed big stops late, the reigning Defensive Player of the Year was on the bench. Woodson couldn't play them together because he didn't like the matchups. Or, put another way, the fit.
"I don't understand why we're always worried about minutes," Woodson said when asked about that conundrum after the game, cutting off a question on the topic.
This isn't a simple issue. Perhaps Stoudemire and Anthony just cannot both play to their potential when on the floor together. It wouldn't be the first time two stars didn't mesh.
Anthony has traditionally been best with the ball in his hands with space so he can create his own shot. Stoudemire has traditionally been his best playing off other players, especially a pass-first point guard in pick-and-roll plays. Neither is a good defender, which is no small matter for a defensive-minded coach like Woodson, and that often seems to be a guiding principle.
It's fair to point out Stoudemire has been racked with injuries to his knees and back and currently is limited to 30 minutes a game. He might be limited to that for the rest of his career. That makes it harder on Woodson, as does finding a rhythm when Stoudemire misses long stretches as he did following knee surgery earlier this season.
Nonetheless, this is a marriage that has never showed traction. Woodson has prioritized Anthony, which he made clear on his first day on the job last winter when he announced he'd go away from the point guard-dominant offense the team used under then-point guard Jeremy Lin. The next day, the New York Post ran a graphic of a tombstone with the "Linsanity" engraved on it.
For the most part, Anthony has personally flourished under Woodson and his isolation-friendly offense that favors his talents. Smith likes it, too, especially on nights like Thursday when he can rise from understudy to headliner when Anthony is out. Stoudemire, for the most part, has not.
The Knicks occasionally run post-ups and pick-and-rolls, usually without involving Anthony, for Stoudemire. Woodson brings Stoudemire off the bench largely so he can feature him when Anthony rests. This is what passes for them sharing the ball most of the time.
There is little of the multiple option sets Stoudemire thrived in during his time in Phoenix and his four glorious months in New York before Anthony arrived in 2011. Stoudemire actually was a good jump shooter with the Suns. He shot 45 percent on shots 15 to 24 feet his last year in Phoenix and duplicated it during his first year with the Knicks.
Over the past two seasons, though, he's shooting just 36 percent from that range. According to the NBA's stats database, Stoudemire had taken only 35 jumpers all season going into Thursday night. That once good facet of his game has been removed from the equation and it's atrophied. Like much of the rest of his offensive game.
There was a stretch earlier this season when Stoudemire first returned from injury that the Knicks' "big" lineup of Anthony, Stoudemire and Chandler punished opposing teams on the boards and forced opponents to abandon "small ball" sets. That was, it is assumed, the Knicks' plan when they signed each to contracts that totaled more than $220 million. But it was fleeting.
Now, it's mostly right back to where the Knicks were a year ago. They are in much better position because they have a deeper bench, on balance play better defense and Anthony has carried them to numerous victories.
But they still can't seem to maximize their resources; it still constantly feels like they're leaving something on the table. It seems like there ought to be a way to make teams deal with Anthony, Stoudemire and Chandler all at once, the way top teams like the Thunder have been able to meld their stars' talents together. That golden game plan continues to allude them consistently.
"I don't have to remind guys, man," Stoudemire said this week when asked if he's still a dominant player in the league. "My dossier speaks for itself. I've been in this league for a long time."
So has Anthony. So has Chandler. So has Woodson. If they can't figure it out, maybe no one can.
Dimes past: Feb. 26 | 27 | 28 | March 1-2 | Sloan/MIT, Day 1 | Day 2 | 3 | 4 | 5 | 6
ESPN Senior Writer
ESPN.com NBA writer since 2010
Covered Cleveland Cavs for seven years
Author of two books
2. Around the Association
| | | | | |
| --- | --- | --- | --- | --- |
| Oklahoma City Thunder | 95 | FINAL | 94 | New York Knicks |
---
MVP: J.R. Smith's 36 points kept New York in the game, but Kevin Durant's 12 fourth-quarter points on a night in which he tallied 34, along with 8 rebounds and 6 dimes, were the deciding factor in an exciting, back-and-forth contest.
X factor: Serge Ibaka positively blanketed Amar'e Stoudemire in the low post, collecting 5 blocks and altering numerous others. Related: Amar'e had one of his worst shooting games of the season -- a dreadful 5-16 performance.
Defining moment: With eight ticks to go, the Knicks drew up an isolation play for Smith. Though eerily similar to the game winners he'd hit versus Charlotte and Phoenix, this time 'twas not to be, and the Thunder held on for the win.
| | | | | |
| --- | --- | --- | --- | --- |
| Los Angeles Clippers | 92 | FINAL | 107 | Denver Nuggets |
---
MVP: Ty Lawson. Lawson started the game slow with 2 points and 6 assists in the first half. But in the third quarter, Lawson exploded for 10 points and 4 assists, surging the Nuggets past the Clippers.
X factor: Andre Iguodala. The trend against the Clippers has been to put the best, longest perimeter defender on Chris Paul and hope it does the trick. Thursday night, Iguodala harassed and hurried Paul all over the floor. The box score might look like CP3 had a decent night, but nothing was easy against the All-NBA defender.
Defining moment: Denver's third-quarter barrage. The first half was a relatively even affair, as both teams were wary of the other in the open court, but the Nuggets broke the game open in the third behind a blistering 6-for-7 display from behind the arc and cruised in the fourth quarter to their 27th home victory of the season.
3. Thursday's Best
Durant
Kevin Durant, Thunder:
Durant scored 34 points (14-for-15 on free throws) to go with 8 rebounds and 6 assists as OKC hung on for a 95-94 win against the fighting J.R. Smiths at the Garden.
4. Thursday's Worst
Knicks' supporting cast: If your name wasn't J.R. Smith, you didn't get much done in the absence of Carmelo Anthony. New York's starters combined for only 35 points without the NBA's second-leading scorer on the floor.
6. Tweet Of The Night
JR Smith is already the greatest "irrational confidence"/microwave man in NBA history, right? Who comes close?

—Jay Caspian Kang (@jaycaspiankang) March 6, 2013
7. Quote Of The Night
"It's one of those things, especially for myself because I like coming here and seeing all the excitement, and that was one of the disappointing things of looking at last season's schedule. We didn't have a stop here in New York City."
-- Thunder coach Scott Brooks, on Oklahoma City not being able to play at Madison Square Garden during last year's lockout-shortened season.
8. Try, Try Again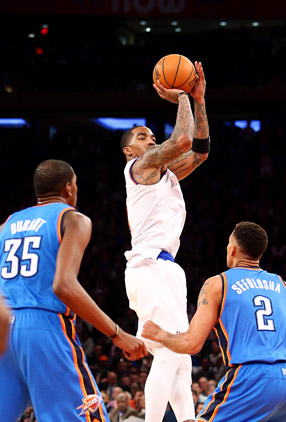 Debby Wong/USA TODAY Sports It look 29 shots, but J.R. Smith (36 points) nearly single-handedly lifted the short-handed Knicks at the Garden.
9. Stat Check
Smith
J.R. Smith came off the bench to score 36 points for the Knicks, despite not scoring in the first quarter. That's the highest point total for any NBA player this season in a regulation-length game in which he did not score in the opening period.