1. Payback Complete: Heat Scorch Formidable Foe
MIAMI -- Earlier this month, LeBron James suggested his defending champion Miami Heat would motivate itself after the All-Star break by aiming for redemption against all the teams that had previously beaten them.
The avenge tour is now complete.
By spanking the Indiana Pacers 105-91 on Sunday at AmericanAirlines Arena, the Heat extended the longest winning streak in the NBA this season to 18 games and also delivered a resounding blow to arguably their biggest threat in the Eastern Conference.
The nemesis Pacers had beaten Miami in the first two meetings between the teams in Indiana by using their size advantage to dominate the paint and getting a major lift from Paul George, who boosted his All-Star candidacy by holding his own in his matchups against James.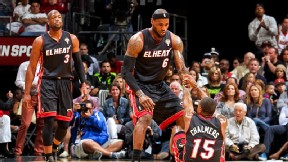 Issac Baldizon/Getty ImagesMario Chalmers (26 points) deserved a big hand.
On Sunday, the Heat played the game at their pace, limited Indiana's bigger front line and used their perimeter speed and skill to smother the Pacers. When it was over, the Heat shot 60 percent from the field, scored 27 points off 18 turnovers and led at one stage by as many as 23 points.
So what does it all mean in the grand scheme of things?
Not much, if you ask James, who scored a season-low 13 points but saw Chris Bosh, Dwyane Wade and Mario Chalmers combine for 73 on 67.5 percent shooting.
"It doesn't really tell me much," said James, who maintained his position from before the game, when he downplayed its significance despite the buildup. "I mean, I know who we are. I've said it before. We don't really need a game or a team to beat us twice to know the next time we go at them, who we are as a team. We know we can step up to the challenge against anyone, no matter how many times they beat us. We know we can step up to the challenge and answer the call, and we've been able to do that."
The evidence is left in the Heat's wake as they enter their sixth straight week of undefeated basketball. The streak began after Miami's 102-89 loss Feb. 1 in Indiana. Since then, the Heat have avenged earlier losses to the Clippers, Trail Blazers, Bulls, Grizzlies, Knicks and Pacers. That stretch has also seen Miami complete regular-season sweeps against the Lakers, Rockets and Thunder.
For the first time in franchise history, the Heat have defeated each of the other 29 teams in the league. They own an 8½ game lead for first place in the East and are essentially tied with the Spurs for the NBA's best record.
And after overcoming sluggish efforts to escape with home wins against Cleveland, Sacramento, Orlando and Philadelphia, the Heat regained their swagger and defensive dominance against a Pacers team that came into Sunday confident they are gaining ground after falling to Miami in six brutal games during the playoffs last season.
Indiana remains confident even in defeat, and believes the Heat did little more than hold serve at home in a regular-season series that has no bearing on the postseason.
"They were under our chins on every catch and we didn't handle the pressure well enough," Pacers coach Frank Vogel said of the Heat's swarming defense. "Our team has shown great resolve all year and I have every confidence that they are going to respond in the playoffs."
Each team tried to throw the other off its rhythm from the outset. Because visiting teams get to chose which end of the court they want to shoot at first, the Pacers forced the Heat to play offense at the opposite basket from the end they are accustomed to at the start of most games.
Miami still ended up with a 29-20 lead after the first quarter. Defensively, the Heat responded by switching defensive assignments from their previous two games against the Pacers, this time allowing James to defend Lance Stephenson and Wade to guard George.
The Pacers didn't respond well to that tweak, with George and Stephenson combining for just 16 points on 3-of-16 shooting from the field along with seven turnovers. On top of that, the Heat also completely dominated the chess match at center between Bosh and Hibbert.
"For us to be able to make other teams uncomfortable, we have to be uncomfortable first," Heat coach Erik Spoelstra said. "There is always an easier way then to play to our identity. Night in and night out you build those habits and, when you need them most, we can be disruptive."
Over the course of the streak, the Heat have been consistently disruptive. They've been flexible and versatile. They've won high-scoring shootouts and low-scoring defensive slugfests. Since that loss to Indiana on February, they've shown an ability to match up with bigger teams as well as ones that play closer to their preferred style.
"We know what the stigma is out there about us," Bosh said of the Heat's reputation in some circles for being soft and small in the middle. "We can play a lot of different ways. Every game has been different."
The Heat insist they're also different. The team they were at the beginning of February is one that hadn't completely shifted into gear. Back then, Miami was a team still searching for its rotation, so much so that Chris Andersen was essentially signed off the street to help anchor a front line that needed shot-blocking and energy.
Now, the pieces are fitting, so much so that the Heat just notched one of their biggest wins of the season with James, a three-time MVP, serving as their fourth-most productive player.
"We're a lot better," Wade said of the biggest difference between the Heat on Feb. 1 and after Sunday's win. "We refocused on what we needed to do, especially on the road, to put ourselves in position to win. It kind of was a smelling salt for this team. It was kind of a wake-up moment. We've been playing good basketball since then."
And even after 18 straight victories, the Heat still say they won't get too caught up in the streak.
"It's not our goal," James said. "Our goal isn't to win games consecutively. Our goal right now is to get better every game, continue to improve. That was never one of our goals coming into the season -- to see how many games we'd win in a row. Our goal is to win a championship."
With regular-season revenge complete, the next item on the defending champions checklist is to repeat.
Dimes past: Feb. 26 | 27 | 28 | March 1-2 | Sloan/MIT, Day 1 | Day 2 | 3 | 4 | 5 | 6 | 7 | 8-9
ESPN Staff Writer
ESPN.com NBA reporter
Blogs regularly on the Miami Heat
14 years covering the ACC, SEC, NFL and NBA
2. Around the Association
3. Sunday's Best
Chalmers
Mario Chalmers, Heat:
'Rio was a diamond. In dispatching the Indiana Pacers 105-91, Chalmers needed but nine shots to get his 26 points, draining 5-for-6 from 3-point range and making all seven of his free throws. He even snared seven rebounds.
4. Sunday's Worst
Shved
Alexey Shved, Timberwolves: When the shorthanded Wolves needed someone to step up, the Russian rookie instead took the express elevator to the sub-basement in a blowout loss to the Mavs. Shved missed all seven of his shots in 19 minutes. He managed to squeeze in three fouls.
6. Tweet Of The Night
@johnschuhmann Hey coach Spo I'm gone have to just give those 2 pts up!! Hahahaha! Damn Brandon Knight. Gots to be more careful!

—LeBron James (@KingJames March 10, 2013
7. Quote Of The Night
"I don't really care, because I'm going to Disney World. We're getting in early. I don't care. I'm going to go on these rides. I'm going let the fans do what they do, that's their problem. I'm going to have the Mickey Mouse ears, all that. Watch me. You don't believe me, just watch."
-- Lakers forward Metta World Peace, on what he's doing in Orlando before Dwight Howard's return to face the Magic.
8. Disappointment Viewing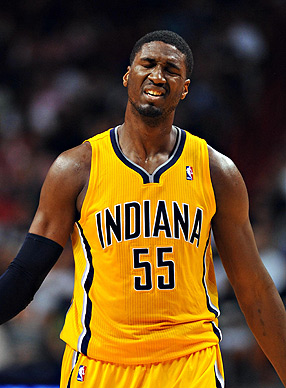 Steve Mitchell/USA TODAY SportsPacers center Roy Hibbert gave his team hopes of dominance down low, but the All-Star had four rebounds and zero blocks in the loss to Miami.
9. Stat Check
Paul
Chris Paul scored 20 points and handed out 14 assists without being charged with a turnover as the Los Angeles Clippers trounced the Detroit Pistons. It was the second time in Paul's NBA career that he reached those levels of points and assists in a game without turning the ball over; his previous game of that kind was for the New Orleans Hornets on Jan. 6, 2009. Only three NBA players had such games in the interim: Derron Williams (Utah, Dec. 1, 2010), Steve Nash (Phoenix, Dec. 26, 2010) and Rajon Rondo (Boston, March 31, 2011).
Around the Association
---
MVP: Jameer Nelson had seven assists in the first quarter but when the Magic needed a scorer, he was there. He hit five 3-pointers -- including four in the second half -- and finished with a team-high 24 points.
Defining moment: With a minute remaining in the fourth quarter, Nelson saved the ball from going out of bounds and found Arron Afflalo in the corner for an open 3-pointer. He drilled it, giving the Magic a seven-point lead and clinching the victory.
That was … crafty: Midway through the second quarter, Tobias Harris fed Nikola Vucevic with a behind-the-back pass and the Magic center finished with the slam. Orlando had 28 assists, none more impressive than that one.
---
MVP: Ryan Anderson. The Grenade Launcher was good for 20 points and 13 boards, and was huge in the clutch. He cashed a three on an impressive save from Anthony Davis with under a minute to play and connected on the go-ahead and-1 with 1.8 seconds to play.
X factor: This round of presumptive ROY vs. the first pick goes to Anthony Davis. Damian Lillard had some impressive buckets, but Davis had a sneaky 18 points and 10 rebounds along with a huge save in the clutch to help the Hornets knock of the Blazers.
That was … a blast: It wasn't the most aesthetically pleasing basketball at all times, but the teams swapped multiple double-digit runs to go down to the buzzer. For two teams with little to play for, that's more than enough in early March.
---
MVP: Amir Johnson, I guess? He brought a ton of energy and grabbed 16 boards, but he also took 19 shots to score 17 points and had four turnovers. In a game in which nobody dominated, I'll give the inefficient yet infectious hustle guy the nod.
LVP: Dwane Casey. The same day he promised more minutes for Terrence Ross and Jonas Valanciunas, and on a day when Rudy Gay and Andrea Bargnani were both out injured, the rookies combined for just three fourth-quarter minutes. Let the kids learn!
X factor: Kyrie Irving drove baseline and met Valanciunas, shoulder-first. After shooting his free throws one-handed, Irving went to the locker room and didn't return to the floor. Hope he's all right.