1. Rise And Follicle: Spurs Gain Edge On Thunder
The last time the Oklahoma City Thunder won in San Antonio, it was sealed by a dagger 3-pointer by that bearded guy who's no longer on the team.
Up two with 40 seconds left in Game 5 of the Western Conference finals, James Harden's 3 sent the Thunder back to OKC with a 3-2 series lead. One of those playoff moments burned into our memories. A big-time shot by a big-time player.
But since that 3 and the subtraction of their spectacular sixth man, the Thunder haven't been able to re-create that road magic in San Antonio. Granted, the sample size is small -- just two games, one being the season opener and the other being Monday's 105-93 Spurs win -- but there is an emerging trend here. Or at least, a different look and feel from how things went last postseason, when OKC played lights out those final four games.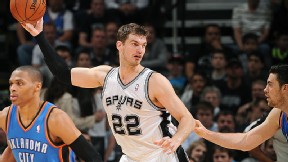 Garrett W. Ellwood/NBAE/Getty ImagesTiago Splitter led the Spurs with 21 points.
No team embodies depth and team completeness quite like the Spurs. Nobody illustrates the "next man up philosophy" better. Down probably their best player in Tony Parker, the Spurs, as they do, found it from other places. Danny Green hit 4-of-4 from 3-point range. Tiago Splitter scored 21 on 9-for-11 shooting. Kawhi Leonard had 17. The Spurs bench chipped in 34.
Meanwhile, on the other side, OKC's four rotation bench players were a -24, -22, -21 and -15. Outside of Kevin Durant, who tried to keep the Thunder's second unit afloat, the other four OKC starters were pluses.
The moral of the story: That type of turnaround didn't typically happen when the Thunder went to their bench last season. Especially not against the Spurs, specifically in the Western Conference finals.
Monday, the Thunder roared out of the gate, storming to a 32-22 first-quarter lead as their starters overpowered San Antonio's. Without Parker, the Spurs looked a step slower and quite honestly, like a team missing its best player. But things flipped dramatically when Spurs coach Gregg Popovich called a timeout with 8:45 left in the second quarter and the Thunder up 11. The Spurs ripped off a 9-0 run in the blink of an eye on a trio of 3s, two by Green and one from Leonard. And they were just getting started. When the dust settled on their burst, the Spurs outscored OKC 28-10 the final eight minutes of the second quarter and assumed control of the game.
Fueled by one of those angry Russell Westbrook explosions, the Thunder pushed back in the third, cutting San Antonio's lead to one with 2:55 left in the quarter. But counting on his bench to hang tight again, Thunder coach Scott Brooks dutifully sent out the likes of Derek Fisher, Nick Collison, Reggie Jackson and Kevin Martin to hold down the fort while Westbrook and Kevin Durant tried to breathe for a second. Instead, by the time both checked back in with about nine minutes left in the fourth, the Thunder were down 15 and in desperate need of a miracle.
Now, the Thunder have gotten on pretty well without Harden, steamrolling to a 60-win pace and a place in a very select tier of teams considered legitimate title contenders. But it's hard not to miss the beard-shaped void on their bench, especially on nights like Monday in San Antonio. The Spurs kept coming in waves, while the Thunder relied on two-man heroics. Westbrook tried to be the spark, but with the Thunder playing their fourth game in five nights, the team just ran out of gas. There wasn't anyone to pass the baton to, anyone to provide a needed pick-me-up as things started to slip. In most cases, the bench has been good enough to at the very least keep OKC close enough to allow Westbrook and Durant to bail them out. Against the Spurs, Brooks and the Thunder weren't afforded that opportunity.
The Spurs' win means they maintain the West's No. 1 seed and go up 2-1 on the Thunder in the season series. Another showdown looms April 4, that one being in OKC where the Spurs have their own demons to exorcise, having lost four straight there.
But if the Thunder aren't able to overtake the Spurs for the top spot, and it comes down to those two teams again in the Western finals, like last season, it would mean the Thunder would be required to win at least once on the road in San Antonio if they intended to advance to a second straight NBA Finals.
It's something they've done before, something they know they can do. Well, something they did with that bearded guy, that is. Something I'm not so sure they can do again without him.
Royce Young's work appears on Daily Thunder. Follow his @dailythunder
Dimes past: March 1-2 | Sloan/MIT, Day 1 | Day 2 | 3 | 4 | 5 | 6 | 7 | 8-9 | 10
ESPN Staff Writer
Covers the Oklahoma City Thunder for ESPN.com
2. Around the Association
3. Monday's Best
Hawes
Spencer Hawes, 76ers:
Where his political tweets once made him stand out, on this night it was strictly his strong game that made him different. Hawes had 24 points, 10 rebounds and seven assists as Philadelphia beat the Brooklyn Nets, 106-97.
4. Monday's Worst
New York Knicks' shooting: Carmelo Anthony returned after missing three games with a right knee injury, but the Knicks offense sputtered to a 63-point effort in a blowout loss to Golden State. Knicks bench players not named Chris Copeland combined to shoot 0-for-14 from beyond the arc.
6. Tweet Of The Night
Thanks to @KingJames for letting me borrow the LeBron James player of the week award... I promise ill keep it safe..

—Way of Wade (@DwyaneWade March 11, 2013
7. Quote Of The Night
"If you don't play good defense, you're nothing in this league."
-- Spurs coach Gregg Popovich, on how his team's fortunes improved against OKC when its defense stepped up.
8. Adding Injury To Insult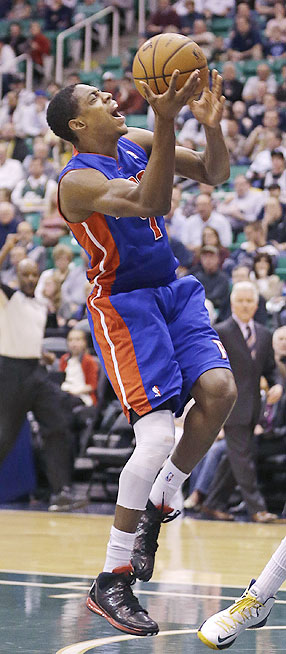 AP Photo/Rick Bowmer)One day after getting dunked on by DeAndre Jordan, Pistons guard Brandon Knight sprained his left ankle four minutes into Detroit's eventual loss in Utah.
9. Stat Check
Koufos
Kosta Koufos made 10 of 11 shots from the field and grabbed 10 rebounds for the Nuggets in their win over the Suns Monday night. Koufos is the fourth player in the NBA this season to make 90 percent of his field goal attempts while taking at least 10 shots and grabbing 10 rebounds in the same game. Tyson Chandler did it twice; Kenneth Faried and Amir Johnson did it once each.