1. Twenty, Won: Heat Feeling Strong In Philly
PHILADELPHIA -- The crowd was on its feet as the 1970s-era anthem "Here Come The Sixers" was blaring, with the words displayed on the scoreboard so everyone could sing along, as the Miami Heat squeezed into a huddle to hear coach Erik Spoelstra yelling.
"We have to earn it!" Spoelstra barked while giving a hard stare to his players.
This was a Wednesday night game in mid-March between a team with a 10-game lead on its closest competitor in the Eastern Conference standings and a team playing out the string of a miserably disappointing season that has been wrecked by injuries.
But this Heat winning streak, now at a sparkling and round 20 games after a 98-94 victory, is an apathy killer. It has grown into a full-scale phenomenon.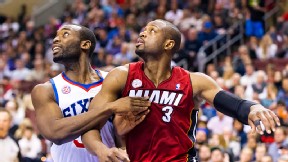 Howard Smith/USA TODAY SportsNothing could hold D-Wade from win No. 20.
The Philadelphia 76ers had lost eight of 10, zapping their dim playoff hopes, but they played with the awareness that this single upset would at least generate a smile for the next several months whenever they watched the Heat on TV. Their fans felt it, too. They were wrapped up in it, standing without being asked, as if it were an elimination game.
Over on the Heat's bench, there was a rally being called for even as players felt the drain of playing one of the more demanding back-to-backs of the season. They'd blown a 10-point fourth-quarter lead but they couldn't just brand it a "schedule loss" and shut it down. Not with this on the line.
So the Heat made a few plays, namely a Dwyane Wade putback and clutch free throws from LeBron James, and the Sixers kicked a ball away and missed an open layup. It left the Heat talking about their good luck and Sixers coach Doug Collins talking about how he "couldn't be more proud of the way our guys fought."
A run like this has a way of completely adjusting perspective, and that's what the Heat have now, only the fourth team to win 20 straight in one season in league history. Three of those wins have come against the Sixers, another facet in Philadelphia's season of misfortune. They've played the Heat three times in the wrong 17-day span.
"When you have a streak like this you have to have some luck and you have to win some games you probably shouldn't win," said James, who had 27 points. "But you also have to play very good basketball and you can't panic no matter what is going on."
Over the past three seasons, Philadelphia has been an anti-panic zone for the Heat. The James-Wade-Chris Bosh triumvirate got its first win together at Wells Fargo Center in 2010 after a bad loss in Boston to open the season. They won their first road playoff game together here later that season.
Last year, after a sluggish loss in Milwaukee that stirred up some team-wide frustration, the Heat held a fiery, finger-pointing meeting in Philadelphia that turned out to be a pivot point in their season. They won 12 of the next 13 games and, eventually, the title.
After Wednesday, they've now won 18 of the past 19 games they've played against the Sixers. Yet when the score was tied with 1:20 left there was a feeling of tension, not inevitability.
"Those guys were on a streak and they didn't want it to end," Sixers forward Thaddeus Young said. "And we wanted to end it."
The NBA would prefer you to believe that every game counts and possesses huge potential excitement. But the truth is once you get this late in the season, a certain group of teams start thinking about just getting it over with. As David Stern has said throughout the years, there's only a finite amount of wins to be had.
But Wednesday was an event and not just because the Heat's stars were in town. It was the home team's chance to make a statement and grab the spotlight, maybe the last chance of the season to do so. Now that focus moves to Milwaukee, where the Bucks get the next shot at the Heat on Friday night.
The Heat will continue to try to downplay it. Spoelstra said Wednesday that even though he talks to team president Pat Riley every day, they have yet to discuss or compare what's going on with the Los Angeles Lakers' record 33-game win streak in 1971-72, which Riley was a part of as a player.
Despite that attempt at respecting the bigger picture, what is happening with the Heat is good for the league and, perhaps in the long run, good for the Heat as they start to hone up for the postseason.
"We usually get teams' best shots on the road and now once a team starts sniffing they have a chance to win the game and the streak, they take it to another level," said Shane Battier, who was on the Houston Rockets in 2007-08 when they won 22 straight games, currently the second-longest streak ever.
"So we better match that energy or concentration or it'll be over. Obviously, our goals are bigger but we're going to try to keep this going on as long as possible."
Dimes past: March 1-2 | Sloan/MIT, Day 1 | Day 2 | 3 | 4 | 5 | 6 | 7 | 8-9 | 10 | 11 | 12
ESPN Senior Writer
ESPN.com NBA writer since 2010
Covered Cleveland Cavs for seven years
Author of two books
3. Wednesday's Best
Heat's winning streak:
Facing a motivated 76ers team, the Heat kept it together and left the arena with a 20-game win streak. Only three other teams have won at least 20 consecutive games in the same season: the 1971-72 Los Angeles Lakers (33), the 2007-08 Houston Rockets (22) and the 1970-71 Milwaukee Bucks (20). Can they crack 33? The Heat's next four games are on the road.
4. Wednesday's Worst
Belinelli
Marco Belinelli, Bulls: The Bulls absorbed a 42-point loss (121-79) at the hands of one of the West's have-nots, the Sacramento Kings. Belinelli made the rout possible by missing all nine of his shots in 22 minutes of action. Less than a week ago, he hit a 3-pointer to beat Utah.
6. Tweet Of The Night
Tape doesn't lie. Ankle was turned on the floor after the leg kick out that knocked him off balance. I would never try to hurt the man

—Dahntay (@ahntay1 March 14, 2013
7. Quote Of The Night
"I can't get my mind past the fact that I got to wait a year to get revenge."
-- Kobe Bryant, upset after his injury sustained during his team's final meeting of the regular season with Atlanta.
8. Fallen Mamba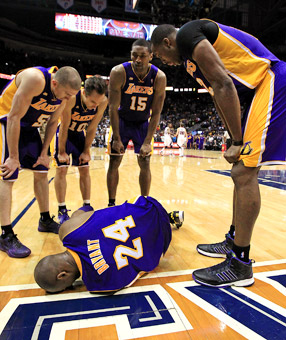 AP Photo/Atlanta J-C/Curtis ComptonSteve Blake, from left, Steve Nash, Metta World Peace and Dwight Howard gather around Kobe Bryant as he lies on the floor after he sprained his ankle in the final seconds of a loss to Atlanta.
9. Stat Check

Anthony
Carmelo Anthony shot a miserable 3-for-12 (25 percent) from the field in his first game in Denver since being traded by the Denver Nuggets to the New York Knicks. Only two players have had a worse shooting performance in their first road game against a team for which they scored more than 10,000 points than Anthony did Wednesday (minimum 10 attempts). The Orlando Magic's Rashard Lewis was 3-for-19 (15.8 percent) from the field on Nov. 28, 2007 in his first game in Seattle after scoring 10,251 points for the Sonics and the Dallas Mavericks' Antoine Walker was 3-for-14 (21.4 percent) from the field on Dec. 17, 2003 in his first trip to Boston after registering 10,995 points for the Celtics. (The Detroit Pistons' Adrian Dantley was also 3-for-12 in his first game at Utah after scoring 13,635 points for the Jazz.)
Around the Association
---
MVP: John Wall had 23 points (10-of-19 on field goals), 10 assists (2 turnovers), 6 rebounds, 4 steals and a plus/minus of plus-16 in 43 minutes. Wall even made his third 3-pointer of the season and celebrated by throwing up a 3-monocle. Classic.
X factor: On a night where the Wizards were down to only two guards, Garrett Temple, a former D-Leaguer, stepped up with a solid game against two lightning-quick scorers in Monta Ellis and Brandon Jennings. Temple had 13 points (6-of-7 FG), 4 assists, 3 rebounds and a game-high plus-19 plus/minus.
That was … a game of runs: The Bucks erased a 20-point deficit in the third quarter to steal the lead. But the Wizards responded with 14-5 run to start the fourth quarter and never looked back.
---
MVP: Roy Hibbert scored a season-high 27 points on just 15 shots while owning the offensive glass (nine offensive boards) and helping Indiana rack up second-chance points.
X factor: Interior dominance. With Kevin Love, Nikola Pekovic and Andrei Kirilenko all sidelined, the Pacers were able to live in the paint, scoring 50 points in the lane compared to just 24 for the Timberwolves.
LVPs: Minnesota's reserve guards J.J. Barea and Alexey Shved combined for just 12 points on 4-for-17 shooting (23.5 percent) in 54 minutes. Minnesota's starters actually kept them in this one for a while, but Ricky Rubio needed more help.
---
MVP: DeMarcus Cousins did not play because of injury, but fellow Kentucky Wildcat Patrick Patterson filled in admirably. In his first start as a King, Patterson made an instant impact, scoring 11 points and grabbing 5 rebounds in the first quarter. He finished with 14 points on 6-of-7 shooting and 9 rebounds in the blowout victory.
X factor: It's rare these days to associate bad defense with the Chicago Bulls. But this was one of those nights, specifically in transition. The Bulls allowed the Kings to hammer them 27-17 in fast-break points. In comparison, the Bulls have normally held their opponents to only 13 points in transition this season.
That was … mind-boggling: Yes, the Kings have averaged nearly 110 points per game since All-Star break. But the Bulls are one of the best defensive teams in the league. To see the Bulls allow the Kings to score 65 of their 121 points in the first half is uncharacteristic.