1.Blazers Get On Point While Knicks' Woes Grow
By
Danny Nowell
| ESPN.com/TrueHoop Network
PORTLAND, Ore. -- In a season all about new beginnings, the Portland Trail Blazers took another step Thursday night toward putting the past behind them, blowing out the New York Knicks 105-90.
After Portland's bitter flameout last season, which saw a talented roster miss the playoffs and led to the dismissal of coach Nate McMillan, the Blazers set about cleaning house. One of the first moves a new front office made was to ship Raymond Felton to the Knicks for spare parts, excising a player many observers saw as the center of the season's disappointment. After last night, Blazer fans might focus on their Felton rancor a bit less on account of the rookie who lined up opposite him.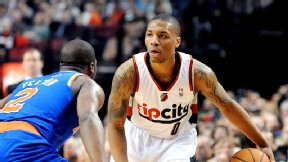 Steve Dykes/USA TODAY SportsDamian Lillard led Portland past his predecessor.
Rookie Damian Lillard put on a show, particularly in a blowout stretch of the fourth quarter that felt more valedictory than competitive. Even as fans booed Felton's every touch, Lillard gradually stole the energy in the building, finishing with 26 points and 10 assists against just one turnover.
Contrast that with Felton's 11 points on 12 shots, three assists and two turnovers, and you can begin to get an idea of how stark the contrast is between present and past in Portland.
Off the court, it's much the same. Whereas Felton has a reputation, even on his best days, for a direct demeanor that can spill into aggression, Lillard is cagey and composed. Given an opportunity to comment on the fans booing Felton, Lillard merely said, "They were loud tonight. … There've been games where I could tell they were fired up about it, like Boston, Miami and Oklahoma City. That's what it reminded me of."
If Lillard is a little safer with the ball than Felton, he's also safer in front of a microphone, and it's hard to imagine anybody in the Blazers organization who minds.
As for the Knicks, they limped into Portland missing their stars and looking like a team in crisis, and that's how they left. Without Amar'e Stoudemire, Tyson Chandler or Carmelo Anthony -- all sitting or absent from the team with knee injuries -- the Knicks are struggling to stay competitive.
After suffering blowout losses in Golden State and Denver, the Knicks controlled the first 21 minutes of action in Portland. Without their star trio, however, they were unable to sustain success and failed to produce consistently good looks on offense.
For a time in the first half, the Knicks were able to exploit Portland's inability to cope with a spread pick-and-roll attack, allowing Chris Copeland, Marcus Camby, and Kenyon Martin to feast at the rim and make up for the firepower New York was missing. Once the Blazers went big, however, the game was more or less a blowout: the Blazers started with a 13-0 run to end the second quarter and held the Knicks to 14 third-quarter points.
Of course, the Knicks are putting on their poker faces.
"Being short-handed didn't affect us at all," Knicks guard Jason Kidd said. "Tonight we just didn't make 3s, and that's something that we have to work on."
Indeed, any optimism that might still be surrounding the Knicks is a holdover from the start of the season, when the Knicks were taking and making a nearly historic amount of 3-pointers. As those percentages have regressed to the mean, and their highest-paid players continue to nurse injuries, it's hard not to wonder how much there is to work on. A team that was recently the second best in the Eastern Conference now looks like a likely first-round upset.
In the end, that was the most fascinating takeaway from the game. The Knicks came into the season billed as contenders, and their early returns made good on that promise. In contrast, the Blazers seemed to be the team in greater flux, working with a new front office, a new coaching staff and four rookies.
While the Knicks are still playoff-bound and the Blazers are likely not, the feeling after this game is that the lottery team may be the one with a clearer picture of the future.
For New York, an aging core of injured stars is muddying visions of contention, while an overachieving squad in Portland looks forward to several more years of its young core. And thanks to the rookie who helped Portland fans exorcise their demons of the past, it seems the Blazers may have something the Knicks could use: stability.
Danny Nowell's work appears on Portland Roundball Society.
Dimes past: March 1-2 | Sloan/MIT, Day 1 | Day 2 | 3 | 4 | 5 | 6 | 7 | 8-9 | 10 | 11 | 12 | 13
2. Around the Association
| | | | | |
| --- | --- | --- | --- | --- |
| New York Knicks | 90 | FINAL | 105 | Portland Trail Blazers |
---
MVP: Damian Lillard. The rookie point guard continued his torrid late-season stretch, pouring in 26 points on 11-of-18 shooting. He also posted 10 assists with one turnover to captain a fluid Portland attack that found its groove in the second quarter.
X factor: This game was a snapshot of NBA attrition. The Knicks were without the knee-injured Amar'e Stoudemire, Tyson Chandler and Carmelo Anthony, while the Blazers played LaMarcus Aldridge through migraine troubles, and Nic Batum continued to deal with an ailing wrist.
That was … predictable: The Knicks limped into Portland to face a fired-up crowd and a feisty team whose long-shot playoff hopes are dwindling. Though the Knicks controlled the first 21 minutes, this outcome was no surprise.
| | | | | |
| --- | --- | --- | --- | --- |
| Dallas Mavericks | 91 | FINAL | 92 | San Antonio Spurs |
---
MVP: Tim Duncan played 36 minutes, one for every year he's been alive. Duncan scored 28 points, snagged 19 rebounds and dominated the floor defensively for a deathly flat Spurs team. It was just one of those nights.
Defining moment: In a game in which they never quite closed the door on a desperate team, San Antonio's moment ended up being a defensive stand -- the Spurs' defense barely gave Dallas a sliver of room on their two shots to win the game, cutting off a brilliant Dirk Nowizki and forcing a contested Vince Carter three … in a one-point game.
That was … unexpected: Early on, smart money said that the Spurs would shoot out to a big lead when the law of averages came to town -- San Antonio was missing open 3s and chippies while the Mavs sunk long, contested 2s. That smart money was wrong. They never stopped sinking for Dallas, and they never started hitting for the Spurs. The Spurs clinched their playoff spot, but only by the skin of their teeth.
3. Thursday's Best
Duncan
Tim Duncan, Spurs:
Looking spry after staying in San Antonio to rest rather than going to Minnesota on Tuesday, the big man, who turns 37 next month, had 28 points and 19 rebounds as the Spurs escaped with a 92-91 victory over the Dallas Mavericks.
4. Thursday's Worst
The pain of domination by rival: The Mavericks came close to winning, but the Spurs held on and swept the season series from Dallas for the first time since 1997-98, when Tim Duncan was a rookie, and a year before Dirk Nowitzki crossed the Atlantic. That Mavs team included Shawn Bradley, Khalid Reeves and A.C. Green.
6. Tweet Of The Night
17yrs. Countless fades. This has happened TWICE. Jalen and Now Ankle still very swollen. Treatment all day #focus pic.twitter.com/yyDMRWEGd3

—Kobe Bryant (@kobebryant March 14, 2013
7. Quote Of The Night
"I totally disagree with Mark Jackson and anyone who would call that a dirty play. We're not out to hurt anybody."
--Hawks coach Larry Drew, talking Thursday about swingman Dahntay Jones' defensive play that led to Kobe Bryant's ankle injury.
8. Still In Control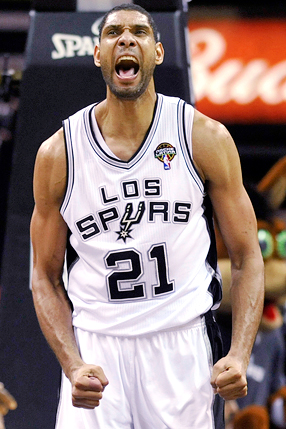 AP Photo/Bahram Mark SobhaniTim Duncan's Spurs completed a season sweep of Dallas for the first time since he was a rookie. The last time it happened back in 1998, Duncan had 26 points, 16 rebounds and five blocks.
9. Stat Check
The San Antonio Spurs became the first NBA team to reach 50 wins this season by beating the Dallas Mavericks on Thursday. San Antonio was also the first NBA team to reach that mark in each of the previous two seasons (outright in 2010-11 and tied with the Chicago Bulls last season). Before the Spurs, the last NBA team to reach 50 wins first in three consecutive seasons was the Boston Celtics from 198384 through 1985-86.