1. With History In Mind, Heat Keep On Streaking
BOSTON -- Sometime last week, whether it was during the postgame dinner after No. 18 or the 3 a.m. arrival in Philadelphia after No. 19 or the plane ride to Milwaukee after No. 20, perspective broke its way into the Miami Heat's consciousness.
It's gripped them ever since, a reality that's gone from a once laughable afterthought to a consuming force. It leaves them screaming at each other in the huddle because they're down 13 points in the fourth quarter. It will not let them let go. This is real.
Teams aren't supposed to feel this way until the playoffs, when it isn't about the money or the numbers and it becomes about reputations and rings and legacies. The Heat are the defending champs and the regular season is but a long, slow dance before the race. But not now; now they feel it, now they are emotionally and historically invested.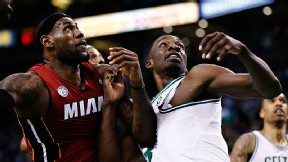 Greg M. Cooper/USA TODAY SportsEven Jeff Green's 43 points couldn't stop the Heat.
They realize this isn't just about repeating and raising another banner. It's about potentially doing something they can call their career achievement. Something they can talk about in 40 years, like the 1971-72 Los Angeles Lakers can, with pride. Of course, there's a long way to go and much to do, but they can't take their eyes off the opportunity.
"Just trying to leave our mark," LeBron James said a few minutes after nailing another game winner, this one a rattling jumper with 10 seconds left. "We've got to leave our mark."
The Heat's winning streak, now at 23 games after a brilliant 105-103 comeback victory over the banged-up but brazen Boston Celtics, has engulfed them. The second-longest winning streak in the 67-year history of the league is now theirs. They are closer to that indomitable 33-game streak owned by that all-time great Lakers team from 41 years ago.
It has them thinking: What if they, too, are an all-time great team?
"I know the history of the game," said James, who scored 13 of his 37 points in the furious fourth-quarter run. "Of all the teams that have come through the ranks, to be in second place now -- for us to be there and do it the way we want to do it, it means a lot."
This streak is like a child they've raised through the good times -- the whipping of the Los Angeles Clippers, the blowout win at Oklahoma City. There's the precocious times: a double-overtime win over Sacramento, a last-second victory over Orlando -- they just refuse to give in. But none was more rewarding than Monday's demanding struggle to overcome a motivated rival, defending its home floor with the vigor of an elimination game.
They own it now. It's no longer a novelty. They're in way too deep for that. It was all over their performance.
Yes, the Heat got a break when Kevin Garnett couldn't play because of a sore thigh and an illness. And Rajon Rondo has been gone since January.
But they also had to deal with the game of Jeff Green's life -- 43 points -- and one of the best shooting nights an opponent has put on them all season, as the Celtics were firing in 3-pointers from everywhere. It was supposed to be a road loss on the second night of a back-to-back when it's OK to let it go. In any other circumstance, had the Heat shut it down and let the Celtics have their home win, everyone would've moved on.
The Heat hadn't won in Boston in the regular season since 2007, yet had prevailed in the playoffs the last two years. A regular-season loss in Boston ruins their night but it doesn't ruin their week. But this just isn't regular.
So the Heat didn't pack it up, they didn't give in, they didn't follow what had to be their instincts. Instead they scored 22 of the game's last 29 points, strangling the Celtics with aggressive defense (they had three blocks and three steals) and James' offensive mastery. The Heat scored 27 points in the fourth quarter and James scored or assisted on 20 of them, especially the final two.
"Shame on anybody that takes [James] for granted," said Shane Battier, who had a game-saving block in the final 10 seconds. "You never take that for granted."
Taking things for granted is out of style in the Heat locker room right now. They're soaking everything in and that's why they continue to be dangerous, even when they could be in coast mode before the playoffs. That's why they treated the game's final minutes like it truly meant something. Because it does.
There's no mistaking the Heat's confidence that's grown with the core group now having played nearly 250 games together. They have developed a calmness that, combined with a desire to make history, has them playing at a level perhaps they didn't know was within them.
"We don't win a game like this our first year [2010-11]," said Dwyane Wade, who had 16 points. "No matter if we're up 17 or down 17, we're confident. That's a big difference when you're out there playing. This is a team that's familiar with each other, that's comfortable playing together, comfortable talking to each other and making each other better."
How long can this last? The Heat don't know, but they want to find out. Their next four games are against the teams with the four worst records in the East: Cleveland, Detroit, Charlotte and Orlando. It's still a long way to the record, but it's no longer something the Heat feel is out of their reach.
"Nope, I'm not looking ahead," Wade said. "Not until we get to 32."
Dimes past: March 1-2 | 3 | 4 | 5 | 6 | 7 | 8-9 | 10 | 11 | 12 | 13 | 14 | 15-16 | 17
ESPN Senior Writer
ESPN.com NBA writer since 2010
Covered Cleveland Cavs for seven years
Author of two books
2. Around the Association
3. Monday's Best
Green
Jeff Green, Celtics:
Maybe now the "We Still Want Perk" crowd in the 617 can pipe down. Dealing with LeBron on the defensive end, Green scored a career-high 43 points on 14-of-21 shooting (5-of-7 beyond the 3-point arc) and nearly punctured the Heat's winning streak.
4. Monday's Worst

The Lakers' road show: Absorbing a 23-point loss at his former home was probably not Steve Nash's idea of a good time. The Lakers' ninth game in 14 days was probably not a good one to try to win with a seven-man rotation. Despite the loss to the Suns, the Lakers still hold the West's No. 8 spot, but the Jazz and Mavs are lurking.
6. Tweet Of The Night
Ice, my family, and family guy, that's all I need right now to help me feel better, #ontothenext

—KyrieIrving (@KyrieIrving March 18, 2013
7. Quote Of The Night
"I believed we were going to win the game before the game. I thought we were going to win the game during the game. And I thought we should have won the game."
-- Celtics coach Doc Rivers, whose team did not win the game, but fell to the Heat.
8. Dozen Matter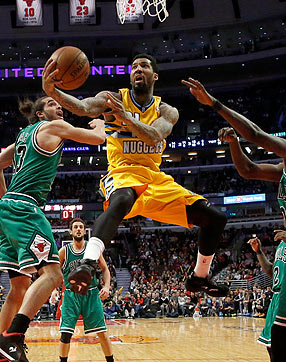 AP Photo/Charles Rex ArbogastWilson Chandler had 35 points as the Nuggets extended their win streak to 12 games with a 119-118 overtime win over the Bulls.
9. Stat Check
Prince
Tayshaun Prince grabbed 14 rebounds in the Memphis Grizzlies' 92-77 home win over the Minnesota Timberwolves. Prince, who has made 749 NBA starts at forward, has recorded only 12 or more rebounds in a game nine times (1.2 percent of his starts). That's the lowest percentage by any player who has entered the NBA in the past 40 seasons and has made at least 700 combined starts at forward or center. The next-lowest rate belongs to Clifford Robinson (1.4 percent).
Around the Association
---
MVP: Roy Hibbert picked up five blocks and anchored a defense that allowed the Cavs to shoot just 38 percent from the field. He also chipped in 12 points and nine rebounds.
X factor: Tyler Hansbrough is enjoying his brief stint as a starter. As is his wont, Psycho T threw his weight around in the paint, earning himself 18 points, 11 rebounds and 7 trips to the line.
That was … assertive: The Pacers know they have to win games against basement dwellers like the Cavs. After putting up 33 points in the second quarter, they continued to dominate and never let the game get close.
---
MVP: While the story of the game was Philadelphia's balance (four Sixers topped 16 points), Jrue Holiday distinguished himself down the stretch. The All-Star scored 11 fourth-quarter points -- six of which came in the crucial final 2:30 -- and finished with a box-score-stuffing 27/8/6 line.
Defining moment: During the second quarter, news broke that Andrew Bynum would have season-ending -- not that his season ever really started -- arthroscopic surgery on both knees. Just as damaging for the Sixers' long-range prospects, though, was what happened in the actual game. The talent-desperate Sixers won for the third time in four games, further diminishing their lottery odds.
X factor: LaMarcus Aldridge and Damian Lillard, in a losing effort, were tremendous. Aldridge rode a 16-point first quarter to a 29-point/14-rebound night, while the rookie scored 10 in the final period to finish with 27 points and seven each in the assist and rebound categories.
---
MVP: Gerald Henderson had a great all-around game that included 27 points on 16 shots and 10 of 11 free throws. Eight assists and an emphatic dunk rejection on Trevor Booker rounded out his solid night.
LVP: Washington's defense. For a team whose defense has been touted all season long as being elite, Washington gave up a season-high 119 points to a team that averages 92.7 points per game.
That was … a meltdown: With an up-and-down two-possession game in the fourth quarter, Washington surrendered a 13-3 run in the last 3:15 of the game and let the game slip away. The Wizards didn't even bother fouling with 20 seconds to go when the game was in reach.