1. Streaking Nuggets Continue Impressive Climb
By
Aaron McGuire
| TrueHoop Network
After a late-breaking overtime win the night before, the streaking Denver Nuggets found themselves with less than 21 hours of lead time for a game against the well-rested reigning Western Conference champions. On the road, no less, against a team sporting a home record of 30-4. Most fans and analysts would call that a "schedule loss," a night when a loss of any margin is both expected and acceptable.
Don't tell Denver that.
Tuesday night's comfortable 114-104 comeback win against the Oklahoma City Thunder was an exclamation point to Denver's current 13-game streak, and continues to highlight an incredible turnaround. The Nuggets started the season with a tepid 18-16 record behind a brutal schedule, but as their docket softens, they've quietly transformed into a borderline juggernaut. The Nuggets are a startling 29-6 in their past 35 games.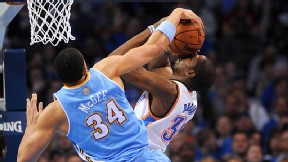 Mark D. Smith/USA TODAY SportsKevin Durant's 34 points weren't enough at home.
That hot stretch has carried Denver all the way from a weak hold on the Western Conference's seventh seed to a virtual tie for third, and it has given them an excellent shot at wresting home-court advantage for their first-round matchup. For a team that's currently 30-3 at home and 17-19 on the road, that's not just window dressing -- it's absolutely essential to their hopes of winning a series. That said, Tuesday night was a lot more than just a continuation of an excellent streak or a boon to their playoff hopes. It's easy to overlook, but it's something to bear in mind -- games against Oklahoma City hold a special cachet in Denver.
Consider: It has been less than two years since the Nuggets were bounced from the postseason by the Thunder in 2011. In that series, the Nuggets were looking ahead to the Spurs, a juggernaut they felt they could beat, but they looked too far ahead -- the naught-but-theoretical contenders in Denver were dispatched in a quick five games. Since that series, they've shown occasional flashes of greatness without ever putting it all together.
Tuesday's win was the latest in a season-long series of minor moral victories for Karl and his merry men. With Andre Iguodala's welcome addition helming a swarming perimeter defense and a small jolt to their ambitious transition-based offense, the Nuggets have entered a level of elite play heretofore unseen in the Denver heights. And Oklahoma City provides a brilliant reflection to that end. Prior to this season, the post-Carmelo Anthony Nuggets were a dismal 2-8 against the Thunder. That record includes losses by 13, 15 and 17, with only two exceedingly close wins to counterbalance them.
That was then. This is now.
After a 20-point thrashing in their first meeting, the Nuggets have pulled out three consecutive impressive wins against their former tormentors. They've beaten them twice in Denver and once in Oklahoma City, each time with increasing levels of comfort. This time, they played the most impressive game of their season to date -- Oklahoma City lost the lead in the third quarter and barely challenged down the stretch. Winning a regular-season series against a bitter rival that's dominated you in recent seasons is hardly the same as winning a playoff series, but it's a welcome jolt of confidence all the same.
Their captors vanquished, the question remains: How far can these Nuggets go? It's exceedingly hard to handicap a team such as Denver when you're looking for their playoff performance. It's brutally difficult to assess playoff strategy of a team with a borderline-obsessive focus on at-rim scoring and fast-paced basketball.
When the game slows down and their transition offense sputters, are the Nuggets going to have the half-court game to pull out road wins in the playoffs? Their style of play foments increased volatility; their assists essential, their movement non-negotiable.
Until the playoffs come, nobody knows for certain. But one factoid has to brighten their backers. The Nuggets aren't simply feasting on awful teams this season -- this win puts Karl's boys at 9-4 against the West's top four teams, with 3-1 records against both OKC and the Memphis Grizzlies, 2-1 against the Los Angeles Clippers, and 1-1 against the San Antonio Spurs. The Nuggets of yore were never quite that good against elite teams. And with their defense peaking at the right time, the Nuggets are starting to look like an awfully dangerous spoiler, a more robust edition of their trendy 2011 vintage.
As for their immediate future? With Tuesday's unexpected win in hostile territory, the Nuggets next have three straight games against soft competition to stake out a claim to their own 16-game streak. Then they'll face San Antonio, a statement game against another team trying to exorcise the playoff demons of years past.
They will play, they will compete, and they will wait.
Because the next "schedule loss" is coming.
Aaron McGuire's work appears on Gothic Ginobili.
Dimes past: March 1-2 | 3 | 4 | 5 | 6 | 7 | 8-9 | 10 | 11 | 12 | 13 | 14 | 15-16 | 17 | 18
2. Around the Association
3. Tuesday's Best
Streaking Nuggets:
The NBA's "other" win streak is going strong after Denver overcame Kevin Durant's 34 points in Oklahoma City. The Nuggets have now won 13 straight games and are quickly emerging as a serious contender in the West.
4. Tuesday's Worst
Magic in Indy: The Magic shot 32 percent from the floor. The Pacers shot 39 percent … and won by 22. Add to the mix an Orlando team that failed to top 20 points in three of four quarters, and that's now four straight losses for a team that has only three wins since Feb. 13.
6. Tweet Of The Night
Watch ur tongues cuz were still the reigning Champs til the end of this tournament lol. #WeAreUK

—Nazr Mohammed (@NazrMohammed) March 19, 2013
7. Quote Of The Night
"Is Kevin Garnett a role player? Is Tim Duncan a role player? Do you think Tim Duncan is going to be a role player next year? You think Kevin Garnett is going to be a role player next year? And those guys are based more on athleticism than Dirk is, you know?"
-- Mavericks owner Mark Cuban, on Dirk Nowitzki's effectiveness over the next few years in Dallas (Nowitzki turns 35 in June).
8. UVO, Play Funk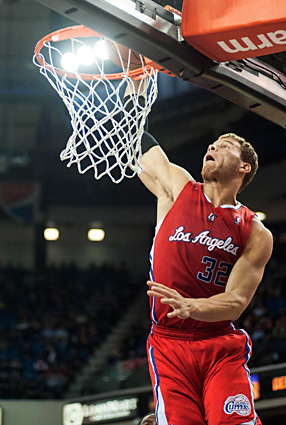 Ed Szczepanski/USA TODAY SportsThe Clippers could have used a few more Blake Griffin dunks in a lopsided loss in Sacramento.
9. Stat Check
The Denver Nuggets extended their winning streak to 13 games with an impressive victory over the Oklahoma City Thunder. Denver is the first team to extend a winning streak of at least a dozen games with a victory over an opponent with a winning percentage of at least .700 since the Dallas Mavericks, 13-0 at the time, beat the Detroit Pistons (11-3) in November 2002.