1. Nuggets Take No. 14, But Streakin' Ain't Easy
By
Aaron McGuire
| TrueHoop Network
Since a Jan. 1 upset of the Los Angeles Lakers at Staples Center, the Philadelphia 76ers have suffered an 0-14 drought in road games. The luckless lottery hopefuls were coming off of a late-breaking back-to-back (a 29-point thrashing at the hands of the Los Angeles Clippers, one must remember) and heading into an arena where the home team had won 15 of its last 15. The Denver Nuggets have averaged 111 points per game during that home streak, a stark contrast to Philadelphia's 88 points per game during their current road losing streak.
All this is to say that the world had a pretty good idea of what to expect: an annihilation. Oddsmakers tabbed Denver as a 14-point favorite, DESPITE missing Wilson Chandler and Ty Lawson because of injury. The game seemed destined to be a blowout where a clearly superior team runs wild on a down-on-their-luck lottery squad with nothing left to play for. Very reasonable logic, although it missed one important fact.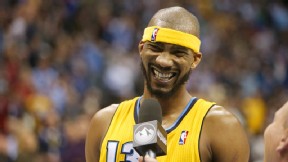 Chris Humphreys/USA TODAY SportsCorey Brewer, the man who saved the streak.
Talent gaps are talent gaps, and oftentimes, no amount of extra heart and hustle is going to make up for that. But the spirit of an NBA underdog manifests itself in a certain curious way when winter turns to spring and lottery position firms up.
Every once in a while, for whatever reason, a lottery team doesn't simply lie on the mat and tap out. It'll show a fire it can't tap into on a regular basis. It'll come out roaring, throw the first punch, and thoroughly eviscerate a team that shouldn't be letting it in the game at all. In this case, it wasn't just "whatever reason." The reason was simple.
NBA teams, tanking or not, love ending streaks. There's nothing quite like cracking the perceived invulnerability of a team on a long winning streak. The press starts talking about their championship pedigree, its players start believing their own hype, game previews become little more than their streaking statistics and lofty praises. Fans start looking ahead and checking wins off on the calendar. "Oh, look, we're playing the three worst teams in our division. We're DEFINITELY getting at least three more wins in the streak."
Expectations. Glory. Complacency. It sets in rather quickly. And it changes the game. Suddenly, it isn't just about a bad team versus a good team. It's about an underdog proving it belongs. It's about a lesser team upending the expectations and throwing conventional wisdom under a bus. It's about the flaws of the contender, not the flaws of the lesser lights. The game becomes more akin to a March Madness upset than a garden variety NBA blowout.
The Nuggets -- due to a furious late burst and a well-timed breakout night for journeyman Corey Brewer -- don't have to suffer the ignominy of losing the streak to a team that they should've beaten. But make no mistake. Win or not, Thursday wasn't their night. As the buzzer sounded to the whoops and hollers of a Denver crowd, a visible sigh of relief passed across Nuggets coach George Karl's face. Nuggets play-by-play announcer Chris Marlowe summed it up best as the players left the court: "Ladies and gentlemen, you just saw the biggest theft since the crown jewels were stolen in the 18th century."
No kidding. Philadelphia spent much of the night lording over the Nuggets, thoroughly outplaying its hosts in an exceeding strange turnaround. They rebounded better, they scored inside better, they moved the ball better. And they deserve all the credit in the world for it -- they fought the good fight, and they put a tangible fear into the hearts of the better team. They played swarming, trapping defense and kept Denver out of their comfort zone all night long. Heck, they managed to outscore the Nuggets in the paint. That hasn't happened since mid-February!
Philadelphia's valiant effort, even in defeat, reminded everyone watching of one of the world's most sacred truths -- probability isn't inevitability. Simply having a high chance of hitting the flush doesn't mean you will. Someday, a No. 1 seed will fall to a No. 16 seed. The Miami Heat have had to come back from the dead against teams they should've destroyed numerous times over the course of their incredible streak -- every team on every great streak does. Adversity doesn't have to come from an obvious place -- it can come from the most unexpected pasties on the schedule. In the end, Philadelphia's effort was in vain -- the streak goes on.
But just ask the Nuggets: It sure isn't easy to win 14 straight games.
Aaron McGuire's work appears regularly on Gothic Ginobili
Dimes past: March 3 | 4 | 5 | 6 | 7 | 8-9 | 10 | 11 | 12 | 13 | 14 | 15-16 | 17 | 18 | 19 | 20
Around the Association
| | | | | |
| --- | --- | --- | --- | --- |
| Philadelphia 76ers | 100 | FINAL | 101 | Denver Nuggets |
---
MVP: Philadelphia was up five with 14.3 seconds left before Corey Brewer happened; he scored six points on a 3-pointer and a trio of free throws to give Denver a 101-100 lead it wouldn't relinquish. Brewer happened the rest of the night, too, as the former Florida Gator -- all energy, panache, and video game-caliber highlights -- scored a season-high 29, 11 in the final quarter, with five steals.
Defining moment: With 2.1 seconds left and the Nuggets trailing 100-98, the red-hot Brewer weaved through a series of screens to get an off-balance 3-point look that seemed doomed from the start, before the otherwise excellent Damien Wilkins fouled him. Brewer hit all three FTs to give Denver the lead. Adding insult to injury, Wilkins got a chance on the other end to take the game winner, but was blocked as time expired. A rough way to end a 24-point night.
That was ... noble: Eight days ago they led in the fourth quarter before falling to the streaking Heat by 4. On Thursday, in a tough venue against a tougher opponent, they took a five-point advantage into the final seconds before losing on a fluke foul. Say what you want about Doug Collins' Sixers; despite the mounting losses, this team is decidedly not tanking.
| | | | | |
| --- | --- | --- | --- | --- |
| Portland Trail Blazers | 99 | FINAL | 89 | Chicago Bulls |
---
MVP: LaMarcus Aldridge. He set the tone for the Blazers by getting off to a hot start, and his consistent play throughout gives him tonight's "glue guy" title. Not to mention, he iced the Bulls' early fourth-quarter run.
X factor: The Blazers' shooting. Chicago outscored the Blazers 52-30 in the paint, but the Blazers refused to miss from anywhere else on the floor. They outscored Chicago by 18 from beyond the arc.
LVP: Kirk Hinrich. Captain Kirk registered just two points, going 1 for 7 from the field and 0 for 4 from behind the 3-point line. This could explain why Bulls fans are more excited for the other return.
| | | | | |
| --- | --- | --- | --- | --- |
| Minnesota Timberwolves | 98 | FINAL | 101 | Sacramento Kings |
---
MVP: Isaiah Thomas was everywhere after struggling in his last game. He had a game-high 24 points on 15 shots, 6 assists and multiple penetrations into the lane that led to Sacramento buckets.
X factor: Toney Douglas. Say what you will about his tenuous offensive game, but the guy is a pest on defense. He helped change the flow of the game in the late third and early fourth, the time period when the Kings gained the lead for good.
That was ... more fitting: The Timberwolves' role players are falling into their usual roles as the better players return from injury. Dante Cunningham just rebounds and shoots pick-and-pop jumpers instead of posting up. Greg Stiemsma can use all his energy on defense. J.J. Barea can focus on scoring off the bench instead of being the offensive catalyst.
3. Thursday's Best
Brewer
Corey Brewer, Nuggets:
Look out, Miami Heat. The Denver Nuggets are showing they know how to keep a streak alive in amazing fashion, too. Brewer sank three free throws with 2.1 seconds left and the Nuggets stretched their franchise-best winning streak to 14 games with a 101-100 win over the Philadelphia 76ers. He finished with 29 points.
4. Thursday's Worst
If Sixers Didn't Have Bad Luck, They'd Have No Luck Dept.: They learned earlier in the week that Andrew Bynum would not play a single minute for them this season. And just when it appeared they could console themselves with the satisfaction of ending Denver's win steak, Corey Brewer and some unforunate events put an end to that. At least the Phillies start soon.
6. Tweet Of The Night
That was the worst last minute of 76ers basketball I've seen in ages. Mind-numbingly bad.

—Adam Aron (@SixersCEOAdam) March 21, 2013
7. Quote Of The Night
"Yeah, you need one of these. You see the Heat win. They were down 27 [Wednesday] night and they win a crazy game. So, it's fitting for us to win a game like this."
-- Denver's Corey Brewer, whose team was down 98-91, without the ball and 1:27 left to play against the Sixers.
8. Friendly Break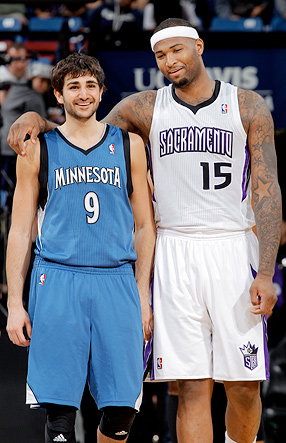 Rocky Widner/Getty ImagesWolves point guard Ricky Rubio and Kings center DeMarcus Cousins share a word during Sacramento's 101-98 win, putting the improving Kings at 6-5 over thier last 11 games.
9. Stat Check
Hickson
J.J. Hickson grabbed 18 defensive rebounds for the Portland Trail Blazers in their victory over the Chicago Bulls. It was only the fifth time in the last 35 seasons that a Blazers player recorded as many as 18 defensive rebounds in one game. Marcus Camby did it twice in January 2012, and Joel Pryzbilla (March 2008) and Arvydas Sabonis (February 1998) once each. The last Portland player with more than 18 defensive boards in one game was Bill Walton in December 1977 (20).