1. Winding To 27 Straight, The End Remains Fixed
ORLANDO, Fla. -- LeBron James chewed on the question Monday night as he soaked his feet in ice buckets. He then made himself loud and clear to the dozens of reporters around him in the Amway Center visiting locker room.
With each victory the Miami Heat add to a winning streak that reached 27 straight after beating the Orlando Magic 108-94 on Monday night, the questions never seem to change.
Neither do the answers -- especially from James.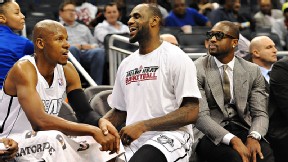 Gary Bogdon/Getty ImagesThe Heat had time to celebrate win No. 27.
This Heat team has a way of sticking to the script, both when it comes to dispatching teams on the court during games and disseminating their message after them.
So after flirting with yet another triple-double, this time with 24 points, 11 assists and 9 rebounds against the Magic, James was asked if he ever imagined this Heat team making a historic run at the record 33-game winning streak set by the Los Angeles Lakers during the 1971-72 season.
While the basketball world focuses on the streak as Miami moves to within six of tying the all-time mark, James and his teammates keep their sights on stringing together titles. In other words, the residual never overshadows the ring.
James didn't revert to his giddy yet controversial counting of "not two, not three, not four, not five … " from three years ago during the Heat's infamous signing-day pep rally. But he left little doubt Monday as to how his priorities stack up. "Our historic run is about winning championships -- that's what we want to be known for," James said. "It's a process, and whatever comes in between that, we can be excited about it. We didn't have a goal to say we want a consecutive win streak. But our goal is to win each time we step on the court. We're not able to hit the pause button, but we're also not taking our team or this time for granted."
The Heat know these moments can be fleeting. They just emerged from a stretch of games in which they played the teams with the four worst records in the Eastern Conference -- and they had to overcome a deficit each time to preserve the streak.
On top of that, Heat players saw Monday how the struggling New Orleans Hornets ended the Denver Nuggets' 15-game win streak. Those Hornets are the third opponent on the Heat's current four-game trip that continues in Chicago on Wednesday before moving to New Orleans on Friday and wraps up Sunday in San Antonio.
With Dwyane Wade nursing a nagging knee injury that kept him out a second straight game Monday, Chris Bosh acknowledged that fatigue is becoming a factor. With James piling up the minutes again while trying to compensate, the Heat very well could be a vulnerable team this week.
That's why James insisted Monday that at this point in the season, when the grind of an 82-game schedule begins to wear on some teams, there are nights when a depleted Cleveland team can be as tough as the healthy Spurs.
"It's been tough all year," James said. "It hasn't been easy on us at all. We haven't gone into any game saying, 'This is the easy one, [and] this is the tough one.' We go in saying this is what we can do to try to win on this night."
The Heat remain a confident team and have proved over the course of the streak that they can turn on the burners at any time. They did just that with a 20-2 run to break away from Orlando late in the third quarter on Monday. But Miami is also a team that's not immune to its own mortality.
The Cavaliers, Pistons, Bobcats and Magic weren't strong, deep or talented enough to hold off the Heat when James decided enough was enough. But at least four of the next five opponents -- the Bulls, Hornets, Spurs and Knicks -- pose a much greater threat to the Heat and their impressive streak.
"I'm not going to say [winning every night] is what we're supposed to do," said Wade, who hopes to play in Chicago. "We know going in you can lose on any given night. When you look at it, it's pretty special. It's impressive in a sense that we're able to come in no matter what and find a way to win. And we still haven't reached our potential. We'll reach that in the [NBA] Finals, hopefully, if we make it."
The Heat are streaking with a priority on peaking at the most meaningful time of the season. And that makes it difficult at times to stop and truly take inventory of the run they have been on for nearly two full months.
"I don't think we can really appreciate it right now because it's so much work," Bosh said. "But maybe this summer, we can look back and say that was a hell of an achievement."
Again, that goes back to perspective.
At the end of the day, the Heat define their season by where they stand later in the summer. Regardless of the successful nights they string together streaking through the spring.
Dimes past: March 8-9 | 10 | 11 | 12 | 13 | 14 | 15-16 | 17 | 18 | 19 | 20 | 21 | 22-23 | 24
ESPN Staff Writer
ESPN.com NBA reporter
Blogs regularly on the Miami Heat
14 years covering the ACC, SEC, NFL and NBA
2. Around the Association
3. Monday's Best
Wall
John Wall, Wizards:
With five key Wizards hobbled, Wall turned up his offense. He scored 17 of his career-high 47 points in the fourth quarter as the Wizards beat the Memphis Grizzlies 107-94. Wall, who added eight assists and seven rebounds, shot 13-of-22 from the field and made a career-high 19 free throws on 24 attempts.
4. Monday's Worst
Sinking Lakers: That foregone conclusion that the Lakers will make the playoffs sometimes doesn't look so foregone. After losing to the Warriors 109-103, and with three road games looming, the Jazz (one game back) and Mavericks (1½ games) are now knocking on Kobe's door, ready to assume the West's No. 8 seed.
6. Tweet Of The Night
47 Points 7 Rebounds AND 8 assists!?!?!?!? OK I see you @John_Wall #DCTakeOver

—Robert Griffin III (@RGIII) March 25, 2013
7. Quote of the Night
"Why, thank you."
-- Kings center DeMarcus Cousins, upon hearing coach Keith Smart's praise for him as a special talent who "has the whole package. When everything comes along in his life, when he grows up and sells into how he plays every night in the NBA, he'll be a special talent."
8. Great Wall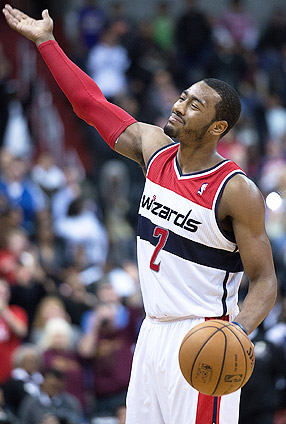 Harry E. Walker/Getty ImagesWizards point guard John Wall waves to the crowd in the closing seconds of the Wizards' victory over the Grizzlies. Washington defeated Memphis 107-94 behind Wall's career-high 47 points.
9. Stat Check
The Denver Nuggets' 15-game winning streak ended with a thud when they were crushed on the road by the New Orleans Hornets 110-86. That 24-point margin of defeat was the largest in league history for a team that carried a winning streak of 15 or more games into that matchup. The previous worst beating was taken by the Rockets in a 133-111 loss to the Hawks in December 1993, which snapped Houston's run of 15 straight wins to begin the '93-94 season.
Around the Association
---
Most valuable player: Gordon Hayward set the tone early for the Jazz, hitting a pair of 3-pointers in the game's first two minutes as Utah jumped out to a 10-0 lead it held for the duration. The third-year pro finished with 15 points on 6-of-9 shooting and a perfect 3-of-3 mark from deep.
Least valuable player: Jrue Holiday was abominable. The "All-Star" -- and yes, against Utah he earned those scare quotes -- was 2-of-8 from the floor for seven points, one rebound and a single assist against four turnovers. In 24 minutes, 29 seconds of floor time, he posted a plus/minus of minus-38. Yuck.
X factor: Utah's balance. Though Randy Foye led the way with only 17 points, the Jazz put seven players in double figures (Mo Williams fell just a point shy of making it eight) and shot nearly 50 percent to halt their most recent four-game losing streak.