1. Streak History, Heat Focus On Repeat Feat
CHICAGO -- As Dwyane Wade finished dressing after Wednesday's loss to the Chicago Bulls that ended the Miami Heat's 27-game winning streak, he didn't need to search far for the sentiment that best summed up his team's thoughts.
"Nope, 27-1 in our last 28 ain't bad," Wade said. "Now that it's over, I'm glad that it's over. See you all in the playoffs."
The Heat's pursuit of history fell six victories short of matching the 33-game winning streak by the 1971-72 Los Angeles Lakers. While it would seem disingenuous for Heat players and coaches to suggest Wednesday's loss provided the team a slight sense of relief, many believed there was somewhat of a silver lining to the setback.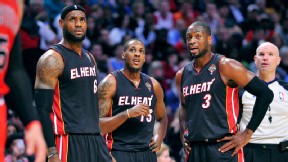 Rob Grabowski/USA TODAY SportsThe second-longest streak in NBA history is over.
Miami can rest in peace as the focus now shifts to shoring up some recent shortcomings, granting its stars some much-needed time off and preparing to defend last season's championship when the playoffs start in less than a month.
Other than LeBron James voicing his frustrations with what he felt were some excessively hard fouls by the Bulls, the Heat's locker room wasn't filled with disappointment. Players weren't distraught after their first loss in more than 50 days. In fact, the vibe was exactly the opposite.
Heat coach Erik Spoelstra gathered the team into a huddle and mentioned the streak in front of the group for the first time. Now that it's over, it is OK for them to openly embrace the fact that they were part of the second-longest winning streak in the history of major professional sports.
"I had everyone come in and put a hand on each other," Spoelstra said. "It was the first time that I had mentioned the streak. It was a heck of an experience to share in the moment with each other. However, it has never been about the streak. We have a bigger goal in mind."
Losing not only ended the Heat's historic streak, it also brought closure to another senseless debate. Not only did Wade, James and Chris Bosh find themselves daily having to stack themselves and the contemporary challenges of the league against the record-setting Lakers team, they also arrived in Chicago facing comparisons with the 1995-96 Bulls, who finished an NBA-best 72-10.
The Heat didn't want to lose Wednesday.
No team ever does.
But they will enjoy the residual aspect of this loss, which means a slight break from the national narrative. To put their remarkable run in perspective, consider this: The Heat's streak has been the biggest story in sports, filling the sports calendar gap from the day of the Super Bowl to the eve of the NCAA tournament's Sweet 16.
Even the Bulls spent Tuesday praising Miami's ride before they got to the business of dismantling it Wednesday.
"Obviously, they are a great team," Bulls coach Tom Thibodeau said after the 101-97 win that clinched Chicago's fourth straight playoff appearance. "The challenge is not to get caught up in the hoopla. I think it hyped the media up. We need to understand what goes into winning. Stay focused, and have an edge. If you get lost in all the other stuff, then you are not going to be ready."
Meanwhile, the Heat must now get ready for the rare experience of rebounding from their first loss since a Feb. 1 setback in Indiana. They'll finish out a four-game trip Friday against New Orleans and Sunday at San Antonio.
Then they return home Tuesday to face the Knicks, who now boast the longest active winning streak at six games.
After wrapping up his postgame media session Wednesday, James joked that he looked forward to seeing the throng of reporters go back to their normal assignments. They could leave the Heat alone for awhile.
"We haven't really had a moment to really go over it and know what we just did," James said of the streak. "We're just very fortunate and very blessed to be a part of a streak like that. It's one of the best that this league has ever seen. We never really talked about it. We were just playing each and every game to win. And it resulted in 27 in a row."
Now, it's time to hit the reset button.
"It was an unbelievable streak we were on," Wade said of chasing the Lakers' mark. "But in here, it didn't feel like we were on this amazing streak. It felt like we were playing really good basketball. If you get it, it's awesome. If you don't, well, we still won 27 in a row, and it's awesome."
The Heat left Chicago with a loss, but hardly defeated.
The defending champs will soon regroup for their next run.
It's no longer about the streak.
Instead, it's all about the repeat.
"We may lose a game," Bosh said. "But we won't lose sight of our ultimate goal. That's still out there for us."
Dimes past: March 12 | 13 | 14 | 15-16 | 17 | 18 | 19 | 20 | 21 | 22-23 | 24 | 25 | 26
ESPN Staff Writer
ESPN.com NBA reporter
Blogs regularly on the Miami Heat
14 years covering the ACC, SEC, NFL and NBA
2. Around the Association
3. Wednesday's Best
Chicago Bulls:
The Bulls nearly ended the Nuggets' long streak last week, but this time they succeeded in streak-busting, downing the Heat 101-97 to end LeBron & Co.'s streak at 27 wins. They did it without Derrick Rose and Joakim Noah, too.
4. Wednesday's Worst
Thompson
Klay Thompson, Warriors:
After bagging six 3-pointers against the Lakers on Monday, Thompson made only 1 of 13 shots en route to a 105-98 defeat at the hands of the Kings. Sacramento, which entered the game with an NBA-worst 6-30 road record, won the season series 3-1.
6. Tweet Of The Night
Tom Thibodeau may win Coach of the Year for this game alone.

—Tom Haberstroh (@tomhaberstroh) March 27, 2013
7. Quote of the Night
"First of all, Kirk Hinrich in the first quarter basically grabbed me with two hands and brought me to the ground. The last one, Taj Gibson was able to collar me around my shoulder and bring me to the ground. Those are not defensive ... those are not basketball plays."
-- LeBron James, after his team lost to the Chicago Bulls.
8. Jimmy Jam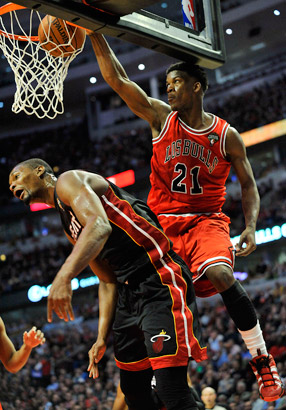 David Banks/Getty ImagesJimmy Butler of the Chicago Bulls dunks over Chris Bosh of the Miami Heat. The Bulls defeated the Heat 101-97.
9. Stat Check
Smith
J.R. Smith scored 35 points off the bench in the Knicks' win Wednesday, after he scored 32 points as a substitute Tuesday. And Smith has had two other 30-point games off the bench in March, against the Thunder (36 points) and Trail Blazers (33). Smith is the first player to score more than 30 points off the bench four times in one month since Milwaukee's Ricky Pierce did it four times in November 1990.