1. Eighth Avenue: Where Last Seeds Collide
MILWAUKEE -- The Milwaukee Bucks and the Los Angeles Lakers share the distinction of being in position for the final playoff seeds in their respective conferences.
But that was the only thing they had in common Thursday.
On a night when the frustrated and reeling Bucks met as a team to set aside their petty differences that surfaced over the course of a four-game losing streak, the lethargic and limping Lakers took another step toward falling apart.
Therapy was the operative word for both teams after the Bucks emerged from their own funk in a 113-103 victory that provided a painful setback to the Lakers' playoff hopes.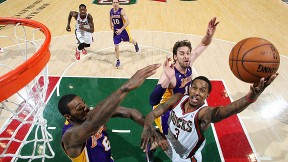 Gary Dineen/NBAE/Getty ImagesBrandon Jennings soared early, but sat late.
The Lakers, who are in a dogfight with Utah and Dallas for the final playoff spot out West, stumbled out of the Bradley Center in need of physical therapy after having to cope with another set of disturbing injuries.
Kobe Bryant scored 30 points to move to within five points of passing Wilt Chamberlain for fourth place on the NBA's career scoring list. But he was treated for bone spurs in his left foot after the game and left the arena on crutches. While Bryant finished the game, the same couldn't be said for Steve Nash, who sat out most of the second half after pain in his hip, pelvis and back began to flare up again.
With just nine games remaining, the Lakers (37-36) appear to be falling apart at a time when they desperately need to come together for a chance to squeeze into the playoffs.
While Bryant declined to meet with reporters after Thursday's game, Pau Gasol, who recently returned to the lineup from a foot injury, talked about the physical and emotional burden the team has carried all season.
"You have to continue to fight through it and do the best we can," Gasol said of the Lakers' postseason push. "It's been a long year, no doubt about it. Ups and downs. But we look at ourselves -- we have the weapons -- and if we stay healthy enough, we'll be able to give it our best shot. But it's been difficult. No doubt about it."
The Bucks are a bit more secure in their playoff prospects in the East, sitting seven games ahead of ninth-place Philadelphia and two back of Boston for the seventh seed. But psychologically, they've been a fragile team of late.
Before Milwaukee put together arguably its most balanced and spirited effort in weeks, players met earlier Thursday to reconnect after Wednesday's demoralizing loss to the 76ers. It was the Bucks' fourth straight loss and seventh in nine games. After that setback in Philly, point guard Brandon Jennings voiced displeasure over his benching in the fourth quarter and went scoreless for the first time in 281 games.
Jennings also took exception to what he felt was unfair treatment from coach Jim Boylan, and seemed to indicate the Bucks lacked the level of talent to warrant a reduction in his playing time -- even amid his struggles during the skid.
"I don't see any All-Stars in this locker room," Jennings, who will be a free agent this summer, said after the loss to the 76ers. "I think that everyone should be held accountable. There's no maxed-out players in this locker room. So don't try to (single me out) and just give everyone else the freedom to do whatever they want."
Less than 24 hours later, the Bucks looked -- and sounded -- like a team that repaired any potential fractures. Jennings again saw his minutes reduced in the fourth quarter against the Lakers. But by then, he had already piled up 20 points, seven assists and just two turnovers in 32 minutes before he was replaced with 8:08 left and Milwaukee leading 90-89.
Jennings was dressed and gone by the time reporters arrived in the locker room after Thursday's game. But Boylan said Jennings "bounced back" on Thursday. The coach also said he "had every intention of putting Brandon back" into the game down the stretch, but was pleased with a unit that featured Monta Ellis, J.J. Redick and Marquis Daniels on the perimeter. That unit used a 14-3 spurt midway through the fourth to pull away from the Lakers.
"The game just started to roll in our favor, and I didn't want to mess with the chemistry we had out on the court," Boylan said. "Not that I didn't trust Brandon to come back and play well. I just felt that our matchups were good and we got kind of in a groove. No one was fatigued. It was just an unfortunate thing that he didn't get back in."
Boylan said the Bucks broke out of the shell they had been in during the losing streak. He suggested some players had started to go their own way, and remain in their own world.
But the process of getting everyone back on the same page started with a group of players looking one another in the eyes and demanding that they all set aside any differences.
"That was very important because it's easy to kind of get into slumps and get that dark cloud over your heads and stay there," Bucks center Larry Sanders said of Thursday's team meeting. "But we fought our way through tonight and it showed a lot of character. Today, everyone was looking into everybody's eyes and trying to get that communication to get that fight back in us (and) not stay down. You only lose when you stay down. You have to get back up."
The Bucks collectively regained their balance Thursday and moved closer to securing a spot as the East's eight seed.
The Lakers, meanwhile, are barely clinging to a playoff pulse because they just can't seem to stay on their feet.
Dimes past: March 12 | 13 | 14 | 15-16 | 17 | 18 | 19 | 20 | 21 | 22-23 | 24 | 25 | 26 | 27
ESPN Staff Writer
ESPN.com NBA reporter
Blogs regularly on the Miami Heat
14 years covering the ACC, SEC, NFL and NBA
2. Around the Association
| | | | | |
| --- | --- | --- | --- | --- |
| Los Angeles Lakers | 103 | FINAL | 113 | Milwaukee Bucks |
---
MVP: Larry Sanders had a career-high 21 points to go along with his 13 rebounds and two blocks. Sanders was very active all night and scored all but one of his buckets right at the rim.
X factor: Monta Ellis played a great fourth quarter, scoring eight of his 18 points in the game-defining period. Instead of allowing the Lakers to get back into the game, Ellis continued to push the pace and put the game away.
That was ... unfortunate: In a season that has been plagued with injuries, the Lakers' starting point guard Steve Nash didn't see the floor in the fourth quarter due to an injury. He may not have changed the outcome tonight, but losing Nash for any time is tough nonetheless.
| | | | | |
| --- | --- | --- | --- | --- |
| Indiana Pacers | 103 | FINAL | 78 | Dallas Mavericks |
---
MVP: Paul George loves Dallas. Last season, he scored 30 when visiting the Mavs. This season, he had 13 of his 24 points in the third quarter, when the Pacers outscored Dallas 34-17. Just for good measure, he added eight rebounds, six assists and three steals.
Defining moment: Coming out of the half tied at 41, the Pacers opened the third quarter 8-1, then extended it to a 20-5 run over the first six minutes of the half. Indy never looked back in a dominating win.
That was ... crucial for the Pacers. Indiana is in a dogfight with the New York Knicks for the No. 2 seed in the East, but have by far the tougher remaining schedule. By winning the first two games of a four-game West Coast swing, they've kept pace with the streaking Knicks.
| | | | | |
| --- | --- | --- | --- | --- |
| Sacramento Kings | 117 | FINAL | 103 | Phoenix Suns |
---
MVP: DeMarcus Cousins only needed three quarters of play to have his way in Phoenix. Without Marcin Gortat, Cousins ate the Suns alive on the interior, scoring 17 of a season-high 34 points in the first quarter. He also grabbed a game-high 14 rebounds.
X factor: Like Cousins, Isaiah Thomas also played just three quarters of action, but got plenty done. The Kings' starting point guard finished with 23 points and racked up eight assists in the victory. Thomas continues to prove naysayers (like me) wrong about his potential as a starter.
That was ... expected. The Suns were losers of four straight and have won just six games since the All-Star break. Meanwhile, the Kings have found their way in the second half of the season. Sacramento is now 8-10 following the Thomas Robinson/Patrick Patterson trade.
3. Thursday's Best
Cousins
DeMarcus Cousins, Kings:
With Marcin Gortat out of action, Cousins took full advantage of the Phoenix Suns' middle weakness. He scored 17 consecutive points in the first half and needed only three quarters to finish with 34 in the Sacramento Kings' 117-103 victory over the Suns.
4. Thursday's Worst
James
Mike James, Mavericks:
The veteran journeyman, now playing for his 11th NBA team, had a scoreless night in the 103-78 blowout loss to the Pacers. He had been averaging 10.1 points per game for the month of March and had directed recent wins over the Clippers and Jazz.
7. Quote of the Night
"Why, thank you."
-- Kings center DeMarcus Cousins, upon hearing coach Keith Smart's praise for him as a special talent who "has the whole package. When everything comes along in his life, when he grows up and sells into how he plays every night in the NBA, he'll be a special talent."
8. Let It Beard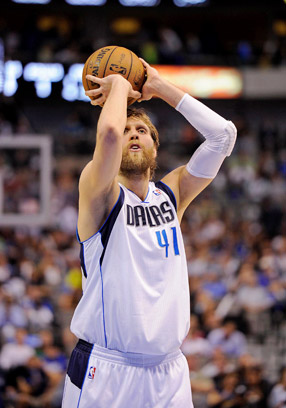 Jerome Miron/USA TODAY SportsDirk Nowitzki and his fellow hirsute Dallas Mavericks vowed to shave if their team reached .500, but the Mavs were in no real danger of facing the razor in a 103-87 loss to Indiana. Next possible shave date: April 2, at Lakers.
9. Stat Check
Sanders
Larry Sanders scored 21 points, grabbed 13 rebounds and blocked two shots to help the Milwaukee Bucks top the Los Angeles Lakers. Sanders is the first NBA center ever to reach those statistical minimums in a game that he started against Dwight Howard in the pivot.
Sanders was the first starting center with that many points, rebounds and blocked shots in a game against the Lakers since Howard did it for the Magic in March 2011.