1.Without Stars, Heat Demonstrate Bright Stuff
SAN ANTONIO -- It wasn't quite the star-studded affair that many anticipated on Sunday between the San Antonio Spurs and Miami Heat. But Spurs coach Gregg Popovich's pregame performance may have been just as entertaining.
Standing in front of a crowd of reporters outside the Spurs' locker room, Popovich was asked for his thoughts on Heat coach Erik Spoelstra's decision to sit LeBron James and Dwyane Wade for Sunday's nationally televised game.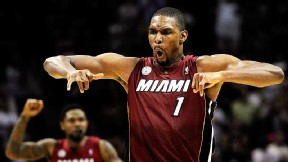 AP Photo/Darren Abate
What ensued was pure Popovich; the 64-year old future Hall-of-Fame coach staggered backwards in pretend astonishment, hands flailing in the air and mouth fully agape.
"What kind of s--- is that?," Popovich shouted with feigned indignation. "Are you kidding me? What a bunch of rummies. Who would think of something like that?"
The joke wasn't lost on anybody in the hallway as Popovich continued his fake rant while the surrounding reporters bellowed with laughter.
"That's below the belt," Popovich added. "There's no place for that."
As it turned out, it was Spoelstra and the Heat who would get the last laugh.
Even without James, Wade and Mario Chalmers, who sat out with a sore right ankle, the depleted Heat beat the Spurs 88-86 on their home floor, thanks to a go-ahead 3-pointer from a most unlikely source, Chris Bosh, with 1.1 seconds left. After the final buzzer, the Heat celebrated on the court like it was a Game 7. James and Wade emerged from the locker room to tackle fellow teammates as they left the court.
The Heat weren't supposed to win this game. Not with a starting lineup of Norris Cole, Mike Miller, Rashard Lewis, Udonis Haslem and Bosh opposite the Spurs' Hall-of-Fame duo of Tony Parker and Tim Duncan. It must be said that the Spurs weren't fully loaded either as Manu Ginobili sat out Sunday's game with a strained right hamstring.
But the Heat prevailed, and in doing so, they've taken one step closer to earning home-court advantage throughout the playoffs with the No. 1 overall seed over the Spurs, who now sit three games back in the standings.
"You could hear the collective groan in the arena, 'Oh, we've got to watch these clowns for 48 minutes?'" Shane Battier said after the game. "Well, you know what? These clowns have a lot of fight in them."
With the victory, the Heat are now a staggering 29-1 in their past 30 games, and the drama never seems to cease with this team. One might think they'd like to lie low for a while and enjoy some time away from the national spotlight after the Chicago Bulls snapped their historic 27-game win streak on Wednesday. Think again.
By holding out James and Wade for Sunday's much-anticipated game against the San Antonio Spurs, the Heat made sure they still have our attention -- the Spurs' organization included.
Let's be clear: The Heat will never admit to taking a retaliatory shot at the Spurs by sitting James and Wade, but the message was sent anyway. The Heat organization wasn't exactly thrilled that the Spurs sent their trio of stars Duncan, Parker and Ginobili, as well as Danny Green, home on a commercial flight before their Nov. 29 game. Fans in Miami paid good money to see a star-studded battle between the two powerhouses, but the Spurs had other plans. And the decision cost the Spurs $250,000 for the no-show.
Was Sunday a counterpunch from Spoelstra and the Heat?
"I could see how you guys can draw that conclusion," Spoelstra said before the game. "But no."
You could make the argument that the short-handed Heat's game ball should go to Bosh, whose 3-point clincher gave him a game-high 23 points. It could go to Cole, who held Tony Parker to just 12 points, not to mention nailed two clutch free throws in the final minute after a dubious foul call. Cole's 43 minutes were the most of his NBA career and likely beyond.
But most of all, this was a statement game from Spoelstra. As the calendar flips to April, the 42-year-old coach continues to add to an already formidable résumé for Coach of the Year -- an award currently held by none other than Popovich. You don't have to point out the stunning attrition rate of Coach of the Year honors; Spoelstra fully understands that four of the past seven award winners were given pink slips within two years of winning it.
After Sunday's upset, it's becoming harder and harder to argue that Spoelstra's record is merely a product of Miami's star power. Not with three of his starters sitting out and still pulling out the win against the West's top team. You could see Spoelstra's fingerprints all over the Heat's win. His defensive system bottled up an offense that ranks in the top five in the league, but his biggest call was a no-call.
When Popovich called a full timeout with 32 seconds left with the Spurs ahead by one point and with possession, it gave Spoelstra an opportunity to lay out his game plan for the rest of the game. Spoelstra, who once helped build Pat Riley and former Heat coach Stan Van Gundy an advanced stats database, has seen the numbers: taking timeouts in late-game situations hurts a team's ability to score. Spoelstra had two timeouts to burn, but he told the team to save them.
"We talked about it during the (Spurs') timeout," Spoelstra said. "If we forced a miss, we'd go for it."
Sure enough, Duncan ended up missing his ensuing shot and Ray Allen found Bosh for the go-ahead trey after reaching a dead end in the left corner.
"It was probably a better look than anything we could've diagrammed," Spoelstra said.
Battier, whom Spoelstra entrusted to call a timeout if things went awry on that final trip down the floor, beamed when asked about Spoelstra's big no-call.
"I loved it," Battier said. "I was just telling Haslem this: End of game situation, you're down and needing a bucket, do not let the defense set. You go and attack. Calling timeout would allow the Spurs to sub and get their defensive squad in. And we had a much better chance of scoring. All coaches want to show that they know their stuff and can win games with drawing up a play at the end of games. But it takes a lot for coaches to take their imprint off the situation like that."
Now with only one loss since Feb. 1, the Heat will head into Tuesday's game against the hot New York Knicks to wrap up one of the greatest two-month stretches in NBA history, hoping to extend an 11 ½ game lead in the East. And if Spoelstra leads the Heat to the Finals again, he'll carry an undefeated 6-0 record against the West's top-three seeds this season.
"There's no question," Spoelstra said after beating the Spurs, "it's a gratifying win."
Dimes past: March 15-16 | 17 | 18 | 19 | 20 | 21 | 22-23 | 24 | 25 | 26 | 27 | 28 | 29-30
ESPN Staff Writer
ESPN.com NBA analyst since 2010
ESPN.com Insider researcher in 2009
Developer of NBA DRAFT Initiative database
2. Around the Association
3. Sunday's Best
Bosh
Chris Bosh, Miami Heat:
Busting out the clutch 3-point skills he used to crush Boston in the playoffs in 2012, Bosh scored 23 points, including a game-winning 3-pointer with 1.9 seconds remaining, as the Miami Heat beat the San Antonio Spurs, 88-86, wthout LeBron James, Dwyane Wade and Mario Chalmers, who sat due to injuries.
4. Sunday's Worst
Detroit Pistons, finding a way to lose: Maybe Andre Drummond air-balling two straight free throws in a one-point loss was enough of a sign that it was once again not Detroit's night. The Pistons outshot the Bulls, 50 to 40 percent, and outrebounded them, 45-37. Were it not for the existence of the Bobcats and Wizards, the last Pistons win would have come way back on Feb. 8, against the Bucks.
6. Tweet Of The Night
Man i love my teammates!!! Big time win. @chrisbosh big time shot! #Heatles

—LeBron James (@KingJames) March 31, 2013
7. Quote of the Night
"Are you kidding me? What a bunch of rummies. Who would think of something like that?"
-- Spurs coach Gregg Popovich, feigning mock astonishment that LeBron James, Dwyane Wade and Mario Chalmers would not be facing his team Sunday. (He refrained from calling anybody a "ne'er-do-well.")
8. Falling Danger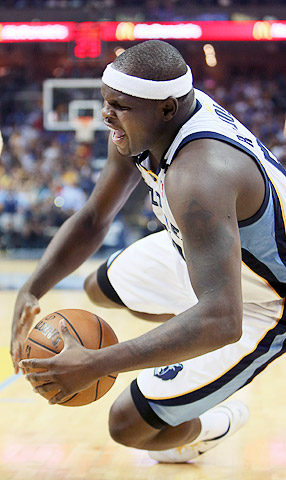 Spruce Derden/USA TODAY SportsZach Randolph and the Griz are now one loss away from falling out of the playoffs.
9. Stat Check
Chris Bosh hit the game-winning 3-point field goal with 1.1 seconds remaining in the fourth quarter as the LeBronless-and-Wadeless Heat earned a road victory in San Antonio, 88-86. It marked the first time in his three seasons with the Heat that Bosh has scored a go-ahead field goal in the final 24 seconds of the fourth quarter or of any overtime period -- something that he had done five times during his years with the Raptors.
The triumph was the Heat's 17th during the month of March, establishing an NBA record for most wins in one month. It was also Miami's 29th win in its past 30 games, and the Heat joined a very short list of NBA teams that have achieved such a 30-game stretch over the league's 67-year history. The Lakers, of course, won 33 straight games in the 1971-72 season; the Bucks won 29 of 30 regular-season games overlapping the 1972-73 and 1973-74 seasons; the Bulls did it in the 1995-96 season; and the Lakers won 29-of-30 near the end of the 1999-2000 season.
Around the Association
---
MVP: Greivis Vasquez had an insanely efficient game, scoring 25 points on 10-for-14 shooting. He was also a willing passer, helming the Hornets' offense for long stretches and dishing out nine assists.
LVP: C.J. Miles had a miserable time guarding the Hornets' wings, but then the entire Cavs defense was a step slow. What distinguishes him from the putrid pack are his shooting numbers: Miles scored just three points on 1-for-9 shooting.
Turning point: New Orleans racked up 12 turnovers during the first half, a problem it remedied in the second. During the third quarter, in which they outscored the Cavs 36-24, the Hornets didn't turn the ball over once.