1. Clippers Still Haven't Figured It Out
LOS ANGELES -- It turned out the Los Angeles Clippers bench players didn't do quite enough to beat the Indiana Pacers, just enough to make their own starters look bad by comparison. And all the Clippers starters did was make their relationship with coach Vinny Del Negro look bad, any way you look at it.
After Del Negro called out his players for their lack of effort in a loss to the Houston Rockets Saturday night, then wondered aloud if it would be present Monday night, the Clippers no-showed for much of the game. A bench-led rally provided them a couple of chances to tie the game near the end on a pair of 3-pointers, but it would have been an undeserved reward for an incomplete performance.
Del Negro didn't even bite on a question that tried to spin the conversation toward the valiant effort by the backup group of Eric Bledsoe, Jamal Crawford, Ryan Hollins, Lamar Odom and Matt Barnes.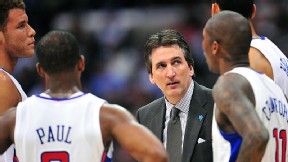 Gary A. Vasquez/USA TODAY SportsClippers coach Vinny Del Negro sees a lack of effort.
"I'm just disappointed," Del Negro said after the Pacers prevailed 109-106. "Just not enough effort from the starters to get us off to a good start, or a consistent 48 minutes of effort."
There has been much speculation about why that's been the case lately, with the Clippers losing four of their past five games, which makes the possibility of starting the playoffs on the road increasingly likely. The Denver Nuggets and Memphis Grizzlies both have better records than the Clippers' 49-26, although Los Angeles can technically clinch the No. 4 seed by winning the Pacific Division.
One thing I've learned about struggling teams: if you can't figure out the answer, the answer is the coach. At the moment it's not about rotations or X's and O's. The first thing to ask of any NBA coach is are the players giving their all for him, and of late the answer is no.
They aren't giving their all for the veterans who are hanging around for one last shot at glory, or for the fans who invested more energy in this game than the players did for most of the night, either. But it usually comes back to -- or falls down on -- the coach, and for whatever reason there's a disconnect.
You could even argue that Del Negro won the tactical battle against Indiana's Frank Vogel in this one; the Clippers' switch to a zone in the second half and the Pacers' difficulty in coping was a big part of the Clipper comeback from a deficit that grew as large as 24 points. But Vogel's team came out with the energy required at this late stage of the season ("I think we're shifting toward playoff mode," Paul George said), and that's something Del Negro's Clippers did not do.
Del Negro has abandoned any pretense of them all being in this together, because clearly the Clippers aren't.
"It's up to them," Del Negro said of his players. "All I can do is take them in and out of the games."
He took the starters out in the third quarter and left them out until he sent Chris Paul and Blake Griffin back in deep in the fourth. With just over four minutes remaining in the game, the plus/minus numbers told a revealing story. Reserves Eric Bledsoe (+18), Lamar Odom (+16), Jamal Crawford (-13), Ryan Hollins (+6) and Matt Barnes (+3) were all in positive territory, while starters Paul (-25), Griffin (-25), DeAndre Jordan (-18), Willie Green (-15) and Caron Butler (-11) were all negative. Jordan had been outscored 26-0 by Roy Hibbert, including 15-0 in the first quarter, when Jordan played half of his 16 minutes.
When it was brought to Jordan's attention that Del Negro thought the Clippers' problems stemmed from their lack of intensity, Jordan said: "He said intensity? That's what it is then."
It was Jordan's attempt to avoid any further problems, but it's clear there are issues after Del Negro played Ryan Hollins almost twice as much as Jordan (Hollins produced 11 points and five rebounds, and one not-so-subtle shove of Hibbert that knocked the Pacers center to the ground).
Even Chris Paul was more problem than solution in this game; he shot 2-for-12 and made a coupe of curious decisions to pass up shots during the crunch time that is usually his domain.
"We just keep saying it and coming in here after every game and saying, 'We've got to figure that out,'" Paul said. "Sooner, rather than later, we need to."
If not, sooner rather than later will apply to the end of the Clippers' season.
Dimes past: March 19 | 20 | 21 | 22-23 | 24 | 25 | 26 | 27 | 28 | 29-30 | 31
ESPN Senior Writer
ESPN.com senior writer since 2007
Around The Horn panelist
Formerly at Los Angeles Times
2. Around the Association
3. Monday's Best
Hibbert
Roy Hibbert, Indiana Pacers:
Hibbert couldn't be stopped (except when he fouled out), sinking 11 of 14 shots en route to 26 points and 10 rebounds in the 109-106 win over the L.A. Clippers. Big win for the Pacers, who took control of the No. 2 seed in the East playoffs.
4. Monday's Worst
Jordan
DeAndre Jordan, L.A. Clippers: He came into the game having made 20 of his last 21 field goal attempts. In the loss to Indy, there were no highlight dunks. He missed his only two shots and logged only 16 minutes.
6. Tweet Of The Night
Big plays down the stretch by @mconley11 !! Gotta give them credit, very disciplined and organized team! #50wins #itsnotthateasy #GNG

—Marc Gasol (@MarcGasol) April 1, 2013
7. Quote of the Night
"I'm happy with stealing the game, rather than the ball."
-- Grizzlies guard Mike Conley, who saw his steal streak snapped at 64 games; it had been the longest active streak in the NBA. Conley wound up hitting the game-winning bucket.
8. No Answer For Pek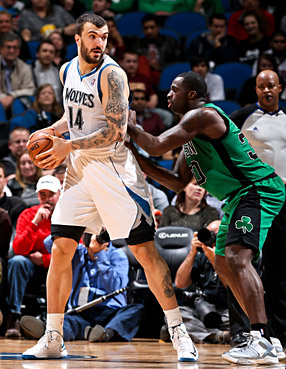 David Sherman/NBAE/Getty ImagesNikola Pekovic bruised and battered the overmatched Boston front line for 29 points to lead the Timberwolves to a 110-100 win. "We had no one that could deal with that big monster they had down there," Celtics coach Doc Rivers said.
9. Stat Check
Asik
Omer Asik scored 22 points, hauled in 18 rebounds and made 11 of 13 shots in the Rockets' win over the Magic. Asik is the fourth player in Rockets franchise history to score at least 20 points, grab 18 or more rebounds and make at least 80 percent of his shots from the field in one game. Moses Malone did it in March 1977 and again in February 1978; Otis Thorpe, in February 1994; and Hakeem Olajuwon, in February 1998.
Around the Association
---
MVP: Rudy Gay deservedly has a reputation as an inefficient shooter, but he didn't live up to it tonight. Gay had scored this much (34 points) six times before, but he'd always needed at least four more shots to get there than the 18 he took tonight.
X factor: Jose Calderon (19 points on 8-of-12 shooting) has one of the best shooting strokes in the league, and he could take advantage of it as much as he did tonight more often. Best of all, he didn't stop running the offense to score his most points since before Valentine's Day. He also had nine assists and one turnover.
That was ... heartfelt: Raptors fans gave Calderon multiple standing ovations in his return to Toronto, where he spent his first 7 ½ seasons. Calderon reportedly even headed toward the home locker room at halftime before realizing his mistake and reversing course.
---
MVP: Monta Ellis had a Renaissance Man game: 19 points, 14 assists and six steals. He got a richly deserved standing ovation when the Bucks subbed him out for good midway through the fourth quarter.
X factor: Larry Sanders conked referee Bill Kennedy on the head with an inadvertent elbow on the opening tip, then spent the rest of his night bruising Charlotte's big men. He racked up 24 points and 13 rebounds in 31 minutes.
That was ... assertive: The Bucks are trying to lock down the eighth seed in the East and possibly challenge Boston for seventh. The 'Cats should be an easy win for a playoff contender, and the Bucks positively shellacked them.