1. No Longer Shaq vs. Kobe in Lakerland
LOS ANGELES -- After multiple "Can You Dig Its," a couple of "Kazaam" references and one recollection of Shaquille O'Neal mooning Sacramento Kings fans from the Los Angeles Lakers' team bus, there was one thing notably absent from Lakerland Tuesday night: a choice.
No longer was it Shaq or Kobe Bryant, a question of preference that existed even when they were winning championships together, followed by one of the most significant decisions of Jerry Buss' ownership when a choice finally had to be made. On the night the Lakers showered O'Neal with adulation and retired his number, it finally felt like the answer to Shaq or Kobe was ... both.
O'Neal and Bryant have taken steps to mend their relationship (O'Neal says it began when they shared the Most Valuable Player award at the 2009 All-Star Game) and the Lakers made the first move toward officially, permanently linking the two stars with their decision to hang O'Neal's No. 34 jersey high in Staples Center, where it will eventually be joined by Bryant's No. 24.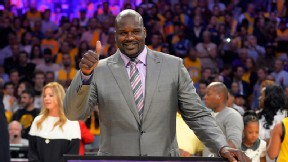 AP Photo/Mark J. TerrillShaq owned halftime, but the Lakers stole the show with a much-needed win at Staples Center.
Kobe, in his own way, has conceded that the three-peat championship run from 2000 to 2002 belonged to Shaq. Anyone who saw them knew the vital role Kobe played, most notably when he led the Lakers in every major statistical category for the history-altering Game 7 against Portland in the 2000 Western Conference finals. But Bryant realized those teams were built around Shaq, and Phil Jackson wanted the offense to go through Shaq, which was why he yearned to be free of both of them. He concedes it now because everything worked out the way he wanted … which is why he can be more amicable.
"The challenge for me was to show [Shaq] and show everyone else I could win without him," Kobe said in February. "So … point proven.
"Shaq and I have a really good relationship now. We appreciate each other more now than ever. The further you get away from the history that we had together, the more you put perspective on it, and how dominant we were."
Shaq finally acknowledged that it was about Kobe ... and Phil Jackson, Robert Horry and Derek Fisher. He even gave a shoutout to Bill Bertka, the Laker consigliore who has served the organization in various capacities since the 1960s.
"A lot of people ask me, 'What does it take to win three championships?' I'm quick to say, 'You got to have great teammates,'" O'Neal said before the Lakers defeated the Dallas Mavericks 101-81 on Tuesday night. "So, you got to have great teammates and I definitely had great teammates, definitely had great fans, definitely had great media support. So, this is everybody's night tonight."
As inclusive as he tried to be, the event at halftime had a distinctive Shaq tone. Most tribute videos would consist strictly of highlights. This one began with a montage of Shaq being Shaq, playful and goofy at championship rallies (where he first hauled out his "Warriors"-inspired Can You Dig It), in the locker room and at practice and championship before moving to clips of him wreaking havoc on the court. In the course of his speech, O'Neal managed to thank everyone from the late Jerry Buss to half the courtside season-ticket holders.
Phil Jackson nearly stole the show, in his first appearance at Staples Center since the Lakers entertained thoughts of bringing him back before hiring Mike D'Antoni in November. Jeanie Buss' time at the microphone was poignant, even if she was the first to bring up Shaq's genie movie "Kazaam." In her previous oncourt appearances (usually handing out championship rings) it always felt like she was there on behalf of her father. Now, with Dr. Buss gone, this felt like a reminder that things are different and the organization is now in her and her brother Jim's hands.
As the Lakers venture into this unknown future -- with Dwight Howard's free agency looming and even their usual "automatic" playoff spot in doubt -- it reaffirmed the importance of sewing up their past. How can the Lakers trumpet their tradition -- with a list of legends running so long that even with Magic Johnson and Kareem Abdul-Jabbar out of town they still could bring out Hall of Famers Jerry West, Elgin Baylor, James Worthy and Jamaal Wilkes -- if two of the most prominent figures of the new millennium remained at odds? No, the Lakers wouldn't completely be the Lakers without these two in accord.
"It was just time to grow up," O'Neal said. "You get older. I actually get tired of talking about it. I wish you guys would just say that we were the most dominant 1-2 punch ever created. That's what I would like to read, because that's what I know we were."
It's too late to retract all the words that were written, and O'Neal has also admitted complicity in fanning the flames, saying it was all a marketing ploy. That doesn't mean the story has to be told the same way going forward.
Bryant, annoyed that reporters wanted to make an issue of him remaining in the locker room during the halftime ceremony Tuesday night, borrowed from Shaq's playbook by joking, "I appreciate you guys trying to start some s--- ... for old times' sake. I'll help you out and say, 'Aw, f--- him. I didn't want to go out there.'"
He said he offered his congratulations to O'Neal when he saw him in the tunnel on his way off the court, and they chatted briefly. That's sufficient.
That Bryant needed to head to the locker room to concentrate on a game the Lakers absolutely needed to beat Dallas to keep their playoff hopes alive can be discussed when we resume the intensive analysis of this disappointing Lakers season. That Bryant seemed inspired by Jackson's presence enough to pick up a triple-double (with Twitter neophyte Jackson sending out a 140-character appreciation) is juicy material as well.
This night wasn't about Laker issues, it was about Laker tradition. Now Shaq is bound to it. With Kobe, of course.
Only this time joined by an "and," not an "or."
Dimes past: March 24 | 25 | 26 | 27 | 28 | 29-30 | 31 | April 1
ESPN Senior Writer
ESPN.com senior writer since 2007
Around The Horn panelist
Formerly at Los Angeles Times
Around The Association
| | | | | |
| --- | --- | --- | --- | --- |
| New York Knicks | 102 | FINAL | 90 | Miami Heat |
---
MVP: Carmelo Anthony's jumper was sopping wet. Though he didn't post up or drive to the rim as often as usual, it didn't matter when every heave -- contested or wide-open, off screens or in isolation -- tickled the twine. He tied his career high with 50 points on 18-of-26 shooting.
X factor: With Tyson Chandler looking noticeably rusty (and T-shirted) in his return to the court after missing the previous ten games, Kenyon Martin once again anchored the middle for the Knicks, providing an imposing, scowling, defensive presence.
Defining moment: After weathering a first-half explosion from Mike Miller (18 points, eight rebounds), the game settled into a physical, back-and-forth affair until the fourth quarter, when the Knicks held Miami without a field goal for the final 7:54, forcing six turnovers and ending on a 16-4 run.
| | | | | |
| --- | --- | --- | --- | --- |
| Dallas Mavericks | 81 | FINAL | 101 | Los Angeles Lakers |
---
MVP: Kobe Bryant. His 23 points led the Lakers to victory. Oh, and he notched a triple-double. Oh, and he had four steals and two blocks. Oh, and he played the first 47 minutes.
X factor: Earl Clark. Every time it felt like the Lakers were going flat, their Energizer bunny gave them a spark. Clark finished the night with 17 points, 12 rebounds -- including three triples -- and five blocks.
That was … critical: With just two weeks left to go in the regular season, this was a must-win game for both sides. The Mavs' playoff hopes may have been closed shut tonight.
| | | | | |
| --- | --- | --- | --- | --- |
| Chicago Bulls | 86 | FINAL | 90 | Washington Wizards |
---
MVP: If John Wall's not careful, we're going to get used to his franchise-player performances. He had 27 points, nine assists, nine rebounds, three blocks, one turnover and he made 11 of 13 free throws to help give Washington its eighth home win in a row.
LVP: Kirk Hinrich. He was taken out early in the third quarter with his fourth foul, and he didn't see much time in the fourth, either. Hinrich received a technical foul five minutes later, then got ejected for arguing. That took the wind out of Chicago's sails.
Defining moment: With Washington up two points with eight seconds to go, Carlos Boozer fouled Trevor Ariza and sent him to the free throw line. Ariza nailed both free throws, giving the Wizards the four-point cushion they needed to win.
3. Tuesday's Best
Anthony
Carmelo Anthony, Knicks:
Without LeBron James or Dwyane Wade on the floor, the Heat had absolutely no answer for Melo, who torched Miami to the tune of a career high-tying 50 points on 18-of-26 shooting.
4. Tuesday's Worst
Mavs miss their chance: A golden opportunity wasted at Staples Center for the Mavericks, who could have gotten to within 1½ games of the No. 8 spot with a win, not to mention getting rid of those famed .500 beards. Dirk Nowitzki was limited to 11 points on 4-of-13 shooting.
6. Tweet Of The Night
This is what I want everyone to kno thank u very much. Especially you Kobe. http://youtu.be/CzUNO_CKWKE

—SHAQ (@SHAQ) April 2, 2013
7. Quote of the Night
"If she is the best on the board, I will take her. I've thought about it. I've thought about it already. Would I do it? Right now, I'd lean toward yes, just to see if she can do it.
-- Mavericks owner Mark Cuban, on the potential of drafting Baylor star Brittney Griner in the upcoming NBA draft.
8. Can You Dig It?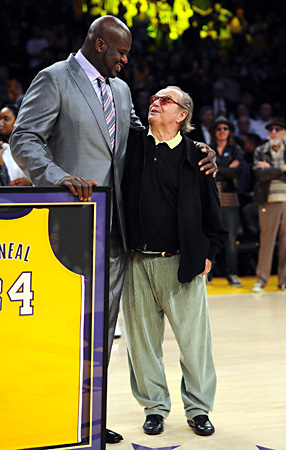 Jayne Kamin-Oncea/USA TODAY SportsShaquille O'Neal stands with Jack Nicholson during a ceremony retiring his jersey at halftime gainst the Dallas Mavericks at the Staples Center.
9. Stat Check
Wall
John Wall scored 27 points, including 11 from the foul line, in the Wizards' 90-86 win over the Bulls. It was the ninth time in the last two seasons that Wall made more than 10 free throws in one game. Only one other Wizards player has done that even once during that time: Jordan Crawford against the Pistons in December 2012.