1. Melo Is Hot Stuff As Knicks Win 10th Straight
By
Nubyjas Wilborn
| ESPN.com/TrueHoop Network
ATLANTA -- Carmelo Anthony followed up his masterful 50-point performance in Miami with a 40-point gem in Atlanta, leading his New York Knicks to their 10th straight win, 95-82 over the Atlanta Hawks.
Anthony became the second Knick since Patrick Ewing during the 1989-90 season to score at least 40 points in consecutive games. He was terrific, going 17-of-27 and 5-of-6 from the charity stripe. As great as his game was Wednesday night, his teammates were urging him to go for Bernard King's record of back-to-back 50-point games.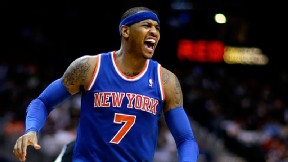 AP Photo/David GoldmanOne night after scoring 50 points, Melo had 40.
"When you see a guy going like that, you get it to him," said teammate Raymond Felton, who scored 14 points of his own. "That man is on one right now, he's playing really well scoring that basketball and that's what we need him to do right now."
The Knicks were in an exceptionally jovial mood after Wednesday's victory. So much so that normally stern coach Mike Woodson was gushing about his star forward.
"A lot of [his points] came off the bounce with just two or three dribbles and then a quick pullup. Whenever he got doubled, he would kick it back out as well. He's smart enough to know if he's doubled to sacrifice the ball. We have enough shooters around him that can make shots, and that opens it for Melo even more," Woodson said.
On Wednesday night, that's exactly what happened. J.R. Smith poured in 19, hitting some clutch shots in the fourth quarter, including a corner 3 that gave the Knicks an 87-76 lead with 4 minutes left and sealed the win. Steve Novak was 3-for-3 from the 3-point line, and all of those came in the second half.
Fortunately for the Knicks their other players started to step up, because at the half, Anthony had 24 of their 37 points. It seemed like at some points Melo's teammates were enjoying his offensive output as much as the partisan New York crowd inside the Hawks' home arena.
"It's tough; I got caught up in watching, I'm not going to lie, and he's almost averaging 30 points a game," Smith said. "I mean, you're sitting there and the shots just keep going in, but you have to snap out and look for your own shot and be ready when he's double-teamed."
The Knicks currently are sitting at the second seed in the East and potentially wouldn't see Miami until the Eastern Conference finals. This streak has the Knicks believing they could beat the incredible Heat. That actually isn't totally implausible; they don't play like "Melo & 'em" and they're moving the ball while hitting shots.
"It's not to get caught up watching, but you know, you got to make plays to keep the opposition honest," Knicks forward Kenyon Martin said. "You have to keep making plays, setting your screens, flare and be ready to hit shots because when he has it going like that, there is nothing the other team can do."
Martin wasn't too far off, because even the Hawks had to concede that sometimes no matter how well you guard a guy like Anthony, there isn't much you can do when he's in the zone.
"We played a very hot basketball team. Carmelo is really playing at a very high level right now. He's shooting the ball extremely well. I thought there were times we did defend him well. He still made shots. Right now he's really on a tear," Hawks coach Larry Drew said of Anthony's 40-point tour de force. "They have a couple of guys who are very capable of doing that. Carmelo, in his last two games, he's shooting all jump shots and he's hitting tough shots. Josh [Smith] is a good defender, and for him to hit shots over the top of Josh is really saying something. [Tuesday] night he had 50, so he's definitely in a great rhythm."
"That opens the floor for other guys, too," Hawks guard Kyle Korver said.
As much as everyone else seems to be in awe of Anthony's recent outbursts, he's just happy to win and get his teammates involved.
As Snoop Dogg said, "It ain't no fun if the homies can't have none," and Anthony made sure to get guys involved, with three assists and several uncounted hockey assists on which he made the pass that led to an assist.
"The rhythm was there, and I wanted to see if I still had it going. I felt like the rhythm was still there. It was just one of those nights once again. I've had games before where I felt like I had a great rhythm, but I can't remember having a run like this. My teammates are giving me great confidence and energy as well," Anthony said.
Admittedly it's tough to see the Knicks (or anybody else for that matter) beating Miami in a seven-game series. However, when you're able to get as hot as Melo can, and have guys like Novak, J.R. Smith, Felton and Iman Shumpert hitting shots, the Knicks can at least push the Heat a bit.
It's just like when the 76ers were big underdogs versus the Los Angeles Lakers in the 2001 NBA Finals and Stephen A. Smith famously said "A.I. gonna get ya one." It's easy to see Anthony taking one game into his hands and propelling the Knicks to a victory.
"I feel like I have the opportunity. I just want to take my time and when I'm open, and then find the open man when I'm doubled," he said.
If he's able to hold true to that, we're in for an exhilarating playoff run.
Nubyjas Wilborn's work appears regularly on HawksHoop.
Dimes past: March 22-23 | 24 | 25 | 26 | 27 | 28 | 29-30 | 31 | April 1 | 2
2. Around the Association
3. Wednesday's Best
Anthony
Carmelo Anthony, Knicks:
Melo scored 40 points and the New York Knicks beat the Atlanta Hawks 95-82 on Wednesday night for their 10th straight victory. Anthony, coming off a 50-point effort against Miami on Tuesday, scored 24 points in the first half. He shot 17-of-27 from the field and was 5-for-6 from the free throw line.
4. Wednesday's Worst
Holiday
Jrue Holiday, 76ers: Going 2-for-24 from the floor in an 88-83 loss to the Bobcats is not the kind of example that Jrue should have set for his older brother Justin, who played seven minutes and scored his first NBA bucket in the loss.
6. Tweet Of The Night
Got my lil man traveling on the team plane with us. Tough loss in charlotte. Here we come Atl! http://t.co/Q4f533uF5z

—Damien Wilkins (@dwilkins3000) April 3, 2013
7. Quote of the Night
"I think it would be a sham. The fact that a woman could actually play right now in the NBA and compete successfully against the level of play that they have is absolutely ludicrous."
-- Geno Auriemma, the UConn women's coach, responding to Mark Cuban saying he would consider drafting Baylor star Brittney Griner into the NBA.
8. New Green World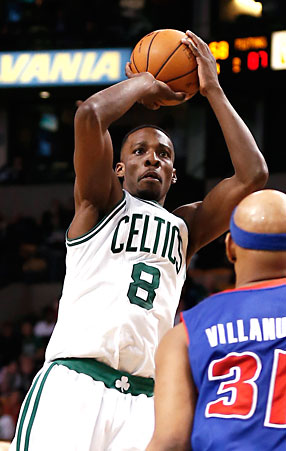 Winslow Townson/USA TODAY SportsJeff Green scored 34 points, including a 3-pointer with 45 seconds left to snap a two-minute scoring drought, to help Boston beat Detroit, clinching the team's sixth consecutive playoff berth.
9. Stat Check
The Clippers recorded their 50th win of the season when they defeated the Suns at the Staples Center on Wednesday. It is the first time the Clippers have won 50 games in a season since they entered the NBA in 1970. Every other NBA team that was in existence in the Clippers' first season has won 50 or more games at least three times since 1970, and only two of the teams that have entered the league since have never had a 50-win season: Toronto (first season was 1995-96) and Charlotte (first season was 2004-05). To put that in perspective even more, the Lakers, who share the same building as the Clippers, have won 50 or more games 27 times since 1970-71.
Around the Association
---
MVP: All Jeff Green did was score 34 points on 19 shots in 43 minutes, including a corner 3 with 45 seconds to go that gave Boston a five-point lead. That's all he did. (He also blocked four shots and grabbed six rebounds.)
LVP: Charlie Villanueva and Brandon Knight. Villanueva for missing 15 of his 17 shots, and Knight for completely blowing a fast-break layup late in a winnable game.
X factor: The Pistons grabbed 25 offensive rebounds -- Andre Drummond accounted for five of them in the game's first five minutes! -- which is one short of Utah's season-high 26 on Nov. 17.
---
MVP: Jonas Valanciunas. The Euro center double-doubled with 10 rebounds and a career-high 24 points. Of course, that stat line was helped by a 16-for-18 showing from the free throw line, where Raptors fans cheered him on: "M-V-P! M-V-P! M-V-P!"
X factor: DeMar DeRozan, who came into the game averaging 21.3 points in three meetings with the Wizards this season. DeRozan dropped 25 on 21 shots (all inside the 3-point arc) and finished with a game-high plus-20 plus/minus.
That was ... an ugly game of basketball: For starters, the two teams combined for 30 turnovers and shot just 22.2 percent from 3. The losing squad, the Wizards, played particularly poorly after a decent first half, making fewer than a third of their attempts from the field (.325).
---
MVP: If you look "efficiency" up in the dictionary, you'll see the definition of the word. If you look up the Sixers/Bobcats April 3 box score, you'll see that Josh McRoberts was 6-of-7 from the floor for 12 points, 16 rebounds and 4 assists.
LVP: Though brother and now-teammate Justin made his NBA debut with the Sixers on Wednesday, it was a night Jrue Holiday would just as soon forget. The All-Star missed from everywhere and finished a dreadful 2-of-24 from the floor for just 5 points.
Defining moment: With 32 seconds left and the Bobcats leading 84-83, Gerald Henderson deflected an Evan Turner inbounds pass, scooped up the loose ball and raced down the floor to finish with a dunk. Henderson finished with a game-high 24 points -- 10 in the final period.