3. Sunday's Best

Anthony
Carmelo Anthony, Knicks:
Melo recorded 36 points and 12 rebounds as the Knicks and edged Kevin Durant and OKC 125-120. The Knicks earned their 12th in a row, which put them at 50 wins for the first time in 13 years.
4. Sunday's Worst
Beasley
Michael Beasley, Suns: On a day where the No. 3 pick from 2003 (Melo) played at a top level, the No. 2 pick from 2008 went 1-for-11 from the floor in a 95-92 home loss to the Hornets.
6. Tweet Of The Night
#focus #zen #takethechallenge only focus is N.O #beastmode #mambasrep #lakernationstandup

— Kobe Bryant (@kobebryant) April 6, 2013
7. Quote of the Night
"It's one of those things we can let our fans decide. It's that simple. That's who we do it for. We do it for our fans and the people who have supported us all season long and have been here way before there was Chris Paul and Blake Griffin."
-- Chris Paul, on whether the Clippers should hoist a division banner where only Lakers NBA championship banners hang.
8. Advantage, Melo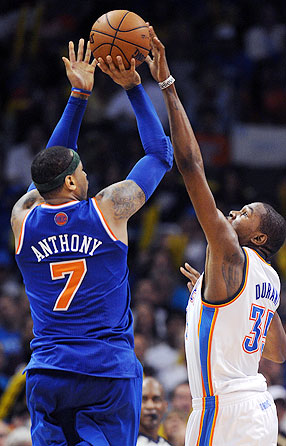 Mark D. Smith/USA TODAY SportsCarmelo Anthony had 36 points and 12 rebounds while moving ahead of Kevin Durant to become the NBA's top scorer. Anthony's scoring average is 28.44, while Durant's is at 28.35.
9. Stat Check
Bryant
Kobe Bryant eclipsed the 2,000-point mark for the season in the Los Angeles Lakers' loss to the Los Angeles Clippers. Bryant became the fourth player in NBA history to score 2,000 points in a season at age 34 or older, joining Alex English, Michael Jordan and Karl Malone, each of whom did so twice. However, Bryant is the oldest NBA player ever to reach that milestone in a season in which he also handed out 400 or more assists.
Around the Association
---
MVP: Brandon Knight was playing with fire Sunday night, scoring 20 points while taking just 12 shots, including a 12-point third quarter that effectively nixed any of the Bulls' attempts to make a run.
Defining moment: The Bulls came out of the gates running with a 20-12 start. Detroit's response, a 23-10 run that carried itself well into the second quarter, proved to be stronger of the two, however.
That was … uneventful: Charlie Villanueva's second quarter triple would mark the only lead change of the game, as the Bulls just couldn't manage to find a groove after the first 12 minutes. Even Knight's semi-explosion in the third quarter felt ordinary.
---
MVP: Eric Gordon put Friday's reported shouting match with coach Monty Williams in the past. He started against the Suns, the team he signed an offer sheet with this past offseason, and hit timely buckets for 17 points to go with six assists.
LVP: After Suns forward Michael Beasley put together what interim coach Lindsey Hunter deemed his best overall game this past week against the Clippers and followed it up with a 25-point outburst against the Warriors, he nearly laid an egg with a 1-for-11 shooting performance.
Defining moment: The Hornets used a 13-3 spurt bridging the third and fourth quarters to build a 16-point lead with nine minutes left in the game. Coupling that with a third quarter that saw New Orleans outscore the Suns 35-19 was enough cushion for the Hornets to survive a Phoenix rally.
---
MVP: Nikola Vucevic gets the Jerry West MVP for putting up 21 points, 21 rebounds and six assists. For 42 minutes, Vucevic crashed the boards and ate the Cavs' big men alive.
X factor: Alonzo Gee was the winners' best player. In addition to locking down Moe Harkless (who went 3-for-12 from the field), he scored 19 points and tracked down seven rebounds.
That was … hideous: As is to be expected in a game between two basement dwellers, this one was full of ugly drives, ill-advised jumpers, and end-of-the-shot-clock heaves. The teams combined to shoot 36.8 percent.