1. Kobe Does Major Restoration Work
LOS ANGELES -- It was exhilarating, a star delivering when his team and an antsy fan base needs it the most.
It was also sad, because it felt like hiring Michelangelo to paint a child's bedroom, and because these types of performances are beginning to feel finite instead of unlimited.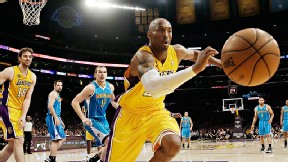 AP Photo/Reed SaxonKobe Bryant scored 23 of his 30 points in the fourth quarter of a win over the Hornets.
With the game and the Los Angeles Lakers' postseason lives very much in doubt, Kobe Bryant scored 23 points (including his team's first 14) in the fourth quarter to push the Lakers to a 104-96 victory. Against the New Orleans Hornets. The 27-51 Hornets. Thus allowing the Lakers (41-37) to grab a tenuous hold on the eighth and final spot in the Western Conference playoffs, .007 of a percentage point ahead the Utah Jazz (41-38). That's why it felt like a bit of a waste. This is supposed to be on display in June, not April.
It was Kobe as we've seen him so many times before. And Kobe as we won't see him much longer. I hadn't bought into the retirement talk that he freely dispenses these days, that he's only going to play through the final year of his contract next season, because he's still playing above so much of the league that I can't imagine him giving it up to go be average at something else. But something he said in a pregame interview on "NBA Coast to Coast" resonated with me throughout this night: "I've been playing for a long, long time. It's a matter, really, if I want to continue to do this, continue to sacrifice as much as I've been sacrificing to play at this level."
Why go through the offseason conditioning or the late-night ice tub treatments if the only reward is a victory against the Hornets? There's no glory in that, and Bryant is in it for the glory. Oh, there's still individual glory to be had. And it's difficult to comprehend him scaling so high on the all-time scoring list (aka Mount Kareem Abdul-Jabbar) only to turn around and return to the base camp without planting his flag at the peak. But he has learned the respect comes from winning (after all, Michael Jordan gives Bryant the nod over LeBron James by virtue of the ring tally) and if this season leaves Bryant as far from a championship as he's ever been, the thought of committing for the long would seem even more daunting.
He was exhausted after this game -- "too tired to tweet," he replied when asked what he'd have to say about it on social media. And the only prize was a flight to Portland for a game against the Trail Blazers on Wednesday night.
With the season, the one that began with the promise of Dwight Howard and Steve Nash restoring the Lakers to parade status, on the verge of becoming one of the grandest failures in sports history, Bryant reverted to what worked. He made it about him and Pau Gasol, the combination that made Bryant a champion again after the split with Shaquille O'Neal.
It didn't matter that Nash was out with a hamstring injury, and Howard was limited by foul trouble; Kobe probably wouldn't have involved them anyway. Like a mischievous schoolkid enticing his friends to ditch class, Kobe convinced Gasol to abandon Mike D'Antoni's offense and head down to the low block. That's where he kept going to Gasol -- three straight times down the floor during one third-quarter stretch.
Gasol responded with a 22-point, 11-rebound, four-assist game.
Bryant called it "2010 Pau."
Oh, but this was very much the 2013 Bryant.
There were no Forum flashback moments, such as his soaring, game-clinching dunk against Atlanta's Josh Smith. This was all angles and up-fakes. It was Kobe calling on his 17 seasons in the league to win on savvy, not athleticism. Get the ball, square up, jab, ball fake, fallaway jumper over Xavier Henry. Steal the ball from Eric Gordon, run alongside him like a hockey player shielding the puck on his way down the ice, then make a layup.
He went from scoring seven points through three quarters to 30 for the game.
"I was just trying to pace myself," Bryant said. "I know fatigue comes in when you play so many minutes. I really just tried to lay back and manage the game and turn it on at the right time."
This had to be more enjoyable to watch than for him to endure. If you appreciate the adaptations Bryant has made to remain competitive in a league that grows younger by the day, this game was outstanding. He created shots for Steve Blake and Jodie Meeks, but they missed a combined nine of 10 3-pointers. He tried to get the ball to Dwight Howard, but that seemed to result in the bulk of Bryant's five turnovers. Bryant clearly felt most comfortable going to Gasol.
All season long, the most efficient combination of the four biggest Lakers stars has been Bryant and Gasol -- without Nash and Howard. According to the Elias Sports Bureau, the Bryant-Gasol duo is plus 18.8 points per 48 minutes, almost double the second-best combo of Bryant, Howard and Nash.
"Obviously, we have a lot of weapons and we have different players that can also do very good things for us," Gasol said. "But I think [Kobe and I] know each other so well, we've played through so much together that we understand each other."
They also understand the stakes. They're uncorking the best wine and bringing out the good silverware … even if the NBA schedule says this should be the time for an afternoon snack.
Dimes past: March 22-23 | 24 | 25 | 26 | 27 | 28 | 29-30 | 31 | April 1 | 2 | 3 | 4 | 5-6 | 7
ESPN Senior Writer
ESPN.com senior writer since 2007
Around The Horn panelist
Formerly at Los Angeles Times
2. Around the Association
3. Tuesday's Best
Anthony
Carmelo Anthony, Knicks:
In clinching their first Atlantic Division title since 1994, Melo paced a 3-point spree that saw the team sink 20 of 36 in a rout of the Wizards. Melo recorded 36 points, eight rebounds and six assists as the Knicks won their 13th straight game.
4. Tuesday's Worst
O'Neal
Jermaine O'Neal, Suns: He goaltended James Harden's final shot, allowing the Rockets to win 101-98 and clinch a playoff berth. Who goaltends a 3-point shot? On the bright side, each Suns loss increases the odds of Nerlens Noel coming to town. See Chad Ford's Mock Draft for the latest odds.
6. Tweet Of The Night
Congrats 2 @JHarden13, @ChandlerParsons, @JLin7, & @AsikOmer for leading us into the West Conf playoffs. Truly Remarkable. Let's get to #6!

— Daryl Morey (@dmorey) April 9, 2013
7. Quote of the Night
"I'm trying to get to the postseason where we can start the f--- over."
-- Kobe Bryant, after his team moved into eighth place in the Western Conference standings.
8. That's What He's Talking About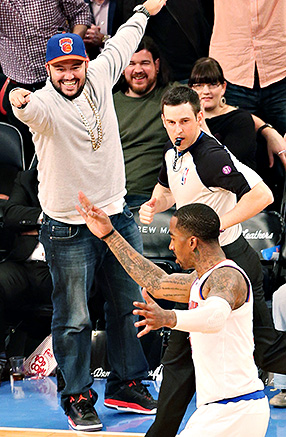 Anthony Gruppuso/USA TODAY SportsKnicks guard J.R. Smith had the fans on their feet during a win that clinched their first division title since 1994.
9. Stat Check
The New York Knicks made 20 of 36 3-point field-goal attempts in a 120-99 victory over the Washington Wizards. It was the fourth game in the past three seasons in which New York scored at least half its points from downtown, the most such games in the NBA during that time. The only other teams with at least two are Orlando (3) and Houston (2).
Around the Association
---
Most valuable player: Mike Conley notched in his fifth straight game scoring 20 points or more while adding seven assists and two steals. With Jerryd Bayless sidelined, Conley was a key cog in the late run sparked by the Grizzlies' bench.
X factor: The Grizzlies' bench stymied the Bobcats' hopes with an 18-0 run that started the fourth quarter. They outscored the Bobcats' bench 39-26, including a season-high 11 points from forward Jon Leuer.
That was … a grind: With just five minutes to go in the third quarter, neither team had nailed a triple. The Grizzlies and Bobcats would combine to shoot 68 percent from the free throw line, 19 percent from beyond the arc and 42 percent from the field.
---
Most valuable player: It's hard to give MVP to a player on the losing team, but this wouldn't have been close without Jimmy Butler. He went 10-for-12 from the field and had a game-high 28 points to go with seven boards and two steals. Honorable mention goes to DeMar DeRozan (20 points).
Least valuable player: With a quick glance at Nate Robinson's line, it doesn't look so bad. But 22 points on 22 shots is bad, especially when he has a teammate that shot 83 percent from the field.
Defining moment: Everyone likes to talk about "clutch" time as being the most important, but the Raptors showed that the points in the first quarter count just the same. Toronto took an 18-3 lead, and the Bulls could never shake that awful start.
---
MVP: In three quarters, the incredible Reggie Evans scored 17 points to go along with 24 rebounds. It's difficult to describe the work Evans does on the glass without resorting to hyperbole, but here goes: it's entirely possible that he rebounds the basketball better than anyone in the game does anything. Well, I tried.
X factor: While Evans will get the headlines, Brook Lopez was no slouch either. The center sat the fourth, but still finished with a cool 29/11/3 line in just 26 minutes. He and Evans combined for 46 points and 35 rebounds.
That was … plain mean-spirited: The Nets didn't bully the 76ers inside on Tuesday as much as they bludgeoned and humiliated them. Brooklyn outrebounded Philadelphia 67-34, outscored them in the paint 58-30, and dominated the visitor in second-chance points.