1. Lakers Majoring In Drama For This Playoff Push
By
Danny Nowell
| ESPN.com/TrueHoop Network
PORTLAND, Ore. -- If a season is 82 opportunities for a team to cement an identity, the Los Angeles Lakers have submitted nearly all their evidence. And needing a win to stay in control of their playoff destiny against a Portland Trail Blazers team that started as many rookies as Los Angeles has future Hall of Famers, the Lakers continued polishing the image they've forged: just enough, at the last possible moment, against challenges that never should have been this difficult.
Just a night after needing a 23-point fourth quarter from Kobe Bryant to dispatch the Hornets, the Lakers were nearly bested by a Blazers squad that seemed more like blowout material than a potential playoff spoiler. The Blazers scored 69 points in the first half Wednesday night, led by an incandescent Damian Lillard. The presumptive rookie of the year poured in 38 points, nine assists and three steals as Portland took Los Angeles to the breaking point at a time when the Lakers could least afford it. And yet: just enough.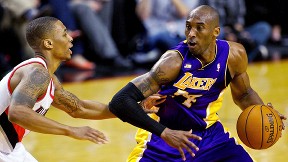 Craig Mitchelldyer/USA TODAY SportsDamian Lillard (38 points) and Kobe Bryant (47 points) did battle with one team needing a win.
The Lakers made a concerted effort to get the ball out of Lillard's hands in the second half, and eventually the Blazers' weaknesses did them in. Los Angeles pulverized Meyers Leonard with targeted post-ups from Dwight Howard and Pau Gasol, whose chemistry seemed as sharp as it has all season. Kobe gunned his way to 47 points, the big men each posted a double-double -- if you squint, this is how it was always supposed to be.
If you listen to the Lakers, they'll try to convince you the way their machine is running is worthy of the components. One reason they can do it with a straight face is that Gasol, whose relegation to the bench this season seemed like a point of no return, has put together two of his best efforts this season. After posting 22 points and 11 rebounds Tuesday night, Gasol nearly racked up a triple-double Wednesday night with 23 points on 11-for-15 shooting, seven rebounds and nine assists.
"Since January, he's played well," Lakers coach Mike D'Antoni said. "I think earlier he was just hurt. The system was screwed up, we're trying to figure things out, and I'm trying to figure things out and how to play him. ... I have a lot more confidence in him now, and he's playing great."
And yet, the identity fractures that have plagued the Lakers aren't quite healed. Asked about Bryant's offensive performance, Gasol returned to a years-old theme: "I think it's spectacular and very impressive. ... On the other hand, I'm a player that -- I like to see a little more ball movement and better balance. That's just how I perceive this game." This is not a new point, and anybody familiar with the Lakers knows well the push and pull between Pau and Kobe. Still, as much as the Lakers faithful hope Gasol's resurgence rekindles hopes of contention, the message is clear: The Lakers are getting away with bandages where there ought to be strong stitching.
As for Gasol's compatriot in the post, familiar, too, is Howard's insistence on an offense dominated by post-ups. "We've got [to] really play inside-out," Howard said. "Teams are so worried about making sure we don't score in the post, we can kick it out to guys cutting, making 3s. ... I think that's the best way to play." When asked about Steve Blake's crucial offensive rebounds on consecutive fourth-quarter possessions, Howard said, "I think those guys were so concerned with keeping me off the glass that they forgot about him."
And so the Lakers' rising playoff chances might be new, but the tensions are not. Kobe and Pau, the stalwarts of the past half-decade, persist in their uneasy embrace while Howard's titanic and occasionally justified ego strains against the context of the team. As ever, Bryant's scoring maintains the delicate balance. Without 70 points in the past 60 minutes from the man who has always been this team's foundation and its ceiling, the Lakers most likely fumble away their playoff seed to a pair of lottery teams.
But they didn't, because this is what they do. They wait as long as possible to respond as much as they have to and hope we see what we've always wanted to: a balanced team of complementary superstars, rounding into form at just the right time.
Danny Nowell's work appears regularly on Portland Roundball Society.
Dimes past: March 26 | 27 | 28 | 29-30 | 31 | April 1 | 2 | 3 | 4 | 5-6 | 7 | 8 | 9
3. Wednesday's Best
Bryant
Kobe Bryant, Lakers:
He just became the first player in NBA history with at least 47 points, 8 rebounds, 5 assists, 4 blocks and 3 steals in an NBA game, according to Elias Sports Bureau. (Blocks and steals became official in 1973-74.)
4. Wednesday's Worst
Bradley
Avery Bradley, Celtics: Maybe the Rajon-Rondo-is-expendable crowd can slow down now. Instead of giving Deron Williams a hard time, it was Bradley who got in foul trouble and finished with two points. Meanwhile, D-Will was running amok, putting up 29 points and 12 dimes.
6. Tweet Of The Night
#confessions I thought the song was "I'm too sexy for my Cat" it's "I'm Too Sexy For My Shirt." My goodness How did I screw this up?

— Metta World Peace (@MettaWorldPeace) April 10, 2013
7. Quote of the Night
"We've got no breathing room at all. I'm still on edge. We've got to win three more games and we're in."
-- Kobe Bryant, after his team beat the Blazers to stay in the No. 8 spot in West.
8. Not Smashed By Pek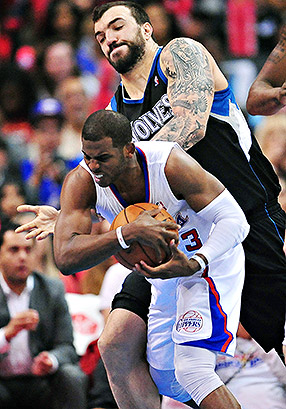 Gary A. Vasquez/USA TODAY SportsClippers point guard Chris Paul steals the ball from Minnesota Timberwolves center Nikola Pekovic during the Clippers' record 52nd win of the season.
9. Stat Check
The Lakers' victory over the Trail Blazers coupled with the Mavericks' loss to the Suns eliminated Dallas from the playoffs for the first time since the 1999-2000 season. The Mavericks had made the playoffs for 12 consecutive seasons, which was the second-longest current streak of its kind in the NBA, behind the Spurs, who now have qualified for the postseason in 16 consecutive seasons.
Around the Association
---
MVP: Something about the Hornets brings out the best in John Salmons. On Wednesday night, the veteran swingman scored 12 of his 22 points in the third quarter. In the Kings' last meeting versus the Hornets, Salmons went a near-perfect 6-of-7 from 3-point distance.
LVP: Tonight was not the homecoming Ryan Anderson was hoping for. The Sacramento-area native scored just nine points on 3-of-13 shooting from the field. Anderson's performance was a far cry from the 22 points he averaged in the Hornets' previous two games against the Kings this season.
X factor: The Kings were in a sharing mood tonight. Sacramento had 20 assists by the third quarter and finished with 27 on the evening. The last time the Kings recorded 25 or more assists? Three weeks ago in a win at home over the Los Angeles Clippers.
---
MVP: Andre Drummond's 29 points are a whit inflated because the Cavs enacted an off-the-ball fouling strategy that put him on the line for 17 attempts, but Drummond was dominant in open play, going 10-for-11 from the field and grabbing 11 rebounds.
LVP: Dion Waiters, coming off a knee injury that had kept him out for three weeks, managed to miss seven shots in only 15 minutes. He often killed the Cavs' offense early in the shot clock with misguided jumpers.
That was ... excruciating: The Cavs' aforementioned Hack-a-Dre tactic turned this one into a free throw shooting contest with four minutes to play. A game between two of the league's worst teams positively dragged to its conclusion.