1. The Bulls Keep Finding Ways To Succeed
By
D.J. Foster
| ESPN.com/TrueHoop Network
Down 17 points against a New York Knicks team on a 13-game winning streak, against the hottest scorer on the planet, without the services of Joakim Noah and Taj Gibson.
And the Chicago Bulls won in overtime 118-111. Of course they did. You'd expect nothing less from a team that makes absolutely zero sense.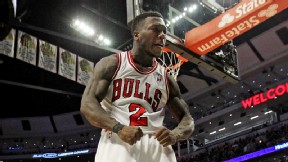 Jonathan Daniel/Getty ImagesBulls reserve Nate Robinson seemed to be feeling good about droppin 35 points on his old team.
The illogicalness of the Bulls can be both endearing and frustrating, but it's a trait that has ended up defining a season that was supposed to be doomed from the beginning. No Derrick Rose was supposed to mean no playoffs, and that wasn't even factoring in other injuries to important players.
A tilt against the streaking Knicks was probably supposed to be lost as well. At least it looked that way at the tip. But Jimmy Butler -- a shooting guard -- won that, too, and then he went on to wrestle with Carmelo Anthony for a whopping 50 minutes.
Butler played exactly four minutes in the playoffs last year, but you wouldn't be able to tell from his 22-point, 14-rebound performance. Butler is now good enough to check one of the best scorers in the league, even with Luol Deng in uniform.
It's almost like basketball's version of the movie "Major League" playing out before our eyes. Chicago's management has provided Tom Thibodeau with a hodgepodge of talent, journeymen that other teams really didn't want any part of. Letting productive players leave for greener pastures would be enough to start a mutiny elsewhere, but the Bulls have banded together and made lemonade.
Guys such as Marco Belinelli and Carlos Boozer are pretty awful individual defenders, yet they still manage to comprise a portion of one of the league's best defenses.
Credit can be heaped on Thibodeau, of course, and he's undoubtedly brilliant. But even the Bulls as a team, separate from the organization, have conflicting philosophies on both ends of the floor.
Defensively, the Bulls invite opponents to take midrange jumpers off the dribble. Everything they do defending the pick-and-roll is geared toward forcing that. It's a sound strategy, and it's one that has made Chicago great defensively.
But offensively, the Bulls happily do exactly what they try and force on the other end. The Bulls are third in the league in most attempts from 16 to 23 feet. That's partly a product of personnel, sure, but you would think that Thibodeau would be staunchly against that.
You would also think that the Knicks, missing Tyson Chandler and seemingly every other true big man on their roster, would be better off in a game of small ball than the Bulls. The Knicks are one of the most prolific 3-point-shooting teams in history, championing a spread one-in, four-out offensive style.
As it turns out, there's no one better for small ball than the league's smallest player. Nate Robinson, who has defied logic and avoided every chance to use it throughout his career, discount double (triple, quadruple?) checked his way to an impressive 35 points in the overtime win.
Robinson's scoring was a luxury, one that didn't come without costs. He regularly followed up great plays with terrible ones, but the Bulls' defense held the Knicks to 40 percent shooting and anchored the team during Robinson's highs and lows.
That's the thing about the Bulls. Whether it's Miami on a 27-game win streak or New York on a 13-game win streak, whether it's Nate Robinson's wildness or Derrick Rose's ACL, whether it's management giving nothing to work with or the offense struggling, the defense is always there to hold the Bulls up, and nothing else has to make sense.
D.J. Foster's work appears regularly on ClipperBlog.
Dimes past: March 26 | 27 | 28 | 29-30 | 31 | April 1 | 2 | 3 | 4 | 5-6 | 7 | 8 | 9 | 10
2. Around the Association
| | | | | |
| --- | --- | --- | --- | --- |
| Oklahoma City Thunder | 116 | FINAL | 97 | Golden State Warriors |
---
MVP: Kevin Durant is only the second-best basketball player in the world, but surely no one makes the game look easier than he does. That was evident from the opening tip, as Durant gashed the helpless Warriors in all facets on his way to a near triple-double of 31 points, 10 rebounds and 8 assists.
X factor: Nobody runs and jumps like the Thunder. Oklahoma City had 10 blocks and 9 steals against the Warriors, including two highlight-reel swats from Serge Ibaka and Russell Westbrook. Without hitting consistently from deep, Golden State just didn't have the horses to compete for a full 48 minutes.
That was ... a shame. A highly competitive first half suggested late-game fireworks, but the Warriors wilted defensively in the third quarter. A raucous crowd was left silent, and Andrew Bogut aggravated his fragile left ankle. Not the best way for Golden State to signal its postseason readiness.
| | | | | |
| --- | --- | --- | --- | --- |
| New York Knicks | 111 | FINAL | 118 | Chicago Bulls |
---
MVP: Because MVP is an all-around achievement, it has to go to Jimmy Butler. The second-year forward had 22 points, 14 rebounds, 2 assists, 3 steals and 3 blocks. Nate Robinson (35 points) was a close second.
Defining moment: With the Bulls trailing 79-64 with just more than four minutes remaining in the third quarter, Jimmy Butler got back-to-back breakaway dunks off of steals. Those dunks sparked a 19-3 run, which eventually ended with the Bulls up 85-82 early in the fourth.
That was ... another streak down: Just more than two weeks after the Bulls ended Miami's 27-game win streak, the Bulls stopped another one at home. Chicago snapped the Knicks' 13-game run and handed New York its first loss since March 17.
3. Thursday's Best
Robinson
Nate Robinson, Bulls:
Derrick who? N8 came off the bench and scored 35 points in 33 minutes, helping the Bulls snap the Knicks' 13-game win streak. He made 10 of 18 shots, along with all 10 of his free throws.
4. Thursday's Worst
Kidd
Jason Kidd, Knicks: Kidd spent 33 minutes on the floor and missed all four of his shots, all treys, in the overtime loss to Chicago. The Knicks could have used more from the HOF shoo-in who is a 42.9 percent 3-point shooter this season.
6. Tweet Of The Night
#confessions Not if. When. RT @freemaneric: If Nate Robinson takes over a playoff game I will consider quitting the NBA.

— Kevin Pelton (@kpelton) April 11, 2013
7. Quote of the Night
"I've always said there is one winner and 29 other teams tied for last."
-- Mark Cuban, after his team was eliminated from playoff contention.
8. The West's Best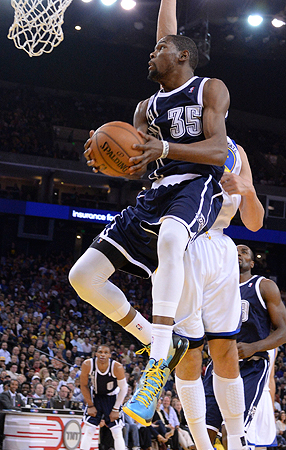 Kyle Terada/US PresswireKevin Durant had 31 points, 10 rebounds and eight assists in a win over Golden State that put the Thunder a half-game ahead of San Antonio for the No. 1 seed in the playoffs.
9. Stat Check
The Bulls' 118-111 overtime victory against the Knicks halted New York's 13-game winning streak. On March 27, Chicago's 10197 win over the Heat stopped Miami's 27-game winning streak. The Bulls are the second team in NBA history to derail two winning streaks of 13 or more games in the same season. The Phoenix Suns did it in 1990-91, stopping 16-game winning streaks by the Lakers and Trail Blazers.