1. Playoffs Ahead, Curry Bringing Star Power
OAKLAND, Calif. -- "Be careful what you ask for." After beating San Antonio's backups in a 116-106 victory at Oracle, Golden State Warriors coach Mark Jackson surprisingly converted celebration into admonishment. Though the win places Golden State in position to face the currently third-seeded Denver Nuggets, death can easily come by the hand of a preferred opponent. The coach sighed, and spoke of the time he, as a player, rooted for a playoff matchup versus the flagging Knicks. Unfortunately for Jackson, that wish manifested itself as New York elbowing past Mark's Indiana Pacers in the series, en route to a title appearance.
"Be careful what you ask for," also serves as a fair warning to Western Conference teams, on an evening when Stephen Curry claims 35 points, eight rebounds and five assists. Tuesday night's win brought the Warriors into the sixth-seed spot, one game ahead of the Houston Rockets, who would now face San Antonio if the postseason started today. Between the Lakers' historical track record, and Houston's explosive offense, the Warriors would seem to be a preferred opponent for the Thunder, Spurs and Nuggets.
Golden State is a fair choice for "weakest link" status, but they present one, specific threat that gets scarier by the game: Stephen Curry's star has been rising with the speed and loft of his shot release. From the point Curry missed the All-Star cut on Jan. 24, he has averaged 26.3 points and 7.5 assists, while hitting an incredible 46.5 percent of his 8.8 3-point attempts per game. Not since Steve Nash's peak has danger looked so benign. Curry cuts a scrawny figure in a burly league, and jumps as though his famously fragile ankle is actually filled with lead.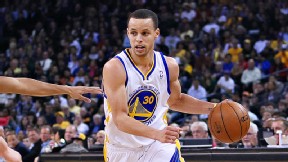 Kelley L Cox/USA TODAY SportsStephen Curry is on the brink of eclipsing Ray Allen for one record.
This doesn't much matter because he just might be the greatest 3-point shooter the league has ever seen. Casual fans are starting to get the memo and the Warriors crowd is getting behind the star they've always wanted. Curry's three high-difficulty, fourth-quarter 3-pointers were chased through the hoop by a massive waterfall of crowd noise. The Oracle crowd bellowed "Cur-ry!" at a pitch perhaps not reached since Baron Davis decapitated the Mavericks.
Though Davis harnessed Oakland's manic energy for a time, Curry's ascendance could animate this crowd for far longer, and possibly take it to better places.
Though teams might still prefer a Warriors matchup, Curry is certainly garnering more strategic attention than ever before. The Spurs gave him the full-court treatment, denying Curry the ball right from the moment Golden State pulled down defensive boards. When asked about how teams have been guarding him differently, Curry responded, "They're more aware of where I am in transition. That's the biggest thing."
After the first two quarters, Golden State's point guard seemed a longshot to best Ray Allen's single season 3-point record of 269. Steph was stuck on 262, with only six quarters left in the season.
Then, Curry was taken off the ball and San Antonio's omnipresent Curry defense broke to the tune of six 3-pointers in the second half. The barrage included a fadeaway triple and a running leaner. The star with the deceptively benign appearance takes what looks like a bad shot and proves it wise.
San Antonio just might play the Warriors this postseason, should Golden State drop their final game and fall to a seventh seed. For now, the tenor coming out of Texas actually isn't one of fear with regard to Steph. After the game, Spurs coach Gregg Popovich mused: "Everybody hates losing, but I enjoyed the hell out of watching a talented kid perform the way he did."
Ethan Sherwood Strauss' work appears on WarriorsWorld. Follow him @SherwoodStrauss
Dimes past: April 1 | 2 | 3 | 4 | 5-6 | 7 | 8 | 9 | 10 | 11 | 12-13 | 14
ESPN Staff Writer
Covers the Golden State Warriors for ESPN.com
Contributes to ESPN's TrueHoop blog
Hosts TrueHoop TV Live
2. Around the Association
3. Monday's Best
Curry
Stephen Curry, Warriors:
Curry made seven 3-pointers to finish with 35 points, leading the Golden State Warriors past the San Antonio Spurs 116-106. Curry hit 7 of 13 shots from beyond the arc to move within one of Ray Allen's single-season record of 269 3-pointers set in 2005-06 with Seattle. Curry added eight rebounds and five assists.
4. Monday's Worst
Mayo
O.J. Mayo, Mavericks: Mayo's game was so bad it earned the postgame wrath of Rick Carlisle. Mayo had a turrible performance against his former Grizzlies team, scoring only two points on 1-of-6 shooting and committing four turnovers. "I just want to see him show up," said Carlisle.
6. Tweet Of The Night
D12 and Jodi "get buckets" Meeks stopped by the crib to check on big bro #countonteamates #lakers& http://instagram.com/p/YJciuZRNnA/

— Kobe Bryant (@kobebryant) April 15, 2013
7. Quote of the Night
"I hate that I really value efficiency. Because I look around the league sometimes and I see a guy shooting 41, 42 percent from the field and I'm like, 'Wow, they're just hoisting up shots and they don't care.' I guess that's that freedom, but I don't have that mindset. I want to be as efficient as possible."
-- Dwyane Wade, on valuing NBA titles over scoring titles.
8. Jazz Stayin' Alive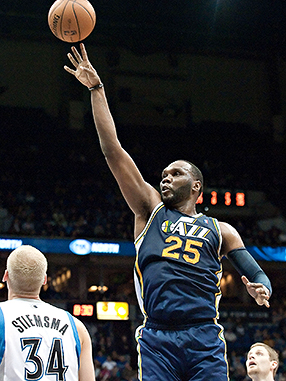 Greg Smith/USA TODAY SportsTo make the playoffs, Al Jefferson and the Jazz need to win at Memphis on Wednesday and for the Los Angeles Lakers to lose at home against Houston that night. Utah owns the tiebreaker after beating the Lakers two out of three times this season.
9. Stat Check
Monroe
Greg Monroe scored 27 points, grabbed 16 rebounds, handed out four assists and made 10 of 14 shots from the field for the Detroit Pistons in their victory over the Philadelphia 76ers. Only two other players in Pistons franchise history had that many points, rebounds and assists and made at least 70 percent of their shots from the field in a game, and they are both in the Basketball Hall of Fame. Bob Lanier had such a game in 1977 (40 points, 21 rebounds, 5 assists and 17-for-22 from the field) and Bailey Howell, who did it three times in the 1960s.
Around the Association
---
MVP: With most of the team's starters out, you knew Andray Blatche was going for 80. He attempted a season-high 21 shots -- go figure! -- but justified himself by scoring the go-ahead points off an offensive board, which also gave him a double-double.
X factor: Summer League stars. Tyshawn Taylor and Tornike Shengeila are works in progress -- they've ping-ponged between the NBA and D-League, and won't play much in the playoffs. But they spearheaded the second-half comeback in what's hopefully a sign of potential to be fulfilled.
That was … fuzzy: Resting four of your five starters with a playoff spot set in stone is textbook April basketball but the bench unit was able to make a go of things, building confidence and earning a nice Barclays ovation.
---
MVP: Following up his 40-point spree in Minneapolis last week, Al Jefferson (22 points, eight rebounds) ensured that Utah's fate will come down to a final day.
X factor: Paul Millsap didn't have a big game against the Wolves, but the Jazz will need his production to stay alive in the playoff hunt on Wednesday in Memphis.
That was … a less-explosive Ricky: After scoring a career-high 24 points in his previous game, Ricky Rubio had six points on 2-for-9 shooting and four assists.
-- Andrew Ayres, ESPN.com
---
MVP: After missing most of the third with a cut above his left eye, Goran Dragic dished out 14 assists and scored 21 points for Phoenix. He returned in the fourth quarter with three stitches to score his final nine points.
X factor: Markieff Morris scored 20 points, but it was his five steals and six blocks that set the tone for the Suns' defense. Phoenix jumped passing lanes on Houston drive-and-kicks to record 11 steals and scored 16 points off 16 turnovers.
That was … concerning: The Rockets' loss put them at risk of handing over their sixth seed to the Los Angeles Lakers, and it came by allowing the Suns to shoot a 49.5 percent. Houston's tempo hurt more than it helped, giving Phoenix 21 fast-break points.