1. The Beard Returns For Major Trimming
OKLAHOMA CITY -- It'll happen someday. The road team -- promise! -- will win a game in these NBA playoffs. And James Harden's returns to the Sooner State won't always feel so don't-even-make-eye-contact uncomfortable.
Someday.
We're not there yet, though. Not even close. Sunday certainly wasn't that day or night, when Harden's old friends from Oklahoma City made it a brutally clean sweep for the eight home teams on the opening weekend of the 2013 NBA playoffs, running away for a 120-91 trouncing of the Houston Rockets that only added to the evening's unease.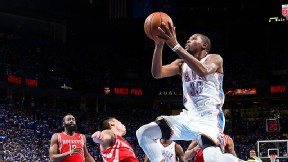 Layne Murdoch/NBAE/Getty ImagesKevin Durant and the Thunder rolled in Game 1.
The lopsided final score, in the wake of a second-half OKC blitz that hiked the hosts' lead as high as 35 points, was merely part of it. Kevin Durant aptly summed up the rest when it was over, passing up the easy PC spin when someone asked him how it felt to launch the Thunder's defense of their Western Conference crown with the most famous beard in the game sporting visitors' red.
"It felt a little awkward," Durant conceded, "just looking across there during the national anthem and seeing him with another team. But we gotta get past that."
We repeat: They're not there yet. As ruthless as the Russell Westbrook-fueled Thunder were after halftime, and as overawed by the occasion as so many of Harden's new (and undersized) teammates looked in their debut on the big stage, it could well take another game or two -- maybe the whole series -- for OKC's mainstays to learn how to drain the emotion out of the equation when Houston and Harden are in town. The Thunder got way too caught up in it in the first half, swinging and missing for a KO before halftime, which led to spells of wild play that enabled the Rockets -- small as they are -- to hang around for nearly two quarters even though they started 0-for-9 from the field and clanked their first seven attempts from 3-point range.
Not that the Thunder should anticipate any sympathy from Harden, who endured another mostly miserable homecoming in his first-ever playoff start.
Remember how it was back in late November for the lefty's lone regular-season OKC visit? After the big pre-Halloween trade? Back when Harden was left muttering, over and over, how glad he was to get that first homecoming over with?
It was a similar outcome here in April, even after Harden managed to generate 17 first-half points this time. Reason being: Harden wound up with a mere 20 points, needed 19 shots to get there and looked plainly tired from a season-long workload he's not accustomed to carrying, while also setting a less-than-optimal tone for the defensively challenged Rockets by playing no discernible D himself.
Long before the anthem, before the boos he got during pregame introductions, Harden described making his Rockets playoff bow at Chesapeake Energy Arena as "definitely surreal."
Afterward?
"Kinda shell-shocked," Harden said, summing up the Houston mood and adding that "there were definitely nerves" afflicting multiple Rockets.
Said Rockets coach Kevin McHale, who happened to be coaching his first-ever playoff game: "James, on this team, has to shoulder a ton of responsibility for us. ... He'll play better. We ask him to do an awful lot for us."
What no one wants to say publicly is that neither side wanted this so soon in what represents a pretty monumental postseason for both franchises. Sources from both camps confess that this was a Round 1 matchup they were dreading, albeit for different reasons.
It wasn't so long ago that the Rockets seemed to have the West's No. 6 seed in their hands, which would have meant opening up against banged-up Denver. In the worst-case scenario, Houston snags the No. 7 seed and a trip to banged-up San Antonio to launch its first playoff appearance since 2009 if it beats the Lakers on Wednesday ... after blowing their 81st game of the season in Phoenix against the lottery-minded, on-a-plate Suns.
Anything was preferable, honestly, to tipping off against the OKC buzzsaw, given Houston's defensive frailties and the Thunder's ability to liberally switch defenders with abandon and play their own track-meet style to devastating effect. The Thunder, meanwhile, had privately come to believe (and even embrace the idea) down the stretch that they were destined to start off with the Kobe Bryant-less Lakers, who've shown little ability to guard them even with a healthy Kobe. Leading off instead with all the emotions attached to a best-of-seven reunion with Harden, so soon in what they hope will be playoff run to avenge last June's NBA Finals collapse against Miami, is not what they wanted.
But they'll have to deal with it.
By the third quarter, OKC had sufficiently coped to get Durant taking a charge under the basket on a Harden drive to go with his 24 points … and Westbrook edging toward a triple-double (19 points, 10 assists and 8 boards) to humble Jeremy Lin in Lin's first playoff game … and Kendrick Perkins leading a five-dribble fast break (yes, we counted) before lofting a pinpoint lob for Serge Ibaka to slam through.
The Rockets' best player, meanwhile, was probably pesky backup point guard Patrick Beverley. Houston missed its first seven 3s in the second half, just like the first, and generally looked like a team that allotted roughly 70 percent of its minutes this season to players 25 and younger.
"We just couldn't get our footing at all," McHale said. "… They put it to us pretty good."
Which is the kind way to put it.
Because this really wasn't good for anyone.
Not unless you're buying the crazy notion that the Rockets, now officially playoff baptized, were either (A) just getting all the funk out of their system by missing 28 of their 36 launches from deep or (B) trying to lure the Thunder into overconfidence, in the ugliest possible manner, to make it a little easier to try to steal Wednesday night's Game 2.
"It was a little different seeing [Harden] in another uniform," Durant said, "but hey … we'll see how it plays out."
The tweeted conclusion of Rockets general manager Daryl Morey after Act 1: "That was painful."
More from ESPN.com

With Kobe Bryant lost for the season after an Achilles tear, the Lakers simply can't lose, writes J.A. Adande. Daily Dime
---

For the first time in a long while Sunday, the Lakers were not Kobe Bryant's team. His presence was not felt. His spirit was miles away, writes Ramona Shelburne. Story
• Arnovitz: The Kobeless Approach
• Radio: Mike & Mike weigh in
• Lakers Index | ESPN Los Angeles
Dimes past: April 1 | 2 | 3 | 4 | 5-6 | 7 | 8 | 9 | 10 | 11 | 12-13 | 14 | 15 | 16 | 17 | 20
ESPN Senior Writer
• Senior NBA writer for ESPN.com
• Began covering the NBA in 1993-94
• Also covered soccer, tennis and the Olympics
2. Around the Association
3. Sunday's Best
James
LeBron James, Heat:
LeBron scored 27 points on 9-for-11 shooting -- finishing two assists shy of a triple-double -- and the Heat beat the Bucks 110-87 in Game 1 of an Eastern Conference first-round series. James had at least 25 points, 10 rebounds and 8 assists in a playoff game for the 13th time in his career.
4. Sunday's Worst
Ilyasova
Ersan Ilyasova, Bucks:
After averaging 13.2 points during the regular season, Ilyasova managed just two in the loss to Miami. That's not helping the beat-Heat-in-6 cause. Finding him behind the arc once in a while just might help the Bucks' cause.
6. Tweet Of The Night
On to Game 2. I will be watching from the crib again in a Pau jersey and Laker face paint ha! All jk aside We will be fine on wed #fanmamba

— Kobe Bryant (@kobebryant) April 21, 2013
7. Quote of the Night
"Yea, that's what we did. It's great to have that commentary."
-- Lakers coach Mike D'Antoni, responding to Kobe Bryant's tweet that advised the Lakers to go to their post game.
8. Opening Outcome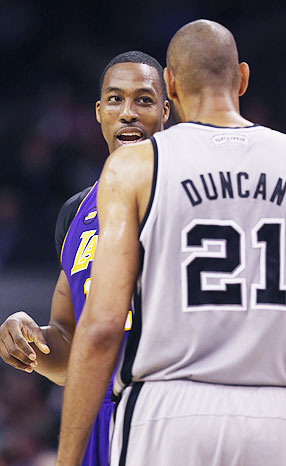 Ronald Martinez/Getty ImagesDwight Howard had 20 points and 15 rebounds, both game-high numbers, but the Lakers fell without Kobe Bryant in Game 1.
9. Stat Check
Tony Parker (18 points), Manu Ginobili (18) and Tim Duncan (17) led the San Antonio Spurs' scoring attack in their 91-79 victory over the Los Angeles Lakers in their first-round series opener. It was the 137th NBA playoff game that Parker, Ginobili and Duncan have played together, but in none of the 136 previous games did they achieve the kind of scoring balance that they showed on Sunday, when all three of them finished within a single point of one another.