1. Z-Bo & Co. Get Back To Basics In Game 3
MEMPHIS, Tenn. -- Most daggers in the NBA are inflicted from the perimeter. They're high-arcing shots that, when released, fill an arena with held breath, followed by a celebratory eruption from the crowd.
That's not how they do things in Memphis.
When it came time for the Grizzlies to apply the dagger in their 94-82 Game 3 win over the Los Angeles Clippers, the weapon wasn't a pretty jumper, an ankle-breaker or a running hook. It was a tangle of limbs underneath, all fighting for Tony Allen's missed layup high off the glass. The ensuing battle for possession culminated in Zach Randolph's swallowing up the ball, going back up with a left-handed miss of his own, then tipping that miss home to give the Grizzlies a 14-point lead with less than four minutes remaining in the game.
Memphis might have the dullest collection of daggers in basketball, but they're as deadly as anything you'll find in the more polished display cases around the rest of the league. And it's fitting for a team -- and a star like Randolph -- that prefers street fights to advanced warfare.
"That's what we do," Randolph said. "We wanted to play our game, and tonight we focused on it."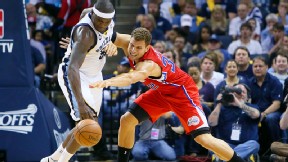 Spruce Derden/USA TODAY SportsZach Randolph helped put Game 3 out of reach.
"Play our game" was a refrain heard repeatedly around the Grizzlies over the past week. Dropping two road games to start a series is never a source of satisfaction, but the manner in which the Grizzlies lost those games in Los Angeles has been an irritant for Memphis. The Grizzlies' defense ranked second in the league during the regular season, but coming into Thursday's game, only the Atlanta Hawks had given up more points per possessions in the postseason. Memphis also ranked second in rebounding rate in the regular season but was dead last among the 16 playoff teams.
Chalk it up to a reversion to the mean or a renewed effort or the comforts of home or plain old desperation, but the Grizzlies reversed those trends in Game 3 by a wide margin.
"We had 17 offensive rebounds," Randolph said. " We rebounded the ball well, got out in transition, got in the post, high-low from [Marc Gasol], [Gasol] hit shots. I hit shots. That's our game."
Randolph finished with a 27 points on 9-for-18 shooting from the field and 9-for-10 from the stripe. He corralled a game-high 11 rebounds, six of them on the offensive glass.
Stat line aside, Randolph was simply dominant in the half-court on Thursday.
During the first two games in Los Angeles, he was present but largely ineffective. Between the foul trouble and the sagging Clippers' defense willing to yield perimeter looks to load up on the Grizzlies' post players, he was neutered.
But in Game 3, Randolph was insatiable. He made rim runs in half-court sets, gobbled up space behind the Clippers' defense, outmuscling the Clippers' big men on the glass, and bullied them on the block.
Griffin, who was the presiding force down on the block in Game 2, had his hands full with Randolph on Thursday. The Clippers' power forward managed only two rebounds and was whistled for five personal fouls, and much of that struggle came at the hands of Randolph.
"I know he is going to go over his right shoulder and go to that left hand, so I try to make him finish over the top," Griffin said. "But he's a great low-post player for a reason. You have to do your work early. You can't let him catch deep and get you in that position."
When Randolph establishes that deep position Griffin referenced, as he did on Thursday night, success usually follows. When the Grizzlies ran the high pick-and-roll with Mike Conley and Randolph, Gasol would fill the space behind the initial action where he'd find open space for a face-up jumper.
"Zach did a great job of rolling," Gasol said. "Both [defenders] had to tag. Mike found me and I was able to take a couple of those jumpers."
Gasol scored 16 points and collected eight rebounds. The Defensive Player of the Year was true to his namesake, anchoring a defense that returned to form in Game 3, giving up only 84 points on 91 possessions, unofficially.
"Everybody who played did their job," Gasol said. "That doesn't always mean making shots, but defensively I think we did a much better job of communicating and loading and keeping them out of offensive rebounds."
Memphis didn't always make its shots. In fact, the Grizzlies converted only 38.8 percent of their attempts from the field, the exact same mark as the Clippers. But the Grizzlies won the game on the margins, by controlling possessions, forcing turnovers, finding second shots. This is how Memphis has typically done it -- without style points. Hell, without many points at all.
This is a reality the Grizzlies can live with. In fact, it's where they're most comfortable.
"Win or lose, you're always going to be who you are," Gasol said.
Dimes past: April 7 | 8 | 9 | 10 | 11 | 12-13 | 14 | 15 | 16 | 17 | 20 | 21 | 22 | 23 | 24
ESPN Staff Writer
NBA writer for ESPN.com since 2008
Former contributor and editor at NPR
2. Around The Association
| | | | | |
| --- | --- | --- | --- | --- |
| Los Angeles Clippers | 82 | FINAL | 94 | Memphis Grizzlies |
---
MVP: Zach Randolph. The Grizzlies needed vintage Z-Bo, and Randolph obliged by punishing Blake Griffin on the block early and often. Randolph's game-high 27 points restored order in the frountcourt battle and allowed Marc Gasol to shine as a high-post genius once again.
LVP: Chris Paul. The Clippers are designed entirely around Chris Paul, and because of that, they won't win many playoff games when he scores only eight points and turns the ball over five times. Paul was as bad as Randolph was good.
That was … Grizzlies basketball: The tables were turned in the first two games, but the Grizzlies got back to what they do best. With 17 offensive rebounds and 18 forced turnovers, Memphis secured enough extra possessions to grind out a crucial Game 3 victory.
| | | | | |
| --- | --- | --- | --- | --- |
| Miami Heat | 104 | FINAL | 91 | Milwaukee Bucks |
---
MVP: LeBron James (22 points on 14 shots, six assists five rebounds). LeBron now has 68 points on 39 shots in this series. When his teammates play well enough to allow him to pick his spots, LeBron is (even more) incredibly efficient. They took awhile to come around Thursday, but the rest of the Heat eventually started scoring as LeBron remained patient.
Defining moment: Ray Allen made a 3-pointer early in the fourth quarter to pass Reggie Miller for most 3-pointers in playoff history. Because he joined the Heat rather than sticking with the Celtics, Allen will have plenty more time to add to his new record of 322.
X factor: Dwyane Wade shot terribly (1-for-12), but that didn't stop him from distributing (11 assists), defending (five steals and two blocks) or crashing the glass (nine rebounds, six offensive). Not many players can or would bring so much to the table while scoring 17 points below his regular-season average.
| | | | | |
| --- | --- | --- | --- | --- |
| Brooklyn Nets | 76 | FINAL | 79 | Chicago Bulls |
---
MVP: Luol Deng's game is too working class to make highlight reels, but he is always there, helping the Bulls dig a permanent lead with a double-digit shooting performance in the third quarter. He led all players with 43 minutes.
X factor: Nazr Mohammed chipped in to help steady the Bulls when Joakim Noah clearly needed to take a break, and even nailed a few shots to raise his playoff field goal percentage to 66 percent. (Granted, that's just on nine shots, but still!)
That was … ugly: Both fanbases had reason to be nauseous. The Nets missed 25 of 26 field goals at one point, and the Bulls nearly melted down in the fourth quarter before salvaging the slimmest of wins. For the stout of stomach, there are at least two more games in the series.
3. Thursday's Best
Randolph
Zach Randolph, Grizzlies:
Z-Bo and the Grizzlies got back to what they do best -- defense and physical play in the paint -- in Game 3. Randolph had his best game of the series, pouring in a game-high 27 points, grabbing 11 boards.
4. Thursday's Worst
Nets' drought:
After jumping out to an early lead -- 15-5 in the first quarter -- Brooklyn proceeded to miss 25 of its next 26 field goals. Both offenses couldn't get much done, each shooting less than 40 percent, but the Bulls get a pass with an ugly three-point win.
6. Tweet Of The Night
So who called dibs on the "Brandon Jennings still thinks Bucks in six" joke?

— Tom Haberstroh (@tomhaberstroh) April 24, 2013
7. Quote of the Night
"I think about when I first stepped on this floor for the very first time. I thought about what I was going to be able to contribute to this game. It's ironic that I'm on this floor right now, because this is where it all started."
-- Heat guard Ray Allen, who spent his first six-plus seasons in Milwaukee.
8. Wade's Weird World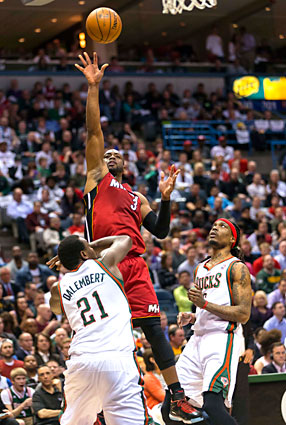 Jeff Hanisch/USA TODAY SportsDwyane Wade managed only four points on 1-of-12 shooting in Game 3, but filled the stat sheet in pretty much everything else, tallying 11 assists, nine rebounds, five steals and two blocks.
9. Stat Check
Allen
Ray Allen scored a game-high 23 points, including five 3-point field goals, in the Heat's 104-91 win over the Bucks. It was the 21st time that Allen scored at least five treys in a playoff game, by far the most in NBA history. The only other player with at least half as many such games as Allen is Reggie Miller (13).