1. All Signs Are Looking Up For Spurs Now
LOS ANGELES -- The San Antonio Spurs aren't just dominating this series against the Los Angeles Lakers, they're winning the Western Conference playoffs. That's a report, not a prediction, but they're looking like a smart pick because they're the only Western team whose prospects have taken a straight upward trajectory over the past week.
San Antonio's first-round opponent came into the playoffs without its star player, lost three more guards along the way and put up little resistance the Spurs' 120-89 blowout in Game 3. Earlier in the day, the entire league was shocked by the news that Oklahoma City's point guard Russell Westbrook needs surgery for a torn meniscus in his knee. And when the fallout from that injury comes to bear, it could be that the biggest beneficiary is the Spurs.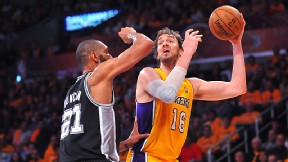 Gary A. Vasquez/USA TODAY SportsDown 3-0, getting past Tim Duncan looks like too big a task now for the Lakers.
They're starting to resemble the team that held the No. 1 spot in the West before faltering. They're getting healthier, regaining their rhythm and moving in position to sweep the Lakers and gain rest days while they await the winner of the Denver-Golden State series. They'd have the edge over either -- especially the young Warriors squad -- because of their wealth of later-round playoff experience. Perhaps the Clippers or Grizzlies could take out the Thunder without Westbrook, putting the Spurs in position to beat the Clippers by precision or the Grizzlies by offensive superiority.
You'll never catch the Spurs looking that far down the road. It was a little surprising to even hear Tim Duncan talk about applying the finishing touches to this series.
He wasn't boastful or ominous or derogatory in his postgame comments. Simply practical.
"We need to close this series out," Duncan said. "We need to get healthy, get some rest. We are an older team. We need all the rest we can get."
That they're in position to do so reflects how things have improved for a group that had some doubt emanating from the locker room at the end of the regular season.
Even if you factor in Tiago Splitter's sprained ankle -- which could keep him out for a week to 10 days, the San Antonio Express-News reported -- the Spurs still win the injury exchange on the day. They played the entire fourth quarter without him Friday night and still outscored the Lakers, 35-26. DeJuan Blair took advantage of the extra playing time and had 13 points and seven rebounds. Matt Bonner knocked down open 3-pointers and was willing to use as many fouls as he had at his disposal when Dwight Howard got the ball inside.
Elsewhere, on the Spurs' injury front, it's all green lights and thumbs up.
Tony Parker, who missed 12 games in March and April, looks better in every quarter this series. He made 9 of 14 shots, scored 20 points, got to whatever spots on the floor he wanted to. Even though he was poked in the eye and stumbled into a Metta World Peace forearm, his wheels are still functioning smoothly. That's the important thing.
"He went to the rim and he shot jumpers he was aggressive from the beginning of the game," Spurs coach Gregg Popovich said. "He's starting to feel like himself."
Manu Ginobili functioned just fine in his fourth game back from a hamstring injury. He wasn't the star as he was in Game 1. He also didn't need to be, because Duncan looked reminiscent of his Most Valuable Player days (can you believe they were a decade ago?) hitting 12 of 16 shots, scoring 26 points and grabbing nine rebounds.
"Timmy is still the foundation of our program," Popovich said. "At 37 he showed again tonight both offensively and defensively what a pro he is."
While the rest of the league is becoming more about guard play and "stretch fours," the Spurs returned to their roots, featuring Duncan more on offense this year than the two previous seasons, and relying on him heavily in Game 3.
"I'm just feeling good and I'm making shots," Duncan said. "It's kind of lent itself to that. We're still a perimeter-oriented team [but] if Pop sees me with that rhythm, sees me with a kind of mismatch, he's happy to come with me."
Elsewhere, Boris Diaw has just entered the two-to-four week recovery time frame outlined when he had a cyst removed from his spine. He is running and shooting without pain, and said the next step is to see how he responds to contact. He estimated he's a week away from returning to action.
Diaw is the kind of versatile player who'd be better suited for a Denver or Golden State matchup than Splitter anyway. The way the Nuggets-Spurs is going, with two of the three games decided by a basket, they could need another week to settle it.
Things are going the Spurs' way, from unfortunate injuries suffered elsewhere to the things they can control.
"We're playing better defense than we did the last 3-4 weeks of the season," Popovich said. "We playing defense like we did the first three-fourths of the season. Hopefully that can continue."
It's starting to feel like a good run at the craps table.
Dimes past: April 7 | 8 | 9 | 10 | 11 | 12-13 | 14 | 15 | 16 | 17 | 20 | 21 | 22 | 23 | 24 | 25
ESPN Senior Writer
ESPN.com senior writer since 2007
Around The Horn panelist
Formerly at Los Angeles Times
2. Around The Association
| | | | | |
| --- | --- | --- | --- | --- |
| Denver Nuggets | 108 | FINAL | 110 | Golden State Warriors |
---
MVP: Stephen Curry. Ankle troubles forgotten for the game, he contributed 29 points on 17 shots and was a game-high plus-13. He quickly adapted to Denver's aggressive trapping en route to 11 assists.
LVP: Andre Miller. His 2-for-13 shooting and a plus-minus of minus-12 speaks for itself. It didn't help that the ultra-confident Miller took the ball out of red-hot Ty Lawson's hands at pivotal points in the game.
X factor: Draymond Green might have contributed only five points, but they were huge, considering the final margin of two. He made a 3 (despite his 21 percent 3- point shooting) and a tough up-and-under layup, and was physical on the boards.
| | | | | |
| --- | --- | --- | --- | --- |
| San Antonio Spurs | 120 | FINAL | 89 | Los Angeles Lakers |
---
MVP: Tim Duncan's renaissance continues to dazzle. Old Man Riverwalk's line: 26 points, 9 rebounds, 3 assists, 1 block, 1 steal, 1 alley-oop slam straight from 1997. He also did this. Words are insufficient.
Defining moment: In the waning seconds of the first half, L.A. staked out a short run and cut the lead to 11. Duncan didn't like the whole "momentum" thing, and proceeded to score or assist on 10 of San Antonio's first 12 points of the third.
LVP: Injuries. This game could've been a matchup between a healthy and humming Nash/Bryant/Gasol/Howard foursome against an elite Spurs team. Instead, Morris/Duhon/Goudelock manned the backcourt and the Lakers were dazed and confused ... at best.
| | | | | |
| --- | --- | --- | --- | --- |
| New York Knicks | 90 | FINAL | 76 | Boston Celtics |
---
MVP: Raymond Felton. The Knicks point guard has had his way with the Celtics so far this series and tonight was no different. He tallied 15 points and 10 assists, and put in some good defensive possessions against Avery Bradley, Paul Pierce and Jason Terry.
That was ... ugly: Boston had its third straight brutally bad offensive game, shooting just 40 percent from the field and registering a 91.6 offensive efficiency. Pierce and Garnett are a combined 35-of-83 (42.1 percent) in the series.
X factor: The Knicks got back to playing like the regular-season Knicks, as they made 11 of 27 3s (40.7 percent) and forced Boston into 17 turnovers.
3. Friday's Best
Curry
Stephen Curry, Warriors:
Well, that one was just faaan-tastic. Playing through a sprained left ankle, Curry went for 29 points and 11 assists as the Golden State Warriors beat the Denver Nuggets 110-108 to take a 2-1 series lead.
4. Friday's Worst
Miller
Andre Miller, Nuggets:
Other than hitting an old-timey, flat-footed set shot, the hero of Game 1 was a dud. Miller went 2-for-13 from the field in the tough loss to the Warriors.
6. Tweet Of The Night
Been a long day ,but want to thank everyone for phone calls, text messages ,and tweets during this tough time. I really appreciate it ..

— Russell Westbrook (@russwest44) April 27, 2013
7. Quote of the Night
"I'm going to stay in his ear and make sure he learns from it."
-- Knicks coach Mike Woodson, on J.R. Smith, who threw an elbow right into Jason Terry's face and was thrown out of the game with a flagrant foul 2, an automatic ejection.
8. Staying On Point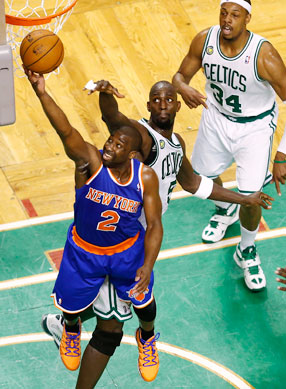 Mark L. Baer/USA TODAY SportsRaymond Felton (15 points, 10 assists) helped the Knicks take a 3-0 series lead.
9. Stat Check
The Knicks turned in another smothering defensive performance and took a three-games-to-none series lead with a 90-76 victory at Boston. That was the third straight game in which New York limited Boston to fewer than 80 points, marking only the second time that an NBA team has won the first three games of a playoff series, holding the opposition below 80 points in each game, since the league introduced the shot clock in the summer of 1954. In the spring of 1997, the Jordan-and-Pippen Bulls held the Heat below 80 points while taking a 30 lead in the Eastern Conference finals. Chicago won that series in five games, then went on to defeat Utah in six to earn their fifth of what would be six NBA championships in the Jordan era.
The Celtics scored 31 points in the first half on Friday after being held to 23 points in the second half of Game 2. The Celtics' total of 54 points over those four quarters was their lowest in any regulation-length, four-quarter span in either regular-season or postseason play during the shot-clock era. Before this stretch, Boston's lowest total over a four-quarter span was 58 points in the regular season (2003) and 64 points in the playoffs (2005).