1. Kevin Durant Carries The Load Without Russ
HOUSTON -- Kevin Durant taking it upon himself to bring the ball up the floor. Kevin Durant driving and kicking. Kevin Durant high-stepping around a pick just past halfcourt, slaloming in and around various defenders and getting all the way to the rim to dunk on Omer Asik's head.
Kevin Durant logging nearly 48 minutes of court time. Kevin Durant wearily missing 10 of the 14 shots he hoisted after halftime. Kevin Durant needing the kindest shooter's roll anyone could ever remember to finally escape the emotional roller-coaster of his playoff life by landing a dagger that somehow bounced three times on the iron before it dropped.
Those are the snapshots that will endure from the most meaningful game Durant has ever played without Russell Westbrook at his side.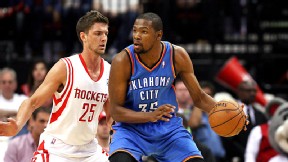 Troy Taormina/USA TODAY SportsKevin Durant 's 41 points were enough for a 3-0 series lead for OKC over Houston.
Those ups and downs and the sight of Durant insisting to OKC's trusty PR man, Matt Tumbleson, that someone needed to move an extra chair onto the post-game podium so a young Thunder fan named David Gomez from McAllen, Texas, could join No. 35 at the dais and help him uphold the tag-team tradition of Durant's news conferences.
"He's sitting there for Russell," Durant said of his fresh-faced assistant on the dais.
After rolling up a 26-point lead with ridiculous ease with KD as QB -- and then blowing all of it -- Oklahoma City did manage to win one for Russell in the end. The Thunder hung on grimly for a 104-101 triumph over the Houston Rockets in Saturday night's Game 3 that was only secured by the unfathomably fortuitous trio of bounces on Durant's 3-pointer from the top of the arc in the final minute ... and a slew of crunch-time bad decisions by the inexperienced hosts.
"He just made a lucky shot," Rockets star James Harden said softly, knowing how much he, too, had helped bail out his old team.
Durant showed up Saturday night at the Toyota Center badly wanting to transmit to the rest of the basketball universe that the Thunder won't be just rolling over and waiting 'til next year in the wake of the lunchtime confirmation that Westbrook, after undergoing knee surgery, indeed won't be back this season. But the wild ride that ensued, with Harden uncharacteristically missing five free throws and committing two costly turnovers in the final two minutes after playing more than 40 minutes without one, left a different sort of impression.
Now everyone knows just how heavy Durant's load just got, how much he'll be asked to do just to lead Russ-less OKC back to the Western Conference finals.
Durant played the game's first 40 minutes without taking a blow, rested for all of 44 seconds of game time and had to amass 41 points, 14 boards and four assists to ensure that OKC didn't blow a lead of nearly three touchdowns against a size-challenged No. 8 seed that pulled in a whopping two rebounds as a team in the first quarter. Only three other active players have hit all those benchmarks in the same playoff game: LeBron James, Carmelo Anthony and Tim Duncan.
Yet it wasn't the sort of milestone than anyone in visitors' camp seemed eager to celebrate, apart from maybe young David Gomez. The kid from McAllen who went from serving as a ball-boy for a night on the Thunder bench to Durant's sidekick on national TV -- with a signature KD backpack slung over his shoulders, no less -- came closer than anyone imagined to watching his heroes make Brooklyn's collapse hours earlier in Chicago seem tame.
Durant's miracle 3 after the Rockets had grabbed a 99-97 lead -- followed by two clutch free throws from Reggie Jackson to finish with a more-than-passable 14 points in 24 minutes in his first-ever playoff start -- spared the Thunder from suddenly finding themselves in an actual series before they even get to Round 2. They weren't supposed to be faced with this kind of peril until they hook up with either the Clippers or Grizzlies.
"There's no way around it," Thunder coach Scott Brooks said. "It's been an emotional 48 hours."
Brooks has to hope that was the trigger to the Thunder's unraveling, because Houston made it all the way back even with Harden still shooting below 40 percent from the field for the series and despite the fact that the 3-reliant Rockets bricked 25 of their 37 attempts from deep. The unexpected second-half defense and shooting from Francisco Garcia (18 points) and Carlos Delfino (three big fourth-quarter 3s), combined with Harden's considerable good side (30 points, eight boards and six assists), brought a hasty and humbling halt to any notions that there might actually be some small measure of upside for OKC to shed Westbrook's restless gene.
"The way it happened and how it happened," Thunder sage Derek Fisher said of Westbrook's torn meniscus, "we are definitely still grieving as a team."
Said forward Nick Collison: "Our problems were more execution and a lot of that has to do with playing without Russell because we rely on him for a lot on the court. So we're going to have to learn to play without him and learn to execute without him."
Westbrook's legions of critics will undoubtedly find it hard to co-sign on that claim. Execution, furthermore, certainly didn't look like an issue in the first half, when the game was coming so easy to Durant as he rung up a quick 27 points out of a noticeably more deliberate offense without Westbrook at the controls.
Yet as Durant explains, playing on without his little buddy for the first time since he was a rookie in Seattle is an even bigger shock to the Thunder's system than the sight of Harden and his famous beard in the other team's layup line.
Reason being: Westbrook's teammates thought he was indestructible.
The one guy, more than any other in the whole league, who just gets up and shakes off any and every injury.
"We all know he's human now," Durant said at Saturday's shootaround. "It's tough to deal with. But like I said, nobody's feeling sorry for us."
In the morning, Durant spoke of how "different" it was "not having his voice here." At night's end, with Gomez at his side instead of Westbrook wearing something crazy, Durant acknowledged that his job "didn't feel the same" no matter how locked in he looked early.
He went on to reveal that he got "love" texts from Westbrook at halftime and again when it was over, prompting Durant to tell the assembled media: "Every game is for him."
With no apologies tacked on for the lucky bounces -- plural -- that came after the first really bad injury break of the Durant Era.
"The Lord was with us ... that's all I was thinking," Durant said of his modern-day spin on Don Nelson's unforgettable jumper that beat the Lakers in Game 7 of the 1969 NBA Finals.
"I really can't say too much else about that one."
It's probably wisest to save his energy anyway. Multi-tasking more than he ever has before, Durant's going to need every last drop of it.
Dimes past: April 9 | 10 | 11 | 12-13 | 14 | 15 | 16 | 17 | 20 | 21 | 22 | 23 | 24 | 25 | 26
ESPN Senior Writer
• Senior NBA writer for ESPN.com
• Began covering the NBA in 1993-94
• Also covered soccer, tennis and the Olympics
2. Around The Association
3. Saturday's Best
Robinson
Nate Robinson, Bulls:
Looks like N8 got bit by the radioactive spider again. His superhero act saw him score all but five of his 34 points after the third quarter as he carried Chicago from a 14-point deficit late in regulation and beat the Brooklyn Nets 142-134 in triple overtime.
4. Saturday's Worst
Shooting by Pacers guards:
Five backcourt players for Indy combined to shoot 2-for-20 in the loss to the Hawks. That helped the team shoot a clank-worthy 27.2 percent in the 90-69 Game 3 rout.
6. Tweet Of The Night
Unbelievable. Can't dig that big a hole or be in a close game against them. Calling Dave Roberts.

— Daryl Morey (@dmorey) April 27, 2013
7. Quote of the Night
"I always think I'm on fire. Like the old school game, 'NBA Jam,' you make a couple and the rim's on fire and when you shoot the ball, the ball's on fire. I feel like that at times. Well, all the time. When I'm in the game, I play with a lot of confidence and you kind of got to lie to yourself that you can't miss."
-- Bulls guard Nate Robinson, on his sizzling run that helped deliver a 3-1 series lead over the Nets.
8. Unstoppable And Irrepressible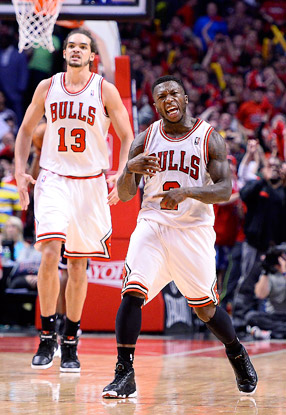 Mike DiNovo/USA TODAY SportsNate Robinson let everyone know how excited he was after scoring 23 points on 11-for-16 shooting in the fourth, including a personal 12-0 run that took 1:42 and cut a 14-point deficit to two.
9. Stat Check
All five starters for both the Nets and Bulls scored at least 15 points in Chicago's triple-overtime win. And that doesn't even include Nate Robinson, who led all scorers with 34 off the bench. The last NBA playoff game in which all 10 starters scored 15-plus points was Game 4 of a second-round series between the Celtics and Bucks in 1987. Boston's starting five consisted of Larry Bird, Kevin McHale, Robert Parish, Danny Ainge and Dennis Johnson, while Terry Cummings, Paul Pressey, Jack Sikma, Sidney Moncrief and John Lucas started for Milwaukee. The Celtics won, 138-137, in two overtime periods at Milwaukee Arena.