1. Lakers Appear Stuck In Descending Pattern
LOS ANGELES -- If you want to sum up this failure of a Los Angeles Lakers season, start with the calendar. Their season ended on April 28, when the Lakers were swept out of the first round by the San Antonio Spurs, the first time a Lakers playoff run didn't stretch into May since 1978.
Never in league history has there been a greater gap between a team's expectations and its results. And now, look for the next unprecedented set of circumstances from the Lakers: Their response. Or lack thereof.
The standard reaction to such a letdown would be drastic changes. You know how they do it in Lakerland. Falling short of the NBA Finals means time to start shopping for a future Hall of Famer or two. Reload and relaunch.
But have you stopped to think of what drastic change would entail this time?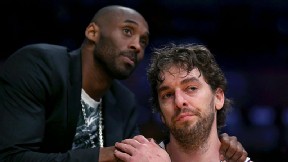 Jeff Gross/Getty ImagesIt was a tough end to the season for franchise mainstays Kobe Bryant and Pau Gasol.
It would mean using the amnesty provision to dump Kobe Bryant, the face of the franchise.
It would mean turning their back on Dwight Howard, the man they targeted to be the next face of the franchise.
It would require chopping into the salary-cap space they hope to create in 2014.
It would force them to admit they can't get a coaching hire right unless they make the one decision a 12-year-old would make if he somehow got a general manager's job: get Phil Jackson.
Mike D'Antoni was not, despite what the Lakers kept insisting, the right fit for this team. If he were, he would have figured out a better way to utilize Pau Gasol early on, rather than relegate him to the bench at the start and finish of games. He would have found a way to hide some of the Lakers' deficiencies. He would have realized that Dwight Howard is not suited to run high screen-and-rolls.
Failure to win a single playoff game has never been acceptable for the Lakers. And Jackson was let go from his first stint with the Lakers after he reached the NBA Finals.
But the Lakers keep saying that D'Antoni's job is safe and there are no rumblings to the contrary. The best thing he has going for him is that the Lakers don't want to go through a new coach every season, because that only brings attention to the failure of those hiring the coaches. (Talk about unfair: The NBA coach in Los Angeles who's generating bigger scratches on the NBA rumor Richter scale is Vinny Del Negro, even though his team won the Pacific Division and at least two playoff games.)
D'Antoni's case is that the Lakers went 28-12 to close out the regular season, even as injuries ravaged his team. That's as much a tribute to the professionalism of the players as anything else. Metta World Peace was talking about the need for Kobe Bryant and Pau Gasol, the only remaining Lakers with multiple championship rings, to take more of a leadership role next season, because their voices weren't as prominent as they should have been this season. But shouldn't leadership be coming from the coach first?
Sunday morning, I watched the playoff version of "Open Court" on NBA TV, and Shaquille O'Neal and Brent Barry both talked about the calming presence of Phil Jackson and Gregg Popovich and the trust those two coaches engendered. That's what a coach of a team with the championship aspirations of the Lakers should have. Well, among other qualities.
"The most important thing is, there's a lot of things you can do with a lot of these guys in this locker room," Antawn Jamison said. "I think [it's important] to find one particular thing, which way you want to go, and go with it that way."
The only takeaways about the Lakers from Sunday's 103-82 Spurs victory were appreciation and trepidation.
Kobe Bryant used his crutches to slowly walk to a seat behind the bench in third quarter, and the Staples Center crowd rose to give him a loud reception in their first sight of him since his season ended with a torn Achilles' tendon in Game 80. Pau Gasol also received a nice ovation when he checked out of the game for good in the fourth quarter.
That should be theme for the next season: Recognize these two players for what they've done. Don't expect them to duplicate it. The best-case scenario for Bryant is he's cleared to play at the start of the season. Even if he is, when was the last time a player was close to performing at his peak in his first year back from major leg injury? Chris Paul and Tim Duncan, to name two examples, didn't look like themselves until Year 2 after surgery. But Kobe should get a chance to finish his career as a Laker. The prospect of him getting cut and scooped up by the Charlotte Bobcats on the waiver wire is like imagining your parents the night you were conceived.
Gasol deserves to play out his final season in a Lakers uniform without hearing his name in trade discussions. Especially because the only teams that would seek him and his expiring contract would want to unload long-term contracts themselves. The Lakers would be better served by preserving flexibility and allowing his $19 million to come off their payroll in 2014, and then making the moves to truly reshape their roster.
This brings us to the trepidation. Dwight Howard's final game of the season -- and perhaps his final game as a Laker -- produced only seven points and eight rebounds. That's correct, he produced exactly one more point than Aron Baynes, the rookie the Spurs started at center in place of the injured Tiago Splitter.
Howard played only 20½ minutes before he was ejected for receiving his second technical foul. This was not the stuff of franchise bedrocks. It's not the kind of leadership and stability that warrants a $117 million contract.
"Next year I've got to be mentally stronger to handle a lot of situations," Howard said. "And, uh, that's about it."
More from ESPN.com
• 5-on-5: Now what, Lakers? | Q's


• McMenamin: Path unclear for Gasol
• Verrier: The San Antonio Way
• Strauss: Steph Curry's rise
• Wallace: Miami's waiting game
• Forsberg: JET takes off in Game 4
• MacMullan: Pierce won't give up
• O'Connor: Blame J.R. Smith
He wouldn't commit to where he will play next season. At this point, the only reason to stay in Los Angeles besides the additional $25 million that would be guaranteed if he re-signed with the Lakers would be how awkward it would be for him to move to a third team in as many seasons during the heart of his career. Superstars just don't do that. Which makes his choice similar to the Lakers' coaching decision: Appearance's sake might overrule everything else. It is L.A., after all, where image matters over everything.
If Howard was physically incapable of giving the Lakers his best after back surgery last year and a torn labrum suffered early in the season -- "I was in pain for the whole season," he said -- then he ought to reward them for paying out his full $19 million contract anyway. He should hit the offseason eager to work harder than ever to prove to everyone he can dominate and lead a team to the NBA Finals again.
A center won't help the Lakers go against guards like Chris Paul and Stephen Curry -- and that's just to get back to the top of the Pacific Division. The path to the promised land isn't through the post players. That's the new style. There's a forward-guard tandem in Miami and a forward-guard duo in Oklahoma City, and a small forward playing power forward leading the renaissance in New York. But the Lakers seem stuck with Howard as their guy, committed to this mode of play. There are changes under way throughout the league. Don't expect the Lakers to be part of them next season.
Dimes past: April 11 | 12-13 | 14 | 15 | 16 | 17 | 20 | 21 | 22 | 23 | 24 | 25 | 26 | 27
ESPN Senior Writer
ESPN.com senior writer since 2007
Around The Horn panelist
Formerly at Los Angeles Times
2. Around The Association
3. Sunday's Best
Curry
Stephen Curry, Warriors:
Before he was poked in the eye by Corey Brewer, Curry was poking holes in Denver's defense. Curry made 10 of 16 shots (31 points) to go along with seven assists and four steals for Golden State, which is now one win from advancing past Denver.
4. Sunday's Worst
Jennings
Brandon Jennings, Bucks:
Jennings, who had guaranteed the Bucks would win the series in six games, did not even play in the final quarter of the sweep by the Heat. He finished with three points on 1-of-7 shooting. After scoring 26 points in Game 1, Jennings had 27 total in the final three.
7. Quote of the Night
"I'm going to step away from everything for a couple weeks and clear my head before I do or talk about anything as far as next season. I think I deserve that, and that's what I'm going to do."
-- Lakers center Dwight Howard, who will be free to sign with any team next season.
8. Dad And Pop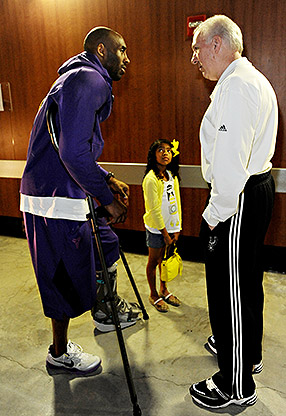 Andrew D. Bernstein/NBAE/Getty Images Injured Lakers star Kobe Bryant speaks with Spurs coach Gregg Popovich while Kobe's daughter Gianna Maria-Onore Bryant looks on.
9. Stat Check
Carmelo Anthony made only 10 of his 35 field-goal attempts in the New York Kicks' Game 4 loss to the Boston Celtics on Sunday. Over the past 46 years, only two other players have missed at least 25 shots from the field in an NBA playoff game: New Jersey's John Williamson shot 9-for-34 from the field against Philadelphia on April 13, 1979, and Chicago's Michael Jordan made only nine of his 35 field goal attempts against Miami on May 26, 1997.