1. Sweep Reprieve: Rockets Live Another Day
HOUSTON -- It's going to be strange, mighty strange, when the second round of the playoffs starts and Kevin Durant is forced to proceed with no Russell Westbrook or James Harden at his side.
We're not there yet, though.
The strange sight of Durant on the floor flanked by neither of his trusty sidekicks will have to wait, because the Houston Rockets just rose up out of their 3-0 hole Monday night to inflict a 105-103 defeat in Game 4 that didn't simply deny Oklahoma City Thunder their widely presumed sweep in the best-of-seven series.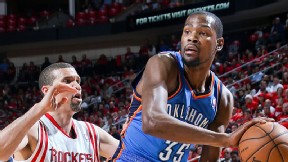 Layne Murdoch/NBAE/Getty ImagesKevin Durant (38 points) missed a brooming opportunity in Houston.
Fueled by a couple second-round picks and that frisky guard imported from Russia in January, Houston refused every opportunity to cave. The Rockets overcame Harden's considerable struggles to force a Game 5 in Oklahoma City on Wednesday night, gave coach Kevin McHale his first-ever playoff victory ... and gave Dwight Howard at least one more nationally televised look at some of the pieces Rockets management will pitch as promising supporting casters when they make their all-out push for Howard in free agency come July.
And there's more: Houston just tacked another game onto Durant's increasingly taxing schedule. When that's the last thing he needs.
"What the panic for?" Durant said. "No need. That's only going to put more pressure on us. That's only going to make us feel worse."
No one was actually suggesting they go searching for a button to press, but it was a costly loss for the Thunder. So regret was unavoidable after this one, as much as Durant tried to downplay it, since OKC was so close to a brooming of the young Rockets that would have been so helpful.
Capitalize on Harden's frigid shooting, foul trouble and a whopping 10 turnovers -- one shy of the playoff single-game record -- and they'd have had until at least Sunday to live in their practice gym back home to work on an offense that is clearly sputtering sans Westbrook. Build on that 13-point lead in the first half when the Rockets seemed ripe for a KO -- as opposed to falling back into their stagnant ways of yore in the second half -- and KD gets an extended stretch of rest before trying to dealing with the Clippers or Grizzlies in Round 2.
Houston, however, wouldn't let it happen. It didn't matter that Harden missed all five of his shots from at least 15 feet out, including three in the final 1:23, because Parsons was racking up 27 points, 10 rebounds and eight dimes to become just the third Rocket ever, along with Hakeem Olajuwon and Ralph Sampson, to hit all of those benchmarks in one playoff game.
It didn't matter because Omer Asik, another former second-rounder like Parsons, rumbled for 17 points and 14 boards ... and because Houston finally shot it well from deep by connecting on 12 of its 27 flings from 3 ... and because Patrick Beverley, stepping up yet again with Jeremy Lin forced to sit with that badly bruised chest, continues to forget that rookies airlifted out of the Russian League at midseason aren't supposed to have an impact in the NBA postseason in April.
"We know we can play with these guys," Parsons said. "We know we can beat these guys."
False confidence? Probably. After Durant just rung up a ridiculous 38 points, eight rebounds and six assists while attempting a mere 16 shots -- against the solid trio of defenders (Parsons, Francisco Garcia and Carlos Delfino) Houston can throw at him -- it's doubtful you'll hear too many pundits over the next 24 to 36 hours proclaiming that the Rockets are capable of forcing a Game 6 back here Friday night.
Especially not if Harden stays, to use his word, "freezing" from outside.
"I did have a double-double," Harden joked after he finished with 15 points and those 10 turnovers, trying to lighten the mood.
When it was over, Durant was faced with the same task. The Thunder might be going home with a 3-1 lead, but it's not the most ebullient group after blowing leads of 15 and 26 points in Games 2 and 3, then surrendering 38 points in the third quarter of Game 4 to squander the last of another double-digit cushion. Not to mention how much they all miss Russ.
There was Serge Ibaka, lying flat on his back at the buzzer, shamed by how short he left a follow attempt right at the rim that would have forced overtime. And there was Durant, tasked with trying to lift Ibaka's spirit off the floor, taking on one more job to go with everything he's suddenly got to do on his own these days.
"I told him, 'Man, we can't take that hard,'" Durant said. "It's over with. You can't get it back. You can't bring it back. So let it go."
Dimes past: April 11 | 12-13 | 14 | 15 | 16 | 17 | 20 | 21 | 22 | 23 | 24 | 25 | 26 | 27 | 28
ESPN Senior Writer
• Senior NBA writer for ESPN.com
• Began covering the NBA in 1993-94
• Also covered soccer, tennis and the Olympics
2. Around The Association
| | | | | |
| --- | --- | --- | --- | --- |
| Oklahoma City Thunder | 103 | FINAL | 105 | Houston Rockets |
---
MVP: Chandler Parsons. Can you say "coming out party"? The Rockets forward had the game of his life, scoring on an assortment of drives and pump fakes, finishing with 27 points and just two assists shy of a triple-double.
LVP: James Harden finished with 10 turnovers but, perhaps even worse, went into hero-ball mode for the last three possessions of regulation. Luckily, the Rockets were able to overcome thanks to the contributions of his teammates.
That … wasn't reality: Late in the third, Carlos Delfino stole the ball and took it the length of the floor before slamming it down in Kevin Durant's face. It was like being in some bizarre, alternate universe in which nothing makes sense.
| | | | | |
| --- | --- | --- | --- | --- |
| Chicago Bulls | 91 | FINAL | 110 | Brooklyn Nets |
---
MVP: Brook Lopez has been incredible this entire series, and this game was no exception. Lopez put up 28-10, was aggressive in the paint, and held Joakim Noah in check. He did everything you need him to do in an elimination game.
X factor: The Nets have been playing three-on-five for most of this series because of the offensive holes in Gerald Wallace's and Reggie Evans' games. Crash hit a clutch 3-pointer in the last three minutes and made a statement of a transition dunk the very next play.
That was … how you close out a game: The Nets were up 14 with 3:15 left on Game 4 and they found themselves in a similar situation Monday night. Instead of missing wide-open dunks and letting Nate Robinson do insane Nate Robinson things, they played tight defense.
| | | | | |
| --- | --- | --- | --- | --- |
| Indiana Pacers | 91 | FINAL | 102 | Atlanta Hawks |
---
MVP: Bad third quarter aside, Josh Smith was all over the place, finishing with 29 points, 11 rebounds, four dimes and three steals. Smoove also kept Paul George in check for the first three quarters when he was on the Pacers' star.
X factor: Kyle Korver always looks good in his pregame warmups, but Monday night he looked extra smooth. That translated over to the game, with Korver going 5-for-8 from deep and finishing the game with 19 points.
That was … foul happy: The first half was relatively clean. Second half? The teams combined to attempt 49 free throws, somewhat spurred on by what appeared to be a hack-a-Smoove strategy in the third quarter.
3. Monday's Best
Parsons
Chandler Parsons, Rockets:
Gotta love those second-round picks. Parsons' 27 points, 10 rebounds and eight assists helped keep Houston alive with a 105-103 Game 4 win that kept the West No. 8 seed alive in the playoffs.
4. Monday's Worst
2013-14 Sonics season-ticket sales:
With the NBA signaling it wants the Kings to stay put, the return of the NBA to Seattle appears to have been dealt a major blow. Time for The Slick Watts Appreciation Society to think of a Plan B.
6. Tweet Of The Night
Thank you to everyone who has reached out to me thru email, texts, calls, tweets, letters, and every other form of communication. #support

— Jason Collins (@jasoncollins34) April 29, 2013
7. Quote of the Night
"Now I'm a free agent, literally and figuratively. I've reached that enviable state in life in which I can do pretty much what I want. And what I want is to continue to play basketball. I still love the game, and I still have something to offer. My coaches and teammates recognize that. At the same time, I want to be genuine and authentic and truthful."
-- Longtime NBA center Jason Collins, writing in Sports Illustrated about coming out as a gay man
8. Smoove Operator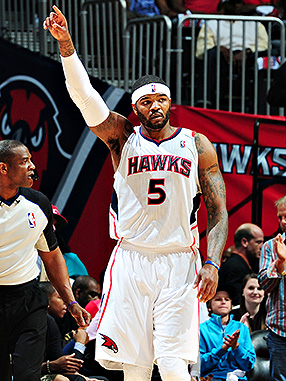 Scott Cunningham/NBAE/Getty ImagesHawks forward Josh Smith scored a playoff career-high 29 points to go along with 11 rebounds as the Hawks evened their series with the Pacers at 2-2.
9. Stat Check
James Harden committed 10 turnovers in the Houston Rockets' win against the Oklahoma City Thunder on Monday night, but he partly made up for that with five steals. The NBA began officially recording turnovers for individuals in 1977 and Harden is the only player since then to have at least 10 giveaways and five or more takeaways in a playoff game. In fact, only one player did that in a regular-season game in the past 16 seasons: Jason Kidd, who had two such 10/5 (turnovers/steals) games in January 2003.