1. Without Griffin, Clips Have Few Answers
LOS ANGELES -- Few athletes move with the combination of force and grace of Blake Griffin, which made it surreal to watch the Los Angeles Clippers power forward struggle through the ordinary task of pulling on a pair of charcoal slacks. Moments after the Clippers fell to the Memphis Grizzlies 103-93 in Game 5, Griffin's right ankle looked as if it had swallowed a grapefruit. He tried to steady his bionic frame so he could crawl into his pants, but it was a physical trial every bit as difficult as wrestling with Zach Randolph on the low block.
"I got treatment all through the night, but it didn't hold up," Griffin said. "It felt good enough at the beginning of the game today, but it kind of got worse as time went on."
Griffin suffered a high sprain of his right ankle during a scrimmage at the Clippers' practice Monday when he landed on a teammate's ankle. On Tuesday night, sources with close knowledge of Griffin's injury said unequivocally that the power forward would have never seen the floor had Game 5 been a regular-season game. After struggling through 20 minutes of action, Griffin checked out at the 5:39 mark of the third quarter and was declared out for the remainder of the game. He finished with four points.
The best evidence of the severity of Griffin's injury was Chris Paul, who typically maintains an equilibrium between shouldering the burden for the Clippers and sharing it. On Tuesday night, out of necessity, Paul traded balance for an all-out personal assault. He finished with 35 points (11-for-24 from the field, 11-for-11 from the line), but only four assists. With Griffin hobbled and most of the supporting cast ineffective, Paul's production couldn't match a Grizzlies team that's playing an efficient brand of basketball and now leads the best-of-seven series 3-2 with Game 6 scheduled for Friday in Memphis.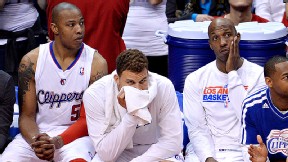 Jayne Kamin-Oncea/USA TODAY SportsAn ankle injury limited Blake Griffin to four points.
"We're running pick-and-rolls and different things," Grizzlies coach Lionel Hollins said. "If nothing's working, throw the ball into the post."
Therein lies the Grizzlies' luxury -- if nothing materializes out of the first or second offensive options in the half court, Memphis can always deliver the ball inside to Randolph or Marc Gasol, a blueprint they followed again in Game 5. When Griffin is healthy, the Clippers have a similar outlet down low, a guy who with a mere entry pass into the post can punish defenders. Without Griffin, the Clippers have little recourse, little to fall back on, especially if the bench is erratic and shots from the perimeter aren't falling.
The Grizzlies had no such problems. Randolph scored 25 points (11-for-21 from the field, 3-for-5 from the line), with Gasol chipping in 21 more (6-for-14 from the field, 9-for-9 from the line).
"Zach did an amazing job offensively," Gasol said. "He drove when he had to drive. He attacked the paint when he had to. He read every situation perfectly."
Memphis worked close to the basket Tuesday night, with Randolph manning his usual spot on the right block, while the Grizzlies dumped the ball repeatedly into Gasol on the left post, especially after intermission when the center scored 14 of his 21 points. The Grizzlies went in to Gasol four times in five possessions on the left block during a telling stretch in the opening minutes of the second half. Gasol breezed past Griffin and DeAndre Jordan for a pair of easy layups, drilled a turnaround jumper over Jordan, and hit a diving Randolph with a pinpoint pass out of the post, a rare bunny that Randolph couldn't convert.
Memphis' win was defined by its inside game -- nothing new there -- but point guard Mike Conley was a source of calm against Paul's relentless attack. There was a revealing exchange in the middle of the third quarter, when the Grizzlies solidified their lead. Paul flew coast-to-coast in transition for a wild, off-balance layup. Eight seconds later, Conley had raced the length of the court off Paul's made basket for a scoop shot of his own. Less spectacular, perhaps, but a devastating buzzkill for the Clippers, who promptly called timeout down nine.
"I've always grown with this team not trying to match the other guy, especially when he's capable of going for 40 any night," Conley said. "I'm not a guy who's going to try to get 40 on a team with so many guys. I just try to stay within myself and stay within the team game."
Conley has always been reliable, if a bit conservative. He's a low-risk, medium-reward point guard for a team that, as Hollins said, generally has a late shot-clock option down low. But when the Grizzlies could smell an enormous road win down the stretch Tuesday night, Conley kept his foot relentlessly on the gas.
The Clippers don't know whether Griffin can suit up and be effective in an elimination game in Memphis on Friday. If he can't go, Paul will have to unilaterally lead a smaller squad, play some hero ball, and hope he can drive-and-kick against an emboldened Grizzlies defense.
If that plan can't be executed in a hostile environment in Memphis, the Clippers face a devastating consequence. Despite stocking the bench with savvy veterans, getting 80 games from Griffin, winning 17 straight at one stretch, playing the league's elite teams mano a mano and selling out every seat in Staples Center for the duration of the season, the Clippers would've taken a step backward as a first-round casualty -- and a season that was supposed to complete the most aggressive rebranding in sports will be deemed a failure.
Dimes past: April 14 | 15 | 16 | 17 | 20 | 21 | 22 | 23 | 24 | 25 | 26 | 27 | 28 | 29

ESPN Staff Writer
NBA writer for ESPN.com since 2008
Former contributor and editor at NPR
2. Around The Association
| | | | | |
| --- | --- | --- | --- | --- |
| Memphis Grizzlies | 103 | FINAL | 93 | Los Angeles Clippers |
---
MVP: Every big man for the Clippers had their shot at stopping Zach Randolph, but no one could do it. Z-Bo's dominant post play and 10 points in the fourth quarter kept the Clippers at bay while Marc Gasol sat out with foul trouble.
X factor: Backup bigs. With Blake Griffin hobbled by an ankle injury that forced him out of the game, the Clippers' frontcourt stumbled with turnovers, poor defensive rebounding and a total inability to slow down Randolph or Gasol in the post.
That was … defensive: The Grizzlies sometimes struggle to hang on to leads, but the physicality and length of Quincy Pondexter and Tony Allen finally wore down Chris Paul, who scored just four points in the final frame.
| | | | | |
| --- | --- | --- | --- | --- |
| Golden State Warriors | 100 | FINAL | 107 | Denver Nuggets |
---
MVP: Denver led wire to wire, but Andre Iguodala turned his game up when things got close. He finished with 25 points, 12 rebounds and 7 assists, as well as a few major momentum buckets to keep the Warriors at arms' length.
X factor: Klay Thompson, Stephen Curry and Jarrett Jack all shot well, but they cooled off substantially from their torrid shooting in previous games. The trio shot 21-for-52, but missed a few major open looks that could have made the game just a bit tighter in the crunch.
That was … tense: Denver led by as many as 22 points before the Warriors went on a series of second-half runs to make crunch time tight. As elimination became a serious reality, though, the Nuggets produced just enough to keep Golden State at bay and live to see Game 6.
3. Tuesday's Best
Randolph
Zach Randolph, Grizzlies:
Z-Bo dropped 10 of his team-high 25 points in the fourth quarter as the Grizzlies moved one win away from eliminating the Clippers. With Blake Griffin leaving in the third quarter with an ankle injury, Randolph was able to take charge in the paint for Memphis.
4. Tuesday's Worst
Clips' supporting cast:
Lob City is lucky it had Chris Paul's 35 points to make things interesting, as no other Clippers starter scored more than six points against the Grizzlies. Jamal Crawford was L.A.'s only other player in double figures, with 15 points.
6. Tweet Of The Night
Memphis is the type of team to win a championship and no one will ever know. David Stern will not even know. Just a tough, tough team!!

— Metta World Peace (@MettaWorldPeace) April 30, 2013
7. Quote of the Night
"There were a couple, man. Going through the paint minding my own business and they come out of nowhere trying to throw elbows. I got a [target] on me, I don't know what it is, just got to keep playing and do your thing."
-- Warriors guard Stephen Curry, on the Nuggets' physical play in Tuesday's Game 5.
8. Bear Necessity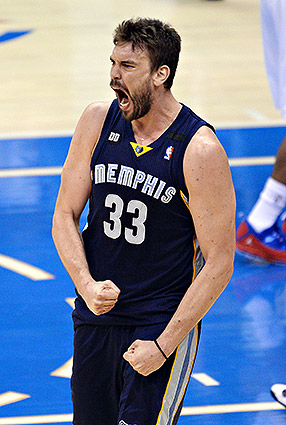 Jayne Kamin-Oncea/USA TODAY SportsMarc Gasol did his talking on the court Tuesday night, tallying 21 points and eight rebounds in Memphis' Game 5 win.
9. Stat Check
Curry
The Golden State Warriors' Stephen Curry is only the third player in NBA history to rack up 100-plus points and 40-plus assists through his first four career playoff games, joining Kevin Johnson and Oscar Robertson.