1. Undead, Again: Celtics Leave Knicks In Wake
NEW YORK -- The New York Knicks are guilty of an unconscionable mistake.
Forget what's on the interior pages of the scouting report, the details of sets and the tendencies and the advanced stats.
If there's one thing to hold dear, to write in giant letters on the grease board, to emphasize in huddles about the Boston Celtics, it is this: never, ever, ever assume they're dead. Ever. Not until Kevin Garnett is on the beach in Malibu, Paul Pierce is rolling craps in Vegas and Doc Rivers is playing golf in Orlando.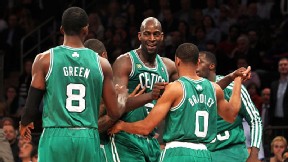 Brad Penner/USA TODAY SportsKevin Garnett led Boston's survivalist band.
Good grief, it has practically gotten to the point that the calling card of this era of Celtics basketball is not their 2008 title or defensive style that's been mimicked across the league, but their ability to come crawling out of the crypt season after season.
Heck, the Celtics' playoff runs over the past few seasons could double as a zombie movie franchise. They seem to lose more players to season-ending injuries than the entire AFC East. They finish the regular seasons about as well as the U.S. finishes Ryder Cups. And yet, season after season, they string together playoff comebacks like they're the heroes in a Disney movie.
So why -- why, oh why -- would a supposedly veteran Knicks team dare to even think they'd finished off the Celtics just because they had a home close-out game? We know they were thinking it because they told us with their words and their actions. In Game 5 Wednesday night they told us with their play in a 92-86 loss, which allows a possible series-evening Game 6 in Boston on Friday.
J.R. Smith was talking about golf plans on off days before the next series. Kenyon Martin was telling his teammates and the media -- which is telling the Celtics -- to wear black to the game because they were going to Boston's funeral. Coach Mike Woodson was even spotted at the Yankees game Wednesday night. Do you think Rivers has gone to any Red Sox games lately?
Forget those histrionics. After getting up 11-0 Wednesday, the Knicks acted like they were thinking about dinner reservations for the next two quarters. They stopped running their offense altogether, symptomatic of a lack of focus throughout the season, and settled into the Smith and Carmelo Anthony one-on-one fest that played right into the Celtics' hands.
Against a lesser team or a team without a résumé, perhaps this could pass for a confident group. Of course, since the Knicks haven't won a playoff series in a decade, it'd still be questionable. Nonetheless, this isn't the Milwaukee Bucks the Knicks are playing. It's the don't-kick-dirt-on-us Celtics.
More from ESPN.com
• Stein: OKC, we have a problem
• MacMullan: Revival of Celtics
• O'Connor: Panic in New York
• Doolittle: Lillard the clear ROY

"They came out, they talked," Garnett said. "We didn't do any talking; we put ourselves in this position, and we're scrapping."
Garnett has 52 rebounds over the past three games after getting 18 in Game 5. He played nearly 39 minutes on his 36-year-old legs, the most he's played in more than two months. He made a contested jumper in the final minute that clinched the game. This is how the Celtics play when they're down in a playoff series.
Jason Terry has 35 points and is shooting 50 percent since Smith bludgeoned him with an elbow in Game 3. He made five of nine 3-pointers a day after Smith blew Terry's championship experience off, saying "I don't even know who [Terry] is."
"I'm a 14-year veteran," Terry told the cameras moments after the game. "If you don't know who I am by now, you will after this series."
Terrence Williams wasn't even a Celtic until late February, when three players had gone down with season-ending injuries. He didn't even have a job in the NBA until then, but he played 17 crucial minutes at backup point guard -- and no, he's not a point guard. This is what the Celtics do -- figure out ways to steal games and extend series.
Rivers was stalking up and down the sideline throughout the game. In timeouts he approached individual players, locked eyes with them and barked challenges. His bench hasn't been playing well, so he just eliminated most of it, playing only seven players. When the game was in hand, he walked the length of the bench to high five each player and coach.
This is not the first time Rivers has been in this spot, and it's when he's done some of his best coaching. He's a Celtic. It's what he does.
"I just kept telling them, 'We are fine, we are good. Keep hanging in there,'" Rivers said. "Everyone wanted to be in the fight."
The Celtics, it seems by their recently history, really like to fight only after they've been giving a standing eight count.
The Knicks, however, are reasonably fortunate in all this. They got this lesson before it was too late. It's one thing to come back, and it's another to win the series. The Celtics pulled acts like this in the 2010 Finals and 2012 conference finals only to lose both in seven games. They are amazing at extending the drama, but they have not been experts at pulling it out.
There's a reason teams that have fallen behind 0-3 are 0-for-103 in pulling a comeback. The Celtics are just the 11th team to force a Game 6. The Knicks still have the 3-2 lead, and now they have the ability to draw on the humility that obviously was needed, given their actions leading up to Wednesday.
Their attitude and play have been unbecoming ever since getting a huge lead in Game 3 when Smith seemed to sour the karma with his flagrant flying elbow. Like the Celtics, the Knicks have the advantage of a long series giving them more chances. When they come back for Game 6 or, gulp, Game 7, it's a safe bet it'll be without the arrogance that's fed into this most recent Celtics' stay of execution.
They also have Anthony, who is due for a bounceback after two straight bad shooting nights. He was 8-of-24 in Game 5 and suffered what he said was a minor left shoulder injury after going 10-of-35 in Game 4. Anthony doesn't play three bad games in a row too often.
"We don't need to panic," Knicks veteran Jason Kidd said. "We have to relax and execute our game."
Dimes past: April 14 | 15 | 16 | 17 | 20 | 21 | 22 | 23 | 24 | 25 | 26 | 27 | 28 | 29 | 30
ESPN Senior Writer
ESPN.com NBA writer since 2010
Covered Cleveland Cavs for seven years
Author of two books
2. Around The Association
| | | | | |
| --- | --- | --- | --- | --- |
| Boston Celtics | 92 | FINAL | 86 | New York Knicks |
---
MVP: Kevin Garnett. The All-Star big man tied his season high with 18 rebounds and added 16 points, all while captaining a Celtics defense that held the Knicks to just 39.5 percent shooting from the field.
LVP: J.R. Smith. The sixth man of the year had a rough comeback after his one-game suspension. Smith missed his first 10 shots of the night and finished just 3-of-14 from the field.
X factor: 3-point shooting. The Celtics broke out of their shooting slump to hit 11 of 22 from 3-point range. Meanwhile, the Knicks struggled with their opportunities, knocking down just five of their 22 attempts from beyond the arc.
| | | | | |
| --- | --- | --- | --- | --- |
| Houston Rockets | 107 | FINAL | 100 | Oklahoma City Thunder |
---
MVP: James Harden. After turning the ball over 10 times in Game 4, Harden was back to his MVP form, going 7-for-9 from the 3-point line and leading Houston with a 31-point (on 16 shots!) explosion.
LVP: Scott Brooks. OKC's coach deployed a brutal Hack-an-Omer-Asik strategy midway through the fourth quarter instead of trusting his defense. Asik went 8-for-12 from the line during this painful sequence, and the Thunder failed to chip into Houston's lead.
That was … perfectly executed: Known for playing the percentages, Houston pulled off a perfect two-for-one at the end of the third quarter, with James Harden knocking down a quick 3-pointer and Aaron Brooks draining a floater as time expired.
| | | | | |
| --- | --- | --- | --- | --- |
| Atlanta Hawks | 83 | FINAL | 106 | Indiana Pacers |
---
MVP: David West had struggled in the series to this point, but he scored 12 of his 24 points in a second quarter that put the Pacers in front for good. The Pacers were noticeably nervous at the start, and West's veteran presence was invaluable.
Defining moment: With the Pacers trailing 31-28 in the second quarter, West went on a personal 8-0 run that gave Indiana a lead it would never relinquish.
That was … according to the script. The home team has won all five games, and all five games have been decided by more than 10 points. The styles of the two teams are so diverse, that whomever sets the tone wins easily.
3. Wednesday's Best
Harden
James Harden, Rockets:
The Beard isn't leaving that easily. Harden sank his first seven 3-point attempts while fighting through flu-like symptoms, and the Houston Rockets beat the Oklahoma City Thunder 107-100 to pull to 3-2 in their first-round playoff series.
4. Wednesday's Worst
Smith
J.R. Smith, Knicks:
Back from his one-game suspension for elbowing Jason Terry late in Game 3, he missed his first 10 shots and finished three of 14 for 14 points. His last 3 was an uncontested garbage-time shot at the buzzer.
6. Tweet Of The Night
Asik may not be the best Center in the league but he can compete with and or out play any center in the league.

— Metta World Peace (@MettaWorldPeace) May 1, 2013
7. Quote of the Night
"We were going to a funeral, but it looks like we got buried."
-- Knicks guard J.R. Smith, whose teammates were prepared to wear black to celebrate the demise of Boston after Game 5.
8. Sick Performance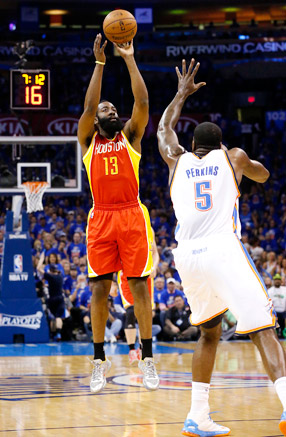 AP Photo/Sue OgrockiJames Harden overcame flu-like symptoms to score 31 points and keep Houston alive in its series with Oklahoma City.
9. Stat Check
The Boston Celtics were 17-for-17 from the foul line in Wednesday night's season-saving victory over the Knicks after they converted all 19 of their free throw attempts in the first game of the series. Boston is the first team in NBA history to have two perfect games from the foul line in one postseason.