1. Unconventional Finish Suits This Series
OAKLAND, Calif. -- These Golden State Warriors playoff series victories aren't the norm, so on those rare occasions it does happen, you know it will be unconventional.
Their triumph over the Denver Nuggets, completed Thursday with a 92-88 victory in Game 6, isn't as historic as their overthrow of the top-seeded Dallas Mavericks in 2007. That doesn't mean it lacked its share of quirks, including:
• A finish that featured more mishaps than the "Hangover" movies, when the basic tasks of inbounding the ball and advancing it past half court became too much for the Warriors. They bungled their way to 10 fourth-quarter turnovers, which allowed the Nuggets to trim an 18-point lead to a nerve-rattling two points.
• A center who was the first overall pick in the draft delivering a stat line of 14 points, 21 rebounds and four blocked shots, which prompted his own coach to say: "I didn't expect that."
• That same coach sending a player into the game who had been ruled out for the season with a torn hip flexor 12 days earlier, and admittedly running a play for him based on nostalgia for his New York roots.
Does any of that makes sense to you? Doesn't it sound more tapout than closeout, no way to win a playoff series?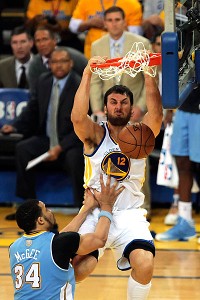 Kelley L Cox/USA TODAY SportsNo longer hobbled, Andrew Bogut soared for the Warriors.
Well, it just happened. There were 19,596 witnesses in the building to see it, and I've still got a headache from the noise they generated in response.
The Warriors are ushering in a new NBA era. And they might have ended George Karl's days as Nuggets coach in the process. They have lost in the first round nine times in 10 years. There have been extenuating circumstances, from Karl's bout with cancer that kept him off the bench at the end of the 2009-10 season to Danilo Gallinari's season-ending knee injury this year.
Still, nine first-round losses is nine first-round losses. This one particularly hurt, coming on the heels of a 57-win season that garnered the third seed against a playoff neophyte.
For Denver, it came down to two things: lost momentum and a bad matchup.
Once the Warriors took Game 2 with a breathtaking 65 percent shooting night, all they had to do was win three games in their own rowdy arena.
"Everything that we worked for 57 wins to get the third seed, we gave back by having a flat game," Karl said. "And that's on me."
He also should be held accountable for his team getting outscored 159-113 in the third quarters of the final five games of the series, which speaks to poor halftime adjustments.
And some of it was just bad breaks: including a blocking foul called on JaVale McGee when replays showed he was well outside the restricted area, or an out-of-bounds call that looked suspect even after it was reviewed.
The worst break of all might have been drawing the Warriors.
"They're the one team in the league that probably has the ability to run with us," Karl said.
The Warriors also had the one thing the Nuggets lacked: a star player they could count on to carry them to victory game after game. His name is Stephen Curry, and in Game 6 his moment came in the third quarter, when he drained four 3-pointers and wound up scoring or assisting on seven of the Warriors' 10 field goals. He finished with 22 points and eight assists in the finale, giving him an average of 24 and nine for the series.
A star coming through in the playoffs? That actually sounds conventional.
So was their stellar center play from Andrew Bogut. He displayed the passing skills and inside presence that reminded you why he was the first pick in the 2005 NBA draft, and he showed none of the effects of the injuries that had made you forget about him. The reason it caught Warriors coach Mark Jackson off guard is the most recent batch of injuries had kept Bogut off the court for 50 games this season and kept him in a mental dungeon.
"It was pitch-black for months," Bogut said. "I questioned a lot of things personally. Mentally, I was in a pretty bad place for a couple of months."
Perhaps that's why he seized this opportunity. He has been waiting for it longer than 10 of his teammates have been in the league.
David Lee had also served seven NBA seasons without winning a playoff series, and he was determined to get back in this one after suffering a hip injury in Game 1. He somehow went from finished to amazing, making enough progress for the Warriors to practically smuggle him onto the court, unannounced, for warm-ups, then insert him into the lineup in the first quarter.
And that's when the New Yorker in Jackson came to the fore, drawing upon the memory that has sustained the city's basketball fans through the past four decades of championship-less futility: an injured Willis Reed limping on the floor for Game 7 of the NBA Finals against the Lakers and hitting his first two shots to inspire the Knicks to victory over the Los Angeles Lakers.
"Not only did I put [Lee] in," Jackson said. "But I ran a play for him to get a shot. ... Just about where Willis hit his shot."
Lee missed his jumper, looked increasingly uncomfortable moving around, and had to come out after less than a minute and a half.
"Obviously, part of it was for inspiration," Jackson said.
More from ESPN.com
• Wilbon: Thibs out of miracles
• Haberstroh: Rest of Heat's story
• Sherwood Strauss: Nuggets end
• Elhassan: Now what, Denver?

• Doolittle: Kahn's good cupboard

The perspective from the other bench: "It was … weird," Karl said.
The Warriors are wonderfully weird. They won Thursday night despite the near-catastrophic finish. They won even though their second-year sharpshooter, Klay Thompson, shot 3-for-13. It helped that rookie Draymond Green hit 6 of 12 shots, then gave a very grown-up rationale for his team's success.
"All year we've put the work in," Green said. "Just grinding together. When you do that, times like that pay off in this moment."
That sounds so basic. It's more fun to think of the Warriors as a quirky group that won almost in spite of itself. Golden State will face the San Antonio Spurs in the next round, and the Spurs will demand the Warriors play grown-up basketball. For this night, the youngsters frolicked, and the rest of us felt like parents watching kids in the school play, savoring the pleasant surprises and glorious imperfections with equal joy.
Dimes past: 17 | 20 | 21 | 22 | 23 | 24 | 25 | 26 | 27 | 28 | 29 | 30 | May 1
ESPN Senior Writer
ESPN.com senior writer since 2007
Around The Horn panelist
Formerly at Los Angeles Times
2. Around The Association
| | | | | |
| --- | --- | --- | --- | --- |
| Denver Nuggets | 88 | FINAL | 92 | Golden State Warriors |
---
MVP: Steph Curry sparked the Warriors' big run, but Andrew Bogut put him in the position to do so. Playing like his younger, healthier self of Milwaukee yore, Bogut owned the paint on both ends of the floor with unmatched activity. He finished with 14 points, 21 rebounds and four blocks.
X factor: Curry got off to another slow start in this one, going just 1-of-6 from the field in the first half. His third quarter, though, changed everything. Curry poured in 14 points and doled out three assists in less than a seven-minute span, turning a one-point deficit into a double-digit lead.
Defining moment: After another careless Golden State turnover, Ty Lawson missed a shot at the rim and the ball went out of bounds with 11 seconds left. It was last touched by Wilson Chandler, and a pair of Jarrett Jack free throws made it a two-possession game from there.
| | | | | |
| --- | --- | --- | --- | --- |
| Brooklyn Nets | 95 | FINAL | 92 | Chicago Bulls |
---
MVP: The end of the game fell to Andray Blatche, a player whose potential has largely remained in the abstract. He was heartstoppingly up and down: a wild bank shot followed by a hesitantly bricked long 2-pointer, a missed free throw followed by two drained FTs.
X factor:
Yes, it's somewhat shameful that the Nets struggled against a illness-riddled team missing two starters, but a renewed Joakim Noah was enough to almost pull the Bulls through. His energy returned, Noah flew around the paint en route to a 14-15-5 line with five blocks.
That was … surprising: The easy pre-series joke was that Brooklyn-Chicago would be an all-around bummer due to the slow paces and inconsistent offenses found in both teams. But the water's begun to boil over the past few games, everything coming down to the wire.
3. Thursday's Best
Bogut
Andrew Bogut, Warriors:
He has come a long way from the poor guy who sustained a broken hand, dislocated elbow and sprained wrist three years ago. Bogut was indispensable in the Game 6 closeout of Denver, posting season-bests and career playoff-highs of 14 points and 21 rebounds along with five blocks.
4. Thursday's Worst
Brewer
Corey Brewer, Nuggets:
Coming off a 1-for-11 shooting performance in Game 5, Brewer picked up where he left off in Game 6, missing all five 3-point attempts en route to a two-point scoring night. The needless foul at the end of the first half pretty much sums it up.
6. Tweet Of The Night
The team nobody wanted to play won exactly 2 playoff games.

— Chris Palmer (@ESPNChrisPalmer) May 3, 2013
7. Quote of the Night
"It's very emotional for me because I've had a nightmare of a year."
-- Warriors center Andrew Bogut, who spent most of the season rehabbing his left ankle.
8. Brooklyn, Here We Come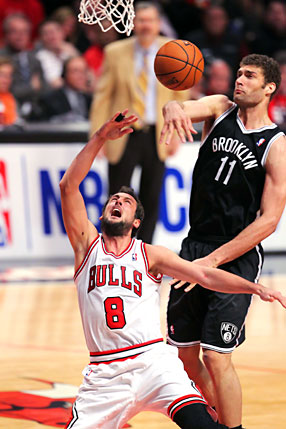 Dennis Wierzbicki/USA TODAY SportsBrook Lopez and the Nets managed to hold off a game effort from Marco Belinelli and the ailing Bulls.
9. Stat Check
Evans
Reggie Evans pulled down 15 rebounds for the Brooklyn Nets while playing a little more than 29 minutes in Brooklyn's Game 6 win at the Chicago Bulls. That's the lowest minute total by a Nets player who grabbed 15 or more rebounds in an NBA playoff game. Kenyon Martin recorded 15 or more rebounds in 35 minutes twice: against the Bucks in 2003 and against the Knicks a year later.
Evans and Andray Blatche, who split the power-forward minutes for Brooklyn on Thursday, combined for 22 rebounds between them. And while Blatche added 10 points -- including two key free throws with 32 seconds remaining in the game -- Evans was truly a rebounding specialist. In fact, his total of 15 rebounds was the highest in NBA playoff history by a player who had no field goals, no assists, no steals and no blocked shots in that game. (The league started recording rebounds in the 1950-51 season.)