1. Uncertain Futures For Celtics' Legends
BOSTON -- In a quiet locker room, Paul Pierce and Kevin Garnett sprawled on training tables in their uniforms with no treatments left to do. Eventually, after many long minutes, they dragged themselves to the showers without a word.
They sat on the bathroom sinks as the emotions started to come forth, the booming sound of Garnett's voice spewing curse words that echoed off the bathroom walls signaling the shift. They were not talking about the future -- which is what everyone was wondering -- they'd made an agreement with coach Doc Rivers not to discuss such matters with emotions still raw.
But the present wasn't much fun to think about, either. Finally, the longtime teammates headed down the hall where the past offered some comfort, as photos of Red Auerbach, Larry Bird, Bill Russell and themselves littered the walls. Then they walked out of TD Garden together, the way they have been for six long years now.
Friday night, those two esteemed NBA graybeards played in their 100th playoff game since joining up in that league-altering summer of 2007, when Garnett and Ray Allen arrived by blockbuster trades to join Pierce and establish the Eastern Conference's big brother.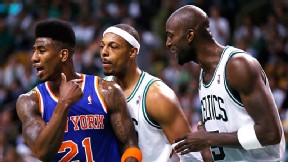 David Butler II/USA TODAY SportsIs this the end of Paul Pierce and Kevin Garnett in Boston?
There's now going to be something missing for the rest of these playoffs. No more Sunday afternoon blimp shots of Boston's North End with the Garden framed by the Bunker Hill Bridge in the spring sun. No more Dropkick Murphys' "Shipping up to Boston" rattling the parquet floor. No more of PA announcer Eddie Palladino bellowing "Kevin Gahhrnett" in conjunction with the organ after a turnaround fourth-quarter jumper.
That's because the New York Knicks sent the Boston Celtics home with an 88-80 Game 6 win to clinch the first-round series 4-2. It was a game that felt like it might be a dud, then might be historic, then finished with a whimper. In other words, just your average playoff game this year.
It's natural to wonder if that's it for the Garnett-Pierce partnership. As is well known, Pierce's contract is not guaranteed for next year. Garnett's is, but it's unclear whether his heart or body will be after an 18th season, especially if Pierce is elsewhere. Those will all be big topics over the next six to eight weeks.
"There's a different day for that conversation," said Garnett after scoring 15 points and 10 rebounds in 41 minutes. "Our emotions right now are very strong, very strong."
The immediate feeling, though, was that a shift in the East is now complete. For the first time since 2007, the Celtics didn't make it to at least the second round. They are no longer a team to be reckoned with, especially without Rajon Rondo. The Knicks were the favorite and they were better, and that is now quite plain.
"Obviously, we lost to a better team," Rivers said, his team's comeback from 3-0 down in the series and nearly from 26 points down Friday night only delaying reality. Even if it was an entertaining delay that allowed a few more nights for the old Celtics to hang around.
It was the first time in 13 years the Knicks had won a series, an accomplishment that should not be taken for granted. They flat-out beat the battered and overmatched Celtics, though they had to work harder than they probably should have. It isn't yet clear if the extra energy they had to outlay because of some lost focus will hurt them in the next round.
A win, however, is a win. The Knicks aren't to the point yet where their postseason victories should be evaluated with style points. Carmelo Anthony hardly led them home while riding a white horse down the court. He shot a creaky 25-of-82 (30 percent) over the final three games of the series. He missed 20 straight 3-pointers before he finally made one in the final two minutes.
But that one was a big one, ending a desperate Celtics run that saw them trim 20 points off a huge Knicks' lead. For that, he earns the right to exhale for 48 hours or so.
"It's a big relief for myself," Anthony said of getting out of the first round for just the second time in his career and his first time with the Knicks. "It's something the organization has been looking forward to, something the city of New York has been looking forward to."
That sounds like hyperbole, but it still seemed to feel true. If all can agree Spike Lee is a reasonable representative of the long-suffering Knicks fan, it sure looked like a cathartic night. Lee danced with glee from his courtside seat as the Knicks dominated the first three quarters before hanging on while the Celtics tried once again to deny commons sense and extend the series.
The Knicks' attitude Friday was the inverse of their performance in Game 5. They played with excellent focus for three quarters, especially at the defensive end. They did not rely on Anthony to bail them out of possessions as much -- which was good because he shot just 7-of-23 -- and got a well-rounded offensive effort.
It was a professional performance, the favorite executing and eliminating the competition and advancing without looking back.
We're used to seeing the Celtics and Knicks in games like this. But now, after years of the Celtics getting older and less potent and the Knicks of building through trades and signing veteran after veteran, they'd finally reversed roles.
"It's a small step but a giant step," said Knicks center Tyson Chandler, who had 12 rebounds. "We've got to grow from it."
Dimes past: 17 | 20 | 21 | 22 | 23 | 24 | 25 | 26 | 27 | 28 | 29 | 30 | May 1 | 30 | 2
ESPN Senior Writer
ESPN.com NBA writer since 2010
Covered Cleveland Cavs for seven years
Author of two books
2. Around The Association
3. Friday's Best
Martin
Kevin Martin, Thunder:
Martin's 25 points in 40 minutes "off the bench" were exactly what the Thunder needed in a series-clinching win over the Rockets. With Kevin Durant doing his usual share with 27 points, Martin excelled as a second option, knocking down 7 of 13 shots with an 8-for-8 clip from the free throw line.
4. Friday's Worst
The Last Of Lob City:
The best season in Clippers history has come to a crashing halt, as the Grizzlies took care of business at home. Despite 30 points from Matt Barnes and 28 from Chris Paul -- whose potentially final game with L.A. ended in a late ejection -- the Clippers get to join their Hollywood counterparts on the golf course.
6. Tweet Of The Night
Joey Crawford: "You get a T! And you get a T! And you get a T!"

— Arash Markazi (@ArashMarkazi) May 3, 2013
7. Quote of the Night
"He's done so much for this franchise. We live in a day and time where guys change teams like socks. Paul has chosen to stay here throughout his career when he could have by all rights chosen to leave. He wanted to get it done here. I hope he's remembered for that. I hope he comes back."
-- Celtics coach Doc Rivers, on Paul Pierce, who has spent his entire 14-year career in Boston.
8. Spike Likes It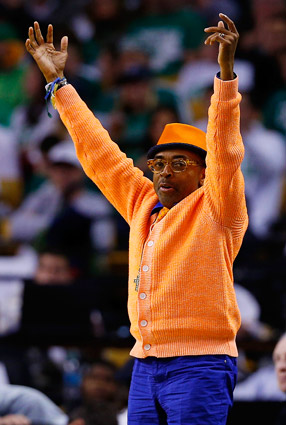 Jim Rogash/Getty ImagesThe Knicks, yet again, made it interesting down the stretch. But Spike Lee and New York fans everywhere can breathe easy now that the Knicks are off to the second round.
9. Stat Check
Durant
Kevin Durant scored 27 points and Kevin Martin added 25 off the bench (21 in the first half) as the Thunder dispatched the Rockets 103-94 in Houston. Durant's scoring is all too easy to take for granted -- it was his 32nd straight playoff game in which he scored 20-plus points -- but Martin had scored just three points, making 1 of 10 field goal attempts, in the Thunder's home loss in Game 5.
Martin became just the fifth player in NBA playoff history to score 25 or more points and eliminate a team for which he had played the previous season on its own home court. In 1957, Slater Martin of the St. Louis Hawks had 26 in a double-overtime victory at Minneapolis to eliminate the Lakers; 10 years later, Jeff Mullins of the San Francisco Warriors scored 26 points at St. Louis to send the Hawks home (both of those games came in the Western Division finals).
Then, in 1976, the Celtics' Charlie Scott scored 25 points in the climactic Game 6 of the NBA Finals at Phoenix; and in 2005, Steve Nash's 39 points helped the Suns to eliminate the Mavericks in overtime, in Dallas, in the conference semifinals.