1. With Reason To Crumble, Bulls Stand Tallest
NEW YORK -- John Paxson's face was red with emotion as he stepped out of the Chicago Bulls locker room moments after his team had pulled off the most remarkable feat yet in this postseason.
In the hallway the Bulls' president met his former teammate Steve Kerr, who had just called the game for TNT. Between the two of them, they've slipped on six championship rings playing for the Bulls and celebrated dozens of playoff victories, many with much more on the line than the game they just witnessed. But even as sidekicks to the great Michael Jordan, Paxson and Kerr never pulled off what the current Bulls did Saturday night.
"That was one for the ages," Kerr told Paxson.
The Bulls won a road Game 7, overcoming the loss of two starters (not including Derrick Rose) to stun the heavy favorite Brooklyn Nets, 99-93. It was the first time in the Bulls' long, storied history they'd ever done it, and they did it under outrageous circumstances.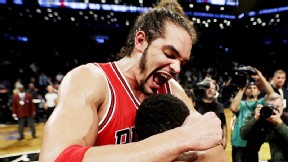 (AP Photo/Julio CortezJoakim Noah predicted this would happen.
"Of course, we never played a Game 7 on the road," Kerr accurately pointed out.
Details, details.
It had to seem like every time Paxson's phone rang in the past few days it carried bad news. All-Star Luol Deng was in a hospital until late Saturday because a spinal tap he needed to test for meningitis went poorly and caused him to have debilitating headaches. Deng was hopeful to somehow play in Game 7 but instead he was getting what the Chicago Tribune described as a "blood patch" to stop him from leaking spinal fluid.
Kirk Hinrich tried to overcome a nasty calf injury, going out before the game to test it as members of the Bulls' front office and trainers watched with sick looks on their faces, knowing he couldn't. He was scratched.
Here was Game 7 of a playoff series -- the height of drama any team can experience -- and the Bulls were dealing with spinal taps, blood patches, hellacious muscle pulls and still healing ACLs.
Outwardly, the Bulls said they believed they could still win. They were playing a Nets team that had accomplished nothing, and that had to leave a door open in their minds. But human nature compels one to start to prepare for the reality that the situation did not favor a good outcome. It had already cost the Bulls Thursday's Game 6, when the injuries were too much to overcome.
Joakim Noah didn't accept that, and wasn't afraid to put himself out there with it.
"We're a team of fighters," Noah said immediately after the Bulls lost Game 6 and surely seemed destined to lose the series. "We're going to go into a hostile environment in Brooklyn and we're going to win."
Noah then arguably played one of the greatest playoff games in Bulls history Saturday night. That's a long catalog filled with untouchable Jordan moments, but what Noah gave belongs somewhere on the list, even if it's down the page.
Two weeks ago, Noah wasn't even sure he could play in the series because of a nasty case of plantar fasciitis that had dogged him for months. He played 13 minutes in Game 1 and was so miserable he hinted that might be the last he was to be seen. In Game 7, he played 41 minutes and scored 24 points with 14 rebounds and six blocks on that foot, which he got into playing shape with an array of treatments performed by a small legion of doctors, trainers and other sorts of healers.
Noah totally outplayed All-Star counterpart Brook Lopez -- who had given the Bulls problems throughout the long series -- blocking Lopez five times and scoring over him again and again.
He bookended the performance expertly, taking the lead to settle and inspire his teammates by scoring 10 points with five rebounds in the first quarter to get them off to a lead. Facing tough odds on the road, that was vital. The Bulls actually never gave up the lead they took in the opening moments of the game.
Then Noah was vicious in the fourth quarter to close it out, grabbing eight rebounds over the game's last 10 minutes. The Nets just could not get anything going at the rim with Noah there to protect it. They went just 7-of-23 shooting in the fourth quarter as they often took the easy way out away from Noah and hoisted low-percentage 3-pointers.
When it was over, Noah roared into the air and flexed his muscles in the victory repose fans have gotten used to seeing since his days at the University of Florida. Then he went and embraced family members in his hometown, sharing the huge achievement with them.
"Before this series I didn't know I would be able to play, I could barely walk," Noah said. "To be able to win a Game 7 like this in front of my family in Brooklyn, I mean, I'll remember this for the rest of my life."
It was a first-round series clincher, which doesn't rank all that highly on the achievement scale, especially considering the Bulls were in the conference finals just two years ago with many of the same core players. But with everything the team has been through in the past week -- and the past year -- it felt like the Bulls had just made their entire season with this inspired night.
"Our team has shown resiliency all season," Bulls coach Tom Thibodeau said. "I see them every day, I know they have the belief."
Thibodeau famously is a man who pays way more attention to actions than odds, and that personality has never been more on display than in this series. It might have been a matchup of a No. 4 seed against a No. 5 seed, but when looking at the rosters, it didn't seem anywhere close to it.
Even after the Bulls had stormed to a 3-1 series lead with pure grit, they still managed to find underdog status because of the mid-series losses of Hinrich and Deng, two vitally important players who had inexperienced or unproven backups.
Which is why Paxson was taken in by the moment.
He'd led a rebuild of the Bulls' bench in the offseason as they slashed payroll. The players he brought in all proved hugely valuable in Game 7. Second-year pro Jimmy Butler played all 48 minutes, rotating defensively between Joe Johnson and Deron Williams. Free agent pickups Nate Robinson and Marco Belinelli, the latter of whom played one of the best games of his career with 24 points starting in Deng's place, played enormous roles.
Even rookie point guard Marquis Teague, pressed into service because of the Hinrich injury, played beyond his years. He held his own for six minutes in the fourth quarter, a rookie playing in his first Game 7.
When they all calmed down, the Bulls headed to the airport, where a flight plan to Miami had been filed. It's hardly a reward to advance to play a team that is 41-2 in its past 43 games and had a week off while the Bulls just had the battle of their pro careers.
"We were in the locker room, everybody's got ice, everybody is tired, it is unbelievable to share these moments," Noah said. "I'm very excited to face the Heat; you want to play against the best. This is what it is all about, playing against the defending champs. It's going to be a war."
Dimes past: 17 | 20 | 21 | 22 | 23 | 24 | 25 | 26 | 27 | 28 | 29 | 30 | May 1 | 30 | 2 | 3
ESPN Senior Writer
ESPN.com NBA writer since 2010
Covered Cleveland Cavs for seven years
Author of two books
2. Around The Association
| | | | | |
| --- | --- | --- | --- | --- |
| Chicago Bulls | 99 | FINAL | 93 | Brooklyn Nets |
---
MVP: Joakim Noah said his foot was feeling better, but plantar fasciitis doesn't just go away. Still, he played through it and backed up his pregame victory prediction, collecting a massive 24-14 line and bailing out the Bulls offense over and over with timely rebounds.
LVP: Joe Johnson. Yes, his leg was hurt, leaving him no more than a decoy by his own words. But Brooklyn's highest paid player had a brutal outing, missing 8 of his 9 3-point attempts, including several in the game's waning moments when the Nets were battling back.
That was... gritty: It came down to talent versus coaching. The immensely depleted Bulls grounded out a win by sticking to their defensive game plan and wringing offense out of the unlikely Marco Belinelli/Nate Robinson backcourt. Tom Thibodeau deserves his contract, to put it lightly.
3. Saturday's Best
Noah
Joakim Noah, Bulls:
Nobody stood taller than the guy with a foot injury. Noah went 12-for-17 from the field en route to 24 points, 14 rebounds and six blocked shots in the Game 7 win over the Brooklyn Nets.
4. Saturday's Worst
Johnson
Joe Johnson, Nets:
The return on investment was not high in Johnson's first season in Brooklyn. Playing through the plantar fasciitis did not work out for JJ, who went 2-for-14 from the field en route to six points.
6. Tweet Of The Night
Don't really buy this "Nets a player away" talk. Mismanaged, overpaid at almost every spot, coach a question. Needs more than a tweak.

— TrueHoop (@TrueHoop) May 3, 2013
7. Quote of the Night
"I'll remember this for the rest of my life."
-- Bulls center Joakim Noah, after his short-handed team beat the Nets in Game 7.
8. The Winning Arc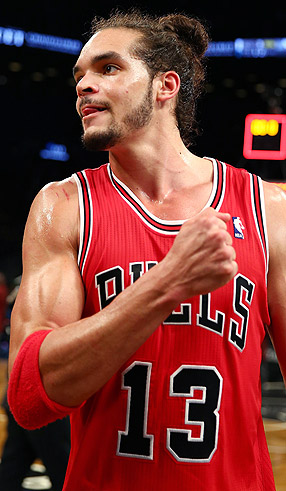 Elsa/Getty ImagesAfter carrying his Chicago Bulls team to a Game 7 win, Joakim Noah now will put his considerable energy toward the defending champion Miami Heat.
9. Stat Check
Joakim Noah is just the fifth player in NBA history with 20 points, 10 rebounds and 5 blocks in a Game 7 win.
Noah is the second player in NBA history with at least 24 points, 14 rebounds and 6 blocks in a Game 7 (blocks became official in 1973-74). The other was Elvin Hayes in 1979 against the Spurs.