1. Knicks Favored? Might Be Time To Fix Outlook
NEW YORK -- By late Sunday afternoon sportsbooks in Las Vegas and online had the New York Knicks as roughly 2-to-1 favorites over the Indiana Pacers to reach the Eastern Conference finals. ESPN's panel of NBA experts (including this writer) also picked the Knicks, if by a slightly narrower margin.
Perhaps those viewpoints need an adjustment after the Pacers' 102-95 Game 1 victory.
That's not to say the series is cast, it's rarely prudent to make generalizations after a series opener. Just look back two weeks to the playoffs-opening weekend when all eight home teams won Game 1, most of them in blowouts, and yet there ended up being six Game 6s.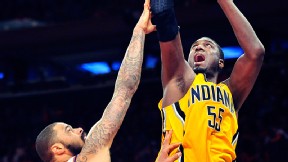 Joe Camporeale/USA TODAY SportsRoy Hibbert and the Pacers dominated the boards.
No, the impression the first meeting left was that this series is going to be significantly more challenging for the Knicks than they thought. Than apparently many people thought.
"We learned a little bit about ourselves this afternoon," Knicks veteran Jason Kidd said. "At this level you have to be ready and we weren't."
Let's start with the basics: The Knicks are in a precipitous offensive slump right now. And the Pacers are the exact wrong team to play when you're in an offensive slump.
There was a fair amount of celebrating and self-congratulating done by the Knicks when they finally disposed of the Boston Celtics on Friday night. Getting out of the first round for the first time in 13 years, that was to be expected and in some ways it was deserved. It's not accusatory as it is reality.
But here's another reality: the Knicks were pretty bad offensively against the Celtics. They didn't crack 90 points in any of the six games. That was the longest such streak to start the postseason since the invention of the shot clock.
It was nice for Carmelo Anthony to carry the Knicks to the next round and he did. But he's now mired in a four-game shooting slump that has reached 35-of-110 when figuring in his 10-of-28 showing in Game 1.
It is not a good time for someone to explain how they gave Anthony the lone MVP vote that prevented LeBron James from being the first-ever unanimous winner as the league announced the award on Sunday afternoon.
"I'll take that vote," Anthony said after the game.
More relevant than that little controversy, there's the issue of Anthony's left shoulder injury. He suffered it last week when Kevin Garnett pulled his arm south while the rest of Anthony's body went north, and it's slowly starting to sound and look more serious. Anthony described it as "popping out" in Game 6 against Boston. On Sunday he wore a brace hidden, under a wrap, to help hold his shoulder in place.
Apparently, this did not escape the Pacers' game plan. Knicks guard Raymond Felton went so far as to accuse the Pacers of purposely going after Anthony's wounded limb.
"They are really being physical with Melo; they are banging him and hitting him," Felton said. "They are going at his shoulder."
Perhaps equally interesting, Knicks coach Mike Woodson said after the game that he planned to use practice before Tuesday's Game 2 to work on some offensive plays with Anthony playing small forward. The Pacers' excellent rebounding -- they are No. 1 in the league and crushed the Knicks 44-30 in that category in the opener -- forced Woodson to play Tyson Chandler and Kenyon Martin together in Game 1 and hinted that would happen more in Game 2. Defensively, Anthony had trouble with Pacers' power forward David West as well.
The Knicks were a less effective offensive team this season when Anthony didn't play power forward, which explained their struggles when Amar'e Stoudemire was healthy and trying to squeeze in between Chandler and Anthony. There's a bunch of data that supports all that but let's just boil it down to this: When the Knicks play smaller with Anthony at the power forward they can put another good shooter on the floor and they are at their best when they have more shooters out there.
This adjustment is pretty much a central reason Anthony had the best season of his career and won the scoring title. The difficulty of playing against the Pacers' size may force the Knicks to back off their pet strategy a bit. Especially if the officials allow the Pacers to be physical, which they certainly did in Game 1.
"They're a bigger team," Anthony said. "We've done beat them with me at [power forward] and we done lost to them with me at [power forward]. I don't want to panic, we'll make our adjustments."
There's more than just Anthony keeping the Knicks in an offensive funk. J.R. Smith is 12-of-42 shooting since he elbowed Jason Terry in Game 4 of the Celtics' series. He was so bad Sunday shooting 4-of-15 that he went to his Twitter account to refute rumors that he was hung over from a night of partying.
Meanwhile, Kidd hasn't made a basket or scored a point in five games now and Steve Novak's back is so locked up he hasn't been able to play in the past 2½ games. Combined with Smith's issues, the Knicks' vaunted 3-point attack is currently on hiatus.
About the only thing the Knicks have had going for them recently is Felton's penetration game and he was, by far, their best option Sunday. But he took just four shots in the second half while Anthony put up 15.
In addition to their rebounding acumen, the Pacers were also the NBA's best defensive team in the regular season. Not only were they great at defending the 3-pointer, they were good and not allowing attempts. They held teams to a league-low 16 3-point attempts per game. The Knicks averaged a record-setting 29 3s a game. Sunday they got up just 19.
"We were the best in the league at defending the 3-pointer and defending the paint," Pacers coach Frank Vogel pointed out. "The last team to do that was the 2007[-08] Celtics."
Vogel's nature is to be a font of confidence, and those numbers are like catnip for him. Also the Pacers are on a bit of a defensive hot streak. They held the Atlanta Hawks to 33 percent shooting over the past two games of the previous series and the short turnaround clearly favored them as they carried it right over.
Ultimately, there was a reason the Knicks ended up with a better record and the higher seed than Indiana. It's questionable whether the offensively challenged Pacers will have another game in which they crack 100 points and get six players in double figures as they did in Game 1.
Lance Stephenson played one of the games of his life in his hometown, scoring 11 points with 13 rebounds and three steals. D.J. Augustin had the best playoff game of his career with 16 points in just 13 minutes. Roy Hibbert, their highly paid interior defensive ace, made more shots than he missed, which is a bit of an outlier if you look at his season-long shooting numbers.
But it's not variables that were most telling, it was those constants. The Knicks are no longer playing the beat-up Celtics and there are no dreams of getting up 3-0 in this series so they can get away with a few games of average play. They are very likely in for a fight, a message the Pacers landed hard.
"There are things we need to clean up," Woodson said. "We have to give a better effort across the board for us to get out of this series."
Dimes past: 17 | 20 | 21 | 22 | 23 | 24 | 25 | 26 | 27 | 28 | 29 | 30 | May 1 | 2 | 3 | 4
ESPN Senior Writer
ESPN.com NBA writer since 2010
Covered Cleveland Cavs for seven years
Author of two books
2. Around The Association
| | | | | |
| --- | --- | --- | --- | --- |
| Indiana Pacers | 102 | FINAL | 95 | New York Knicks |
---
MVP: The numbers weren't gaudy (14 points, eight rebounds, five blocks), but Roy Hibbert's defensive presence -- steady, sturdy, almost always straight up -- made life miserable for the Knicks, who shot a measly 13-for-30 at the rim.
X factor: D.J. Augustin's 16 points (including 4-for-5 from 3-point territory) served quick notice that Indy's much maligned bench may have some life still. The Knicks continually left Augustin alone on the perimeter, and he made them pay time and again.
That was … tone-setting: After a shaky start, the Pacers quickly regrouped, forcing the Knicks into a slow, half-court slog, allowing Indy's solid shooting (49 percent on the day) and offensive rebounding (11) to stifle would-be Knick runs time and again.
| | | | | |
| --- | --- | --- | --- | --- |
| Memphis Grizzlies | 91 | FINAL | 93 | Oklahoma City Thunder |
---
MVP: Memphis' game plan was to let Kevin Durant get his while the defense shut everyone else down. It almost worked, but Durant is simply too good. OKC's last star standing put up a blistering 35 points, 15 rebounds and 6 assists ... and canned the game winning jumper with 11 seconds to play. Sublime.
X factor: Kevin Martin. Although Memphis kept most of OKC's starters in check, they also had a bit of a thorny time keeping track of Martin. OKC's best-in-the-west sixth man had 25 points on just 14 shots in his first second round playoff game of his career. The Thunder couldn't have stolen this game without Martin.
That was … exhilarating: While the first quarter was remarkably dull, the final three quarters were incredible. And the last five minutes of the game were played within a three-point margin. One of the best games of the playoffs to date, and a fitting start to what promises to be an excellent series.
3. Sunday's Best
Durant
Kevin Durant, Thunder:
Durant, with a little help from Derek Fisher, saved the Thunder from a Game 1 defeat at home. KD put up some video game numbers in Oklahoma City -- 35 points, 15 rebounds, 6 assists -- but none were bigger than his go-ahead jumper with 11.1 seconds remaining.
4. Sunday's Worst
Pondexter
Quincy Pondexter, Grizzlies:
With the Thunder up by three with one second remaining, Pondexter went to the line for three shots after drawing the foul on a potential game-tying 3-pointer. He missed the first, and OKC hung on for the 93-91 win.
7. Quote of the Night
"I just wanted to get it up the floor as quickly as possible and find a shot. It was the only shot I could find, and by the grace of God it went in."
-- Kevin Durant, on his go-ahead jumper with 11.1 seconds remaining in OKC's Game 1 win.
8. Fourth Dimension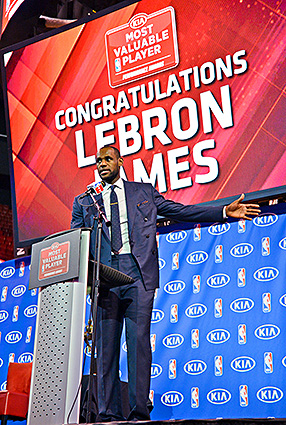 Jesse D. Garrabrant/NBAE/Getty ImagesIn case you forgot about LeBron James, whose Heat host the Bulls on Monday night, the now-four-time MVP gave a reminder with his latest piece of hardware.
9. Stat Check
The New York Knicks have never won a playoff series after losing Game 1 at home -- they're 0-5 in those series. Coincidentally, the last time they lost a Game 1 at home was also against the Indiana Pacers in the Eastern Conference semifinals -- in 1995.