1. Warriors Get A Painful Education From Spurs
SAN ANTONIO -- As of the early minutes of Tuesday morning, after a game that started during prime time on Monday night, the Golden State Warriors can't blame anything else on the novelty of their first postseason run together. The playoff novices went through an entire postseason's worth of drama and heartbreak in this double-overtime teaching session of a series opener. They ran the gamut of so many clutch shots and defensive breakdowns that they're now qualified to teach a seminar themselves.
The problem for them is that the San Antonio Spurs already started with an extra hard drive's worth of playoff memory compared to the Warriors, and they just might have figured out some key tactical adjustments they can take with them for use in the rest of the series -- in addition to the 1-0 lead they gained by virtue of their 129-127 victory.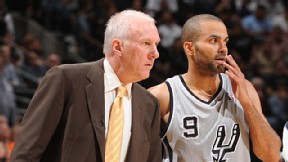 Andrew D. Bernstein/Getty ImagesThe Warriors still have a lot to learn. Gregg Popovich and Tony Parker could teach the course.
This game gave you everything. The superstar performance of Stephen Curry, who rode another big third quarter to a 44-point, 11-assist night. The mega-comeback of the Spurs, who trailed by 16 points with four minutes remaining in the fourth quarter. And big shots galore, including a 3-pointer by Danny Green, a go-ahead layup by Kent Bazemore (hold on -- yes, that's the proper spelling) and finally the game-winning rainbow 3-pointer by Manu Ginobili.
For every large moment there was a subtle tweak, a fascinating back-and-forth of strategies and adjustments between Warriors coach Mark Jackson and his Spurs counterpart Gregg Popovich, until Popovich finally hit on something that turned the game in his favor and will be the matchup to watch from here: Kawhi Leonard defending Curry, with help coming early.
Curry did the bulk of his damage (which included a scintillating 22 points in the third quarter) against Tony Parker and Cory Joseph. And even when the Spurs initially switched the 6-foot-7 Leonard onto Curry, Curry succeeded by mesmerizing Leonard with the dribble before blowing past him for layups. But the Spurs straightened that out during a timeout and brought the secondary defender sooner. That adjustment and the fatigue Curry felt from playing 58 minutes caused Curry to miss seven of his final nine shots in the fourth quarter and the overtimes.
"It's tough to shoot over [Leonard]," said Curry, who also thought the Warriors became too stagnant and predictable in their offense. "You've got to create space. I could go by Kawhi, but they had help on the backside."
Another adjustment the Spurs made? They started playing like the Spurs. Through three quarters Parker and Ginobili shot a combined 7-for-25, while Boris Diaw, who got the start in his first playoff action after recovering from a cyst removal from his spine, didn't have a point or a rebound.
But Parker returned to his driving, spinning ways to score 16 of his 28 points in the game's final 24 minutes, Diaw made a 3-pointer to tie the score midway through the first overtime (in addition to engaging Popovich in some productive strategy talks) and Ginobili hit the game-winning 3-pointer.
And they did it even though a flu-ridden Tim Duncan spent the crucial minutes of the game anchored to the bench on Popovich's command.
"From the fourth quarter on we looked like a team that realized we were in the playoffs and it was going to be physical," Popovich said. "We looked like we were looking for answers, I thought. In the end we finally woke up."
In the process, the Spurs made it tough for the Warriors to get to sleep after the game.
The Warriors came in with nothing to lose -- they were the underdogs and embraced. Now there's a tangible sense of loss. They had this game, a 1-0 lead and the opportunity to win this series through nothing more than winning three home games all within their grasp. They emerged as empty-handed as "Game of Thrones" ' Daenerys Targaryen without her dragons.
It's the second consecutive game in which the Warriors have been too careless with a large lead in the late stages. They got away with it in Game 6 of the first round against Denver, when an 18-point lead dwindled down to two before the Warriors prevailed. They didn't escape this time.
"You've got to address it," Curry said. "That should be a guaranteed win if you take care of what you need to take care of. At some point it's something we're doing wrong that allows them that momentum and the opportunity to make it a game.
"The sense of urgency right now is huge."
And the time for recovering and implementing is short. Game 2 is Wednesday. The Warriors are younger, but Popovich has a deeper bench at his disposal.
Jackson's thinner options were revealed when Klay Thompson fouled out. Thompson had done an excellent job defending Parker and, along with Harrison Barnes, had gone at the smaller Parker at the other end to Golden State's advantage. After he was gone, Jackson had to turn to Richard Jefferson, who played only three minutes in two previous games, and Bazemore. Jefferson missed two free throws and Bazemore didn't have Curry's trust enough to draw a pass at the end of regulation. But Curry did find Bazemore for the go-ahead basket with 3.9 seconds remaining in double overtime.
That only turned out to be a prelude to Ginobili, who was left wide open after two Warriors followed Parker as he broke toward the inbounder. Another youthful mistake.
"We are a young basketball team that will be better at the end of the day for playing against the San Antonio Spurs," Jackson said.
In the long term, yes. At the moment, the Warriors are worse off, down a game in the series, forced to be the ones to adjust.
Dimes past: April 21 | 22 | 23 | 24 | 25 | 26 | 27 | 28 | 29 | 30 | May 1 | 30 | 2 | 3 | 4 | 5
ESPN Senior Writer
ESPN.com senior writer since 2007
Around The Horn panelist
Formerly at Los Angeles Times
2. Around The Association
| | | | | |
| --- | --- | --- | --- | --- |
| Chicago Bulls | 93 | FINAL | 86 | Miami Heat |
---
MVP: Nate Robinson came back from a blow to the head, which required six stitches, to score 24 of his 27 points in the second half. He scored seven points in Chicago's game-deciding 10-0 run in the last two minutes, and assisted Marco Belinelli for the other three. He wound up with nine assists.
X factor: The subpar performance of Miami's non-LeBron and Wade players left a lot to be desired. They shot just 16-for-45 from the field combined, and Ray Allen was repeatedly roasted on defense down the stretch. Chris Bosh's 3-for-10, six-rebound evening was a massive letdown.
That was … superhuman: Jimmy Butler has now played every minute of the past 12 quarters for the Bulls. He once again put in an excellent defensive effort as he checked both LeBron and Wade for extended stretches, and he kicked in 21 points and 14 rebounds to boot.
| | | | | |
| --- | --- | --- | --- | --- |
| Golden State Warriors | 127 | FINAL | 129 | San Antonio Spurs |
---
MVP: Stephen Curry scored 44 points on 18-of-35 shooting, including 22 points in the third quarter alone. Unfortunately, Curry managed only 12 points in the fourth quarter and both overtimes as the Warriors struggled at times to generate a basket.
Defining moment: Manu Ginobili missed a 3-pointer with 44 seconds left in double overtime and 11 seconds left on the shot clock, and the Spurs leading by three. Then with the Spurs down by two points two possessions later, Ginobili hit the game-winning 3-pointer with 1.2 seconds left.
X factor: Kawhi Leonard quietly put up 18 points and nine rebounds for the Spurs, while taking the responsibility of being the primary defender on Curry in the fourth quarter and OTs. Leonard's 3-pointer with 1:41 left in the fourth cut Golden State's eight-point lead to five as the Spurs went on to force OT.
3. Monday's Best
Curry
Stephen Curry, Warriors:
Curry had 22 of his 44 points in the third quarter, including 14 straight late in the period. Curry's run gave Golden State a 90-72 lead with 37.5 seconds left in the third. Then, the Spurs came back, winning in Game 2 in double overtime.
4. Monday's Worst
Bosh
Chris Bosh, Heat:
His single-single performance (nine points, six rebounds) was part of the reason the Heat dropped Game 1 at home. Didn't help that the Heat were outrebounded 46-32.
6. Tweet Of The Night
So proud of my team man, this bed might be good luck after all. #SeeRed #Holdat http://instagram.com/p/Y_kt7YmvOM/

— Luol Deng (@LuolDeng9) May 6, 2013
7. Quote of the Night
"I went from trading him on the spot to wanting to cook him breakfast tomorrow. That's the truth."
-- Spurs coach Gregg Popovich, on Manu Ginobili sinking his ninth 3-point attempt after having made only one the entire game.
8. Timing Is Everything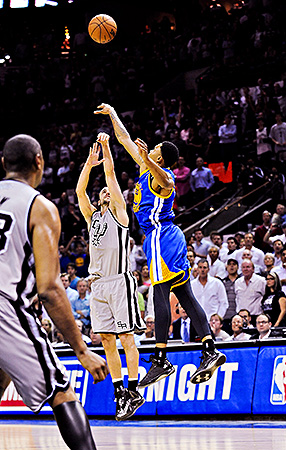 Noah Graham/NBAE/Getty ImagesSpurs guard Manu Ginobili hoists his 20th shot of the game, the go-ahead game-winning 3-pointer against Kent Bazemore of the Golden State Warriors. Ginobili made five shots the whole night.
9. Stat Check
Butler
Jimmy Butler played all 48 minutes in the Chicago Bulls' win over the Miami Heat on Monday night. It was the third consecutive game in which Butler played every minute and every second for Chicago. He's the first NBA player with three straight "complete games" in one playoff year since Allen Iverson with the 76ers in 2005.