1. Conley Steps Into Scoring Role In Game 2
OKLAHOMA CITY -- There was a time not long ago when Memphis Grizzlies point guard Mike Conley would look elsewhere in big moments. It might have been a handoff to Rudy Gay off a curl, or a kickout to the wing, or maybe an entry pass against pressure into Zach Randolph or Marc Gasol down low.
Whether it was inherent unselfishness, a lack of confidence or just an instinct to keep teammates happy, Conley would delegate key shots to other guys. But on Tuesday night, Conley sublimated any desire to send the ball someplace else. He assumed the role of catalyst in the closing minutes of a tight game as the Grizzlies evened their conference semifinals series against the Oklahoma City Thunder with a 99-93 win.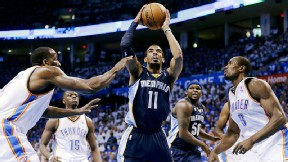 AP Photo/Tony GutierrezMike Conley nearly had a triple-double in Game 2.
"After we lost Rudy, it was tough," Conley said. "We didn't know who was going to be that guy down the stretch. I kind of had to assume that role, grow into it, and live and learn from it. Sometimes I make shot and sometimes I don't. I'm kind of getting used to it. Tonight was one of those nights."
Conley finished Game 2 with 26 points, 10 rebounds and nine assists, the biggest shots coming in the game's final five possessions. The first came with the Grizzlies trailing by one with the game clock winding down to two minutes. The Thunder had been hounding Randolph and Gasol all night, and again Kendrick Perkins was playing on Randolph's right hip, essentially cordoning off "Z-Bo" from the play.
"The way they were playing our bigs -- especially Zach down low -- they weren't letting him breathe at all," Conley said. "We had to start trying other things, and that was to get into pick-and-rolls, getting into sets where I was coming off two or three different screens, misdirection plays."
Conley and Gasol worked a pick-and-roll up top, and Conley delivered the ball to Gasol, which made sense because the center had it going all night (24 points on 8-for-13 from the field and 8-for-8 from the line). The Thunder had seen enough and met Gasol with two defenders on the catch. Gasol, deferential and selfless in his own right, saw Conley open, took a dribble to lure the defenders even lower (a subtle but extremely smart play from a heady big man), then kicked it out to his point guard.
Conley didn't hesitate for an instant. He flicked his left wrist, nailed the follow-through, then hopped back to watch the ball fall through the hoop at the 1:58 mark. The bucket gave Memphis a two-point lead, one the Grizzlies would never relinquish.
It's not uncommon for Grizzlies coach Lionel Hollins and the Grizzlies' staff to spend intermission colorfully urging Conley and Gasol to score, but on Tuesday night, Conley didn't need any additional motivation.
"They didn't have to say anything," Conley said. "I was already thinking it. I figured if we were going to win, I'd have to step up, take control and demand the ball."
Conley drilled his second huge crunch-time basket under similar circumstances -- a high pick-and-roll with Gasol. Drawing Serge Ibaka on the switch, Conley watched the big man corral him, a long left arm extended to deter forward progress, so Conley stepped back and nailed an 18-footer to put his team up 94-90 with about a minute remaining.
Conley still speaks in disclaimers and conditionals when discussing whether to assert himself as a scorer: If that's what I need to do for my team to win, I'll do it. If I have to score, I'll score. I kind of had to assume that role.
But there's an assumption of risk that wasn't present in Conley's game in the recent past, a newfound appreciation that opportunities present themselves when he attacks the defense. A possession doesn't just need to be managed; it also needs to be initiated. Above all, the Grizzlies need Conley to score -- as both a shooter and a penetrator.
Never for a day has Oklahoma City forward Kevin Durant needed such a reminder. The doe-eyed assassin is even more willing with running-mate Russell Westbrook out indefinitely. If Westbrook's absence has had any positive ancillary effect, it has been the opportunity to watch Durant exhibit every facet of his game without restraint -- a handle unbefitting a man who's 6-foot-10, the body control, the mercilessness with which he appraises the weakness of his defender and pounces on it.
Durant exacted plenty of damage Tuesday night -- 36 points, 11 rebounds and nine assists -- although he drained only one field goal during the final six minutes of the game. If Game 1 taught the Grizzlies anything, it was that a conventional defensive strategy was an engraved invitation for Durant to go bonkers. A defense can't drop its big men against Durant in a high pick-and-roll, and leaving Tayshaun Prince on an island against Durant, ball in hand while moving toward the goal from 25 feet away, wouldn't fly, either.
The Grizzlies adjusted by assigning defensive ace Tony Allen to Durant for most of the fourth quarter. They mitigated the risk of Durant posting up by having Randolph and Gasol meet Durant early.
"The thing I can do out there is just cause havoc the best way I can, so it wasn't me, it was our bigs," Allen said. "They had their antennas up every time [Durant] came off the pick-and-roll, and we lived with whatever he was going to do so far as shooting the ball, but the bigs are the heroes today."
Allen's credit of the big men was on point, although he had the winning play inside of a minute when he channeled his inner Rick Mahorn and pulled the chair out from beneath Durant. After Durant caught a pass on the perimeter, Allen bodied up on the scoring champ, then stepped aside just as Durant was poised to get into his move. The ploy surprised Durant, who stumbled to the floor as Allen poked the ball loose.
"It was a last-minute thought in my head, and I thought it would work," Allen said.
As is often the case, the Grizzlies won the game on the margins. They were outshot from the floor but collected 16 offensive rebounds to the Thunder's eight and won the turnover battle 19 to 10.
After the game, Randolph and Prince were performing the postgame ice ritual in the corner of the Grizzlies' locker room. The vibe was positive, but hardly celebratory. As Randolph prepared to head to the showers, he muttered, "2-0," to Prince, then repeated it.
"2-0."
Randolph and Prince shook their heads, both tormented by the knowledge that had the Grizzlies held on to their double-digit lead in Game 1, they could be flying back to Memphis early Wednesday morning with a chance to sweep the Thunder out of the postseason with two home wins.
"2-0."
Hungry bears can never be sated, not even with a split on the road.
Dimes past: April 22 | 23 | 24 | 25 | 26 | 27 | 28 | 29 | 30 | May 1 | 30 | 2 | 3 | 4 | 5 | 6
ESPN Staff Writer
NBA writer for ESPN.com since 2008
Former contributor and editor at NPR
2. Around The Association
| | | | | |
| --- | --- | --- | --- | --- |
| Memphis Grizzlies | 99 | FINAL | 93 | Oklahoma City Thunder |
---
MVP: After an icy Game 1, Mike Conley warmed up the traditional way by flipping in plenty of pretty little floaters before stepping out and draining clutch jumpers late in the game. The Grizzlies needed every bit of Conley's impressive line of 26 points, 10 rebounds and nine assists.
X factor: Oklahoma City was 29th in turnover rate this season, and Memphis was second in turnovers forced. That's a nasty combination for a team missing their starting point guard, and the Grizzlies capitalized with 29 points off turnovers.
That was … bold: Modern defenses like to avoid allowing open corner 3-pointers, but the Grizzlies made the decision to let anyone not named Kevin Durant beat them late. The result? One made field goal during the last five minutes for OKC.
| | | | | |
| --- | --- | --- | --- | --- |
| Indiana Pacers | 79 | FINAL | 105 | New York Knicks |
---
MVP: Carmelo Anthony made nine of his 15 shots after halftime while scoring 22 of his game-high 32 points. He did his damage at the rim, from behind the arc and at midrange. Indiana had no answer.
X factor: The Knicks' lead was six early in the fourth quarter when Pablo Prigioni knocked down his first 3-pointer. The arena got loud. When he hit a floater that put New York up 11 on the next play, Madison Square Garden erupted. Prigioni opened the floodgates, and Indiana wouldn't recover.
That was … historic: Basketball is always a game of runs -- but never like this. The Knicks scored 20 fourth-quarter points before the Pacers put a single point on the board. Going back even further, New York outscored Indiana 36-4 during a 12-minute stretch. It was the rarest of onslaughts.
3. Tuesday's Best
Conley
Mike Conley, Grizzlies:
With 26 points, 10 rebounds and nine assists, Conley lifted Memphis to a series-tying win in Oklahoma City. With Kevin Durant looking like a one-man show, Conley was able to counter with 13 points in the fourth quarter, including a huge 3-pointer in the final minutes, after which the Grizzlies didn't look back.
4. Tuesday's Worst
Where'd Indy Go?
After the Pacers took a 64-62 lead late in the third quarter, Indiana coach Frank Vogel called a timeout. Oops. The Knicks proceeded to pull off a 36-4 run to put Game 2 out of reach.
7. Quote of the Night
"Mike Conley is now one of the top five point guards in the league, whether anybody likes it or not."
-- Grizzlies guard Tony Allen, on Conley's performance in Memphis' Game 2 win.
8. See What Had Happened Was ...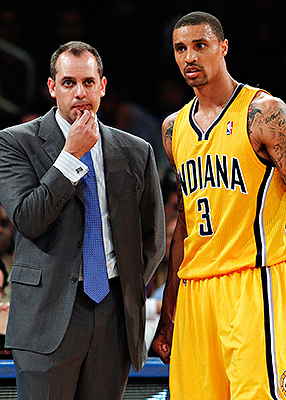 Jeff Zelevansky/Getty ImagesFrank Vogel and the Pacers may be rethinking their fourth-quarter game plan heading into Saturday's Game 3 in Indianapolis.
9. Stat Check
Conley
Mike Conley was the Memphis Grizzlies' outright leader in points (26), rebounds (10) and assists (nine) on Tuesday night -- "outright" meaning no players tied with him in any of those categories. Only one other player in team history did so in a playoff game: Pau Gasol, against the Phoenix Suns in 2005 and the Dallas Mavericks in 2006 (both of them losses).