1. Look Out, Above: Warriors Even The Score
SAN ANTONIO -- Do you want to know what Mark Jackson learned about his young Golden State Warriors team after a rollicking two games in San Antonio, a game that featured a historic collapse followed by a game in which the Warriors had the opportunity to fold again but refused to do so?
Nothing.
Zip, zero, nada.
"I don't take anything out of them," Jackson said. "I knew it would be a great heavyweight championship fight. Two teams that battle. It's in their DNA to compete."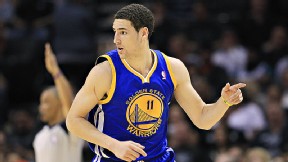 Ronald Martinez/Getty ImagesKlay Thompson ruled the arc, helping Golden State win in San Antonio for the first time in 31 tries.
He genuinely believes this is all in his team's makeup.
Notice how he referred to the Warriors on the same terms as the San Antonio Spurs, even though this group just won its first playoff series last week, while the Spurs' combination of Tim Duncan, Tony Parker, Manu Ginobili and Gregg Popovich has won 21 series dating back to 2003. Because if we discard the past -- keep the eyes focused on the court and not up in the rafters where Duncan's four championship banners hang -- there's no reason to consider the Spurs the favorites going forward now that the Warriors have home-court advantage.
As long as we're discarding the past, you can toss out the Warriors' 30-game losing streak in San Antonio that dates back to 1997.
Over the course of 106 minutes of game action, the only surprise is that the Warriors have a split instead of a 2-0 lead in the series. They have played even or better than the Spurs -- mostly better -- in quarter after quarter, and certainly over the bulk of the two games here. And they successfully shed the mental weight of that Game 1 when they were outscored 18-2 in the final 4:31 of the fourth quarter and ultimately fell in double overtime.
Outside of that stretch, the Warriors have outscored the Spurs 225-202, including the 100-91 final score of Game 2. Wednesday night they prevailed against a Spurs team that had its full complement of players for the first time in the playoffs, now that Tiago Splitter's sprained right ankle healed sufficiently. Tim Duncan's over his flu bug, Boris Diaw played his second game following a cyst removal. The Spurs are whole, and it isn't enough.
The most telling assessment came from Ginobili.
"What happened in Game 1, it's not about the inexperience," he said. "It's just one of those games that happens very rarely ... like once in every thousand. We shouldn't have won that game. And they came hungrier, more determination [for Game 2]. And of course they're younger and more athletic than us. But they were more physical. They just did a much better job than us. They showed they wanted it more. They probably thought they deserved Game 1 and they wanted another opportunity to get away. And they did a great job."
To Jackson, such talk is confirmation, not revelation.
"This is who my team is," Jackson said. "They are a bunch of competitors."
His players are convinced as well. It's not so much a swagger as it is an absence of fear. They don't recognize that teams that haven't been to the second round of the NBA playoffs before aren't supposed to do this in the second round of the playoffs.
To them, history is last month -- which means history has been kind to them.
"We did it last series," Stephen Curry said as he navigated the labyrinthine hallways of the AT&T Center. "The Spurs are a different animal than Denver, but …"
He shrugged.
"Maybe the youth helps us out," Curry said. "Just play."
You can't play much better than Curry did in Game 1, and even he wasn't up to those standards in Game 2, when he missed 13 of 20 shots and 3 of 9 free throws -- his first misses from the foul line in the playoffs -- and finished with 22 points. The Spurs threw a variety of defenders at him (Danny Green was as effective as any of them), double-teamed well and prevented him from dominating.
The flip side is, few 3-point shooters have had playoff games better than Klay Thompson did Wednesday night. He made eight of his nine attempts, leaving him one shy of the record for makes shared by Vince Carter, Rex Chapman, Ray Allen and Jason Terry. Thompson finished with 34 points and 14 rebounds … after the previous 36 hours had been occupied by talk of his defensive effort against Tony Parker (He did that, too, as Parker shot 7 for 17).
"I try to be the most complete player I can be," Thompson said. "I'm not just a shooter-scorer, but I try to perfect my defense as well. I worked out every day last summer and I feel it is really paying dividends this year."
The Warriors are outrebounding the Spurs. They're moving the ball better, including a 19-14 advantage in assists in Game 2. (That individualized Spurs offense didn't sit well with Popovich at all.) They're outmaneuvering the Spurs, down to little things such as removing Andrew Bogut for the final four seconds the Spurs could get away with fouling him intentionally before the penalty would be two shots plus possession.
"We were set up to win in the regular season and in the playoffs," Jackson said. "This brand of basketball wins games."
It's possible this plays out similarly to the 2008 Western Conference finals, when the Spurs lost the first two games to the New Orleans Hornets and came back to win the series in a road Game 7. Once again, that's being dependent on the Spurs' past, not the present or future.
Up next are two games in Oakland, where the Warriors will draw even more energy from their crowd. Thompson made a youthful mistake of projecting ahead to a potential 3-1 series lead, when there's still so much basketball before it can transpire.
So yes, there's still room for error. After all, it was Thompson's first trip to the interview room in San Antonio, where he sat alongside podium regular Curry. As they stood up to leave the dais, Curry alerted his taller teammate to a low-hanging light.
"Watch your head, dog," Curry said.
The Warriors might not have as many veterans as the Spurs, but their leaders are acting as if they know their way around these playoffs.
Dimes past: April 23 | 24 | 25 | 26 | 27 | 28 | 29 | 30 | May 1 | 30 | 2 | 3 | 4 | 5 | 6 | 7
ESPN Senior Writer
ESPN.com senior writer since 2007
Around The Horn panelist
Formerly at Los Angeles Times
2. Around The Association
| | | | | |
| --- | --- | --- | --- | --- |
| Golden State Warriors | 100 | FINAL | 91 | San Antonio Spurs |
---
MVP: Klay Thompson. The Warriors' other sharpshooter scored 17 points in the second quarter en route to 34 for the game. Like Stephen Curry in Game 1, any look Thompson got that was open, and several that weren't, resulted in a picture-perfect jumper.
X factor: 3-point and free throw shooting. The Spurs struggled in two key areas, shooting 16-of-24 (66.7 percent) from the free throw line and 5-of-21 from behind the arc. While the Warriors had similar problems from the charity stripe, they hit 11 of 23 3-point attempts.
Defining moment: Down 19 at halftime, the Spurs cut Golden State's lead to eight, 80-72, late in the third quarter. Then Jarrett Jack found Thompson open in the corner a 3-pointer as the period expired, giving the Warriors an 11-point lead heading into the fourth.
| | | | | |
| --- | --- | --- | --- | --- |
| Chicago Bulls | 78 | FINAL | 115 | Miami Heat |
---
MVP: LeBron James. Though he made just a single basket after his 6-of-6 first quarter, James controlled every aspect of Game 2 -- finishing with 19 points, 5 rebounds and 9 dimes. Several of those dimes suggested almost otherworldly powers of anticipation.
That was ... a drubbing: In building a lead that eventually swelled to 45 points, Miami shot a scintillating 60 percent and smothered the depleted Bulls' offense -- holding a proud Chicago team to just a 35.5 percent mark from the floor. It was the worst playoff defeat in Bulls history.
X factor: With Alonzo Mourning sitting courtside, a physical Game 2 was marred by a parade of elbows, verbal barbs, and stink eyes that surely made more wizened fans think back to an earlier, grittier era of Heat playoff basketball.
3. Wednesday's Best
Thompson
Klay Thompson, Warriors:
Went 8-for-9 from 3-point range, lifting Golden State past San Antonio in Game 2. Thompson finished with 34 points and 14 (!) rebounds in the crucial win that sends the Warriors back home looking for a series lead.
4. Wednesday's Worst
Worst playoff loss ever:
Losing Game 2 by 37 points put this Bulls team No. 1 among biggest playoff blowouts in franchise history. But losing big wasn't enough -- Joakim Noah and Taj Gibson were ejected in the fourth quarter and the Bulls were called for six player technicals.
7. Quote of the Night
"I would call that not keeping your cool, not being very Zen."
-- Bulls center Joakim Noah, on getting ejected and watching his team collect six player technicals, the most by any team in a playoff game since Boston had that many against Indiana in 2005.
8. Protest Too Much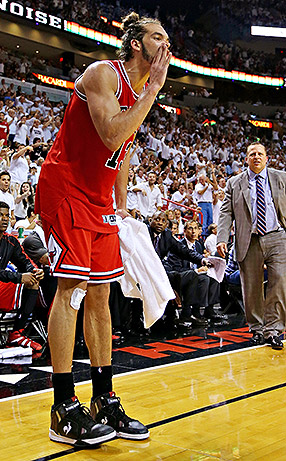 Mike Ehrmann/Getty ImagesJoakim Noah of the Chicago Bulls was ejected after arguing with referee Scott Foster during Game 2.
9. Stat Check
Klay Thompson scored 34 points and grabbed 14 rebounds in the Warriors' Game 2 win over the Spurs. Over the last 25 years only three starting guards scored that many points and hauled in that many rebounds in a playoff game: Michael Jordan did it twice, in 1989 (40 points, 15 rebounds) and 1991 (38, 19), Kobe Bryant in 2001 (48, 16) and Vince Carter in 2006 (34, 15).