1. Parker's Actions Speak Loudly For Spurs
OAKLAND, Calif. -- It seems like the most common conversation about Tony Parker is the conversation about how he isn't in the conversation. The career-long San Antonio Spur has talked about it many a time, and it even came up twice in the same interview session after Friday night's game. His name is rarely mentioned in the discussions of the NBA's elite guards. He couldn't even crack the top two in this series, after the Golden State Warriors' Stephen Curry dominated Game 1 and Klay Thompson took off in Game 2.
I believe him when he says he isn't motivated by that because he's already done all he can do -- namely, winning the NBA Finals Most Valuable Player award in 2007, an honor none of the other elite point guards in the game today can claim -- and nothing has changed. If he played for acclaim he would have quit for lack of progress long ago. The only cause for inspiration at this stage was true fight or flight. The Spurs were in danger, with a Western Conference semifinal series tied at 1-1 and two games on deck in Oakland's Oracle Arena.
So Parker uncorked a 32-point, five-assist ballgame. He came off screens for jump shots, drove to the basket, even twisted sideways and flung the ball like an option quarterback toward the hoop for an improbable bank shot after he'd been fouled. The Spurs got what they needed, a 102-92 victory. Let the conversation turn in whatever direction from there.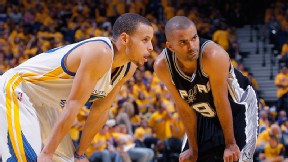 Rocky Widner/Getty ImagesStephen Curry was limping by game's end while Tony Parker was flying high.
In the fourth quarter he was kicked in the left leg, suffering an injury that had him limping to the podium. Of course, he was overshadowed in that category as well. Curry sprained his left ankle trying to gather himself after a pump fake with five minutes left in the game, silencing the raucous Warriors crowd and potentially turning the rest of the series around.
Curry didn't talk to the media afterward, and the Warriors said he would be evaluated in the morning. The early indications were that it was a similar situation to when Curry sprained the same ankle in Game 2 of the first-round series against the Denver Nuggets. He didn't miss any time after that one; however, the difference was the Warriors had two full off days before the next game. In this case they're back at it in a day and a half with a 12:30 p.m. PT start on Sunday for Game 4.
Parker didn't have any idea how his leg would respond either, but indicated he would be in the lineup.
"Have no choice," he said. "Got to play on Sunday. It's a quick turnaround."
Don't expect media stakeouts or hourly updates on his condition. It'll be Curry Central the next 24 hours. In other words, business as usual for Parker.
"For me, I've been in San Antonio for so long, I don't pay attention of top-five point guards. They always forget about me anyway. It doesn't matter," Parker said, smiling.
"It doesn't matter to me anymore, seriously. I play for the City of San Antonio, for the Spurs, all our fans, Coach [Gregg Popovich], my teammates. That's what makes me go. When Coach Pop say, OK, you going to do something tonight, you're going to be aggressive, that's what make me going, is Coach Pop. He's always the one who is challenging me. Before this game, he definitely gave me a challenge."
Popovich had also set the stakes in plain, if undramatic terms, to the media before the game. The Spurs simply needed to make more shots. They shot only 42 percent in the first two games, including 5 for 21 on 3-pointers in Game 2.
In the span of one game we went from anointing the San Antonio Spurs as the biggest beneficiaries of Russell Westbrook's injury to wondering if this would turn out to be the last legitimate shot for San Antonio's big three -- in part because the Warriors have emerged as Western Conference threats for the foreseeable future.
Then the Spurs went back to being the Spurs. Maybe not the classic, Tim Duncan-led Spurs, but the Spurs 4.0 of the past six years, the version led by Parker, with Duncan and Manu Ginobili falling in line.
Duncan had 23 points, and in the second half Ginobili emerged from a series-long slump that threatened to overshadow his winning 3-pointer in Game 1. And now they're in control of the series once more, up 2 games to 1, guaranteed two more home games in their worst-case scenario.
"They have four future Hall of Famers," Warriors coach Mark Jackson said, apparently counting Popovich. "They're not going to lie down. They're going to bounce back individually and collectively."
It really came down to the Spurs making shots (58 percent in the first half, 51 percent overall) and the Warriors missing (39 percent for the game). But the Spurs defense had a lot to do with the Warriors' ineffectiveness, most notably the combined 12-for-37 shooting by Curry and Thompson. Early on, they double-teamed Curry outside and forced him to pass to Andrew Bogut. They clung to Thompson, who made eight 3-pointers in Game 2 but only attempted five in Game 3.
Ginobili had called for the Spurs to be more physical, and they responded.
"I think we were more focused more than anything," Duncan said. "We didn't give them the space that they got in those first two games. So if you want to call that physical, it's physical."
It's the Spurs' brand of physical.
"We're not going to take cheap shots or hand check all over," Ginobili said. "It's not who we are. Our system is not that. But at the same time, we've got to make opponents play uncomfortable."
Ginobili had been uncomfortable shooting in this series. He was 5 for 18 coming in, was reluctant to shoot in the first half and missed all three shots when he did try. But while Duncan and Parker sat in the third quarter Ginobili had a stretch in which he hit three shots, then Eurostepped his way into the lane and fed Kawhi Leonard in the corner for a 3-pointer.
"I'm not shooting great," Ginobili said. "I wanted to start the game just taking the really wide-open ones. Then I made one and I felt like Reggie Miller."
The Spurs got to feel the way the Warriors had felt in the first two games of the series, jumping to an early lead, then fending off a comeback. But the Spurs didn't trail in the final 38 minutes of this game.
"That helps a little bit," Duncan said. "It's new and exciting. We should try to do that more often."
That's the Spurs: trying new things, using the same old formula.
Dimes past: April 23 | 24 | 25 | 26 | 27 | 28 | 29 | 30 | May 1 | 30 | 2 | 3 | 4 | 5 | 6 | 7 | 8
ESPN Senior Writer
ESPN.com senior writer since 2007
Around The Horn panelist
Formerly at Los Angeles Times
2. Around The Association
| | | | | |
| --- | --- | --- | --- | --- |
| San Antonio Spurs | 102 | FINAL | 92 | Golden State Warriors |
---
MVP: Scoring at will almost exclusively from the left side of the floor, Tony Parker poured in 25 first-half points to help his team build a nine-point lead it would never relinquish. He finished with 32 points, five rebounds and five assists.
LVP: Jarrett Jack. His overall numbers weren't horrible (11 points on 12 shots), but his late-game play certainly was. He air-balled a 3-pointer with the Warriors down five and turned the ball over on the ensuing possession, effectively ending Golden State's comeback bid.
That was ... disheartening: Stephen Curry turned his recently sprained left ankle in the fourth quarter and noticeably limped from that point after. Game 4 is Sunday afternoon; how he manages his fragile ankle on this short turnaround will go a long way toward determining the trajectory of this series.
| | | | | |
| --- | --- | --- | --- | --- |
| Miami Heat | 104 | FINAL | 94 | Chicago Bulls |
---
MVP: LeBron James finished with slightly more points, but Chris Bosh was the Heat's engine Friday night. He paced the team with his jump shot and recorded a playoff career-high 19 rebounds. Bosh was the best version of himself: rugged, skilled and quick.
X factor: Norris Cole provided the Heat with the definition of an X factor. The Heat's second-year guard had his second consecutive strong outing, finishing with 18 points on seven shots on a night when Dwyane Wade and LeBron never seemed to get in sync.
That was ... wild: The intensity was expected. Maybe less expected were the Heat's inability to get their star trio going, Marco Belinelli's offensive explosion and the fact that the Bulls seemed to match the sluggish Heat for much of the game. The Bulls responded to Game 2's drubbing.
3. Friday's Best
Bosh
Chris Bosh, Heat:
Along with the superb bench performance from Norris Cole, Bosh' s 20 points, 19 rebounds and no small dose of grit gave Miami just what it needed in a 104-94 win over the Bulls. He even took his turn yelling at Mario Chalmers.
4. Friday's Worst
Let's-get-ready-to-rumble dept.: First Joakim Noah delivered an unnecessary shove to Birdman, Birdman. Then Nazr Mohammed, who of course is LeBron's hoop equal because they both have one NBA ring, shoved the league's foremost star to the floor.

6. Tweet Of The Night
Sorry for my overreaction & being ejected. I blacked out & just reacted after I was pushed down. I'm happy it only resulted w/ a push

—Nazr Mohammed (@NazrMohammed) May 10, 2013
7. Quote of the Night
"I see how things are going, I watch very closely ... we're not going to get calls, that's reality."
-- Bulls coach Tom Thibodeau, after his team fell behind the Heat 2-1 in the East semifinals.
8. Messing With The King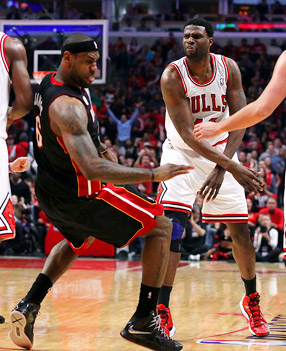 Dennis Wierzbicki/USA TODAY SportsChicago's Nazr Mohammed pushes Miami's LeBron James during the second quarter in Game 3. LeBron hit the floor, and Mohammed was ejected.
9. Stat Check
Tony Parker scored 32 points and Tim Duncan added 23 as the Spurs took measure of the Warriors, 102-92, in Oakland in Game 3 of their second-round series. It was the 158th playoff game that the two longtime stars have played together, but it was their highest combined point total in their last 37 playoff games together, since they scored 56 points in a game against the Mavericks on April 28, 2009.