1. Keeping Hibbert Pays Big Dividends Now
INDIANAPOLIS -- When July 1 arrived last year the Indiana Pacers got bad, but not unexpected, news. The center-hungry Portland Trail Blazers were immediately on their free agent Roy Hibbert and were ready to break the bank.
Four years and $58 million is what the Blazers quickly offered the 7-foot-2 Hibbert, a maximum level contract for a player who would still be getting paid on potential more than results. That's always a dangerous proposition, especially when dealing with a fully mature 26-year-old.
The Pacers wavered a bit and considered their options for more than a week, kicking the tires on some other free-agent big men. They had to consider the risk of committing at that level for a player who wasn't able to be a difference-maker in the playoffs last year when he struggled against a centerless Miami Heat team when they needed him to dominate.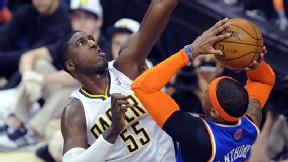 Tom Russo/USA TODAY SportsRoy Hibbert proved a major deterrent at the rim.
The team's owner, Herb Simon, had to swallow hard. There were meetings. There were various opinions. Ultimately the Pacers matched. And then they hoped it wasn't a mistake.
Saturday night, that dicey decision from last summer felt like a warm blanket. The NBA game might be skewing smaller and faster, and the center position generally might be disappearing, but there's nothing like having a dominating big man in a playoff series.
Right now, Hibbert is indeed dominating the New York Knicks, and he's a central reason the Pacers are up 2-1 in the conference semifinals after an 82-71 Game 3 victory.
Let's keep it relative, though. It's not like Hibbert's pulling a Shaquille O'Neal or Kareem Abdul-Jabbar impression. He's not even Rik Smits if you remember the Dunkin' Dutchman's best playoff years. But Hibbert has just been ruinous to the Knicks at the defensive end in this series, and in Game 3 he had the best offensive playoff game of his career with 24 points, 15 of which came as the result of offensive rebounds.
"This is his best playoff game ever, probably," Pacers coach Frank Vogel said. "We know he's going to dominate on the defensive end and when he gives us offensive production like tonight, we're pretty good."
After Hibbert blocked five shots and just nailed down the paint defensively in the Pacers' Game 1 victory in New York last week, Knicks coach Mike Woodson issued a challenge.
"I've got to get Tyson (Chandler) playing better than Hibbert," Woodson said.
That's not happening. Hibbert is outplaying Chandler, who had nine points and five rebounds Saturday as Hibbert racked up another double-double. He's averaging 14.7 points and 10.7 rebounds in this series, which may not sound like max contract numbers, but it's felt like max contract weight so far.
Especially when you look at Chandler, who is averaging seven points and four rebounds and keeps getting caught looking up as Hibbert gets putbacks over him.
In Games 1 and 3 -- when the Pacers' aggressive defense attacks the 3-point line and forces opponents into Hibbert's zone on the interior -- the Knicks are shooting a woeful 42 percent in the paint.
"I didn't have a blocked shot tonight, so I'm pretty disappointed in myself," Hibbert said. "And I wanted to protect the rim as much as possible, that's what they pay me the big bucks for. To have fewer blocks, that's messing up my average."
MORE ON ESPN.COM
• Shelburne: Griz look like West's best
• Arnovitz: OKC-MEM observations
• Basketball Capitals: Istanbul

They do pay the big bucks, that's true. The decision to do so hasn't always looked as rosy as at the moment. Hibbert had a terrible first half of the season, especially offensively, where he seemed to lose the ability to shoot.
He once made a nebulous reference to a weakened right wrist in an interview with the Indianapolis Star, but has since not talked about it. When asked about that injury, old or not, Vogel denied even knowing about it. Whatever it was, Hibbert went from being an All-Star last year to being a bit of a disappointment.
"I had a rough beginning of the season offensively, so I relied on my defense," Hibbert said. "Defense is always my backbone."
After shooting 41 percent before the All-Star break, Hibbert re-discovered his touch through extra workouts, and it helped him shoot 51 percent after the All-Star game. The whole time he was a terrific defender and rebounder, which is a big reason the Pacers ended up leading the league in both as a team.
But for $58 million, the Pacers really wanted a two-way player. In the playoffs he's averaging 15 points and shooting 50 percent, both well over his regular-season numbers. That is more like it.
"He's oozing with confidence," Vogel said. "Everybody wanted to kick him when he was down earlier in the season when he wasn't playing with confidence. Now he's playing extremely well at both ends of the floor and that's what we need."
The Pacers won Game 3 despite shooting just 35 percent, missing 23 3-pointers, scoring just three fast-break points and committing 17 turnovers. It was a miserable game to watch as the Knicks saw a resurgence in their offensive woes that apparently only took a brief reprieve in their Game 2 victory.
It's been so bad that J.R. Smith shot 4-of-12 and actually increased his shooting average from his previous four games.
The underlying root to all that, even if it comes off as just bad basketball, is the far-reaching effects a controlling big man can have in a playoff setting. When the game slows, size almost always shows up. And so far, Hibbert has been showing up.
"This is who I am, I'm a rim protector, I'm a Georgetown Hoya," Hibbert joked during what he said was his first time being invited to the podium after a playoff game. "You know the lineage."
Dimes past: April 25 | 26 | 27 | 28 | 29 | 30 | May 1 | 30 | 2 | 3 | 4 | 5 | 6 | 7 | 8 | 10
ESPN Senior Writer
ESPN.com NBA writer since 2010
Covered Cleveland Cavs for seven years
Author of two books
2. Around The Association
| | | | | |
| --- | --- | --- | --- | --- |
| New York Knicks | 71 | FINAL | 82 | Indiana Pacers |
---
MVP: Roy Hibbert. The Pacers' center eviscerated the Knicks in the low post and on the glass, pouring in a team-high 24 points and 12 rebounds. Add a slew of old-school hook shots and his usual dominant defense, and you get why he was inked to a big contract last offseason.
LVP: Honestly, you could substitute almost any Knick other than Iman Shumpert, but Tyson Chandler, last year's Defensive Player of the Year, was absolutely ground into a fine paste by the aforementioned Mr. Hibbert and appeared floor-bound, oddly sluggish and generally enervated.
That was ... ugly: A low-scoring, grind-it-out affair, where the Pacers bludgeoned the Knicks on the interior, forced double-digit turnovers and pushed them off the 3-point line, is bound to warm the cockles of Frank Vogel's heart. But with the two teams combining for 31 turnovers and 46 fouls, it wasn't particularly pretty to watch.
| | | | | |
| --- | --- | --- | --- | --- |
| Oklahoma City Thunder | 81 | FINAL | 87 | Memphis Grizzlies |
---
MVP: Marc Gasol. The Grizzlies were able to hold the Thunder to 36.4 percent shooting thanks in large part to Gasol's ability to always be positioned correctly defensively. He was the ever-present roadblock in nearly all of OKC's driving lanes.
LVP: Serge Ibaka was one of the best midrange shooters in basketball during the regular season, but his nightmare series continued. After going 6-for-17, Ibaka is now a woeful 12-for-39 from the field in the series.
Well that was ... the yips. Reggie Jackson committed two brutal fouls down the stretch. Kevin Durant, a 91 percent free throw shooter, missed two critical FTs. Scott Brooks let time tick away. Derek Fisher missed a rushed, deep 3. OKC has been here before, but it didn't look like it.
3. Saturday's Best
Hibbert
Roy Hibbert, Pacers:
He brought a monacle with him to the postgame podium, but did not don it. Even Col. Klink could see that Hibbert was the best in Indy's 82-71 win in Game 3, one that saw him net 24 points and 12 boards.
4. Saturday's Worst
Knicks starting backcourt: Pablo Prigioni and Raymond Felton combined to shoot 1-for-11 from the floor, punctuating the Knicks' offensive woes in the Game 3 loss. Amar'e Stoudemire sank a 3-point attempt, which is more than those two along with J.R. (not) Swish can say.

6. Tweet Of The Night
The Hawks and coach Larry Drew are sort of in a trial separation, both can see other people: http://www.espn.com/blog/truehoop/post/_/id/58139/hawks-look-for-coach-with-one-in-hand &

—Brian Windhorst (@WindhorstESPN) May 11, 2013
7. Quote of the Night
"It won't be anything [where] I've got to go in there and read a Phil Jackson Zen book or anything. I've just got to come out there and be ready to lead our team."
-- Warriors guard Jarrett Jack, on playing point guard with Stephen Curry likely hobbled for Game 4.
8. What Are We Going To Do Now?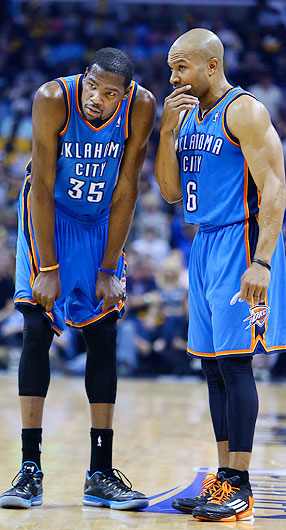 Spruce Derden/USA TODAY SportsOklahoma City's Kevin Durant and Derek Fisher confer during their Game 3 loss to Memphis. Will the Thunder even the series when they play next?
9. Stat Check
Roy Hibbert played a classic big man's game, with a game-high 24 points, a total of 12 rebounds that shared game-high honors with David West, and eight rebounds off the offensive boards. The result was evident, as the Pacers downed the Knicks, 82-71. Hibbert was the first player to reach 24 points and eight offensive rebounds in the same game in the NBA's last 163 playoff games -- since May 9, 2011, when Zach Randolph (34 points, 8 offensive rebounds) and Marc Gasol (26 and 10) both did it in the same game for the Grizzlies against the Thunder.