1. Now Process This: Warriors-Spurs Tied At 2-2
OAKLAND, Calif. -- The process beat the system.
Golden State Warriors coach Mark Jackson goes to his pet phrases about "staying true to the process" and remaining "tied together" so often that it's easy to let them flow from ear canal to ear canal without registering in your brain. Until one day you look up and the process just prevailed over the systematic San Antonio Spurs in a playoff game, and brought these upstarts into a 2-2 series tie.
The process allowed rookie Harrison Barnes to take nearly as many shots as Stephen Curry and Klay Thompson combined.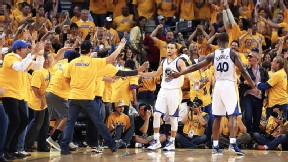 Jed Jacobsohn/Getty ImagesTrailing late, the Warriors rallied for an OT win.
The process allowed Jarrett Jack to lead the Warriors back into the game even amid the palpable angst of fans throughout the arena questioning his shot selection.
The process found Andrew Bogut providing important defensive stands and securing critical rebounds after he did his best to take himself out of the game with ill-advised fouls.
The process enabled the Warriors to come back just when it looked like San Antonio was going to pick-and-roll and cut-and-pass the Warriors to the brink of elimination, as the Spurs executed their way to an eight-point lead in the fourth quarter and were on the verge of going up 3-1.
Instead, the process led to a 97-87 overtime victory for the Warriors in a Game 4 in which they shot 38 percent and committed 18 turnovers and had to make do with what they could get from Curry, who managed his way through more than 38 minutes on a sprained left ankle. Prepare to hear Jackson talk about it some more, because the sixth-seeded Warriors will be around for at least two more games -- and it's as good an explanation as any as to why they're still very much alive in the playoffs midway through the second round.
What is the process?
"The process is every single game, every single possession staying locked in, staying with the game plan," Curry said. "We're going to hit rough patches. But if we stick to the identity that coach has taught us and that we've bought into since Day 1, good things are going to happen."
The process even allowed Curry's ankle to hold up long enough for him to score 22 points in sporadic bursts -- including his first pair of 3-point attempts in the first quarter, eight in a 68-seconds flurry in the third quarter and a layup-and-1 in overtime that wrapped things up.
"I don't think I ever really hit my top speed," Curry said. "Whatever I could give [Jackson] and not get hurt again.
"I doubt it will be 100 percent for the foreseeable future. Knowing that I can be on the court as a threat, I've got to be ready."
Jarrett Jack was ready to start in Curry's place, to relieve Curry of ball-handling duties if he played, to do whatever.
"I don't adjust my mind if I'm coming off the bench or starting," Jack said. "My role on this team is the same. I just try to come out, lead vocally, by example. We have a fight until there's three zeroes left on the clock."
Jack revealed that he has scaled back his talking to allow the quiet-by-nature Curry to assert more leadership over the team. That doesn't mean he'll always defer shots on the court. Jack took 16 shots in this game, including one after he came off a high screen, dribbled to the basket, circled back out near the free throw line and launched a fallaway jumper that swished.
MORE ON ESPN.COM
• Regrets, Manu doesn't have a few
• Stats/Info: Jarrett Jack great late
• Weekend Per Diem: West hierarchy

It was one of his nine makes and two of his 24 points, and it came at a crucial time. The Warriors were down by eight in the 4:49 left in the fourth quarter before Jack scored six consecutive points.
"People beat up Jarrett Jack. 'Why is he pounding the ball?' 'Bench him,'" Jackson said. "I'm going to go with him until I'm not here."
He even went with an isolation play for Jack with the score tied on the final possession of the fourth quarter. That was less successful.
The only Warrior who shot more than Jack was the rookie Barnes. He didn't let a 3-for-12 first half deter him from shooting 14 more times after halftime.
"Yeah, that was a lot of jumpers," he said sheepishly afterward.
But they got him a team-high 26 points.
He shot so much he couldn't even remember which jumper I was talking about when I asked about the one he made that put the Warriors up by six with 2:22 left in overtime. It turns out he was following Jackson's orders, right through the end.
"The recurring message from coach was 'try to be aggressive,'" Barnes said. "I was trying to get to the basket. [Manu Ginobili] cut me off. Did a crossover. I was going to go back to the basket, but he slid a little bit. Had enough room to get my shot off."
It was much less room than Ginobili had when he shook Barnes to the ground with a crossover, but missed the resulting open 3-pointer near the end of the fourth quarter. That was one of the 27 3-pointers that Spurs coach Gregg Popovich rued as his team inexplicably lost patience and poise down the stretch and stopped getting the ball inside.
The Warriors found their ground. That included Bogut, who played only five minutes in the first half because he kept committing foolish fouls even after Jackson left him in after the second foul. He quickly picked up No. 3 and went to the bench. Then Bogut committed No. 4 on a similar play, an illegal screen five minutes into the third quarter. But Jackson stuck with him, Bogut stayed out of further trouble and kept collecting rebounds (18 in all) and made an impressive stop on Duncan by blocking a shot and challenging the follow-up.
"Coach had the confidence in me to guard one of the best players in the game one-on-one with no double-team with four fouls," Bogut said. "Pretty good confidence from the coach."
Pretty good results from the players.
Jackson sounded a bit like a mid-major coach in the NCAA tournament when he said how happy he was that a national TV audience got to see his team play. The viewers didn't see an example of exactly how the Warriors got here (the league's top 3-point shooting team in the regular season made only 7-of-18 on Sunday). They didn't see Curry at his best. But they saw what happens when a coach believes in his players and the players believe in the process.
Dimes past: April 25 | 26 | 27 | 28 | 29 | 30 | May 1 | 30 | 2 | 3 | 4 | 5 | 6 | 7 | 8 | 10 | 11
ESPN Senior Writer
ESPN.com senior writer since 2007
Around The Horn panelist
Formerly at Los Angeles Times
2. Around The Association
| | | | | |
| --- | --- | --- | --- | --- |
| San Antonio Spurs | 87 | FINAL | 97 | Golden State Warriors |
---
MVP: Slowed by a sprained left ankle early in the game, Steph Curry scored 17 of his 23 points in the second half and overtime to lead the Warriors to a vital comeback win. He added six rebounds and four assists in a gutsy, understated performance that's the mark of a true star.
X factor: Andrew Bogut. Tim Duncan scored 14 points in the first half; Bogut missed much of it with foul trouble. The Aussie played 22 minutes from that point on, though, holding Duncan to just five additional points, grabbing 18 rebounds and finishing with a +17 plus-minus.
Defining moment: With his team down by four points midway through overtime, Kawhi Leonard grabbed Tony Parker's miss and tried to flush it in mid-air. But his easy dunk attempt missed and the Warriors scored on the other end. The Spurs could never recover.
3. Sunday's Best
Jack
Jarrett Jack, Warriors:
Jack made three big baskets in a 69-second stretch late in the fourth quarter to help Golden State force overtime in Game 4. The W's sixth man finished with 24 points on 9-of-16 shooting to go along with seven rebounds and four assists.
4. Sunday's Worst
Spurs' missed opportunity: After Kawhi Leonard put home a rebound with 4:48 left, the Spurs led 80-72 and the prospect of a daunting 3-1 series lead was nearly at hand. But the previously hot Manu Ginobili's missed two 3-pointers that could have sealed a win, and Golden State is very much alive now.
6. Tweet Of The Night
Y'all still think I'm crazy for saying the Warriors could upset the Spurs? (I'll wait)

—Damian Lillard (@Dame_Lillard) May 12, 2013
7. Quote of the Night
"Watching him warm up, I said, 'Man, there's no way this kid is playing. Then watching him run around on one leg, he looked like Isiah Thomas against the Lakers in the Finals, man. The performance he put on down the stretch, making plays, making shots, defensively, I sat back and was honestly in awe."
-- Warriors guard Jarrett Jack, on Stephen Curry playing in Game 4.
8. Vital Floor Game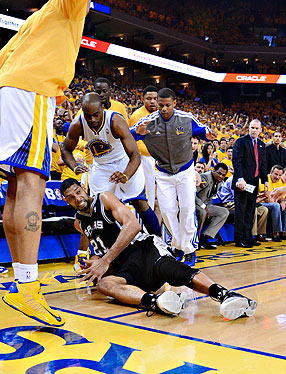 Kyle Terada/USA TODAY SportsDuring a scramble for the ball late in the fourth quarter, San Antonio's Tim Duncan dives out of bounds in front of the Warriors' bench.
9. Stat Check
By
ESPN Stats & Information
Golden State Warriors guard Jarrett Jack scored 12 points in the fourth quarter and overtime, giving him 61 such points in the postseason, behind only Nate Robinson and Carmelo Anthony. Jack made five of five shots as the pick-and-roll ball handler during the fourth quarter and overtime of Game 4 (6-for-18 FG on such plays during series prior to that).