1. Marc Gasol Seizes The Moment For Memphis
MEMPHIS, Tenn. -- At first glance it looked as if Marc Gasol was hesitant. That he was looking elsewhere, or for someone else to take the biggest shot of the Memphis Grizzlies' season.
Those Gasol brothers like to pass first, after all. They're sidekicks, right? Great players who work best as unselfish betas for a championship team with a clear alphas.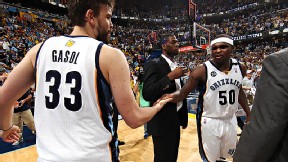 Joe Murphy/NBAE/Getty ImagesMarc Gasol and Zach Randolph had a big hand in the Game 4 win over the Thunder.
Oh wait, that's his brother Pau. Because Marc Gasol wasn't waiting for anyone else to take the shot that sealed the Grizzlies' 103-97 overtime win over the Oklahoma City Thunder on Monday night.
Marc Gasol was baiting Serge Ibaka. And then Marc Gasol was confidently stroking a 15-footer with 22 seconds remaining that gave Memphis a 3-1 series lead over the reigning, and now reeling, Western Conference champions.
"I looked down at Serge and he had his hand down," Gasol explained. "I put the ball over my head and took a little jab [step] and I knew the ball had to go up at that time.
"I'm lucky it went in."
Lucky, sure …
But Gasol didn't smile as he added that line. He can be sarcastic and funny, but he doesn't play for the laugh.
He just plays.
Hard.
"Marc's from Memphis man," Grizzlies forward Zach Randolph said. "Marc's tough. Marc played [high school and AAU ball] with all the guys from the ghetto, from south Memphis to north Memphis. And now he's been around me."
Randolph laughed at that one. People don't know Marc the way he does. The way Memphis does.
He's one of them. A graduate of Lausanne High over in nearby Germantown. Although no one who knew him as the chubby, baby-faced teenager then would recognize the bruising center who just won the NBA's Defensive Player of the Year that he has become.
But that's part of his charm, too. He wasn't the lottery pick his brother was. He was the throw-in to the trade no one had ever heard of. He was the younger brother who got more of the baby fat and less of the skill.
If he was going to be anywhere as successful as his brother, a four-time All-Star and two-time NBA champion with the Lakers, Marc Gasol was going to have to work hard for it. Very, very hard.
But you know what? He did.
"We crack jokes sometimes about what he used to [look like] in high school," Randolph said. "But man, he's just been growing as a person and individually. The guy's great, man. He's constantly getting better. I'm proud of him."
Gasol has been a leader for this Grizzlies team for a while now. He speaks up in huddles and team meetings. He spoke for point guard Mike Conley a few times over the years when Conley wasn't as comfortable delivering a message to someone.
"I just try to win. I take ownership of the team. Everybody has to do the same thing," Gasol said, oh so directly. "You have to earn respect, show people what you're all about, and the team will follow you."
Yep, I told you he was direct.
MORE ON ESPN.COM
• Windhorst: Heat win, Wade aches
• Wilbon: Bulls run out of fight

Wednesday night he led in a different way, though. This team is still sorting out who takes the most meaningful shots at the end of games after the Rudy Gay trade. Most of the time it's Conley now, but not every time. Not in the way it's pretty much always going to be Kevin Durant for the Thunder or Kobe Bryant for the Lakers.
The Grizzlies just lean on Conley now. But if the opponent sends a trap at him, as the Thunder did at the end of the fourth quarter and overtime, Conley will pass out of it.
Gasol wasn't just ready for the ball, he wanted it. And when he stroked that 15-footer, it felt as though something meaningful had happened for these Grizzlies.
This was the game two years ago their upstart run started to unravel. The setup was eerily similar. Memphis held a 2-1 lead heading into a home game at the FedEx Forum. The Grizzlies took a 17-point lead in the first half, even.
But they weren't ready for success. Not yet. Durant and the Thunder were, and they seized an epic three-overtime victory.
This time it was the Thunder coughing up the big lead. Oklahoma City led by as many as 17 in the first half, but gave it all back in the third quarter and needed a finger roll from Durant with six seconds remaining to force overtime.
It was all Grizzlies in the overtime, though. Durant had nothing left after carrying the Thunder in the eight games they've played without Russell Westbrook. Durant made just two of his eight shots in the fourth quarter and none of the five he took in overtime.
"I'm giving everything I've got to my team," Durant said afterward. "I've been doing this since the playoffs started. I'm going to play for my team. I'll keep doing it however long I have to."
He made a joke about being tired because it was well past midnight by the time he came into the interview room with the late, 8:30 p.m. CT start.
The room offered a tepid laugh. But nothing's funny about what has happened to the Thunder since Westbrook's untimely injury. They're trying, Durant is trying, and they're making progress at times. Serge Ibaka rediscovered his midrange game with 17 points on 6-for-13 shooting. Kevin Martin delivered 18 points off the bench.
But they miss Westbrook. They aren't the same. And these Memphis Grizzlies aren't letting up anytime soon.
"We scratch and we claw," Grizzlies coach Lionel Hollins said. "They say 'grit and grind.' I don't know what the heck that means, but we go out and we just battle. We just compete."
Dimes past: April 28 | 29 | 30 | May 1 | 30 | 2 | 3 | 4 | 5 | 6 | 7 | 8 | 10 | 11 | 12
ESPN Senior Writer
Senior writer for ESPN.com
Spent seven years at the Los Angeles Daily News
2. Around The Association
| | | | | |
| --- | --- | --- | --- | --- |
| Oklahoma City Thunder | 97 | FINAL | 103 | Memphis Grizzlies |
---
MVP: Early in the day, the NBA announced that Marc Gasol had missed out on the NBA's All-Defensive first team. Monday night, Gasol made them look silly. His defense deterred open layups and kept OKC away from easy baskets. He finished with 23 points and 11 rebounds in 48 minutes for the Memphis ironman, with six blocks to top it off.
Turning point: With just 4:26 left in the first half, Zach Randolph was blocked by Reggie Jackson -- Reggie Jackson! -- at the rim, leading to an open Durant 3-pointer in transition. OKC went up 46-29, and things looked grim. But the Thunder were outscored 74-51 the rest of the way, as their offense stalled out and the Grizzlies regained their home-court rhythm.
LVP: Derek Fisher has been extremely good for most of the playoffs. But Monday was NOT the man's night. He shot 1-for-5 from the floor in 26 completely ineffective minutes, and turned the ball over when OKC was down three with 22 seconds left in overtime. Some surprisingly boneheaded play from the veteran leader.
| | | | | |
| --- | --- | --- | --- | --- |
| Miami Heat | 88 | FINAL | 65 | Chicago Bulls |
---
MVP: LeBron James, of course. What's remarkable about the MVP is that despite his domination you can't escape the sense that he's still holding something in reserve, pacing himself. Watching him post an easy 27/8/7 line on Monday was like seeing a car lead the Indy 500 without shifting into high gear.
That was … a long time coming: The scrappy Bulls finally collapsed. Undone by all the players who simply weren't there, Chicago delivered a dud of NBA-historic proportions; scoring just 42 points through three quarters (including a franchise playoff-low nine in the third), and finishing with a meager 25.7 percent mark from the floor.
LVP: Nate Robinson is the depleted Bulls' No. 1 option at this point. Game 4 underscored why this is a problem. The diminutive guard attempted 12 shots, hit none of them, and finished with exactly as many points as most viewers.
3. Monday's Best
Gasol
Marc Gasol, Grizzlies:
Looks like the once-trashed Gasol swap of 2008 is working out for Memphis. Gasol the Younger posted 23 points, 11 rebounds and 6 blocked shots in the Grizzlies' Game 4 win over the Thunder that turned Game 5 into an elimination game.
4. Monday's Worst
Robinson
Nate Robinson, Bulls: The N8 giveth, and the N8 taketh away. In this one, he really was taken away, going 0-for-12 from the field in an 88-65 loss. Hey, if he had made 'em all, his team might have won by one point.

6. Tweet Of The Night
It is truly amazing this is what Marc Gasol looked like in HS http://i.imgur.com/sYeAI.jpg

—Ramona Shelburne (@ramonashelburne) May 13, 2013
7. Quote of the Night
"I watched the tape myself, and there's open looks. We have to be willing passers. You have to sacrifice yourself sometimes for the betterment of the team, for the betterment of your teammates. So when you drive in the paint, you draw, you kick it. We need to do a better job of allowing the game to dictate who takes the shots and not the individuals."
-- Knicks center Tyson Chandler, making a comment that Carmelo Anthony wants to talk to him about privately.
8. Heroes Take A Fall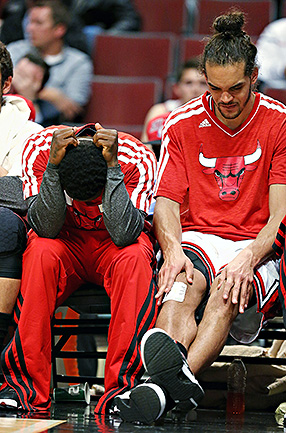 Jonathan Daniel/Getty ImagesNate Robinson and Joakim Noah, two shining stars of the 2013 playoffs, combined to shoot 1-for-18 in the Bulls' Game 4 loss to the Heat.
9. Stat Check
Kevin Durant was 2-for-8 from the field in the fourth quarter and then 0-for-5 in overtime in the Oklahoma City Thunder's loss to the Memphis Grizzlies on Monday. Durant was the first NBA player in five years to miss at least 11 field-goal attempts after the third quarter in a postseason game. Kobe Bryant was an identical 2-for-13 in the fourth quarter and overtime in a Los Angeles Lakers' loss to the Utah Jazz during the 2008 playoffs.