1. Spurs Clamp Down On Explosive Warriors
SAN ANTONIO -- This 109-91 San Antonio Spurs victory was a game of habits, not heroes, a matter of the Spurs doing the customary while the Golden State Warriors dabbled in curiosities.
Fatigue and injuries are evident in both sides of this series that held its fifth game in eight days Tuesday night. Tony Parker limped along with a bruised left calf. Stephen Curry never seemed to find a base for his shot. Tim Duncan couldn't sustain a strong start even though the man primarily responsible for guarding him, Andrew Bogut, was laboring himself.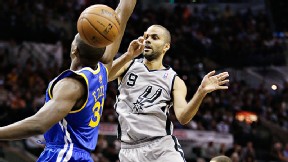 AP Photo/Eric GayTony Parker rose up for the Spurs.
What's an NBA team supposed to do when the body becomes the toughest opponent? Go back to the basics. Ask the body to do what it was trained to do, and no more. Find a comfort zone. For the Spurs in Game 5 that meant Duncan early and Parker during finishing time and finding Kawhi Leonard and Danny Green for open 3-pointers in between.
And it meant reaching back to when the Spurs made their names on the defensive end of the court instead of getting caught up in the fast-paced, high-scoring modern NBA.
The Spurs are tightening the vise on Curry and Klay Thompson. The previous game in this building, Thompson made eight 3-pointers. Tuesday he had eight total shot attempts, none from 3-point range (his first game this season without a 3-point try).
The Spurs pressed up on Curry beyond the arc and jammed him with a secondary defender every time he tried to come off a screen. He made only 1 of 7 3-point attempts, and 4 of 14 shots overall. The total production by the duo that Mark Jackson called the best-shooting backcourt in the history of the game: 13 points.
At this point in the series it's no longer a matter of adjustments or tweaks. The Spurs are sticking with what they've found. Leonard had been the most effective defender against Curry late in Game 1, helping to slow him down after he'd scored the bulk of his 44 points.
But after Thompson went off for 34 points in Game 2 he has drawn much of Leonard's attention, with Green guarding Curry. Curry shot 2-for-5 against Green in Game 5, while Thompson was 2-for-7 against Leonard. Neither had an open look or a transition basket, according to ESPN Stats and Information. Since their standout individual games early on, the Warriors' starting backcourt's combined production in any game has not matched the 44 Curry had in Game 1 or the 34 Thompson had in Game 2.
There's a lot to process in those previous three paragraphs, so I asked Duncan to summarize the Spurs' game in one word.
"I don't do one-words," Duncan said. "We had effort in the right places. So, 'effort,' I guess."
Effort is a byproduct of energy, which is a precious commodity at this stage of the playoffs.
The Warriors players did their best not to sound like whiny excuse-makers, even though they have legitimate complaints.
"I'm not going to blame it on the ankle," Curry said of his shooting woes. "It is what it is. I'm out there playing.
"They did what they had to do defensively ... and offensively, to test me."
Said Bogut, whose rebounding total dropped from 18 in Game 4 to six in Game 5: "I played bad because I played bad. I don't want to put it down to an injury.
"I think they're banged up just as much as we are. That's playoff basketball."
But it's affecting Jackson's decisions. He had some strange lineups on the floor (Jarrett Jack, Andris Biedrins, Harrison Barnes, Richard Jefferson and Draymond Green in the third quarter, for one) as he attempted to juggle rest, scoring punch and defensive matchups. He limited Bogut -- who still doesn't look comfortable on the left ankle that had microfracture surgery last summer -- to 18 minutes. He kept Curry on the bench while the Warriors were staging what amounted to their last stand without him in the fourth quarter.
MORE ON ESPN.COM
• Windhorst: George lifting Pacers
• O'Connor: Knicks letting down Melo
• ESPN Stats/Info: Trio beats duo

"It just got to the point where they had made plays and I had to look towards Game 6," Jackson said. "It was just being smart, that's all. I didn't want to see [Curry] get hurt. Obviously, he wasn't 100 percent."
Tony Parker clearly wasn't himself as he dragged his bruised left calf around the court, feeling "like I was 50 years old," he said. His services weren't needed early on, as Duncan scored 10 of the Spurs' 37 points in the first quarter. But Duncan began to falter, missing five of his last seven shots. So Parker took over, scoring 16 of his 25 points in the second half.
"I kept telling myself it would get warm, and in the second half it felt better," Parker said.
Can it get better for the Warriors? Trailing 3-2 in the series, they're down to their final chance as they still await the killer combined effort from Curry and Thompson, the signature of this team. The Spurs have denied it, increasingly making the Warriors look out of character.
The Warriors say they got here because they're a better defensive team than people realize. That wasn't evident in Game 5. They didn't protect the ball well in the second half, either. It was an accomplishment to even stay close in the face of the Spurs' hot shooting in the first half that included a scorching 72 percent in the first half. But the Warriors melted quickly in the first half.
"Anytime you dig yourself a hole it is very difficult to get out," said Jack, who once again combined with Barnes to give the Warriors their best scoring threats (20 and 25 points, respectively). "Especially against a team that executes as well as the Spurs do."
The Spurs are looking more and more like the Spurs. It will take the potential of the Warriors -- not the actual results that we've seen lately -- to prolong the series.
Dimes past: April 28 | 29 | 30 | May 1 | 30 | 2 | 3 | 4 | 5 | 6 | 7 | 8 | 10 | 11 | 12 | 13
ESPN Senior Writer
ESPN.com senior writer since 2007
Around The Horn panelist
Formerly at Los Angeles Times
2. Around The Association
| | | | | |
| --- | --- | --- | --- | --- |
| New York Knicks | 82 | FINAL | 93 | Indiana Pacers |
---
MVP: He wasn't exactly making hay from the field, but Paul George (18 points, 14 rebounds, seven assists) did literally everything else to help put the Pacers up 3-1 -- timely buckets, getting the Knicks into foul trouble, and making life miserable for Carmelo Anthony at the other end.
X factor: Rebounding. Surprise! The Pacers once again wiped the Knicks off the glass like so many dead bugs, outrebounding New York 54-36 on the evening. Even Frank Vogel was at a loss for proper superlatives during mic'd up timeouts, calling the effort "the best I've ever seen."
That was ... to script. Needing desperately to adjust, the Knicks instead tried matching the Pacers' brawn. The result? No tangible improvement on defense, and arguably a worse offense. Mike Woodson blinked first, and never bothered to re-open his eyes.
| | | | | |
| --- | --- | --- | --- | --- |
| Golden State Warriors | 91 | FINAL | 109 | San Antonio Spurs |
---
MVP: Tony Parker. After struggling with a calf injury in Game 4, Parker seemed to regain the spring in his step, scoring 25 points on 9-for-16 shooting and handing out 10 assists to just two turnovers.
X factor: As a sure sign that the Spurs offense recovered from a dismal Game 4, San Antonio assisted on 30 of its 40 made field goals in Game 5. The Spurs' ball movement was excellent and their shooters knocked down plenty of open looks.
That was ... tiring to watch: Both the Warriors and Spurs looked a combination of exhausted and injured for long stretches of this game. San Antonio was the fresher of the two teams and it showed in the runs it made in the second half to build its double-digit lead.
3. Tuesday's Best
Parker
Tony Parker, Spurs:
Overcoming his balky calf, Parker had 25 points and 10 assists in the Spurs' 109-91 Game 5 win that sends San Antonio to Oakland, looking to close out the series Thursday.
4. Tuesday's Worst
Knicks' missing trio: What did Iman Shumpert, Kenyon Martin and Jason Kidd have in common Tuesday? All three failed to make a shot against the Pacers, going a combined 0-for-11 from the floor in Game 4.
6. Tweet Of The Night
It is truly amazing this is what Marc Gasol looked like in HS http://i.imgur.com/sYeAI.jpg

—Roy Hibbert (@Hoya2aPacer) May 14, 2013
7. Quote Of The Night
"I take the blame for this whole series. I've been letting my teammates down. I've been letting my coaches down."
-- Knicks guard J.R. Smith, who shot 7-for-22 Tuesday, and who has missed 91 of his 137 shots in this postseason.
8. We Beg To Differ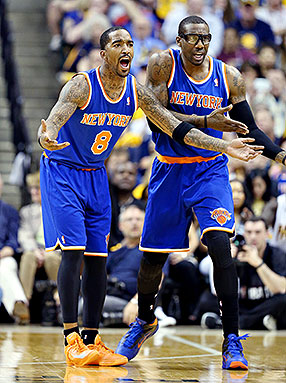 Andy Lyons/Getty ImagesJ.R. Smith and Amar'e Stoudemire of the New York Knicks protest a foul called during Game 4 against the Indiana Pacers.
9. Stat Check
Tim Duncan scored 14 points and grabbed 11 rebounds in the Spurs' 109-91 win over the Warriors. That was the 143rd playoff game in which Duncan reached double figures in both of those categories, tying Wilt Chamberlain's NBA record. Shaquille O'Neal fell one short of Wilt's mark when he retired two years ago.