1. Wade's Flash Of Brilliance Delivers Clincher
MIAMI -- Dwyane Wade showed his age Wednesday night, but not in the way most might think.
In referencing the wear and tear on his chronically aching knees after 10 seasons in the NBA, the 31-year-old Miami Heat star drew a comparison to a 1970s candy bar jingle.
"I've been doing this since the playoffs started," Wade said of fighting through another postseason with knee problems. "Some days are better than others. Other days, it's like that candy bar, Almond Joy. Sometimes you feel like a nut. Sometimes you don't. That's how I feel."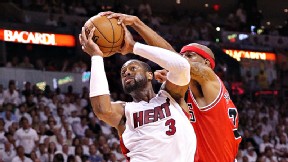 Al Diaz/Getty ImagesDwyane Wade delivered for Miami when it needed him most, rallying Miami in Game 5.
Leading up to Wednesday's playoff game against the Chicago Bulls, there were legitimate questions about whether Wade would be able to play after aggravating his troublesome right knee in Monday's Game 4 victory, which gave the Heat a commanding 3-1 series lead.
But by the time Game 5 ended, Wade had erased any doubt about the impact he could make in a playoff series -- even in what he acknowledges is a diminished state. At less than his physical best, Wade still provided just enough to help the Heat close out the Bulls in a 94-91 win to advance to the Eastern Conference finals for the third straight season.
In a game that saw the Heat storm out to a 22-4 lead, then fall behind by as many as 11 points in the second half, Miami turned to Wade when stability was needed at the finish. Anticipating the moment, with the Heat trailing 77-69 at the end of the third quarter, Wade headed back to the locker room to get his bandaged knee tightly retaped.
He checked back into the game with eight minutes left and proceeded to make all three of his shots from the field in the fourth quarter, grabbed three rebounds and blocked a shot in a closing run that finally rid the Heat of the pesky Bulls.
"I knew it was going to be a tough fourth quarter, so I wanted to make sure I was good," Wade said of his decision to leave the bench for a brief makeover. "I didn't go back [to the locker room] because I wasn't feeling good. Of all the games in the playoffs, this was the best I've felt."
Wade finished with 18 points, six assists, five rebounds, two steals and a block in 37 minutes. Considering he's perpetually listed as day-to-day in terms of his availability for games, Wednesday was a good day. But that day wouldn't have been possible without extensive treatment for his balky knee and shaken psyche the previous day.
"I just took a mental day [Tuesday] for myself, just to get myself ready," Wade said. "The biggest thing is to un-cloud your mind and just play basketball. I would love to be one of those guys who never, ever gets injured and see where my career would be right now after 10 years."
Physically, Wade's knee is going to continue to be a problem he has to manage for the rest of the playoffs. The multiple bruises, inflammation and likely tendinitis will ensure there are days when he'll lack the lift, athleticism and timing to be an elite player on a nightly basis the way many have grown accustomed to him being over the years.
But there will also be days like Wednesday, and the Heat will cross their fingers that Wade can put together enough of them to help push the defending champs past Indiana or New York in the next round and then through the NBA Finals.
Psychologically, LeBron James played a key role in Wednesday's developments for Wade. James led the Heat with 23 points, eight assists, seven rebounds and two steals in 44 minutes. But his biggest boost came before the game when he went to Wade and delivered a major message.
"I need more from you," James told Wade as they sat on the training table in the Heat's locker room about 90 minutes before the start of Wednesday's game.
"He is a Hall of Famer," James said of Wade. "He has two rings. He doesn't have to prove himself to anyone. As his teammate and brother, I love the fight that he continues to give. When he's out on the floor … he's always a threat."
James spent the entire series defending one of the fastest improving two-way players in the league, Bulls forward Jimmy Butler. But even that comprehensive task paled in comparison to how relentlessly James defended Wade as the two sat behind a microphone on the dais after the game on Wednesday.
It almost seemed as if Wade was somehow a victim, someone who was questioned, ridiculed, doubted and tarnished because of the issues with his ailing knee. But in reality, critics and certain network studio analysts aren't Wade's biggest problem or opponent right now.
MORE ON ESPN.COM
• Shelburne: Griz storm into West finals
• Greenberg: Rose return was hoax
• NBA Finals schedule

His body is.
There will be nights like Wednesday when Wade rises above the pain, ignores the discomfort and does just enough to remind everyone he can still be the player he once was. And there will be other days he feels like a nut, one that cracks under the weight of aches and expectations.
"I saw the look in his eye from the start of shootaround," Heat coach Erik Spoelstra said. "His shoes were tied, he was ready to go, pads up. He set the tone. When you see him like that, you know he's going to step up to the challenge. He's not making excuses for himself."
Wade can't guarantee what he'll be able to bring on a nightly bases in the conference finals or beyond. But he'll have a choice to make just about every step of the way.
"You do one of two things," Wade said after his second-highest scoring game of this postseason. "You either sit out and watch your team play, or you get out there and try to find a way to help your team. There are really no other options. This ain't the regular season. You don't have time to take 10 games off to try to get back. This is the time of the year when you try to do whatever you can."
And even as Wade deals with his own personal nuisance, he provided enough to help the Heat get past another. Heat center Chris Bosh summed it up best Wednesday night.
"He was kind of lying in the weeds, just waiting," Bosh said of Wade. "He saw an opportunity and he seized it. He really grabbed it by the throat and put his mark on it."
Now, Wade will regroup, recover, rest and hope his knee responds again as the Heat advance to the next opportunity.
Dimes past: April 28 | 29 | 30 | May 1 | 30 | 2 | 3 | 4 | 5 | 6 | 7 | 8 | 10 | 11 | 12 | 13 | 14
ESPN Staff Writer
ESPN.com NBA reporter
Blogs regularly on the Miami Heat
14 years covering the ACC, SEC, NFL and NBA
2. Around The Association
| | | | | |
| --- | --- | --- | --- | --- |
| Chicago Bulls | 91 | FINAL | 94 | Miami Heat |
---
MVP: LeBron James. If awards could go to losing teams, Carlos Boozer and Jimmy Butler would split the award for their "guns blazing" offensive production. But James kept Miami's ship steady through the Chicago storm, leading the Heat in points (23), rebounds (7) and assists (8).
X factor: Dwyane Wade's knee tape. Wade was struggling for most of the game, shooting a mediocre 4-for-10 through the first three frames. But after heading back to the locker room in the third quarter to retape his troublesome knee, Wade shot 3-for-3 with three rebounds in the critical final stanza.
That was ... inevitable: Chicago would have received all the "heart & moxie" platitudes even in a sweep. A team missing its best player for the season (Derrick Rose), another player for part of Round 1 and all of Round 2 (Luol Deng) and their defensive anchor hobbled by injury (Joakim Noah), the Bulls' competitive spirit challenged Miami more than anyone could have expected.
| | | | | |
| --- | --- | --- | --- | --- |
| Memphis Grizzlies | 88 | FINAL | 84 | Oklahoma City Thunder |
---
MVP: Zach Randolph hammered the Thunder, racking up 28 points and 14 rebounds by outmuscling every defensive permutation OKC threw at him. Marc Gasol spent most of the game wrecking the Thunder offense, Randolph their defense. It proved an indomitable combo.
Turning point: The Grizzlies were well on their way to running away with the game when Tony Allen accidentally tossed his warmup shirt onto the court in the third quarter. It sparked a 13-4 Thunder run after a technical, and the rest of the game came down to the final seconds.
That was ... fitting. This series was hard-fought and impossibly close every game, even as the Grizzlies seemed to wear the Thunder down. Oklahoma City fought to make crunch time tense, and Memphis proved to have just a bit more left in reserve. As the series went, so did this game, and it was a treat for fans.
3. Wednesday's Best
Randolph
Zach Randolph, Grizzlies:
He had 28 points and 14 rebounds to lead the fifth-seeded Memphis Grizzlies to the Western Conference finals for the first time. Z-Bo missed two free throws late that allowed the Oklahoma City Thunder one final comeback attempt, but the Griz held on for a big Game 5 clincher.
4. Wednesday's Worst
Durant
Kevin Durant, Thunder: Going 5-for-21 from the field with seven turnovers in the Game 5 loss to Memphis was a fitting end. KD missing the potential game-knotting jumper with 6 seconds left was the final indignity. Plenty of time to clean rain gutters now.
6. Tweet Of The Night
Grizzlies Western Conference Finals Playoffs Tickets for Home Games 1 and 2 go on sale Saturday, May 18 at Noon. http://ow.ly/l54uN

— Memphis Grizzlies (@memgrizz) May 14, 2013
7. Quote Of The Night
"This was not an anti-Seattle vote. This was a pro-Sacramento vote."
-- NBA commissioner David Stern, on the NBA owners' 22-8 vote to reject moving the Kings.
8. Royal Slam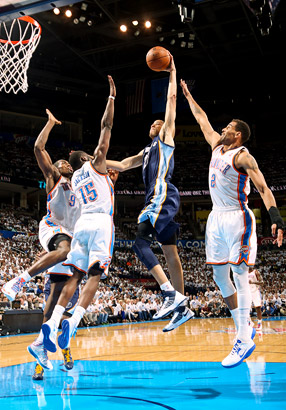 Layne Murdoch/Getty ImagesTayshaun Prince threw down a big dunk over defenders Serge Ibaka, Reggie Jackson and Thabo Sefolosha that gave Memphis a 60-46 lead with 7:10 left in the third quarter. OKC's comeback attempt after the jam fell just short.
9. Stat Check
Kevin Durant shot just 5-for-21 from the field (24 percent) and committed seven turnovers in the Oklahoma City Thunder's series-ending loss to the Memphis Grizzlies on Wednesday night. Durant is the only player to commit at last seven turnovers and make less than 25 percent of his shots from the field on at least five attempts in a game in which his team was eliminated from the playoffs. (The NBA began tracking individual turnovers in 1977-78.)