1. Stephenson's Best Lifts Pacers Past Knicks
INDIANAPOLIS -- More than three hours after a deflating Game 4 of last season's Eastern Conference semifinals ended, Indiana Pacers guard Lance Stephenson was out on the floor at an empty and sullen Bankers Life Fieldhouse.
Still in his unsullied uniform, he was playing a light pickup game with his friends. It was the only time he played all day.
Stephenson got nothing out of that series against the Miami Heat but grief. After he made a choking gesture toward LeBron James from the bench after he missed crucial free throws in Game 2, different members of the Heat took turns going at him.
First, Stephenson had to make a public apology, which sounded like it was written for him by the team's public relations department. Then, James dissed him on "SportsCenter." It culminated when little-used Heat center Dexter Pittman flagrantly elbowed him in the throat in garbage time of Game 5, earning a two-game suspension.
Trash talking from the bench was the only contribution Stephenson made for the Pacers in that series, and he couldn't even do that right.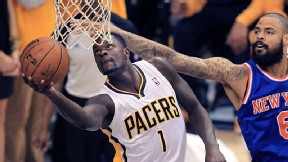 Pat Lovell/USA TODAY SportsStephenson and the Pacers are taking their talents to South Beach.
Without understanding Stephenson's history -- both that embarrassment a season ago and back to his high school and college days that were plagued with fights with teammates, arrests and a college recruitment process that was a complete disaster -- you can't understand his accomplishment as he walked around the floor holding his head with his hands as fans shouted his name late Saturday night.
The Pacers are in the Eastern Conference finals for the first time in nine seasons, a long crawl back from that infamous brawl in Detroit in 2004 that completely shattered that possible championship team and ended up derailing the franchise for seasons on end.
There's some poetry that Stephenson, a kid the Pacers gambled on three years ago but kept stumbling and kicking away chances, showed maturity and poise in playing a brilliant Game 6 to help beat the New York Knicks 106-99.
"I couldn't believe I played so great," Stephenson said. "And I played so smart."
Stephenson has owned the ability to play great for years. He was the greatest high school scorer in the history of New York City. Playing smart however, has taken slow, incremental progress over three seasons -- about as long as this Pacers team needed to truly turn itself around.
Just a month after the Pacers gambled a bit and signed him to a four-year contract in 2010, a risk for a second-round pick with his checkered past, Stephenson was arrested for pushing his girlfriend down a flight of stairs. The Pacers, trying so hard to win back fans who had been turned off by bad player behavior on the court and off, could've given up on him right there.
But former team president Larry Bird always championed Stephenson's ability and stuck with him, even after he earned so little playing time his first few seasons. It was the same patience that has rewarded the Pacers with the development of other young players like Roy Hibbert, Paul George and George Hill.
Now they have a young core that is blossoming, which led them to pull what technically will be considered an upset of the veteran Knicks. But honestly, they looked like the better team from Game 1 onward.
"Larry Bird gave me the confidence to feel I could play in this league," Stephenson said. "We text all the time to this day. I want to thank him because he's a legend, and when he tells you that you can do something, it just gave me the confidence."
Stephenson had 25 points and 10 rebounds Saturday and played with a force that knocked the Knicks on their heels early and then knocked them out late.
Carmelo Anthony played like a star needs to in a road elimination game, scoring 39 points on just 29 shots in what ended up being his best shooting game in six weeks. But it was Stephenson who was brilliant in the fourth quarter, scoring nine points while Anthony couldn't get free, scoring just four points on 2-of-7 shooting as the Knicks' offense wilted along with their season.
The most crucial play of the game came when Hibbert denied Anthony at the rim as he was going for a dunk. Anthony had made a strong move to get free of George and looked about ready to put the Knicks up four points with five minutes to play.
In fact, Anthony was two inches from those two points and a statement play that would've likely forced the Pacers to call a timeout to regroup. But Hibbert reached his hand into that one inch of airspace between a thunderous dunk and the rim and stopped Anthony cold with his fifth block of the game.
"I'm just doing my job; I do that all the time," Hibbert, who had 21 points and 12 rebounds, said. "I guess it was nice play. I'm a 7-foot-2 guy. I'm supposed to block shots."
Hibbert was being modest. He might talk about that play for the rest of his life.
This was an iconic block that will likely turn into one of the highlight plays of this postseason. It was the most incredible such play in the building since Tayshaun Prince chased down Reggie Miller in Game 2 of the 2004 conference finals in a block that changed the course of that series.
On that historic play, Prince had the element of surprise and way more spring in his legs than the soon-to-retire Miller. There was no finesse on this one; it was strength on strength, and Hibbert came way the winner.
That big-time play pretty much ended this series. Indiana scored the next nine points. Stephenson had seven of them.
"I've seen Lance grow so much over the last few months," Pacers veteran David West, who had 17 points and made a handful of crucial plays late in the game, said. "When Danny [Granger] went down [with a knee injury] and he realized we were going to need him. I think that forced him to grow up."
Well, almost.
As he headed to the postgame news conference, Stephenson forgot to put on his pants and nearly walked onto the stage in a shirt and underwear. Longtime Pacers PR man David Benner re-directed him to an equipment room so he could get a pair of shorts.
All season the Pacers talked both publically and privately about getting another shot at the Heat. Up 2-1 in that series a season ago, they had to admit they were not ready for the success as the Heat overwhelmed them with the brute force of James and Dwyane Wade.
They went 2-1 against the Heat in the regular season, which built some confidence. They were the last team to beat the Heat before their 27-game win streak; that loss to the Pacers sobered Miami enough to realize they needed to buckle down.
Boy, did they. Since the Pacers beat them on Feb. 1, the Heat are 45-3. Beating them four times in the next two weeks is going to be some task. But that Pacers team last season didn't have Hibbert playing with such defensive confidence, George playing like an All-Star or Stephenson playing like a grown-up.
Now, they're going to get their shot after a long climb back.
"I'm the longest-tenured player, and I've been through some rough patches wearing this 'Pacers' across my shirt," Hibbert said. My first 2½ years were horrible. We were a bottom-of-the-barrel team. Coach [Frank] Vogel and my teammates have been able to turn it around. I'm happy."
Dimes past: May 1 | 2 | 3 | 4 | 5 | 6 | 7 | 8 | 10 | 11 | 12 | 13 | 14 | 15 | 16
ESPN Senior Writer
ESPN.com NBA writer since 2010
Covered Cleveland Cavs for seven years
Author of two books
2. Around The Association
| | | | | |
| --- | --- | --- | --- | --- |
| New York Knicks | 99 | FINAL | 106 | Indiana Pacers |
---
MVP: A season ago, Lance Stephenson's only notable playoff performance was having to apologize to his coach and teammates for being a distraction. Tonight, he delivered 25 points and 10 rebounds to lead the Pacers to the Eastern Conference finals for the first time since 2004. He described it as "the best game of my life" in his postgame interview.
Defining moment: With the game tied at 92, Stephenson intercepted a pass and streaked to the other end, drawing the and-1 to give the Pacers a lead they would never relinquish. He locked it up 70 seconds later by embarrassing Carmelo Anthony in the post to make it 101-94 with less than two minutes left.
That was … huge for the Pacers franchise: This is their first visit to the conference finals in almost a decade, and it marks almost total redemption from the "JailPacer" days just a few years ago. So important to a team trying to win back the love of its city.
3. Saturday's Best
Stephenson
Lance Stephenson, Pacers:
Stephenson dropped a playoff career-high 25 points -- nine during a fourth-quarter 11-2 run that sealed the Pacers' Game 6 win -- and added 10 rebounds as Indiana reached the conference finals for the first time since 2004.
4. Saturday's Worst
Knicks PGs: Raymond Felton and Pablo Prigioni -- who have provided the occasional spark for New York in the series -- were nearly nonfactors in the loss. The two combined to finish with eight points on just 2-of-13 shooting.
7. Quote Of The Night
"I just didn't want to go back to New York and play Game 7. Just get it done with now and I'd do whatever it takes to do that today. It showed tonight."
-- Indiana's Lance Stephenson, on the Pacers' sense of urgency during their Game 6 win at home.
8. Block Heard 'Round The World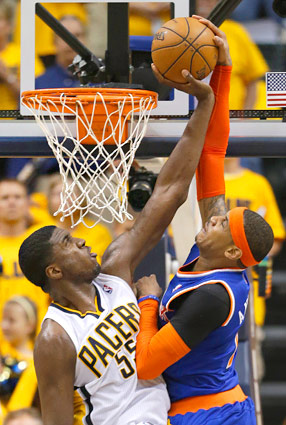 AP Photo/Darron CummingsCarmelo Anthony had a game-high 39 points. He could have had 41, but Roy Hibbert said no. His highlight-reel block helped send the Pacers to Miami.
9. Stat Check
Smith
J.R. Smith shot 4-for-15 from the floor as the Knicks were eliminated in their Game 6 loss at Indiana. Smith played eight games after returning from his suspension during the first-round series against the Celtics. He took at least 10 shots from the floor in each of those eight games but didn't hit 40 percent of his attempts in any of them.
Since the NBA adopted the shot clock in 1954, only one other player had eight straight games like that in one season's playoffs. Spencer Haywood of Seattle put up eight straight games in the 1975 playoffs in which he shot less than 40 percent while attempting at least 10 field goals.